Introducing Sydney Grace

If you're looking for pro quality makeup at a great value, look no further than Sydney Grace. Their eyeshadows are well-loved by both beauty enthusiasts and pros alike because they're cruelty-free, highly pigmented, and have little to no fallout. We had a chance to speak with Laura, the founder and owner of Sydney Grace, to learn more about the brand, the products she has created, and her collaboration with Christine, the beauty behind one of the biggest beauty blogs Temptalia.
---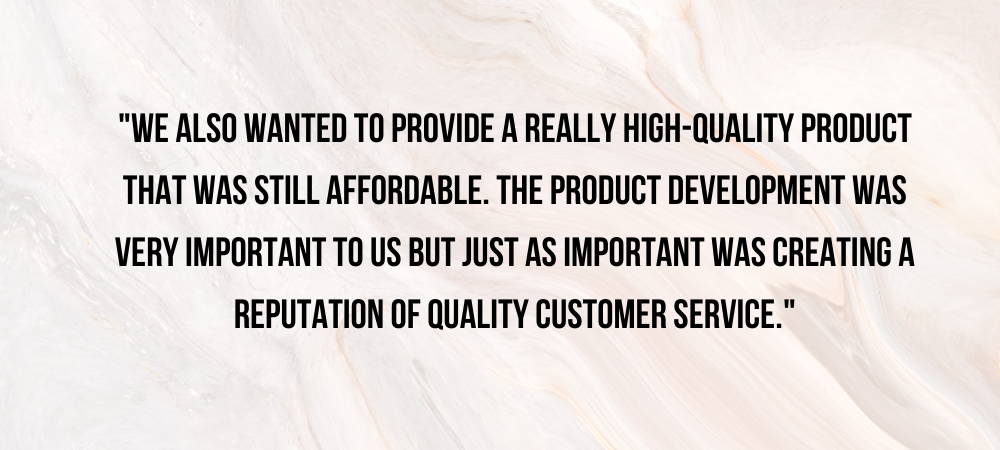 From Feather River Body to Sydney Grace
CRC: While many know you for creating Sydney Grace, we know your entrepreneurial beginnings started with a different venture. Tell us the behind Sydney Grace and Feather River Body.
LAURA: We come from a family of entrepreneurs. When our kids were little, we dabbled in a few side businesses, mostly as a creative outlet as well as for a little extra income. When we started Feather River Body on Etsy, we made mostly body products (lotions, scrubs, soaps). Some of those products were colored with micas. We loved the color results we got with those in our soaps. We knew they could be used in creating cosmetics, so Heather started doing research on creating eye shadows, blushes, and highlighters with those micas. After many months of research and trial and error, we had a formula and a process that was our own. Heather has sensitive skin and many allergies, so she formulated our products with clean ingredients and ingredients that she could use on her sensitive skin.
As our business began to grow, we started reevaluating our name. Feather River Body was originally named for the beautiful river that runs through our town, but it really didn't fit where we saw our business going long-term. Our family is very important to us and so our natural thought was to somehow incorporate that into our name. Sydney Grace was born from a combination of 3 of our daughter's names. It had meaning to us and also fit the style we were shaping our business into for future growth.
CRC: What was it like in the beginning, and how did you decide upon your vision for Sydney Grace?
LAURA: We wanted to stick with products that were as close to natural as possible and cruelty-free. We also wanted to provide a really high-quality product that was still affordable. The product development was very important to us, but just as important was creating a reputation of quality customer service.
---
CRC: What sets you apart from other brands?
LAURA: There are so many great brands out there with amazing products. I believe our quality, price, and customer care is what keeps our customers coming back. One of the things we hear most often about our products is that they are very pigmented and easy to blend with little to no fall out. They are long lasting, as well. The shadows are so pigmented and the pans have a lot of product in them, so they go a long way. Our products are proudly made right here in California with clean ingredients.
CRC: What are you most proud of when it comes to Sydney Grace and how much you've grown?
LAURA: We have really tried to grow Sydney Grace organically so that we never put ourselves in a position that we were unable to keep up with the quality and customer service that we require of ourselves. We have poured our hearts into Sydney Grace and in return we have built loyal customers, many of which have become friends.
CRC: You have been creating some amazing collaborations! What has that been like?

LAURA: We have been very fortunate to work with some amazing artists this passed year to create some really fun collaborations. With the palette collabs we have done so far (specifically Mel Thompson and Christine from Temptalia), we have been honored to be approached by the artist/influencer to create these collaborations with them. It's been a neat experience seeing the thought process behind these really talented and well-respected influencers from concept through to end product.
---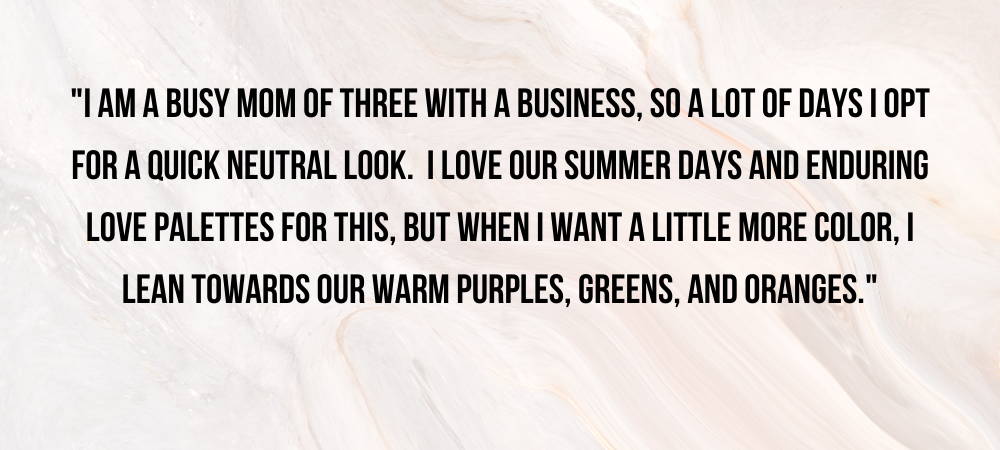 CRC: Are there any trends in the makeup industry you're excited about?
LAURA: I love the trend towards more natural skin without the heavier foundation. I get that's not for everyone, but that is right up my alley! I also love the look of a good winged eye liner, but can't really pull it off myself.
CRC: Do you remember the first makeup product you ever bought?
LAURA:Oh yes! In my family, that was a big deal. We didn't wear makeup until 16. On my 16th birthday, my mom picked me up early from school and took me to buy my first makeup. I got mascara, lipstick, and one of those little drug store quads and maybe a few other things.
CRC: What is your own makeup style?
LAURA: Oh, well, that's tough! I am a busy mom of three with a business, so a lot of days I opt for a quick neutral look (I love our Summer Days and Enduring Love palettes for this), but when I want a little more color, I lean towards our warm purples, greens, and oranges.
CRC: Tell us what else you're passionate about other than makeup!
LAURA: My family! We have an amazing extended family that really enjoys time spent together. It's amazing watching the kids grow up together. Our favorite activity is boating on the lake with our family. We're kind of a bit of chaos, but I wouldn't have it any other way. I also dabble in photography and love a good blended coffee.
---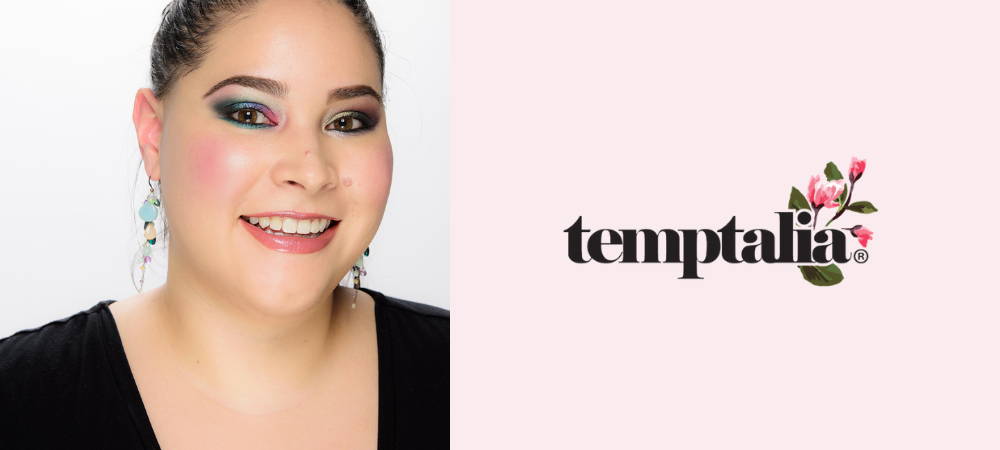 The Collaboration with Temptalia
CRC: Did you ever think you'd have a collaboration like this? Was it always a goal of yours or just something that came up and made sense?
CHRISTINE: I had always hoped to do another collaboration in the future, but the blog keeps me busy enough that it wasn't something that I'd say was an active goal (and I have turned down a few opportunities over the years), just something in the back of my mind. I was struck by a greater desire to create something (after reviewing so many things!) when I reached out to Sydney Grace about collaborating.
CRC: What was the process like?
CHRISTINE: I provided a written description of the depth, undertone, and finish of each color along with using shades from Sydney Grace's range as a point of reference, which I think helped to get closer from the beginning. I set up a spreadsheet and would send back feedback on color, undertone, finish, and texture based on the sample received, and then Sydney Grace would adjust and send out a new sample... then the cycle would begin anew!
CRC: Why did you create three palettes and not just one?
CHRISTINE: Ultimately, I found it a challenge to curate a single palette. I knew I wanted to do something space-themed and cooler-toned, but I knew that it would be too cool-toned for some people. I also felt like readers would expect more color out of me, which is how the rainbow/jewel-toned palette came about. Finally, I also knew that there would be readers who normally wear more neutral shades and likely wouldn't want to purchase so many colorful shades (that the two other palettes have). I wanted to ensure there was value for anyone who purchased all three, so I paid attention to how they'd work together as a trio, but I also expected more people to be interested in one or two as I felt like buying three at once wasn't inexpensive!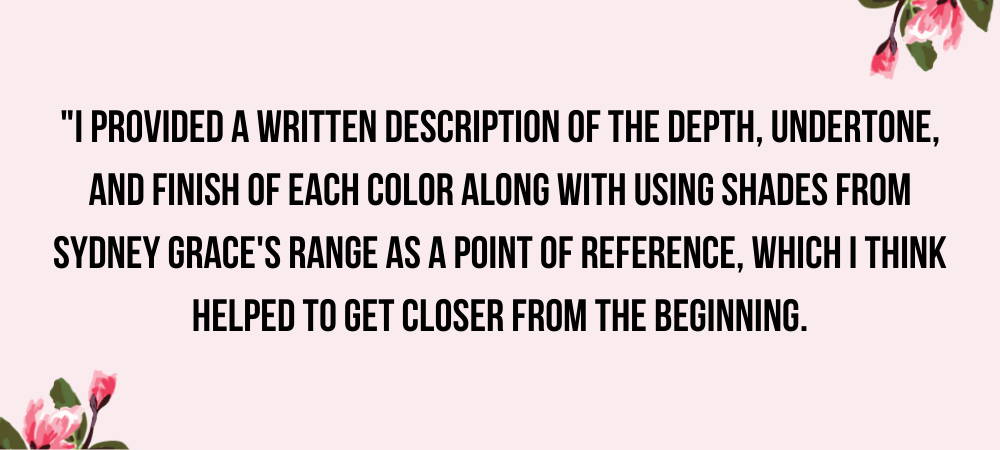 CRC: Tell us how you curated the colors - were you staying true to your style? Designing for a certain audience?
CHRISTINE: Many of the shades and the types of color stories are really the result of what I've seen readers ask for over the years, and they are also guided by what color stories I've put together over the years that resonated with my readership. I would say I designed more to address certain gaps in mainstream ranges than I did specifically to be flattering to me.
CRC: Tell us more about the shade names! We know many of them have special meanings.
CHRISTINE: It was really special to be able to pay tribute to so many who have special places in my heart, and I liked being able to have more subtle nods most of the time. I didn't want the names to feel like a long-running inside joke to those completely unfamiliar with me! With 36 shades, there were so many to name that it sometimes took longer to come up with more names than it did to narrow any down!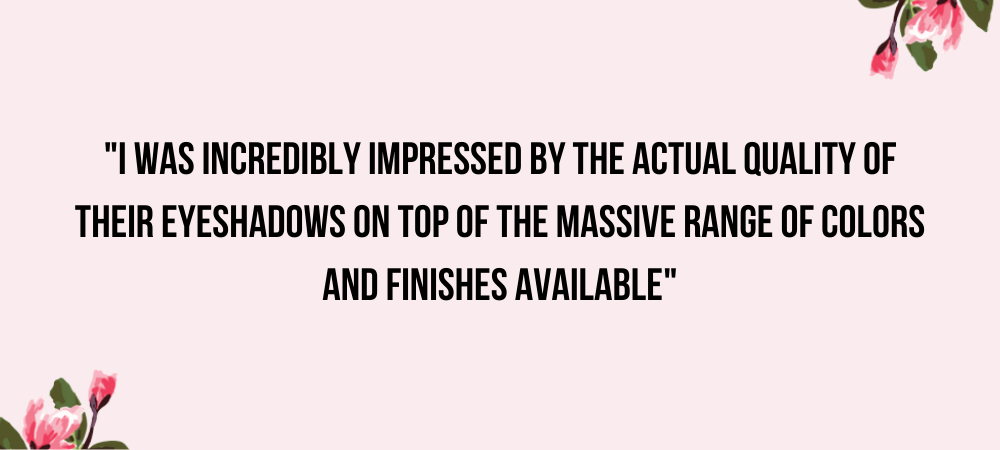 CRC: You've tested, photographed, swatched, and performed wear tests for thousands of products across the years. What makes Sydney Grace stand out to you?
CHRISTINE: Sydney Grace is one of the few "indie" brands that offers an extensive range of pressed products, particularly eyeshadow, which is a category I'm always looking for more affordable singles from (as they work well for providing dupes over time). I was incredibly impressed by the actual quality of their eyeshadows on top of the massive range of colors and finishes available. They also work on stock, so when you make an order, it gets shipped out within a few days and in your hands within a week, which is unlike a lot of "indie" brands that tend to do pre-orders. Having worked with the Sydney Grace team more closely over the last year, they've always been accommodating, flexible, and given me total freedom over the collaboration, which has meant the world to me!
---
Ready to Explore Sydney Grace?
We are proud to offer a curated selection of Sydney Grace palettes, pressed pigments, and matte shadows that we know will inspire creativity and many beautiful looks! Click here to shop. Need help deciding which palette or shade to get? Our Beauty Advisors are here to help at beautyadvisor@crcmakeup.com.
---
About Camera Ready Cosmetics
Camera Ready Cosmetics was founded in 2003 by Makeup Artist Mary Erickson. She dreamed of having a pro makeup showroom where artists could play with professional products without the typical makeup store attitude.
Today, our team of beauty industry veterans work together to curate the best quality products on the market. We partner with brands who respect the industry and formulate products for true working artists. You won't find CRC in high-end malls, and we don't wear matching brush belts.
If you want to play with products for a few hours and buy nothing, that's okay ... come in and play! Our store is your playground.