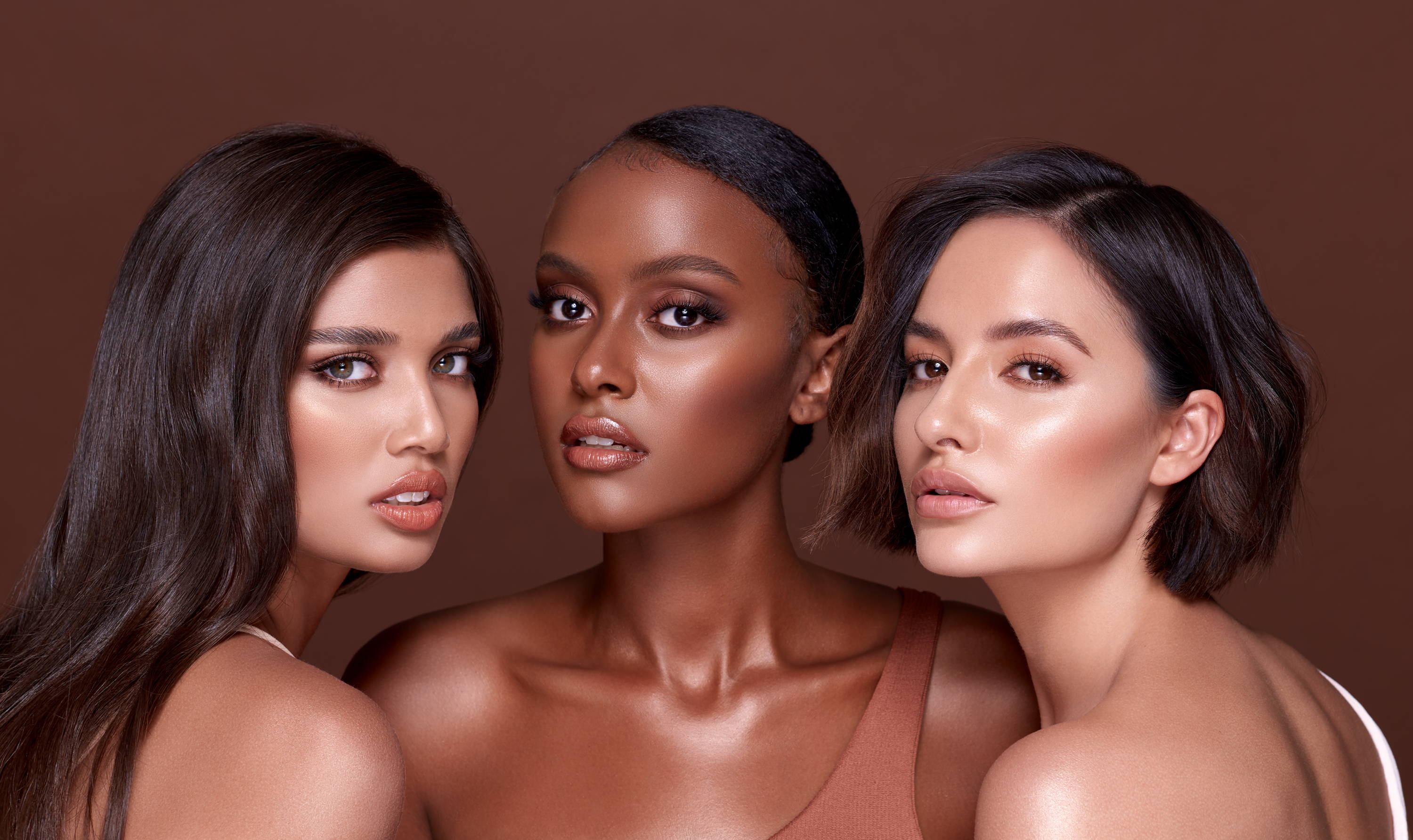 Photos courtesy of TEMPTU
If you have an event or a photoshoot to attend, setting spray is a must-have in the whole make-up process. Not only does it hydrate your skin, it also helps prevent your makeup from fading away or from getting cakey. Whether you're attending a long-haul event, shooting under the torrid heat of the summer sun, setting sprays help your make-up stay in place for long periods of time. Goodbye, smudges and hourly touch-ups!
In this blog, we talked to Leslie Hernandez, a professional make-up artist and the CEO of Backstage Makeup Professionals based in Dallas, Texas.
---
From the red carpet to the runway, TEMPTU has created show-stopping looks for some of the most iconic faces in fashion, music, and film. Their breakthrough formula first turned heads in 1981's cult classic film Tattoo, where TEMPTU's original paint formula and tattoo ink transfer was introduced. It became an overnight success with Hollywood makeup professionals and soon their body paints and cosmetics were in high demand.
In 1996, they revolutionized the pro cosmetics industry with the introduction of our airbrush foundation. The unparalleled flawless finish of TEMPTU's formulas has made their brand an industry go-to for decades.
In 2009, they launched the very first easy-to-use, home airbrush makeup system. Finally, everyone could achieve flawless makeup application with professional results by combining the sleek Airbrush Makeup System with their exclusive Airpod™ Makeup.
TEMPTU is proud to be the face of modern beauty, setting the standard for professional and at-home cosmetics. Believing that every woman deserves to put her best face forward, they continue to innovate to make effortless, camera-ready radiance a reality for everyone, whether you're dodging the paparazzi or dashing to the corner store.
---
A Look Back at 30 Years of Temptu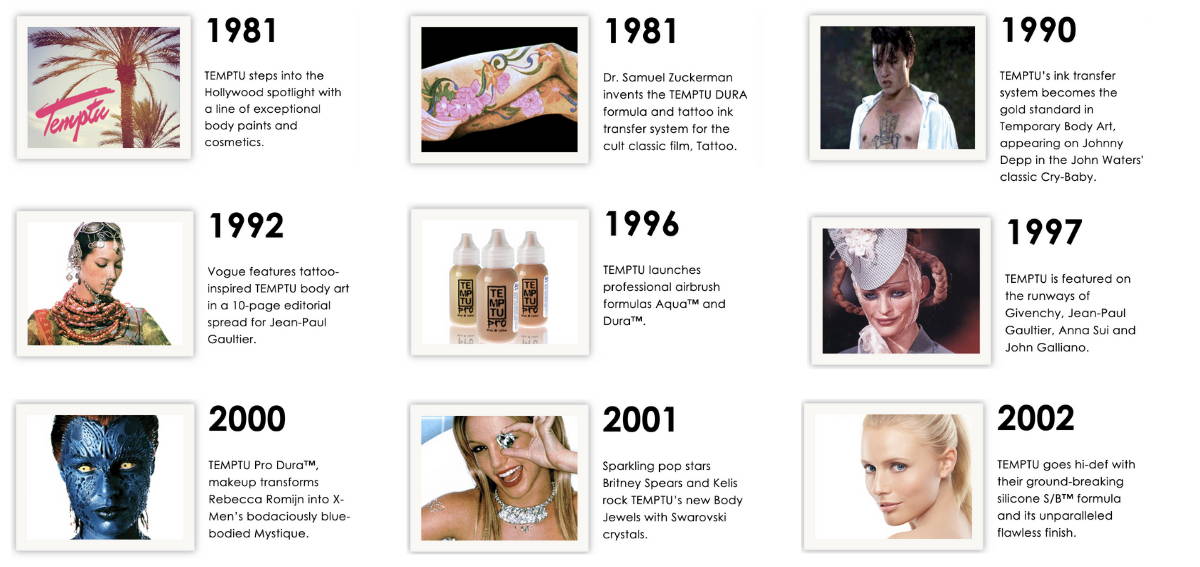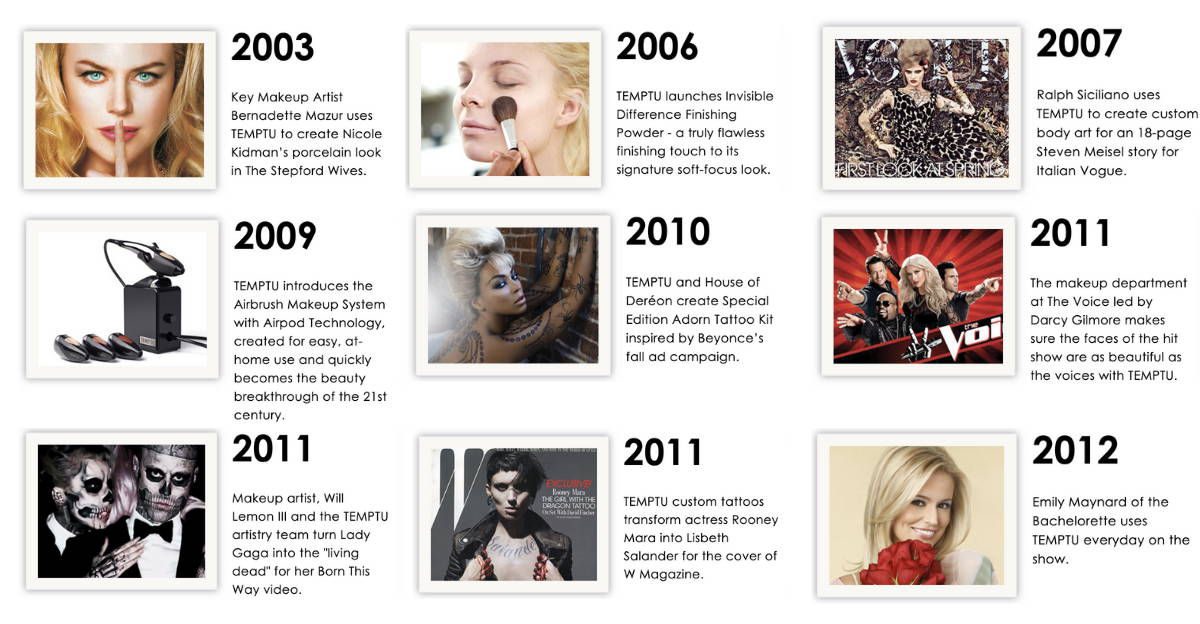 Photos, about the brand, and highlights above courtesy of TEMPTU
---
Getting Started with TEMPTU
CRC: When did you start using TEMPTU, and how did you hear about it?
Jen: I started using TEMPTU about six years ago when I was in school for makeup. I had no idea what airbrush makeup was at that point, and it's now one of the most used products in my kit. The school I attended only used TEMPTU airbrush, and they had about a half dozen compressors and guns. We would all take turns airbrushing each other to really get the feel for it. Since then, I've only ever used TEMPTU. I've graduated through a few compressors and guns. I, now, work with the cordless TEMPTU Air and I've never looked back!
CRC: What are the benefits of using TEMPTU?
Jen: For me, TEMPTU has benefits all around. Application is quicker, it tends to be easier, it calls for a more even application, and it cuts down on contact with clients. Although I tell my clients they will get a flawless finish no matter what type of foundation they choose, once TEMPTU sets, it tends to transform skin into its most flawless version, especially over time.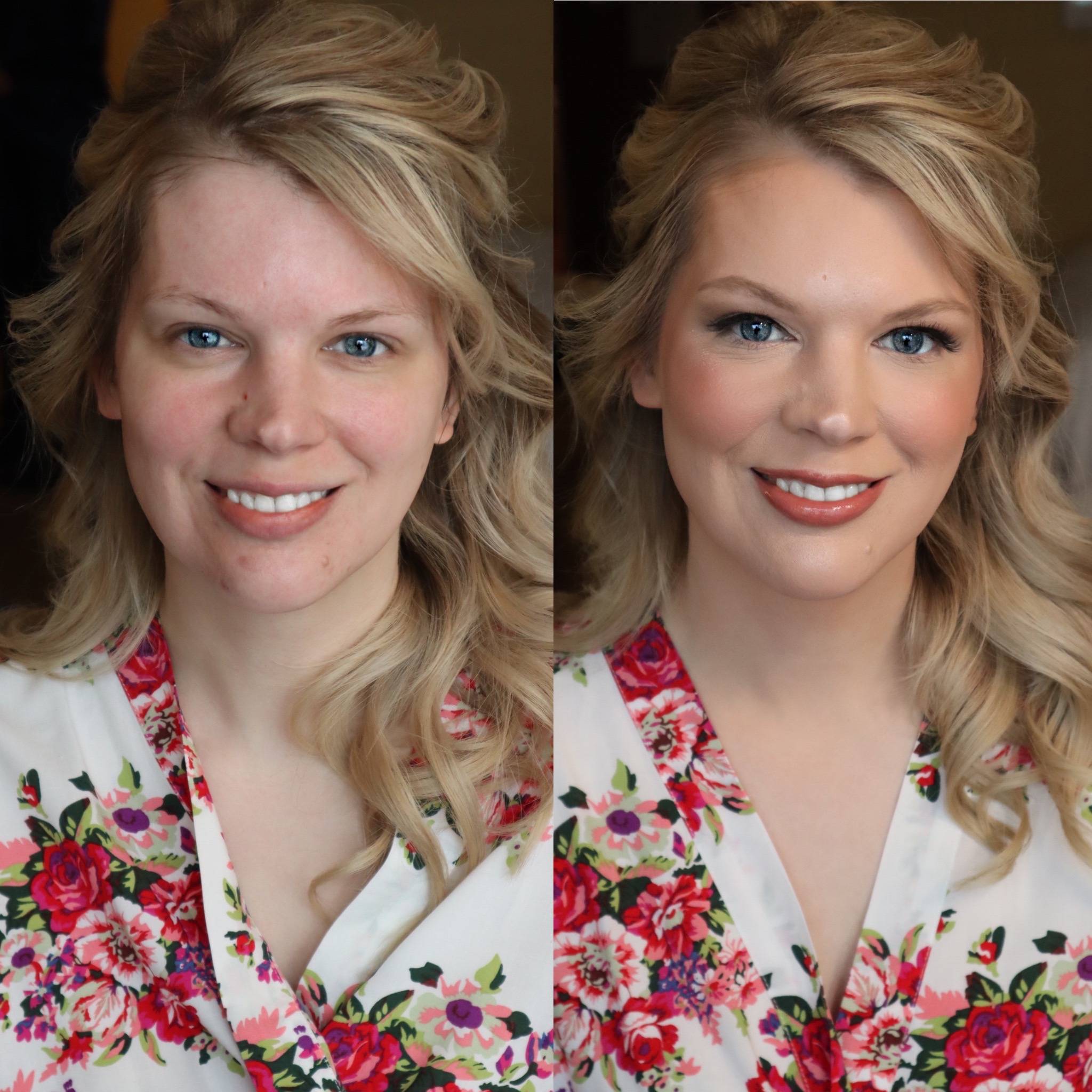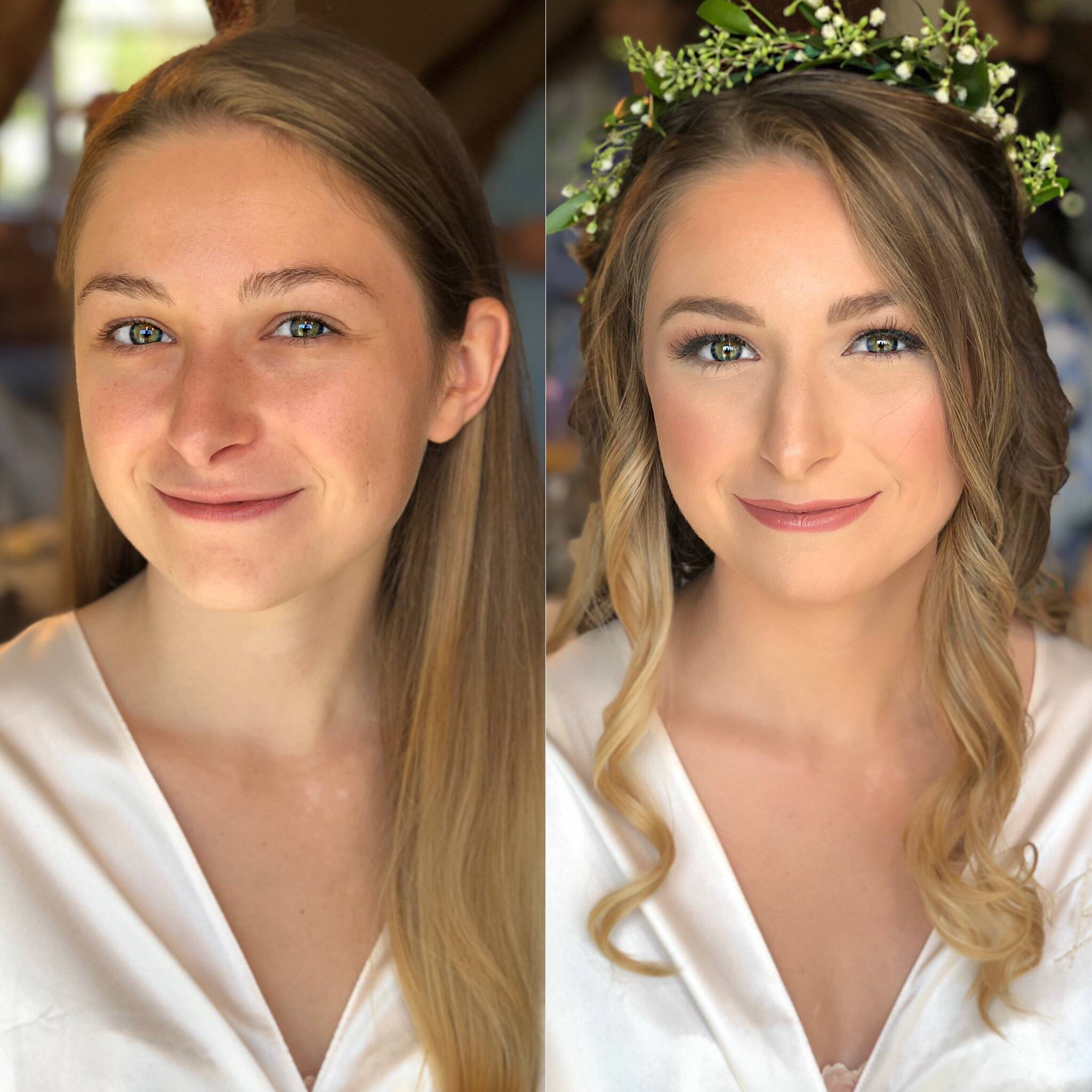 Makeup and Photography by Jen Damminger
Color Matching & Different Skin Types with TEMPTU
CRC: Tell us about color matching with TEMPTU and how it compares to the process with other products you've worked with?
Jen: Color matching is one of the most nerve-wracking things about being a makeup artist. No one wants to look like a ghost in photos or have that line of foundation at the jawline if the foundation is too dark. For me, color matching comes with time and lots and lots of practice.
When I had the TEMPTU compressor and airbrush gun where I had to physically load the foundation, it was easier to color match because I would be able to pour out a small amount onto my palette and test it on someone's jawline, whereas now, using the TEMPTU Air, the foundation is already loaded into the foundation pods that I then load onto my cordless compressor so it makes it more difficult and a little more time consuming to do. However, practice makes perfect, and I know they have the TEMPTU Air Pod Pro DUO that allows you to mix any airbrush foundations to create the custom shade you need, load it into the Pod, and airbrush away!
Working with the TEMPTU Air for the past few years now, I can just look at someone and know what color I will need to use on them. To double check, I hold the pod up to their neck or chest and can compare the tones in their skin to the tones in the makeup.
CRC: What about different skin types or textures?
Jen: SKIN PREP IS EVERYTHING! I've had brides who come in for their trial and their skincare routine is next to nothing and when I airbrush them, you can tell that their skin isn't taken care of very well and needs some tender loving care, even after I skin prep them. Once their wedding comes around and I've gotten them on a decent skincare routine, the results are mind blowing. You can physically tell the differences between the two separate applications.
No matter what skin type you have, TEMPTU will hands down perform amazingly, but skin prep is everything. Having freshly moisturized and prepped skin will enhance its benefits and help the airbrush makeup last even longer.
---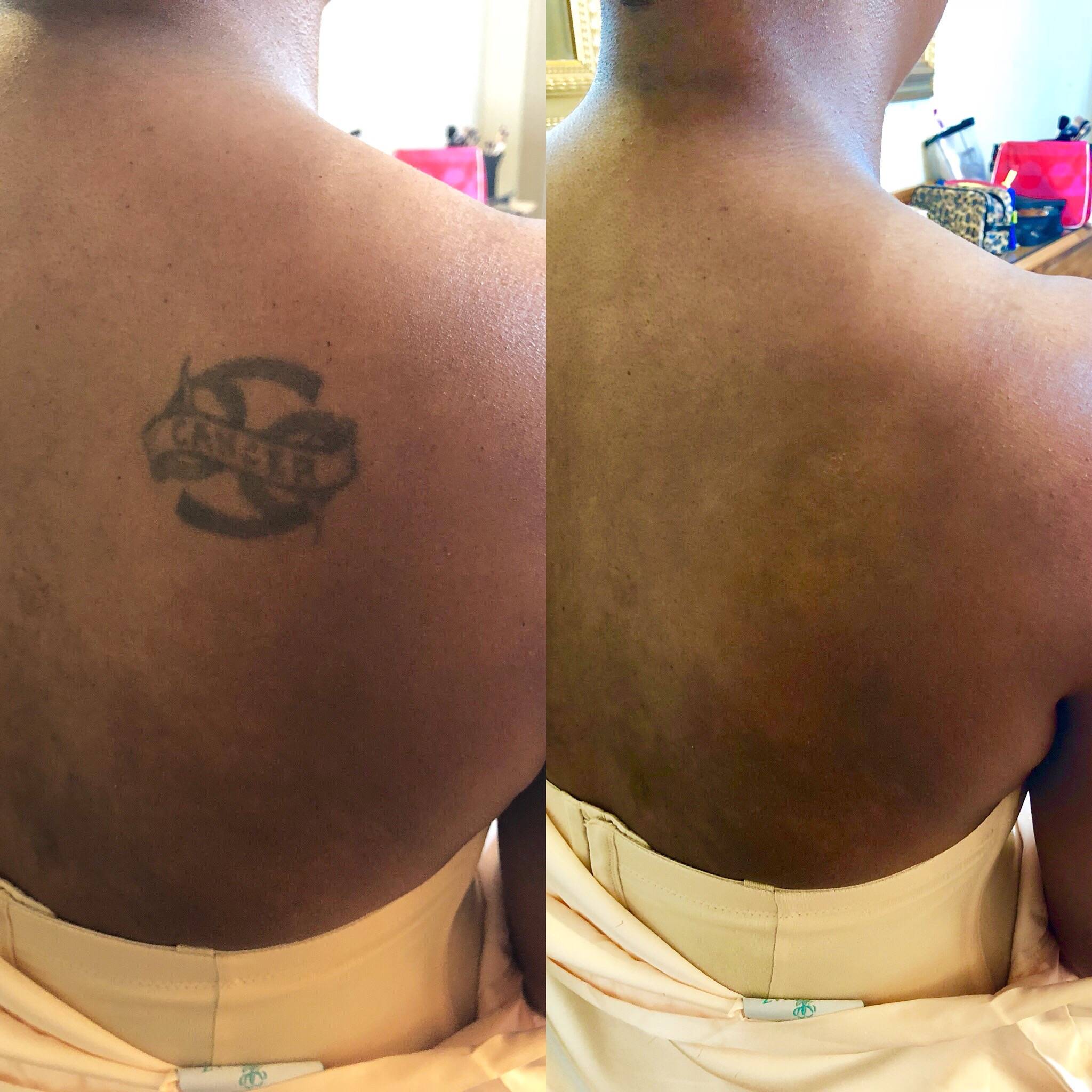 CRC: What are some of the other things you find TEMPTU to be superior at?
Jen: It is great to cover tattoos. I may need to use one or two shades on a tattoo coverup, but I like to use a high pigment concealer before I airbrush and then airbrush over top of that. The actual act of airbrushing also helps with the covering process because you're not pressing and spreading the product, it's being directly applied to the skin without any manipulation and once it dries I'll set it with powder. There may be a couple of layers but any more than two or three may start to look too artificial, so just be mindful. If you can, do a trial run with your client ahead of time.
---
The Perks and Pros of TEMPTU
CRC: Tell us how your kit contents change when using TEMPTU.
Jen: TEMPTU makes it so easy to pack your airbrush into your kit. I'm pretty sure I screamed with excitement when they announced they were coming out with the TEMPTU Air. It has made airbrushing multiple clients in a single job, like a larger bridal party, so much easier. It has been amazing!
CRC: Experiencing the makeup firsthand can really help you learn more about how it feels, wears, and performs. Have you ever used it on yourself?
Jen: I have airbrushed myself only a handful of times but have worn TEMPTU for close to 22 hours. Yes, 22 hours. I did the makeup for the large bridal party in the morning and attended the wedding after. I airbrushed myself early in the morning so I wouldn't have to do it in the afternoon after I had worked all morning. I danced the night away. So overall, it was about 21-22 hours with maybe 1-2 touchups and the touchups consisted of just a little powder. When I say this makeup lasts, it lasts.
For touchups throughout the day, I suggest just a compact with some pressed powder, either translucent or with pigment that matches your skin tone, to touchup, especially in the t-zone where we tend to get oily and makeup can start to separate.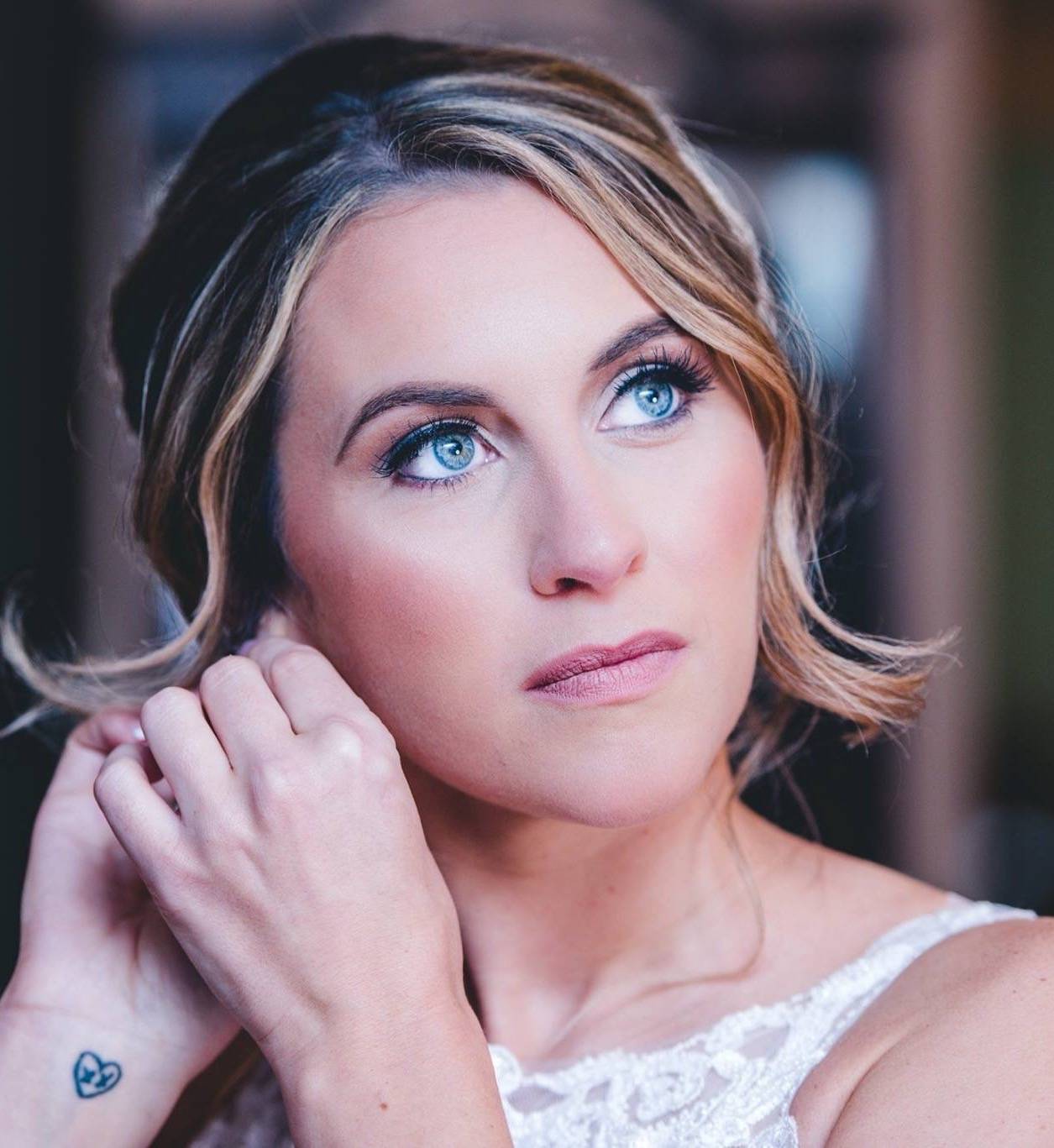 Photo courtesy of Louis Anthony Photography
---
Photo courtesy of @tomtomphoto_.
CRC: If you could recommend just ONE product, what would it be and why?Jen: Since the TEMPTU Air has to be used with a product to work, I'll choose two! I love the TEMPTU Air for it's ease of use, and my go-to TEMPTU product is the SilkSphere Foundation. I use SilkSphere foundation versus the Perfect Canvas foundation. SilkSphere offers more of a luminous finish, which I prefer to work with. It has built in color correctors making coverage really easy! There's also a built in primer to create a flawless finish. I love a good, luminous finish! I think this is more of a personal preference. If I have a client with oily skin, I just make sure to prep them a little differently and give them just a bit extra powder. Regardless of the type of skin, I feel the SilkSphere looks good on everyone.
---
---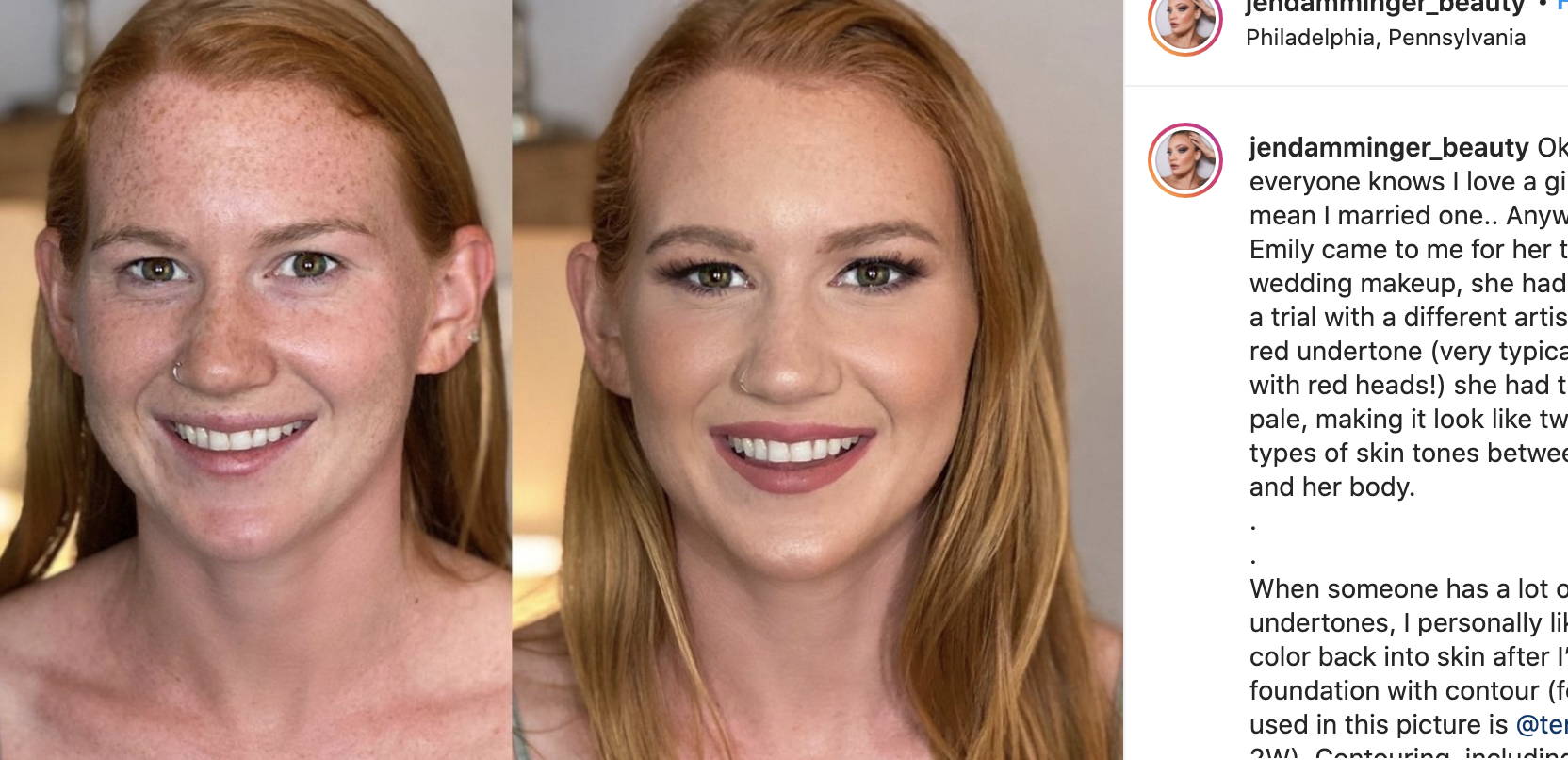 CRC: If someone looks at your work on Instagram, they will see a lot of before and after photos of your clients. Tell us why you like to include them!
Jen: I believe before and after photos are so important! How are you going to know the kind of work I did without it?! I know it may not be as aesthetically pleasing to see on Instagram compared to only having professional photos, but I'd much rather know the quality of work an artist can do rather than the color scheme of their Instagram feed.
---
CRC: Any final tips or advice to folks that are interested in TEMPTU?
Jen: Airbrush makeup isn't cheap to keep in your kit so see if it is something that will overall pay for itself. If it's something that you know you will profit from, read about the different kinds of airbrush makeup TEMPTU offers and how it is made so you know what you'll be working with. If you start researching and you really feel like it's all over your head, ASK! Ask a fellow pro artist on Instagram (I'm always willing to help!). Never be afraid to reach out. Search through hashtags and find other artists that use TEMPTU to see who has your style and go from there.
If you decide to invest, practice on friends and family. Ask people to be your test models. No one's skin is the same so your results will always vary and you'll learn so much from that. Confidence is key when using airbrush makeup on clients because it's a form of makeup they likely haven't used before.
---
Enjoy these photos of Jen's clients, and a special thanks to @tomtomphoto_, @kirstenwhitephoto and @kandco.photos for the professional photos.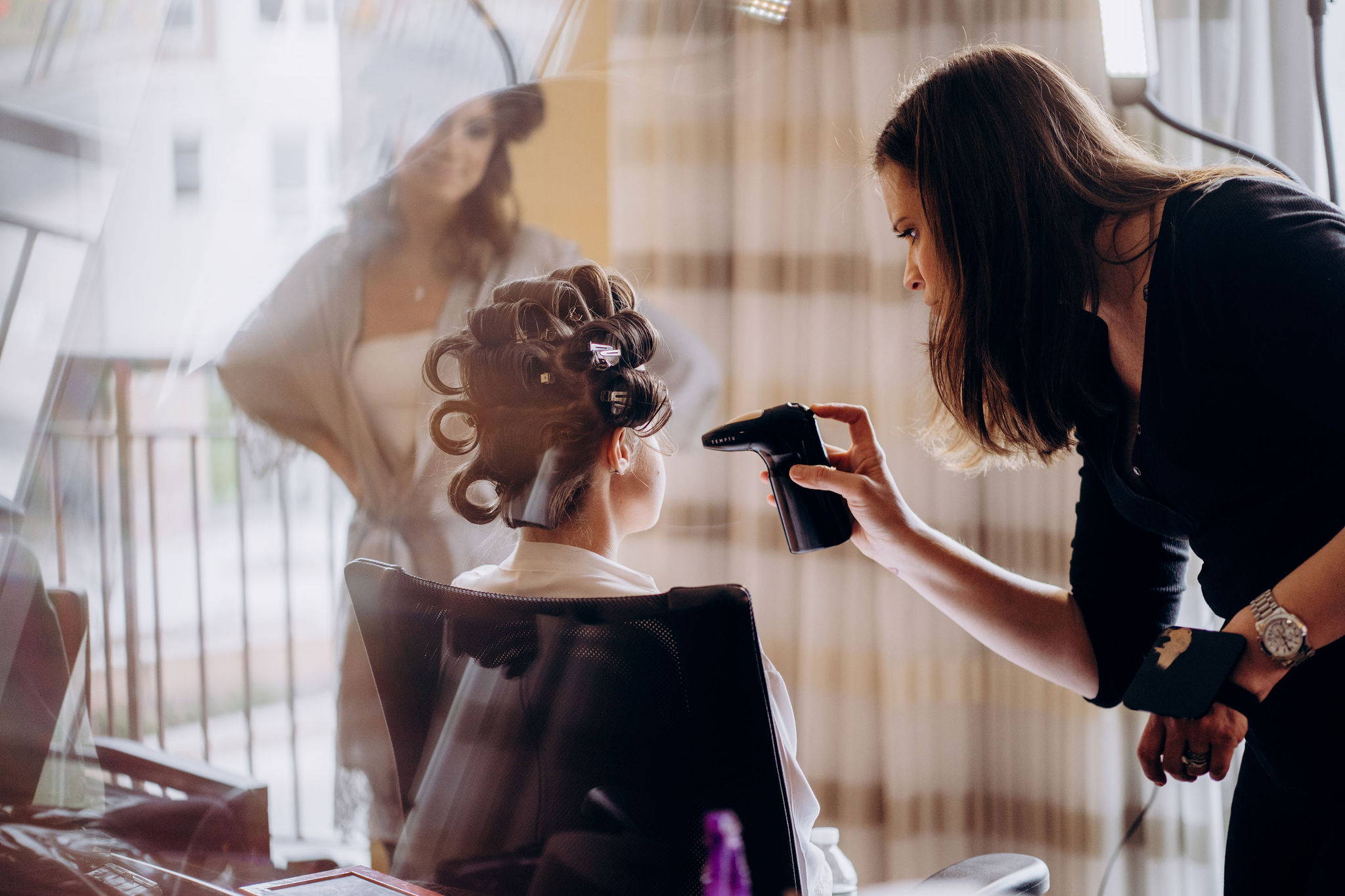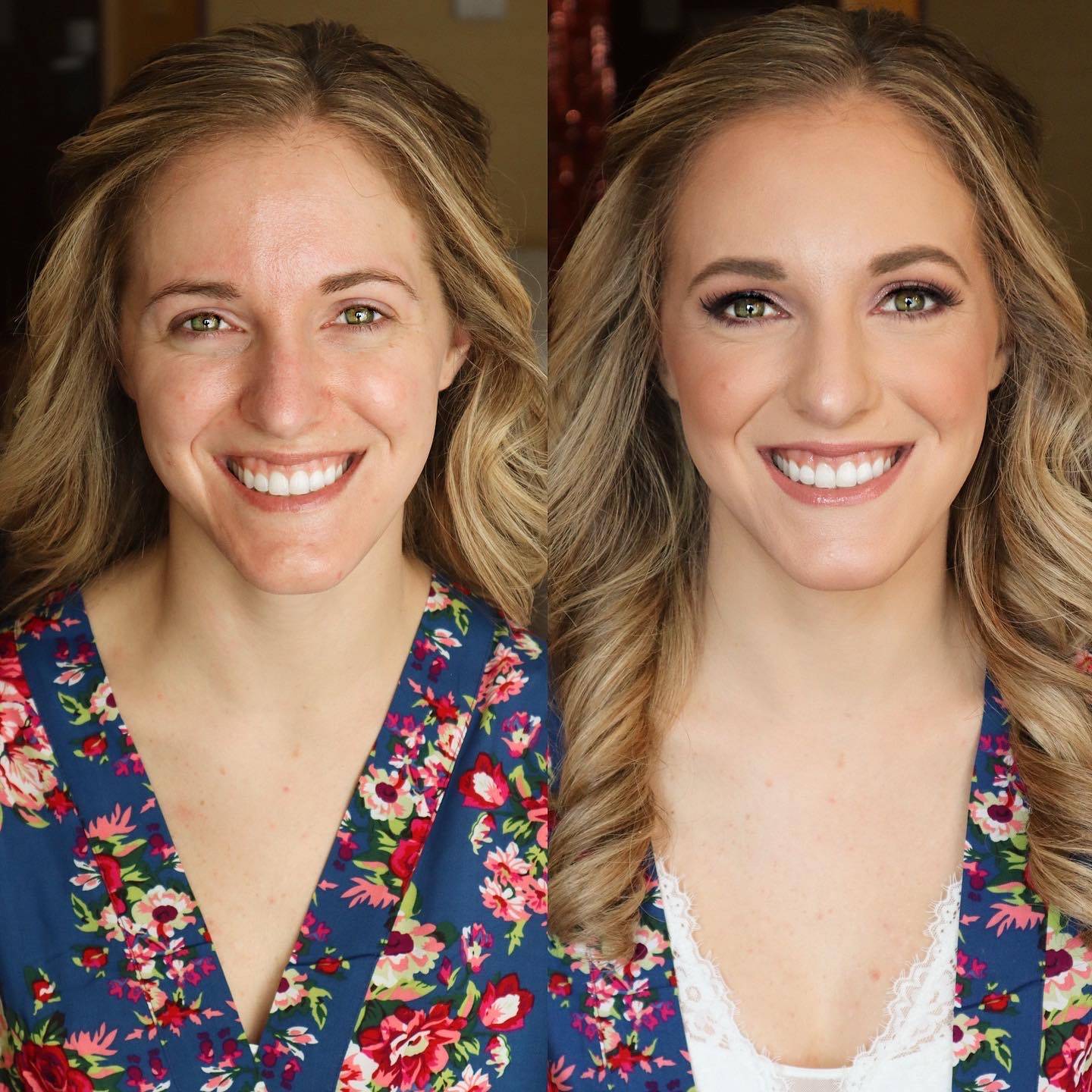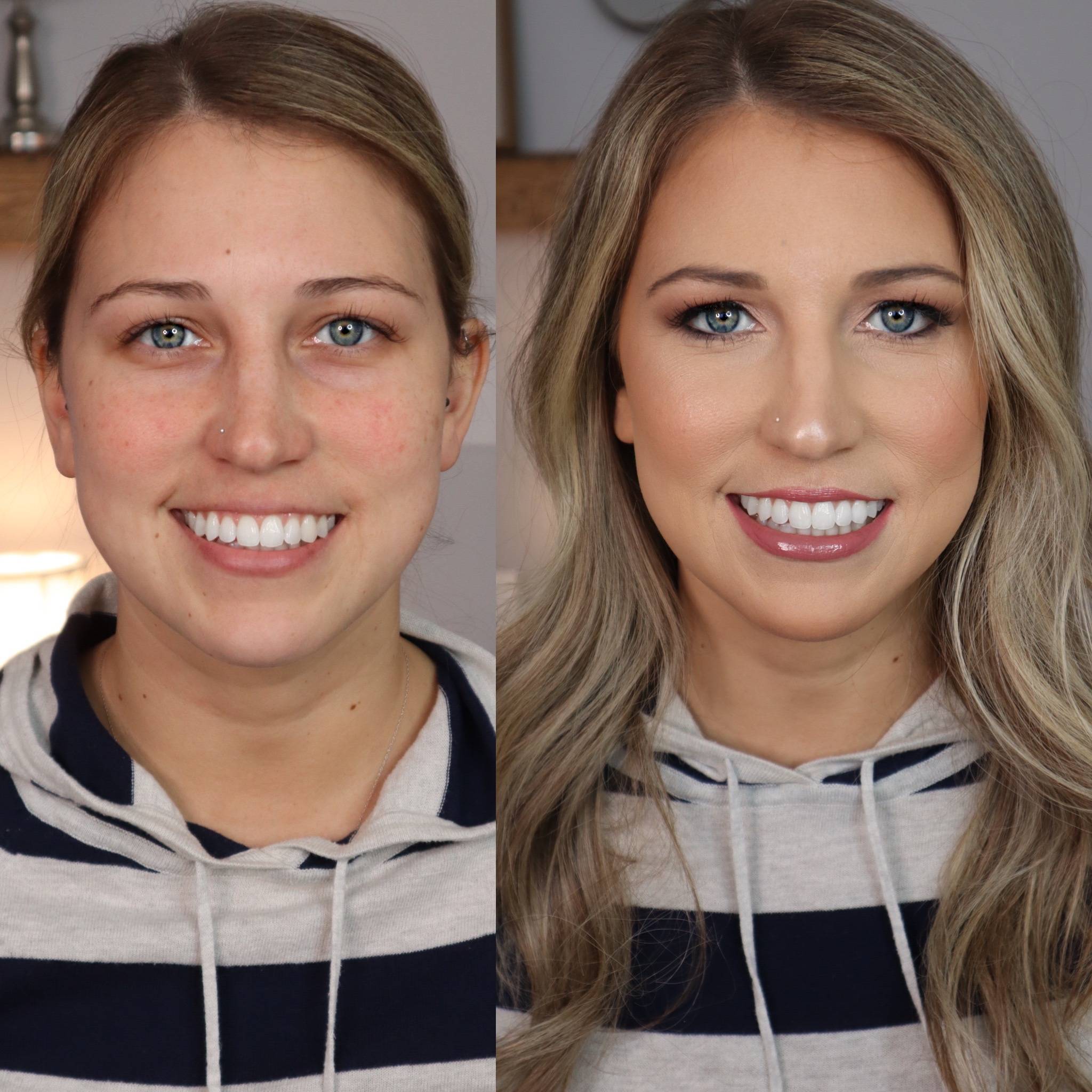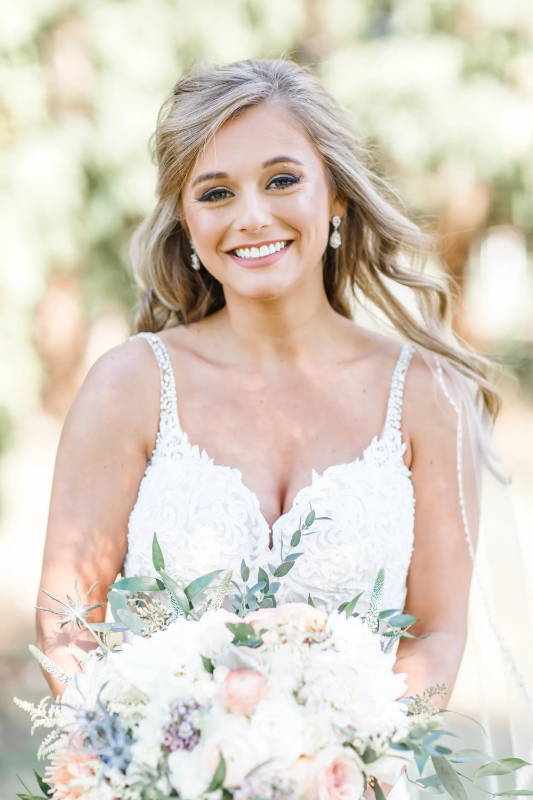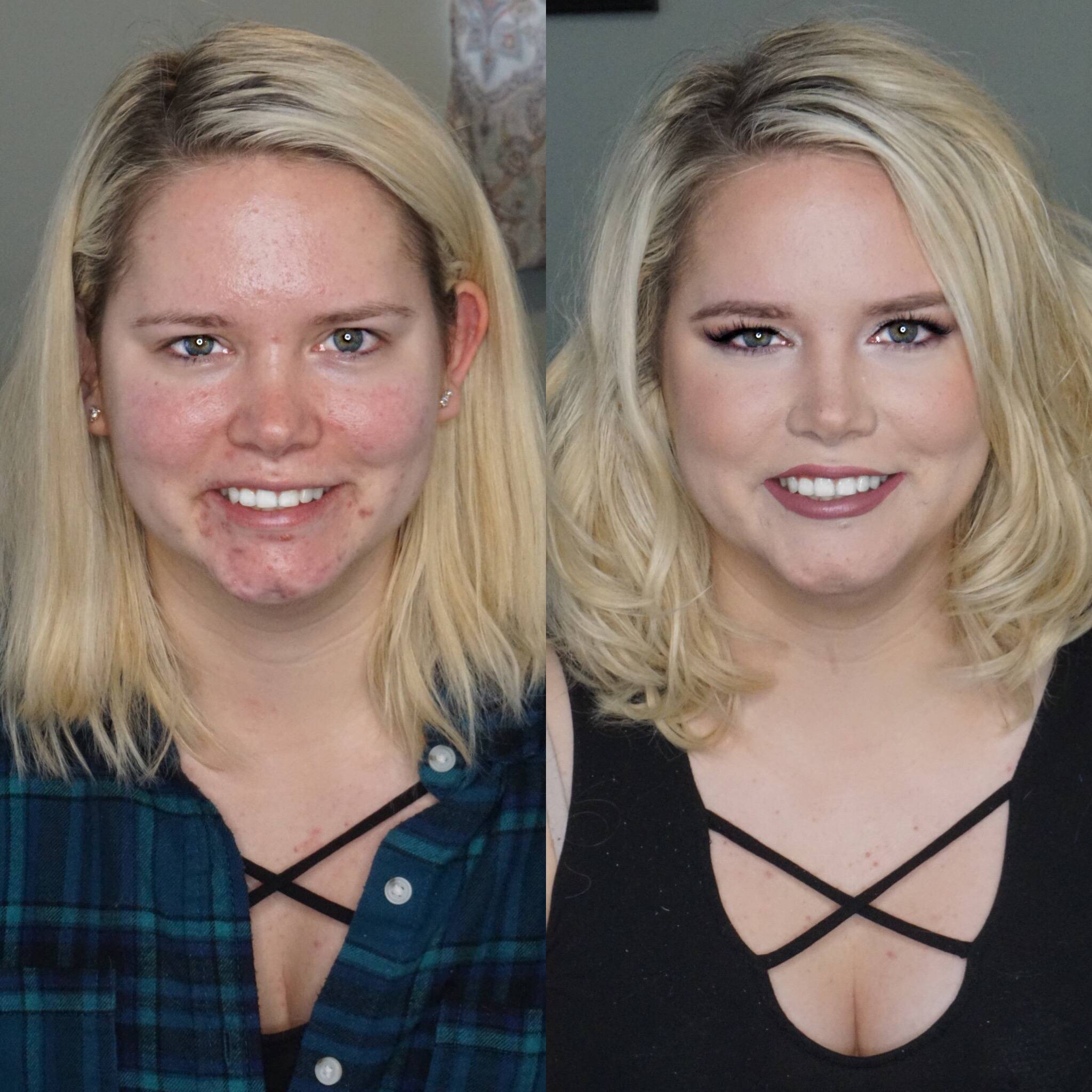 ---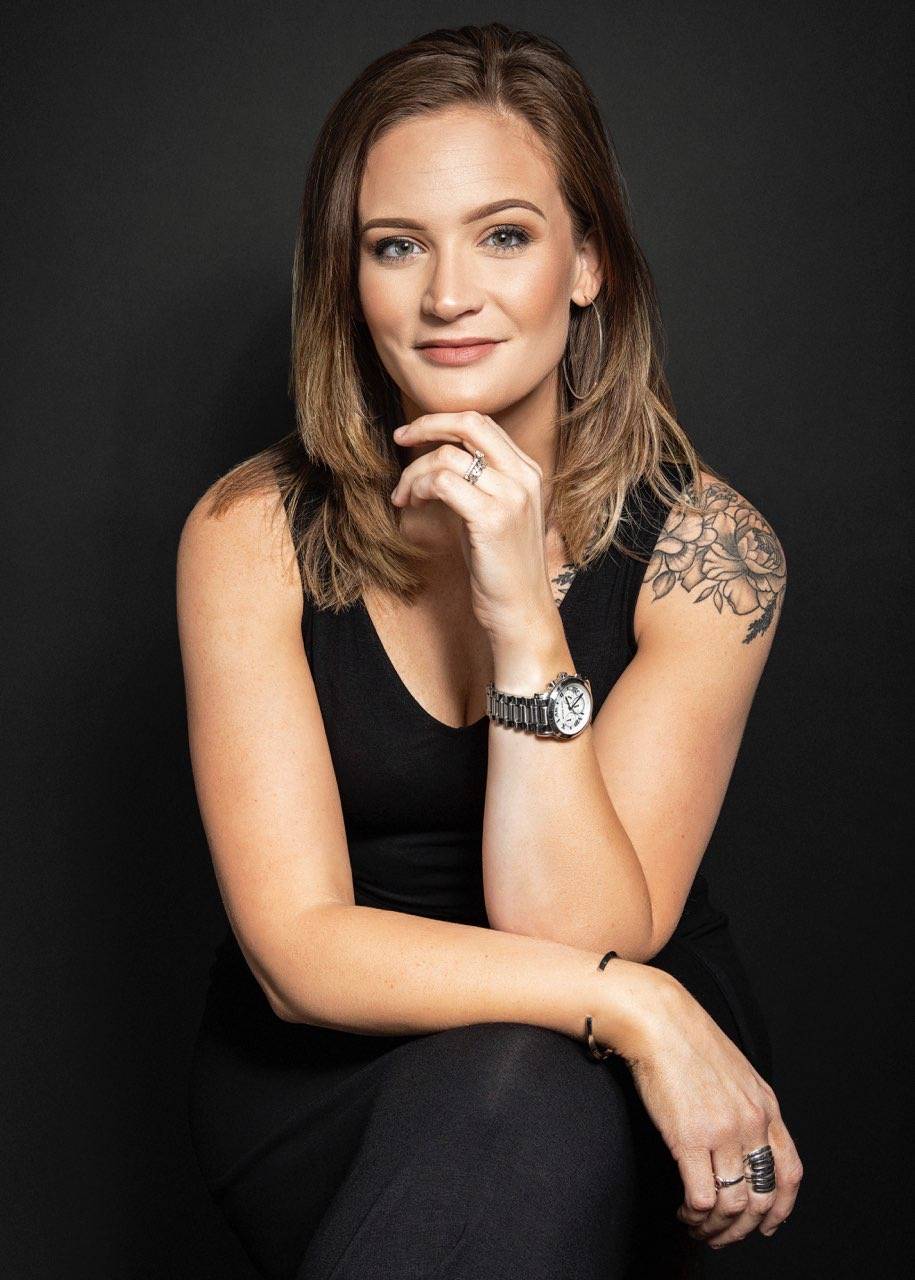 About JEN DAMMINGER
Jen is a Makeup Artist located in South Jersey, about 20 minutes outside Philadelphia. She went to school to be a certified makeup artist and has taken numerous master classes with artists such as Danessa Myricks, Jordan Liberty, Tamanna Roashan (@DressYourFace) and many more. Artistry came naturally to Jen, as she started drawing and painting at a very young age. She added makeup as a medium seven years ago and has been a professional artist for more than six years. Her outgoing personality and hard work ethic has helped her stand out in the industry. The looks she creates include blended finishes and are designed to enhance beauty not change it. To follow and connect with Jen on Instagram, click here.
---
About Camera Ready Cosmetics
Camera Ready Cosmetics was founded in 2003 by Makeup Artist Mary Erickson. She dreamed of having a pro makeup showroom where artists could play with professional products without the typical makeup store attitude. Today, our team of beauty industry veterans work together to curate the best quality products on the market.
We partner with brands who respect the industry and formulate products for true working artists. You won't find CRC in high-end malls, and we don't wear matching brush belts. To learn more about how you can be a contributing writer to our PRO Tips Blog Series or to request a topic for us to cover, click HERE!