At Camera Ready, we are a collective of hair care, skincare, and beauty experts that are here to help you look and feel your best! We recognize that a lot of folks expect that we think being Camera Ready means wearing a full face of makeup, but that couldn't be farther from the truth! We believe being Camera Ready is about feeling comfortable and confident in your own skin and feeling ready to face the day.
We partnered with some of our favorite makeup artists, hair stylists, and beauty experts to share what being Camera Ready means to them (and to see what products THEY use to get Camera Ready)
Meet the Camera Ready Pros
Our Camera Ready Pros include a beautiful collective of hair, makeup, skincare, and beauty loving pros and enthusiasts that make it their goal to spread positivity through their passion for makeup.
Danessa Myricks is a beloved makeup artist and is known for creating beautiful, innovative, and multi-purpose products to allow beauty lovers and makeup artists to express themselves creatively.
To her, beauty and being Camera Ready starts from within from radiating positivity, and she likes to express that same energy through a beautiful lip color that exudes happiness.
---
Spencer, aka @Paintedbyspencer
To him, being Camera Ready is simply doing whatever allows him to express himself through skincare, hair care, makeup, and even fragrance! In other words, he knows being Camera Ready can vary from day to day and person to person. It's all about feeling your best to take on the day to day activities life throws your way.
---
Meet Theresa is Dead, beauty enthusiast extraordinaire! From candid makeup reviews to fun and entertaining makeup content, you'll be up to speed on the latest trends and releases if you follow her on Instagram and YouTube.
For Theresa, being Camera Ready simply means following a routine that allows her to feel her best, and it includes a good skincare routine, colorful makeup, and of course, a LOT of highlighter!
---
Meet Carly Jo Makeup, a professional freelance certified makeup artist based in Columbus, Ohio specializing in wedding and event makeup and education. She loves providing pro tips and trick with makeup lovers and fellow makeup artists on her Instagram and TikTok. It's important that she puts her clients on a path to sucess, and that means helping them learn how to do their own makeup or providing them with education while providing makeup services. You may learn more about her and the services she provides on her website. If you missed it, we went live with her on Instagram to discuss her Camera Ready favorites!.
To her, being Camera Ready means being ready to put her best face forward to serve her bridal clients.
---
Emily Winters, aka @aartbyem
Meet Emily Winters, aka @aartbyem. She's passionate about people and hair and feels helping others be able to feel confident within themselves is the most rewarding thing. Beauty is everywhere, and we all embody that. Her clients know that she strives to give them the amazing style they're looking for but that she also makes it a priorioity to let her clients know how loved they are - because that's what beauty is about.
To her, being Camera Ready can take on many forms. Some days, it's just skincare and throwing her hair back into a snatched pony tail. As long as her brow are done, she feels her most confident and feels Camera Ready!
---
From the LEGENDARY Haus of Diamond Doll, Anastasia Diamond Doll is always ready to turn out a lipsync with her jump splits, cartwheels, and signature backbends! Anastasia gets her drag inspo from pop stars such as Ariana Grande & Doja Cat when it comes to performing but loves taking fashion inspo from Kim Kardashian.
Anastasia started death dropping March 2019 and since then has come a very long way with hosting her very own show at Havana Bar & Grill on Wednesday nights called "Hustlers!" She's also a part of a few casted spots around Dallas. Anastasia LOVES attention just like any other drag queen but what makes her different is that her energy in a performance is ALWAYS 100% no matter what! Anastasia is already an alter ego for her boy self but when she's out and about and wants to PARTY her alter ego comes out & she goes by STAZZ! You can follow her on

Instagram

,

TikTok

,

Twitter

, and even learn more on

her website

.
For her, being Camera Ready is about being ready for her big moments on stage. Her performances are full of big energy, so she relies on a full beat, big lashes, and a beautiful wig to be Camera Ready.
---
Alanna Castro MUA (makeup artist), she/they, loves editorial and glamour makeup, and her goal is to push and break the standard beauty norms. To her, unconventional beauty is true beauty, and makeup is how she expresses everything within.
To feel Camera Ready, she starts with skincare prep with lots of hydration all over the face and eye lids. Then, she lets her hands express the creative freedom she feels inside.
Are You Ready to Get Camera Ready?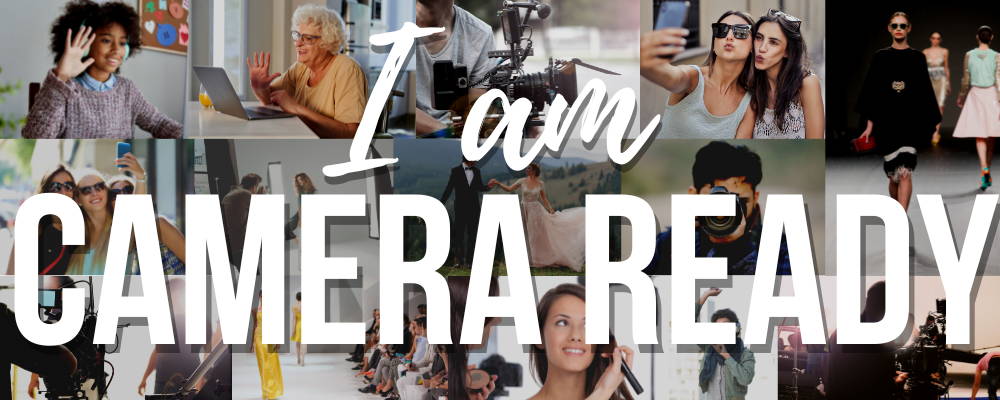 ---
---