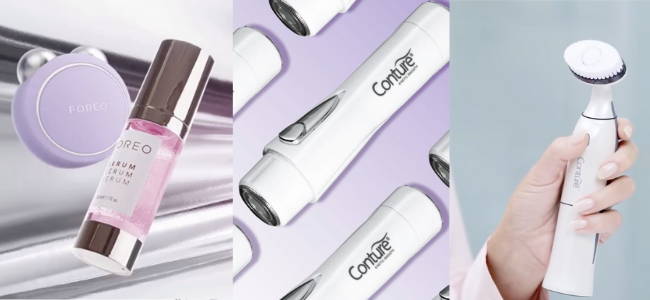 T-sonic pulsations, cryo-therapy, and airflow technology may seem like futuristic phrases you'd expect to hear in a sci-fi film, but they're actually features of some of the most popular skincare tools on the market. Let's talk about our top five picks and the science behind them.
---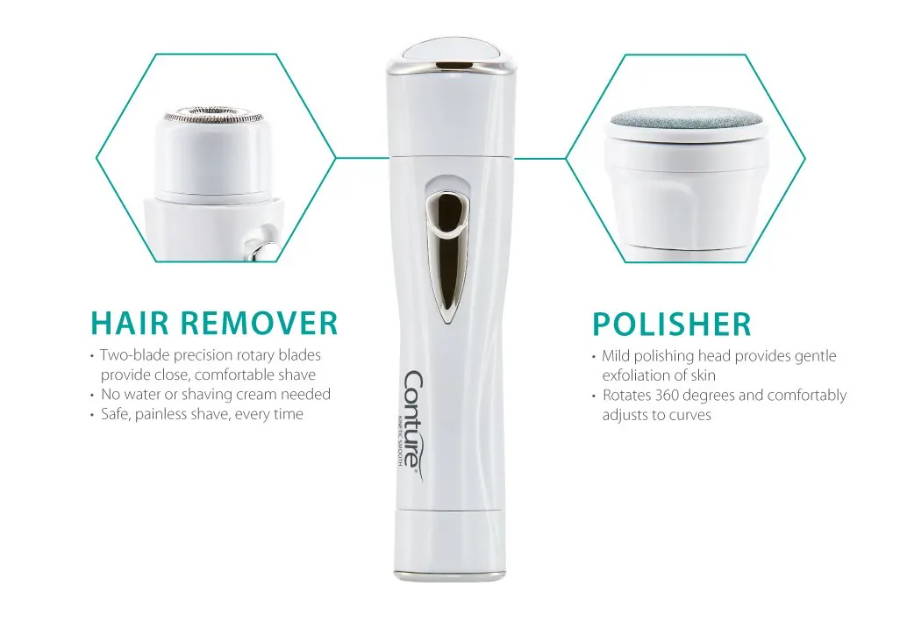 5. Conture Kinetic Hair Remover & Skin Polisher
The name says it all. The Conture Kinetic Hair Remover and Polisher leaves your skin silky smooth by removing unwanted hair swiftly and painlessly, and the polishing head (included in the kit) provides mild exfoliation to remove surface oils and impurities giving your skin a more polished and brighter look. The hair removing head includes two-blade precision rotary blades that work swiftly and safely to remove unwanted hair anywhere on the body, including your face, underarms and bikini area.
This 5-star rated tool is also budget friendly at $49 and eliminates the need for water, a razor, and shaving cream.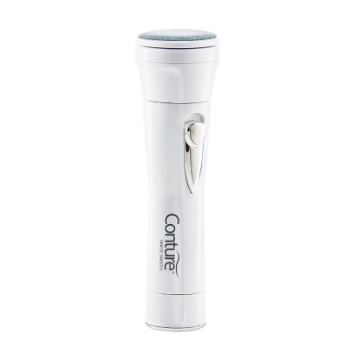 ---
4. Conture AeroCleanse Facial Cleansing Device
This revolutionary sonic facial cleansing brush generates gentle, yet effective airflow that cleanses skin by removing traces of makeup, dirt, and oil. Think of it like an air hockey puck. It glides along without touching the surface of the table thanks to a steady flow of air pushing it upward.
This device captures the same concept with its patent pending technology and is proven to cleanse skin more effectively than traditional hand cleansing. This unique combination of airflow and sonic power increases the lather of cleansers improving the ability to clean skin with less product.
A recent Healthline article dubbed AeroCleanse one of the Hi-Tech Beauty Gadgets Worth The Price thanks to the benefits of sonic cleansers.   One scientific study revealed sonic brushes may aid in the removal of pollutants, sebum, and other irritants on the skin and aid in anti-aging, while a second study involving subjects with acne (ranging from mild to moderate) showed a decrease in breakouts when using a sonic cleansing brush.
To learn more about the AeroCleanse, click here.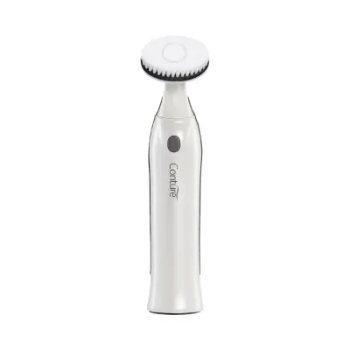 ---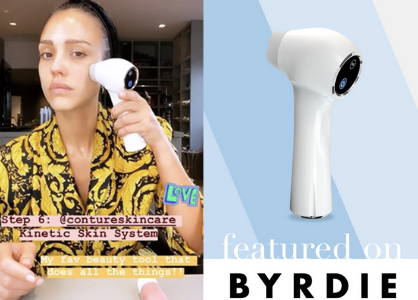 3. Conture Kinetic Skin Toning System with Serum
The Conture Kinetic Skin Toning System utilizes Isometric Compression combined with Low Frequency Vibrations to gently stimulate and tone skin for a more youthful looking appearance. This technology is similar to those used, and once only available, by professionals in med-spas and skin centers. Used daily, the Conture Kinetic Skin Toning System has been clinically shown to enhance the appearance and absorption of skin. The result? Overall signs of aging, dull and tired-looking skin are improved and skin is left feeling and looking radiant and more youthful.
Odds are, if you're a skincare tool junkie, you've heard it's one of Jessica Alba's must-haves for pre-party prep. In 2020, she helped this skin toning system skyrocket to fame by showing how she uses it in her Instagram stories and later filmed a video for Vogue demonstrating how it works. The Kinetic Skin Toning System has also received additional praise from Dr. Dendy Engleman, a Dermatologist at Manhattan Dermatology & Cosmetic Surgery and Director of Dermatologic Surgery at Metropolitan Hospital, in an article published by Byrdie in December 2020.
"It gently lifts and releases the targeted skin zone to stimulate the skin, similar to the positive effects seen in skin massaging. Conture's massaging effects are clinically proven to improve the skin's radiance/luminosity while simultaneously reducing the signs of aging," she told Byrdie. "Using a device particularly designed for facial massages is a more sanitary solution and also enables the product being applied to be absorbed deeper into the skin."
To maximize the benefits of this device, Conture has a lineup of skincare products designed to work in tandem with all of their tools.
---
If you're seeking to enhance your self care routine with an at-home spa experience, look no further. These tools allow you to recreate a spa-like facial in the comfort of your home in three minutes or less. The UFO syncs with your phone and helps guide you through each treatment.
The biggest difference between the UFO 2, UFO Mini 2, and UFO Mini is that the UFO Mini 2 and UFO Mini do not provide Cryo-Therapy (the cooling feature that helps close your pores to help seal in moisture and the skin-loving ingredients in each of their masks), while the UFO 2 does. The UFO 2 and UFO Mini 2 both offer a full spectrum of Light Therapy, but the UFO Mini only offers Light-Therapy in three wavelengths; red, blue, and green. To learn more about the benefits of light therapy and the benefits of each FOREO UFO, click here to read our blog dedicated to this powerful tool and the corresponding FOREO Masks designed for specific skincare needs.
---
Aside from being cute, this high tech tool has been dubbed "a workout for your face". Microcurrent facials were once only available in a professional setting, but this pocket-sized device provides microcurrent therapy in the comfort of your home.
How does it work?
According to a blog published by FOREO, the BEAR Mini's microcurrents encourage your skin to produce ATP, or Adenosine triphosphate. This activity stimulates elastin and collagen in the treated areas. Additionally, the microcurrent therapy activates your body's signals to repair tissue and further stimulates collagen production. This mini massage also helps reduce puffiness and can brighten the appearance of your skin.
What are the benefits, and how long do they last?
While some of the benefits like de-puffing and toning are visible after just a few uses, continued use is needed to maintain the stimulation of elastin and collagen.
What makes the FOREO BEAR mini better than other microcurrent devices?
BEAR mini features the patented Anti-Shock System™ - making it the world's safest microcurrent device. Advanced sensors measure your skin's resistance to electricity then automatically adjust the intensity to eliminate any chance of shock (which can negate any of the positive ATP building effects of the treatment).
Is FOREO BEAR mini safe for me if I have a heart condition or am pregnant?
We recommend checking with your doctor before starting a microcurrent routine.
To learn more about the FOREO BEAR mini, click here.
---
Want to learn more about the other skincare tools we offer at Camera Ready? Click here to see our full range of skincare tools including body brushes, a body plane, and more.
---
About Camera Ready Cosmetics
Camera Ready Cosmetics was founded in 2003 by Makeup Artist Mary Erickson. She dreamed of having a pro makeup showroom where artists could play with professional products without the typical makeup store attitude.
Today, our team of beauty industry veterans work together to curate the best quality products on the market. We partner with brands who respect the industry and formulate products for true working artists. You won't find CRC in high-end malls, and we don't wear matching brush belts.
If you want to play with products for a few hours and buy nothing, that's okay ... come in and play! Our store is your playground.