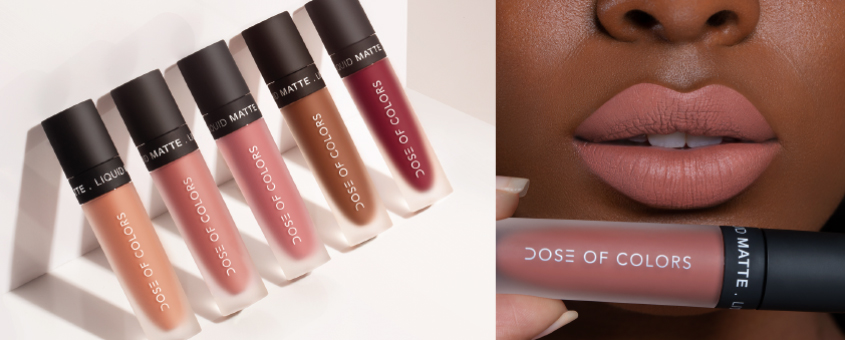 Dose of Colors
Introduce your skin to Dose of Colors' professional-grade skincare and makeup lines. With a dedication to high-quality formulas that feel as good as they look, these products will leave your skin will be camera ready for every occasion. Enjoy stunning eyeshadow palettes, highly pigmented lip shades, and skincare enriched to promote healthy, radiant skin.
Dose of Colors' founder, Anna Petrosian, spent over 10 years in the industry as a professional makeup artist. Her passion for makeup and extensive experience led her to create Dose of Colors in 2013. The cruelty free brand provides the latest trends in highly pigmented, professional-grade formulas. Striving to provide user-friendly cosmetics with comfortable, all-day wear, the brand provides maximum results with color that requires minimal effort.
Begin your beauty routine with nourishing skincare formulated to provide a fresh, glowing canvas. Enjoy a line dedicated to being user-friendly as it cleanses, soothes, and hydrates your skin. From its Energizing Serum to the brand's incredible Cold Pressed Booster for intense hydration, your skin will experience spa-like pampering all day long.
Now all makeup enthusiasts can create a flawless finish with Dose of Colors' buildable coverage foundations. With an incredible, skin-like feel, Meet Your Hue Foundation provides a natural finish in 42 shades to meet everyone's needs. Its line of lip colors boasts an airy, barely there feel. Whipped Velvet Mousse Lipsticks provide rich hues of moisture in matte perfection. Complete any look with a carefully curated, ultra-pigmented eyeshadow palette formulated to create smokey, playful, or natural eye looks.
Create a beauty routine with the professional-grade skincare and makeup trusted throughout the industry. Now everyone can experience a top brand created for maximum performance with minimal effort.
Read More
42 products