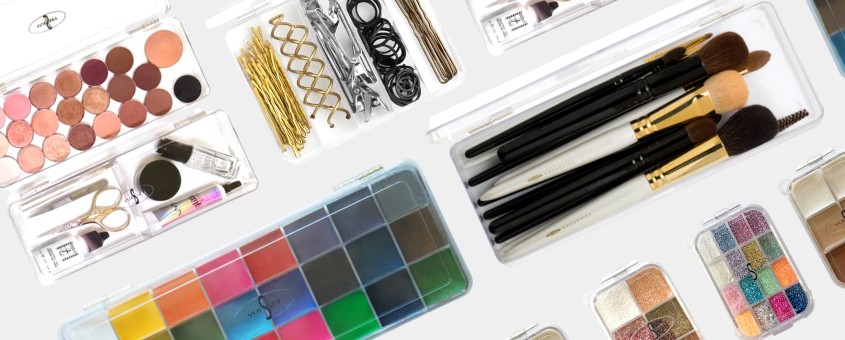 Vueset
Now every makeup lover can experience professional-grade makeup organizers that professional makeup artists have used to downsize their kit and increase their  efficiency. These innovative, see-through and stackable solutions make downsizing, storing, and transporting your makeup collection a breeze. Organize to suit your workflow and create the custom palettes you desire. 
Vueset offers easy-to-use organizing options that provide durable, reusable, practical solutions for every makeup enthusiast. Utilize single-section palettes for your makeup brushes or sets of false lashes. Create palettes with your favorite lipsticks, cream foundations, concealers, and more. Arrange your cosmetics by shade or formula. Depot, mix and match, and leave room to blend within your palettes. With these accommodating cases, your options are limitless.
Whether you're short on space, a frequent traveler, or simply enjoy creating your own organization system, Vueset has a solution for you. Create your ideal palette system for an efficient workflow that suits your needs.
Read More
17 products
Downsizing and organizing your kit as a makeup artist has never been easier, thanks to Vueset! These handy organizers are created with the professional in mind and are durable, reusable, and easy to use. Create a custom color story with your favorite lipsticks, cream products, glitter, and more!
Read More