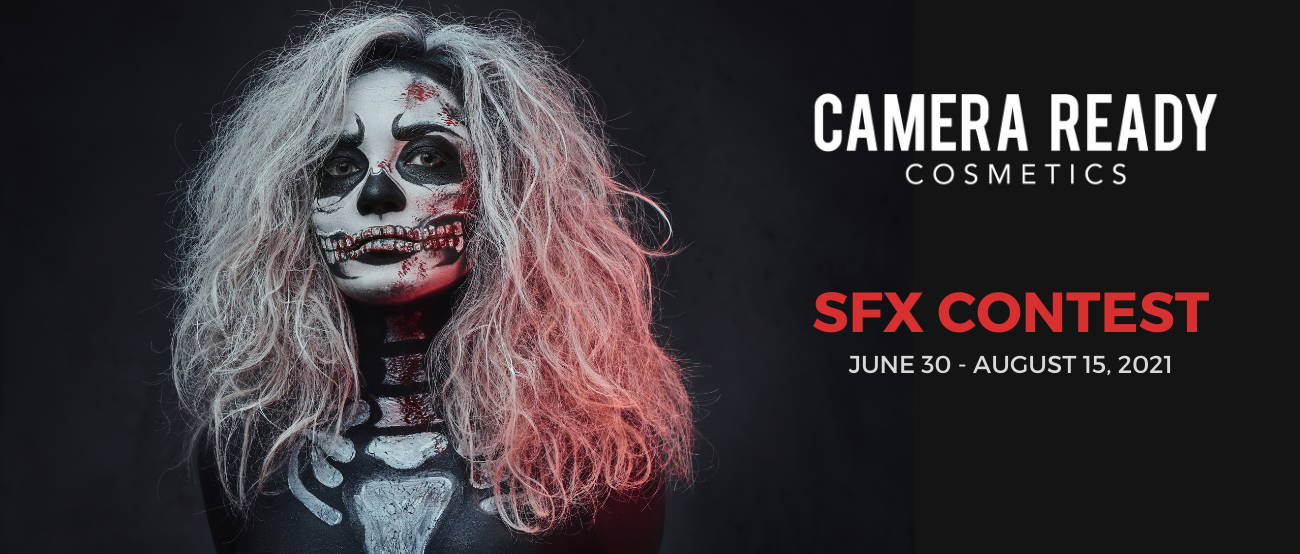 LEFT TO ENTER THE #HALLOWEENATCAMERAREADY CONTEST
It's time to get spooky and show off your skills during our Halloween at Camera Ready Contest! This year, we are searching for a talented SFX Artist to join our talented team of video and blog tutorial creators, so get creative and show us your best work!
---
The Details
Each year, we work with talented artists for our SFX Tutorial Series and feature their work on our website and social media! This summer, we are looking for talented makeup artists and makeup lovers to join in the fun!
The Camera Ready Cosmetics team will select TWO winners based on their overall use of the makeup, creativity, and passion for all things SFX and beauty.
Judging
We will be judging attention to detail, the use of the products, and overall creativity. Use of prosthetics and fake blood is not necessary and will not increase your chances of winning. Photo/video quality will be taken into consideration.
---
The Prizes
There will be two winners, a 1st Place and a Runner-up:
The 1st Place Winner will receive a $200 store credit and join our talented team of Halloween 2021 Featured Artists.
The Runner-up will receive a $100 store credit.
---
How to Enter
Submit your look(s) on Instagram from 6/30/21 to 8/15/21 and follow all rules listed below. Winner to be announced on 8/23/21.
You must follow @CameraReadyCosmetics & @CameraReadySFX on Instagram

Post a high-resolution image of your original Halloween makeup look

Multiple submissions are allowed but not required. Videos are also allowed and will increase your odds of winning but not required

New posts only! Posts from before June 30, 2021 will not be considered. Have a favorite look? Post it again during the contest dates to enter

Tag @CameraReadyCosmetics & @CameraReadySFX in your post, and include the hashtag

#CameraReadyForHalloween

Tell us what looks or trends you think will be the most popular this year!
FAQ
Q: I'm entering other contests. May I enter the look that I'm using for another contest for the CRC contest?
A: Yes! As long as you tag us appropriately, use our hashtag #HalloweenAtCameraReady, follow the rest of the rules above and post the image on Instagram during our contest dates, it may count as an entry for our contest.
Q: Is the contest open internationally?
A: Absolutely. We take pride in having a talented community that spans the entire globe!  
Q: What if I don't own any makeup from the brands you offer?
A: You may still enter, but you must include the brands or products you wish you could have used to create the look in your caption
Q: Is there a minimum age to enter?
A: We are adhering to Instagram's age minimum requirement. All entrants must be at least 13 years old.
Q: What if I don't use Instagram?
A: For this contest, we are accepting entries on Instagram only. However, we will have future opportunities for you to show off your skills! If you'd like to submit photos of your work for future opportunities, email us at marketing@crcmakeup.com.  
---