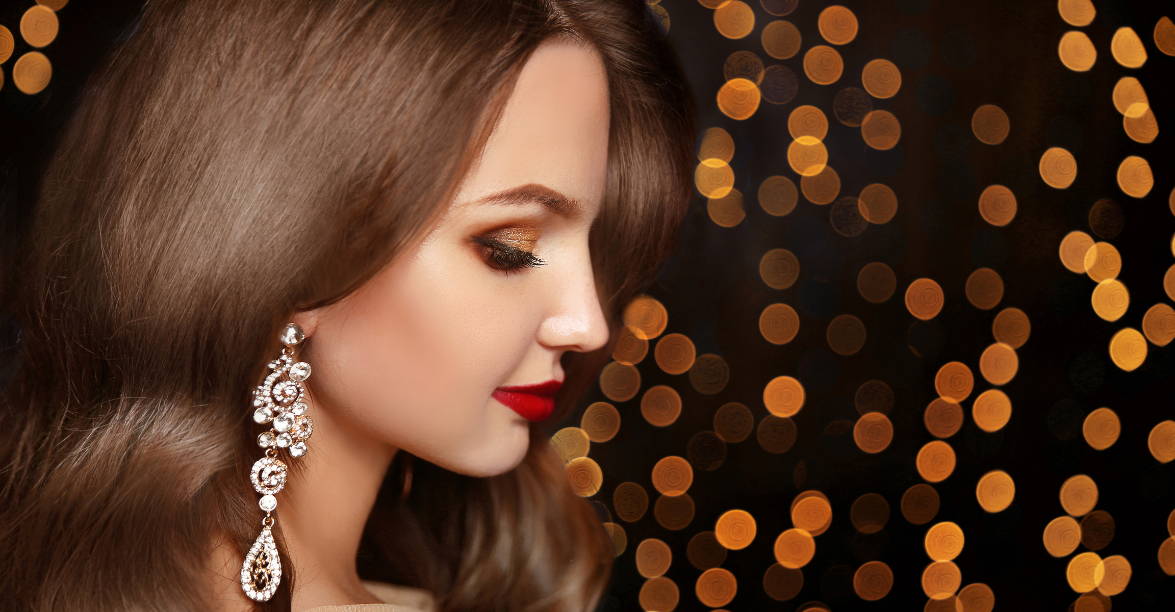 Leave your holiday stress at the door and pick up your holiday sparkle! Between company holiday parties, family gatherings, and New Year's Eve bashes, there is no better time to experiment with a new look. It could be switching up your makeup by adding a bold red lip or a dramatic eyeshadow look with a glitter cut-crease; makeup is about having fun and expressing yourself. If you are commited to your signature look there are still ways to add a special sparkle to your hair, too! Big hair always makes a big statement, tease your mane, or add clip-in extensions for a new do. We have enlisted the help of our resident experts for their top tips to achieve your glow this season.
---
---
Chelsie's Holiday Glow Tips
---
Catch everyone's eye with the Rituel De Fille The Alchemist Highlight Intensifier! It is essentially a highlighter, for your highlighters! This intensifier works best when applied with fingers, just pat some on the highest points of where your original highlighter was applied, or use on its own for the ultimate ethereal glow!
Want your body glow to match your makeup? Create your own custom body highlighter by mixing your favorite moisturizer, like the Embryolisse Lait Creme Concentre, with the powder highlighter that you used, and smooth over your skin like you would with a lotion.
PRO Tip: Add Inglot Duraline to make this combination transfer AND waterproof!
Did you know Cozzette Crystal Cream Eye Shadows can become even creamier? Scrape some of the shadow off onto a palette, and add a few drops of the Cozzette Matrix Mixing Liquid until it has a paste-like consistency. Swipe it across your lid and you've got yourself a water-proof ULTRA-METALLIC lid!
---
---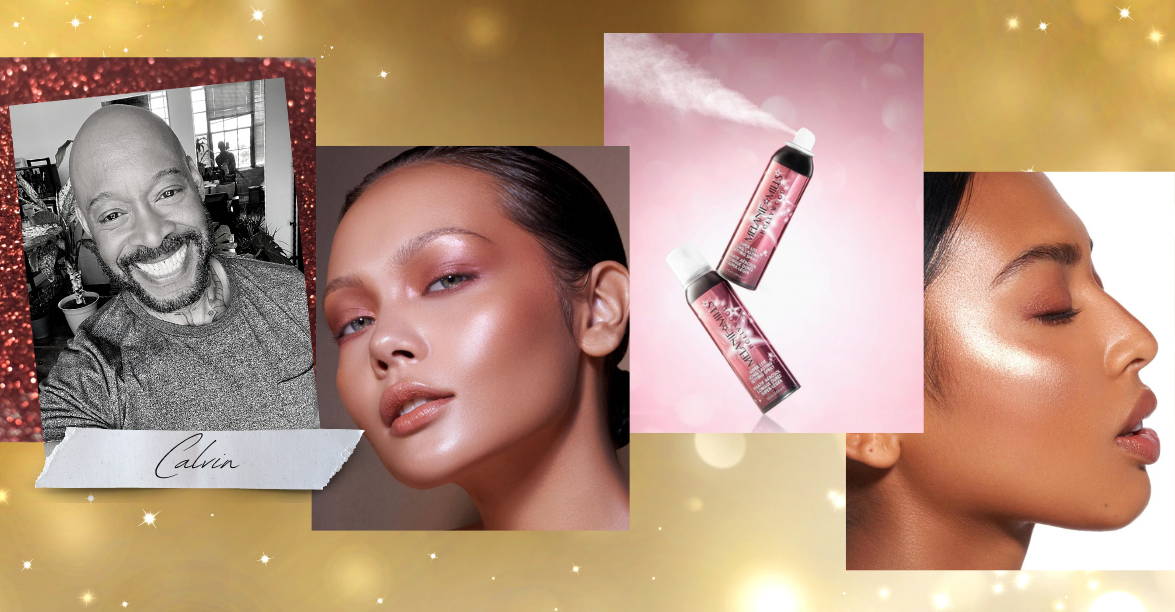 ---
Show Stopping Tips from Calvin
---
For a flawless, long-lasting beam from space, grab the Danessa Myricks Illuminating Veil and apply it along the high points of the face and top that with the Lightwork Palette.
Want your body to shimmer like a celebrity at a red carpet event? You can add Gleam By Melanie Mills Hollywood all over your arms, legs, and chest, or anywhere else you would like an extra glow. Use your hands to apply it like a moisturizer and with a firm powder brush, dip and buff on Inglot Sparkling Dust. To keep your glow in place and transfer-resistant, lock it in with Melony Mills Super-lite Long Lasting setting spray.
Want to achieve the prettiest metallic eyes in no time? Using Mehron Mixing Medium and Metallic Powder, make a paste-like shadow and apply your crease and highlight color to your lids. Then, with a synthetic flat brush, apply it to the lid in whatever shape fits your eye.
Wanting to have the sparkliest eyes at the party? Your eyes will shine line diamonds using Lit Cosmetics Glam Glue! Trace a thin or thick line along your top lashline and with a small tip brush dip into Lit Cosmetic high sparkle, loose glitter, and apply directly on top of the glue for a smudge-proof look.
---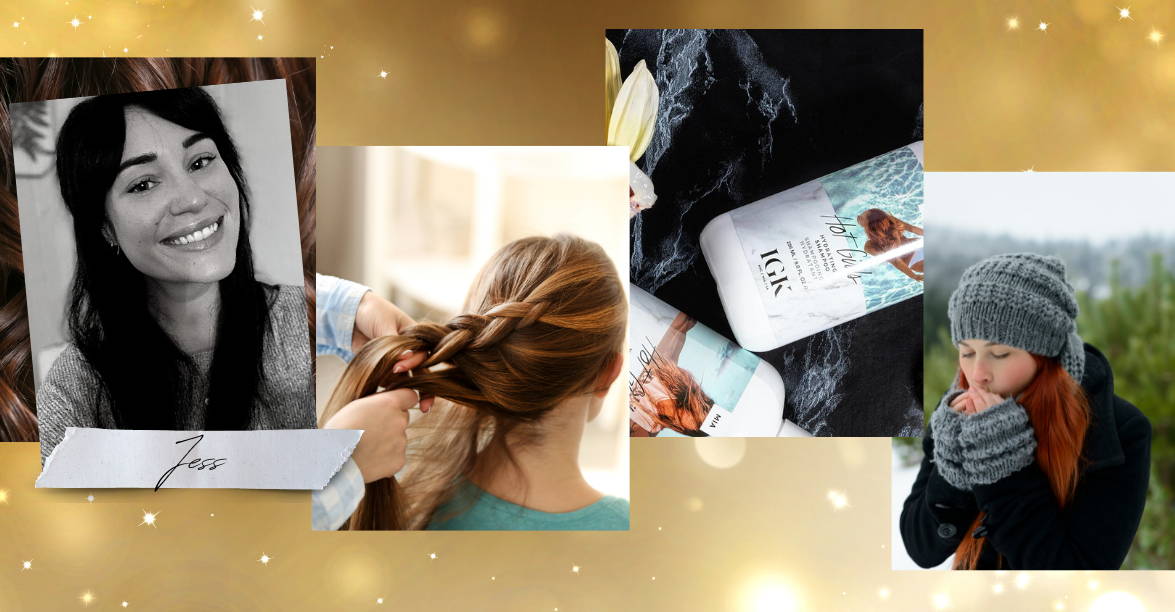 ---
Jess' Tips Keep Your Locks As Lit As Your Tree
---
Take a day off of product, not your responsibilities... Go au natural one day a week by forgoing styling products to give your hair a break. When the temperature starts to drop, you can easily take a day off from your usual washing and styling routine! Pick one of those cooler days, and give your hair a break by throwing on your favorite hate or style your hair in a protective braid and no one will even know that you're giving your hair a rest day!
Nourishment, baby! Your hair needs it, especially this time of year. Double-check that you're using a good moisturizing shampoo and conditioner. I recommend IGK Hot Girls Hydrating Shampoo + Conditioner. Follow that up with a dab of Oribe Supershine Moisturizing Cream for an extra frizz-fighting boost to maximize hydration and restore your mane's luster!
Seek professional help! For your hair, that is 😉 Your hairstylist is just as busy as you are this holiday season. It can be tricky to book an appointment around the holidays, but look to a professional as soon as their schedule (and yours) allows. Even a teeny centimeter trimmed off the bottom will remove those split ends and give your hair more definition without losing length! Regular trims are absolutely vital to keeping your hair looking, feeling, and BEING in tip-top shape.
PRO Tip: Protect your locks from the heat when you reach for that straightener, blow dryer, or curling iron! Use R+Co's Bleu Smooth & Seal Blow Dry Mist to prevent thermal damage from hot tools up to 450 degrees!
---
---
---
---
Are you ready to unlock your holiday glow? Click here to explore our newest arrivals.
Want extra tips and tricks? Our beauty advisors are here to help! Click here to send them a message!