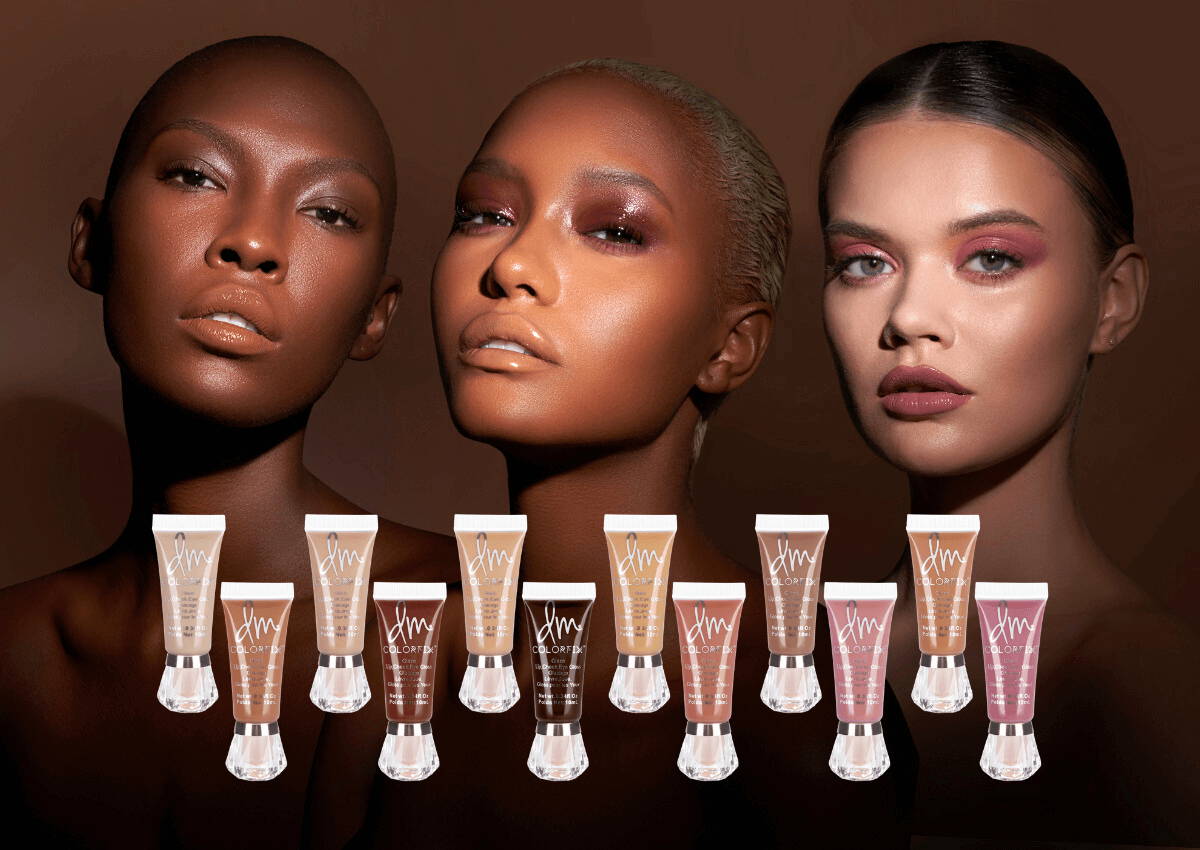 Danessa Myricks ColorFix Nude Glaze, Photo courtesy of Danessa Myricks
If you're like us and get excited for an extended shade range or a new product formula, you're in for a treat! Let's talk about some of our newest arrivals and how you can incorporate them into your routine.
---
There's just something special about easy-to-use products that take minimal tools and time to apply.

Photos courtesy of ILLAMASQUA & Smashbox Cosmetics
The ILLAMASQUA Color Veil Blushers add a pop of color to your complexion and blend seamlessly onto your skin to ensure a fresh, airbrushed finish with zero caking. If you're craving a monochromatic look, try ILLAMASQUA's Cream Pigment on the lips, eyes, and cheeks for buildable and water-resistant pigmentation.
Smashbox's Always On Cream Eyeshadow is the eyeshadow equivalent of their cult classic Always On Liquid Lipstick, and we all know how budge-proof those are! These organic, vegan, and cruelty-free cream eyeshadows have a soft matte finish and can be sheered out for a wash of color. All you need is your finger to seamlessly swipe, blend, and go.
If you love a dewy look, odds are you've tried Danessa Myricks' ColorFix Glaze. This year, she introduced twelve new shades that range from creamy beiges, soft pinks, and rich mochas for the ultimate all-inclusive range of perfect nudes.
---
While neons and duochromes are still on-trend, primary colors and kit-staple colors are making a comeback.  
UV Primaries Hydra Liner Palette, photos courtesy of SUVA Beauty
Get ready for unlimited color mixologies with SUVA Beauty's UV Primaries Hydra Liner Palette. This compact palette allows you to create a basic liner look or mix up the perfect pastels and every color under the rainbow with ease.

Photos courtesy of Viseart
For eyeshadow lovers, there isn't a more comprehensive matte palette than Viseart's Grande Pro 1X. This newly reimagined palette offers 1.5 gram pan sizes that are interchangeable with the newest Etendu collection and adds 11 artist-requested shades that are not available in the original Grande Pro 1. From bridal to editorial, you'll find the staple shades you need in this palette.
---
This spring, it's all about healthy skin and makeup that looks natural and radiant. Here are our favorite new arrivals to enhance every step of your routine.

If you've always wanted to try Murad, you're in for a treat! Their new kits allow you to try some of their best-sellers to target your exact skincare needs. If you've been suffering from blocked pores on your body, the new Acne Control Body Spray will treat and prevent those pesky blemishes.

Photos courtesy of Make Up For Ever and Stila
Make Up For Ever added a new range of Step 1 Primers to color correct, hydrate, and smooth the appearance of your pores for up to 24-hours. Want to opt for a minimal makeup day? Use one of these primers without additional makeup for a my-skin-but-better look.
Stila's new One Step Correct Brightening Finishing Powder combines skin-loving and shine-controlling ingredients into a portable compact. This vegan all-in-one finishing powder has Vitamin E and ceramides to hydrate and smooth while the translucent peach, lavender, and mint pigments neutralize, brighten, and counteract redness for a brighter, more even complexion.
---
Our roundup of new products wouldn't be complete without the skincare tools we've been loving.

Photos courtesy of Jenny Patinkin & Esker Beauty
If you're looking for a tool to brighten your complexion, look no further than Jenny Patinkin. The Uplifting Heart incorporates Gua Sha which originated millennia ago as a part of Traditional Chinese Medicine and has been adapted over the years. It can aid in lymphatic drainage and increase circulation for a glowing complexion. If you want to try your hand at an at-home micro-needling session, the Jenny Patinkin Derma Roller is the tool for you! It has received rave