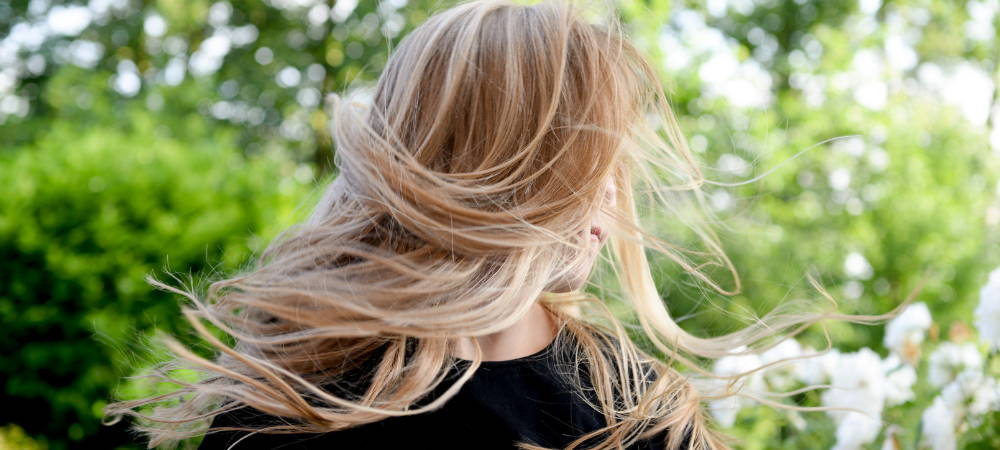 When the flowers begin to blossom, trees start to sprout new leaves, and the weather warms up, it can only mean one thing: spring has truly sprung, and summer is knocking at the door! But with warmer weather comes humidity, which can take a large toll on not just the look but also the manageability of your hair. The more humid it is, the more likely your hair is to frizz. With these tried-and-true methods, you'll keep your hair looking great all year long.
---
How Can I Keep My Hair Healthy in the Warmer Months?

Spring and summer bring new hair challenges after cold, dry winters, but you can achieve healthy, shiny, soft, and frizz-free hair even during the hottest days with a few simple tweaks to your hair care routine. Battle bad hair days with our top tips, including:
Get a haircut/trim

Ditch the heat

Stock up on frizz-taming products

Use weekly hair treatments or hair oils

Incorporate a refreshing scrub
New Hair, New You 
It's a great idea to kick off the spring season with a fresh haircut to get rid of those dry, dead ends. Split ends can travel up the strand, causing more damage and frizz, so it's key to get a haircut when you start to notice fraying. If you live in a region with high humidity, haircuts with blunt lines can help!
---
How to Style Your Hair When the Weather Heats Up

Turn Down the Heat to Protect Your Hair During the Spring and Summer

While nobody likes a cold shower, turning the heat down a notch to lukewarm can work wonders for your locks. High temperatures can cause the hair cuticles to raise and open, which makes your hair need more moisture (AKA, avoid steam if you can!) to behave. You can combat open cuticles with a cool-water rinse at the end of your shower.
What about hot air from the blow dryer, though? Well, when it comes to using heat for blow-drying and styling, a great trick is using the "cold" feature (that little blue button!) on your blow dryer to create this cuticle-soothing effect for a smooth head of hair.
Fight Frizz With Top-Notch Hair Products
When it comes to frizzy hair, stocking up on frizz-fighting products is an absolute must as the temperature starts to rise. And we highly recommend using UV protective products in the spring and summer to shield your hair from sun damage. Fun Fact: Your hair can burn just like your skin – you just can't feel it!
To counteract hair burn and frizz, use lightweight creams or serums that create a barrier between your hair shaft and water in the atmosphere. Oribe Impermeable Anti-Humidity Spray not only shields hair from frizz on the steamiest of days (and nights) but also contains UV protection - a true two-for-one!
The team at Living Proof knows what a struggle it can be to tame your tresses when the humidity is on the rise, so they developed a patented Healthy Hair Molecule (OFPMA) and the No Frizz System. The system consists of Living Proof No Frizz Shampoo and Conditioner, Living Proof No Frizz Humidity Shield, and Living Proof No Frizz Nourishing Styling Cream. This system not only helps in blocking humidity but also smooths your hair texture leaving those strands polished, frictionless, and moisturized.
---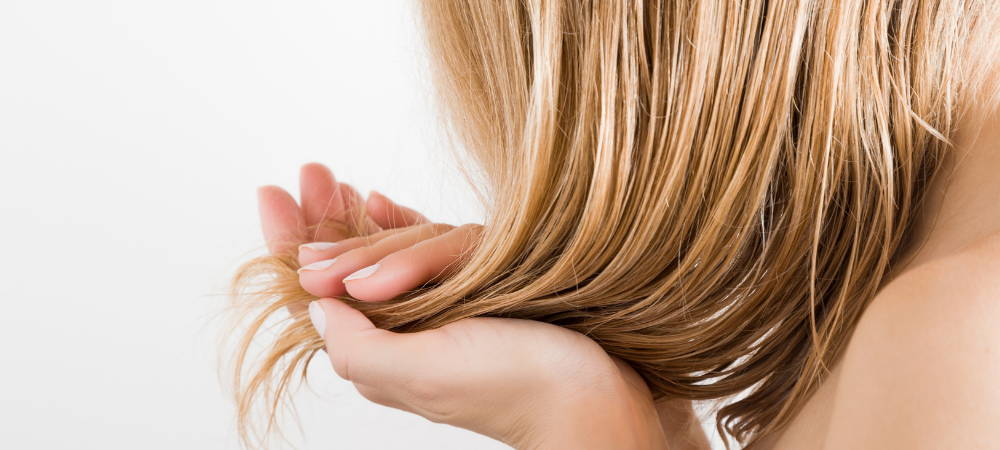 Treat Your Tresses to Minimize Flyaways and Frizz

Using a weekly hair treatment can also assist in combating those pesky flyaways. One of our favorites is the Philip B Rejuvenating Oil, which starts working instantly to make your hair soft and shiny with great bounce. This product's ultra-light essential oils offer instant results for a beautiful, manageable mane no matter the season.
How to Apply A Hair Oil:
Hair oils can be used on towel-dried or dry hair to provide extra hydration, shine, and softness. However, one of our favorite ways to use it is prior to cleansing. Apply the hair oil liberally to dry, unwashed hair, starting 2 inches from the roots, and work it in with your fingers down to the ends. Shampoo and condition as normal. Hot tip: To help the moisture sink in quickly, warm your hair with a blow dryer for 1 to 2 minutes.
If you prefer to treat yourself to a hair mask, opt for one that is designed to treat damaged hair like the Christophe Robin Regenerating Mask with Rare Prickly Pear Oil. Even if your hair isn't damaged, these nourishing masks can protect against future damage. If you have curly hair, the Oribe Moisture Control Deep Treatment Masque is a great option to provide extra hydration and to protect against photoaging.
---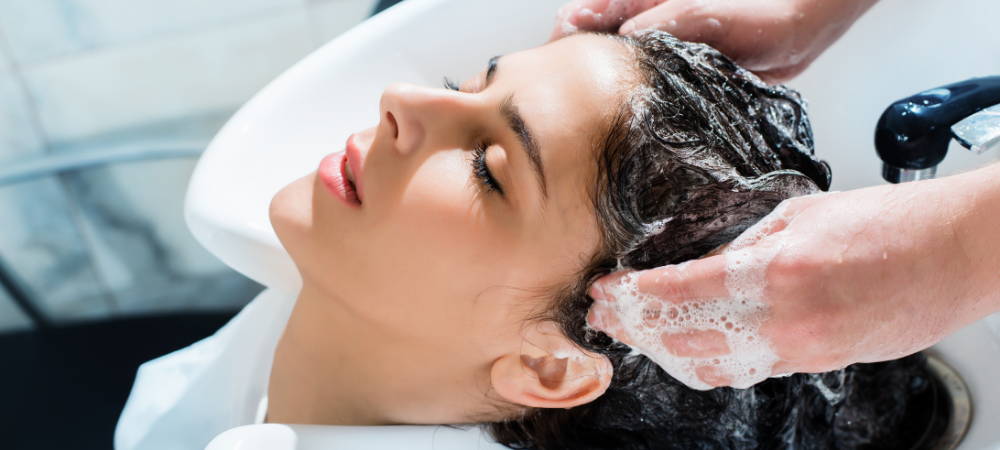 Use A Scalp Scrub to Whisk Away Buildup and Restore Shine

Scalp scrubs have gained popularity during the last few years, but their benefits really shine as the weather warms up! Odds are, you'll be spending more time outdoors, and although you may not actively be sweating, your scalp will produce more sweat and oil in response to the changing climate. A gentle scrub will help slough away those impurities and will stimulate bloodflow to your scalp for healthy hair growth. Additionally, it can get to the root of the problem (literally) when it comes to dull hair that has lost its luster due to buildup.
How to Use a Scalp Scrub:
Each scalp scrub will come with different instructions based on the formulation, so read the packaging to determine if you should scrub after using shampoo or if you can apply as soon as you enter the shower. For example, the Christophe Robin Cleansing and Purifying Scalp Scrub with Sea Salt is formulated with shampoo in it to provide a proper cleansing and exfoliating session in one easy step!
The key to a good exfoliating session is to keep it relatively short (compared to the 5-15 minutes you leave a hair mask in) and to let the exfoliating agents in the scrub itself do the heavy lifting. Apply a generous amount of the scrub as close to your scalp as possible and gently massage using the pads of your fingertips instead of your nails to prevent accidental scratches or damage to your skin. Lightly rub the scrub all over the scalp, allow to sit on your head for a couple of minutes (or as instructed by the packaging, as certain brands incorporate chemical exfoliators), and rinse well.  
How Often You Should Use a Scalp Scrub:
If you have a healthy scalp without any flakiness, dryness, or irritation, a scalp scrub can be used safely every 5-7 washes or after excessive sweating and product usage. The Philip B Peppermint Avocado Scalp Scrub provides a cooling effect that can be a refreshing way to treat your mane after a warm day in the sun. If you have scalp irritation, it's best to select a scrub that is formulated with chemical exfoliators and smaller exfoliating particles like Oribe Serene Scalp Exfoliating Scrub. It is extra gentle and has flower extracts to calm and hydrate a dry, irritated scalp.
---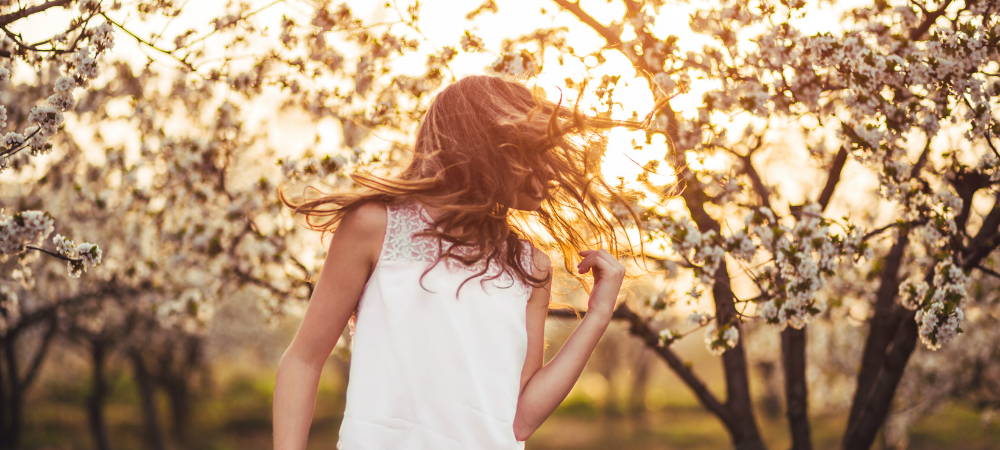 We hope this blog has helped provide a few new tips for you to achieve your hair goals this season! If you're ready to refresh your hair routine, explore all of the great hair care products we offer! If you need more help or a personalized recommendation, click here to contact a Beauty Advisor.
---
About Camera Ready Cosmetics
Camera Ready Cosmetics was founded in 2003 by Makeup Artist Mary Erickson. She dreamed of having a pro makeup showroom where artists could play with professional products without the typical makeup store attitude.
Today, our team of beauty industry veterans work together to curate the best quality products on the market. We partner with brands who respect the industry and formulate products for true working artists. You won't find CRC in high-end malls, and we don't wear matching brush belts.
If you want to play with products for a few hours and buy nothing, that's okay ... come in and play! Our store is your playground.