If you've ever asked yourself what the benefits of CBD in skincare, hair care, and even makeup are, you're not alone! January is CBD Awareness Month, and we wanted to share some of the perks you can enjoy when incorporating it into your beauty routine.
To celebrate, we are pleased to say we partnered with our best selling CBD Beauty Brand Fitish to gift you a Deluxe Mini Don't Sweat It, a $12 value, with any CBD Beauty Purchase*.
You may view the entire collection of qualifying products using the button below!
*Your complimentary Deluxe Mini FITISH Don't Sweat It will automatically appear at checkout when you have a qualifying item in your bag. Available while supplies last, and only complimentary Deluxe Mini FITISH Don't Sweat It per qualifying order.
---
First, let's tackle the top questions about CBD when it comes to beauty: What is CBD, and will it get me high if I use CBD beauty products?
CBD is a natural compound derived from the cannabis plant. Heralded for its restorative power for all skin types, including acne-prone and sensitive skin, CBD is proven to help reduce inflammation and support the skin's natural healing process. That's why we've added award-winning CBD-infused skincare and hair care brands to our Camera Ready family!
Now, as far as if CBD Beauty products will get you high. The answer is no. CBD is one of 100+ cannabinoids (chemical compound found in hemp plants) that stabilizes the body and helps maintain health. You'll find traces of CBD in marijuana, but CBD alone is non-psychoactive and legal to purchase in an isolated form.
The cannabinoid compound infamously known to get you high is called THC. This particular plant derivative is responsible for the psychoactive effects of marijuana.
*Disclaimer - As with any big change in your skincare or hair care regimen that focuses on ingredients, if you are pregnant or nursing, or if you're reading this article to decide if you'd like to use this product on a child, we highly recommend checking with your doctor first.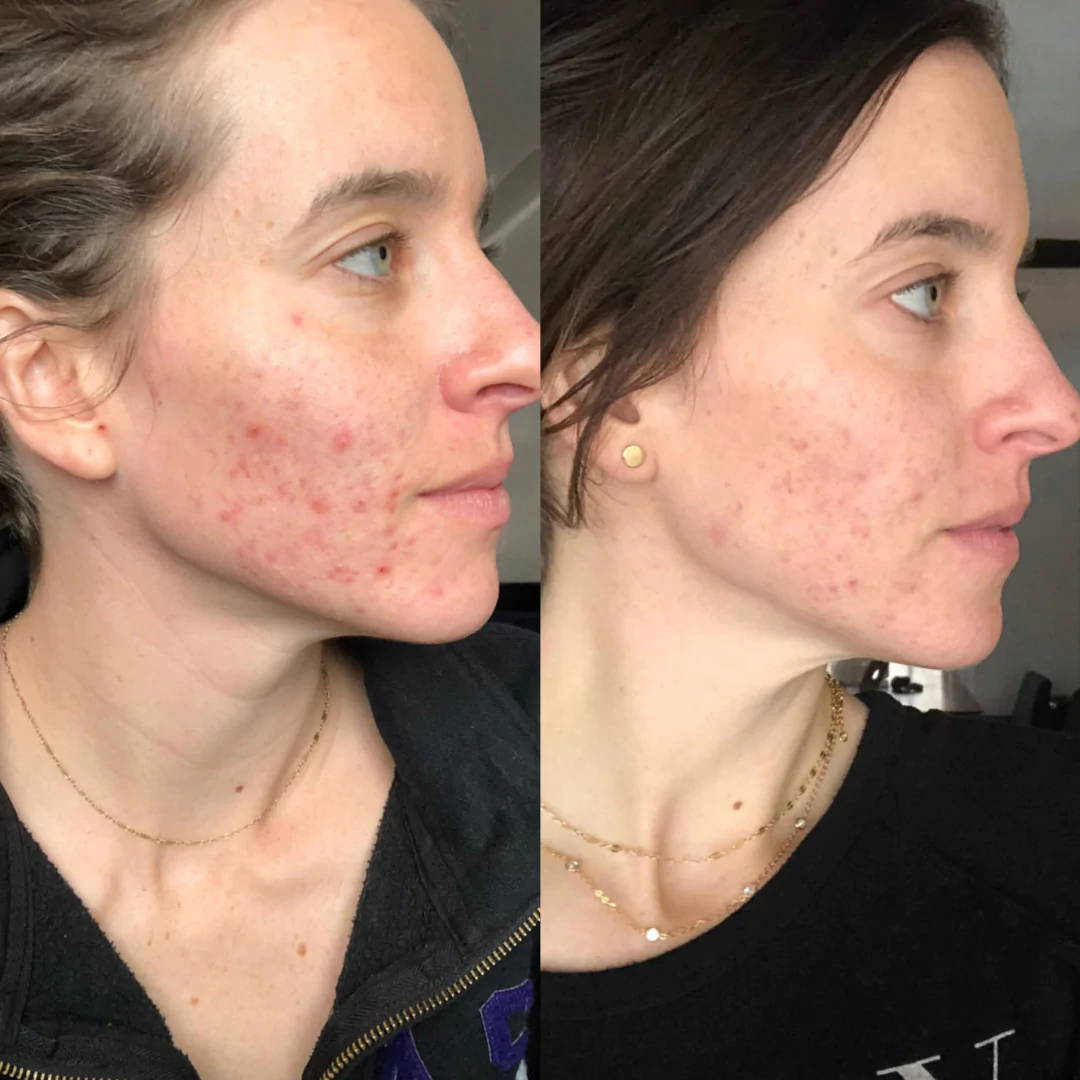 Before and after photo from Fitish Beauty
Benefit #1 of CBD in skincare and hair care: CBD can alleviate acne, redness, and inflammation
CBD oil is an effective and natural anti-inflammatory. Those who suffer from inflammatory skin conditions, like rosacea, benefit from the soothing properties found inside CBD. This miracle ingredient also reduces breakouts and calms redness by decreasing excessive levels of oil produced by the skin – a major trigger for acne-prone skin.
Our Top Picks:
For those suffering from stress-related hair loss, hair care products infused with CBD like FITISH Plumping Hair Serum can help reduce inflammation of the scalp - one of the biggest contributing factors to non-hereditary hair loss!  
For those wanting to tone down the redness on their face, FITISH Tone Down Spray has become pro favorites thanks to the cooling effect and instant relief. For those with oily skin, we love FITISH Don't Sweat It. For added hydration, seal in moisture with the nourishing CBD-infused Saint Jane Luxury Beauty Serum.
---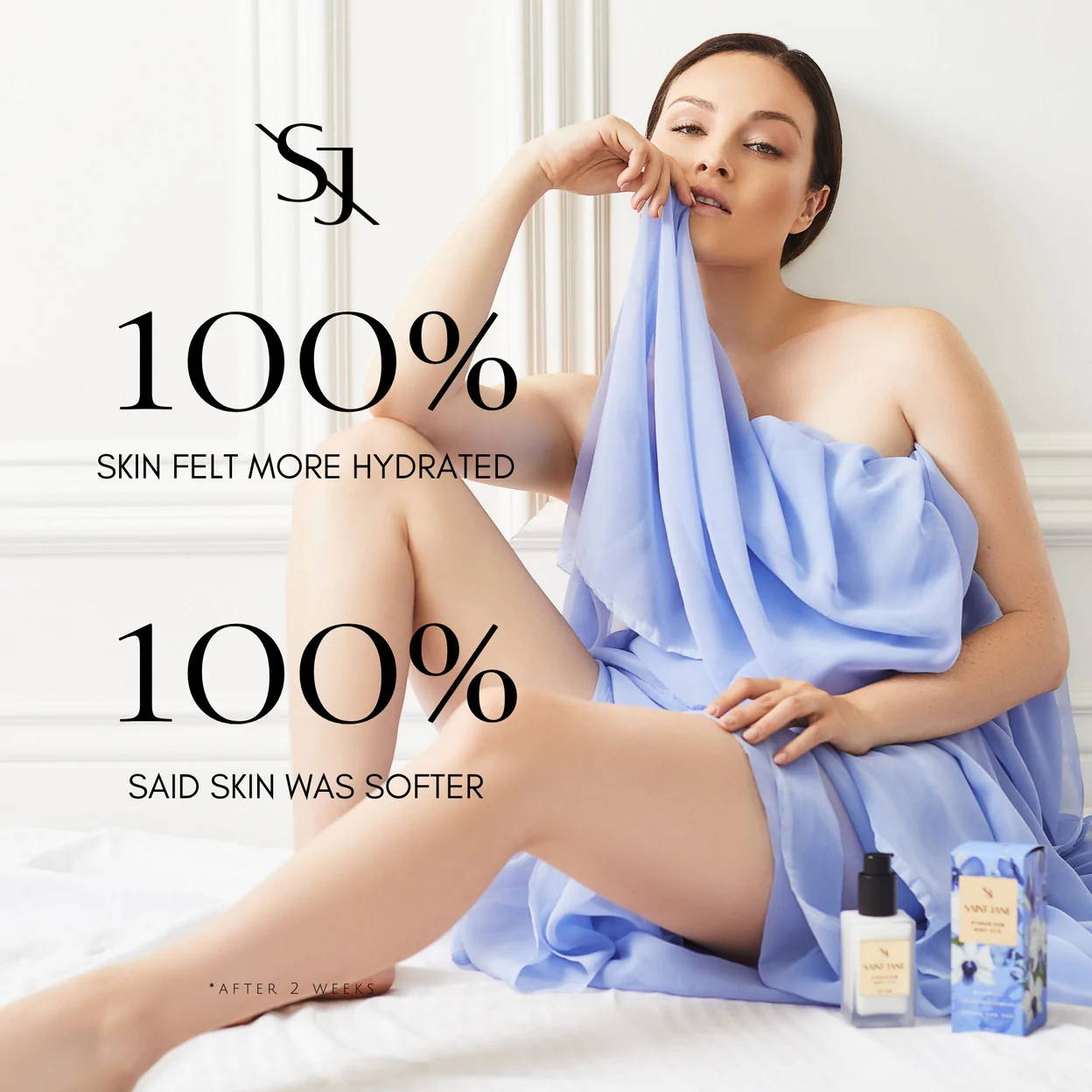 Photo and study results by Saint Jane for their Hydrabloom Body Silk
Benefit #2 of CBD in skincare and hair care: It provides nourishment to sensitive skin and can alleviate some skin conditions
CBD oil inhibits flare-ups in some skin conditions, like psoriasis and eczema, and helps soothe sensitive, easily-irritated skin. Incorporate a CBD-infused beauty product into your daily routine to nourish skin and lock in moisture for healthy, glowing skin.
Our Picks: 
For a lotion that's great to use all over the body, try Saint Jane Hydrabloom Body Silk. Powerful ingredients like their Sea Flower Complex firm and tone while wild chamomile, hyaluronic acid, and jasmine provide deep hydration, soothing moisture, and soften the skin. If you love a body product that provides a soothing cooling sensation, FITISH Tone Down Body Cream has peppermint and caffeine for additional benefits!
---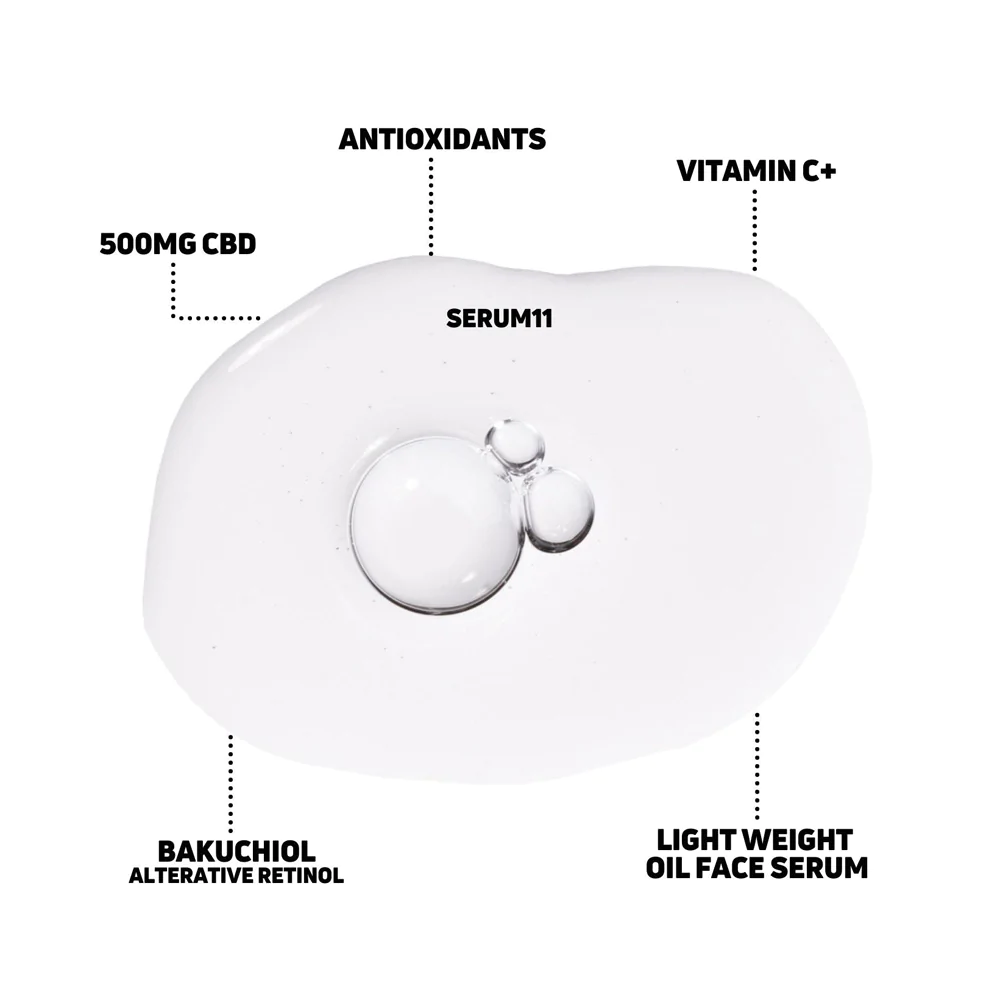 Key ingredients in KOVO Bakuchiol Serum11 Alternative Retinol
Benefit #3 of CBD in skincare and hair care: CBD can slow down some of the effects of aging
CBD in skincare combats the visible signs of aging with powerful antioxidant properties. Along with reducing inflammation, it can rejuvenate a dull complexion, even skin tone, and help smooth fine lines and wrinkles. That's the power of CBD.
The CBD-focused brands we offer including KOVO, FITISH, and Saint Jane, have also upped the anti-aging benefits with peptides, other calming botanicals like chamomile, and antioxidants like green tea.
Our Top Picks: 
FITISH Beauty's Dewing It CBD Moisturizer soothes irritation, calms redness, and gently nourishes with anti-aging ingredients for all skin types. If you're looking for an oil-based serum, we recommend KOVO Bakuchiol Serum11 Alternative Retinol.
---
Are you ready to experience the calming and soothing benefits of CBD in your Beauty Products? Explore our entire collection here!, or click the images below to explore our top CBD-focused beauty brands!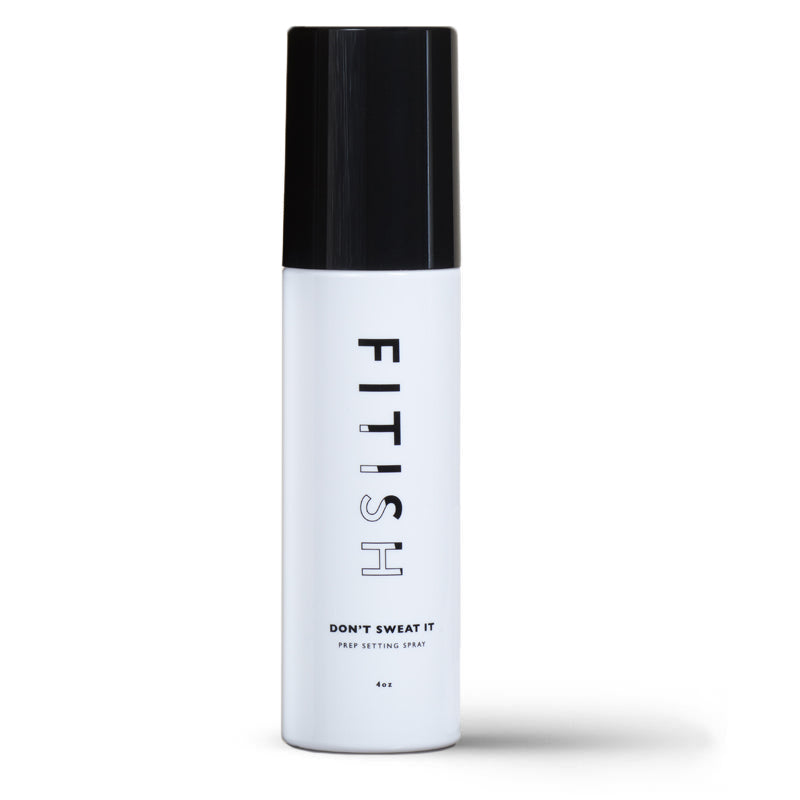 FITISH is the first CBD-infused skincare line designed to set and refresh any makeup look from work, to the gym, and everything in between.
Experience luxurious skincare and makeup products that incorporate calming botanicals and sustainably sourced ingredients.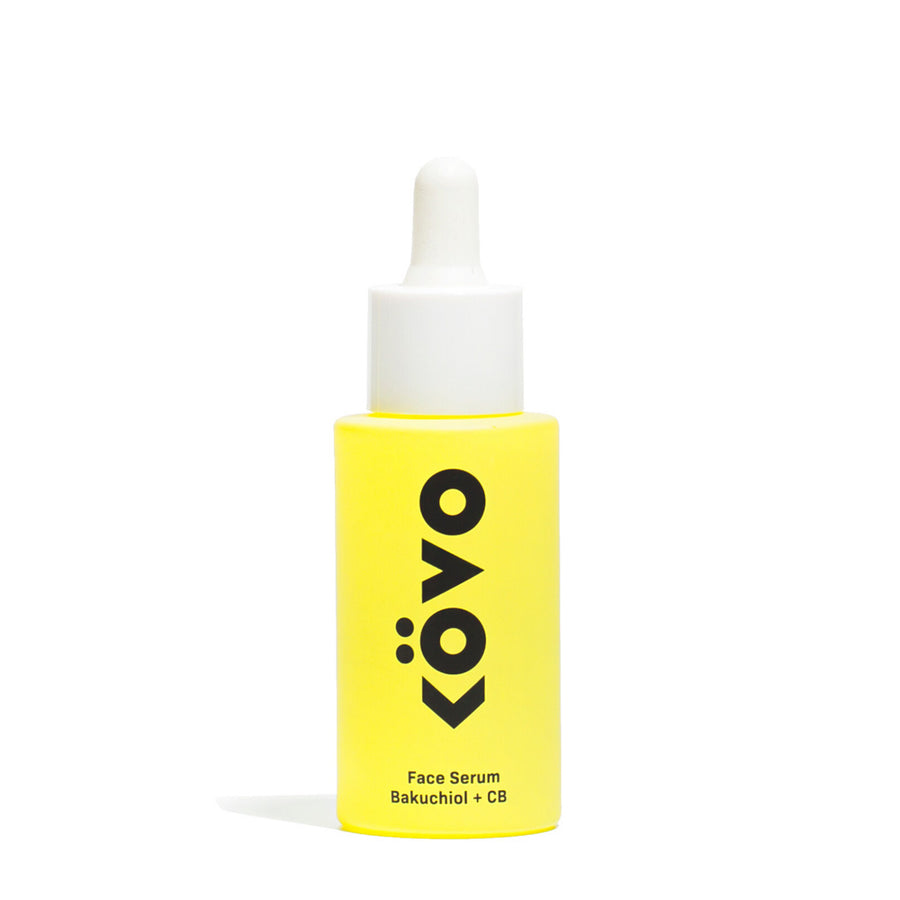 Made with argan oil, peptides, CBD, & probiotics, this carefully curated line offers effective skincare solutions for all skin types. Cruelty free, vegan, plant-based, and non-toxic.
---
About Camera Ready Cosmetics
Camera Ready Cosmetics was founded in 2003 by Makeup Artist Mary Erickson. She dreamed of having a pro makeup showroom where artists could play with professional products without the typical makeup store attitude.
Today, our team of beauty industry veterans work together to curate the best quality products on the market. We partner with brands who respect the industry and formulate products for true working artists. You won't find CRC in high-end malls, and we don't wear matching brush belts.
If you want to play with products for a few hours and buy nothing, that's okay ... come in and play! Our store is your playground.