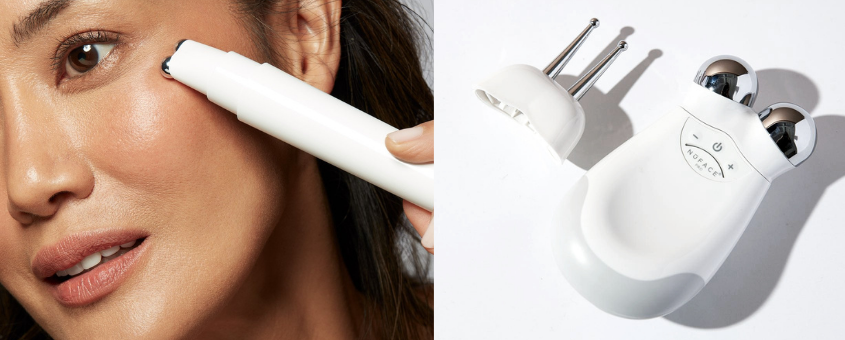 NuFACE
Take your skincare routine to new heights with the industry's leader in Microcurrent Skincare. NuFACE provides innovative, professional-grade technology packed in convenient, at-home beauty devices. Now you can experience firm, toned, younger-looking skin without the trip to the spa. Reduce the appearance of fine lines and wrinkles, producing visible results with lasting benefits.
Created by licensed aesthetician Carol Cole and her daughters, NuFACE has taken on the concerns of tired, aging skin. NuFACE offers a solution to overworked dull skin, sagging lids, and contour loss.
NuFACE continues to dominate the skincare industry, helping its clients feel and look more beautiful than ever with an array of topical skincare products and devices. From professional offices to prestigious retailers, NuFACE provides clinically shown results backed by leaders in the industry and loved by celebrities and influencers worldwide.
Read More
12 products
NuFACE is the leader in at-home beauty devices helping every client look and feel more beautiful. Using its flagship technology, microcurrent, NuFACE's award-winning products are clinically shown to help tone, firm, and reduce the look of wrinkles. The results are both instant for a quick lift and cumulative with continued use. To learn more about the brand, click here. Carol Cole and her daughters, Tera Peterson and Kim Morales, created NuFACE out of their home in Encinitas, CA. Carol, a licensed aesthetician, began her career in 1985 at the famed Golden Door destination spa in Escondido, CA. While administering treatments, she heard common anti-aging concerns from her clients such as sagging eyelids, loss of contour, and simply "tired of looking tired". With this knowledge in hand, Carol started specializing in microcurrent facials and traveled weekly to Los Angeles to serve the most discerning clients in Hollywood.
Read More