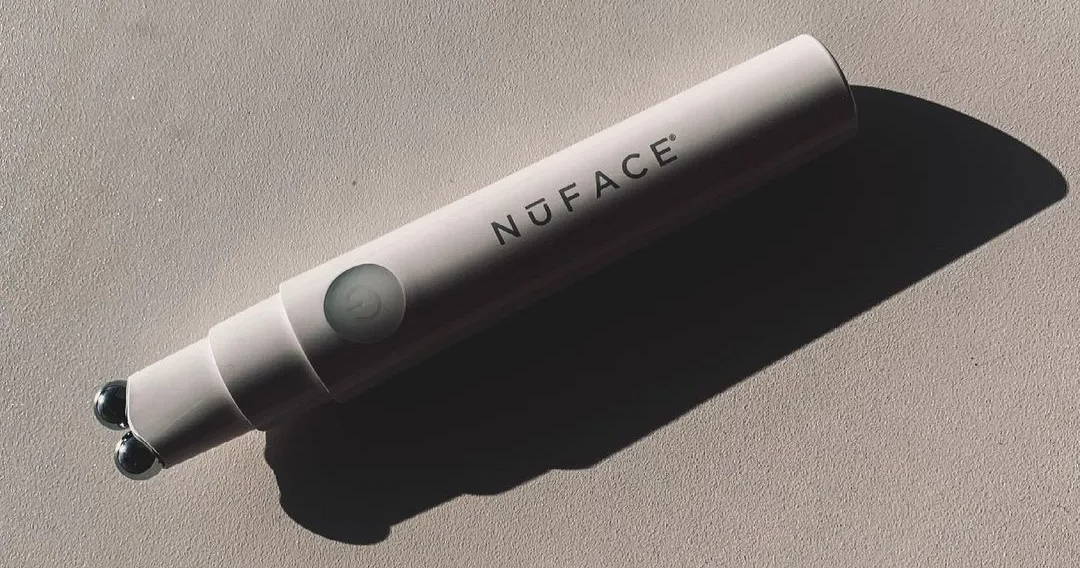 Information and images courtesy of NuFACE®
NuFACE is the leader in at-home beauty devices helping every client look and feel more beautiful. Using its flagship technology, microcurrent, NuFACE's award-winning products are clinically shown to help tone, firm, and reduce the look of wrinkles. The results are both instant for a quick lift and cumulative with continued use.
Let's discuss why we're excited to add this high-tech tool and skincare brand to our lineup!
---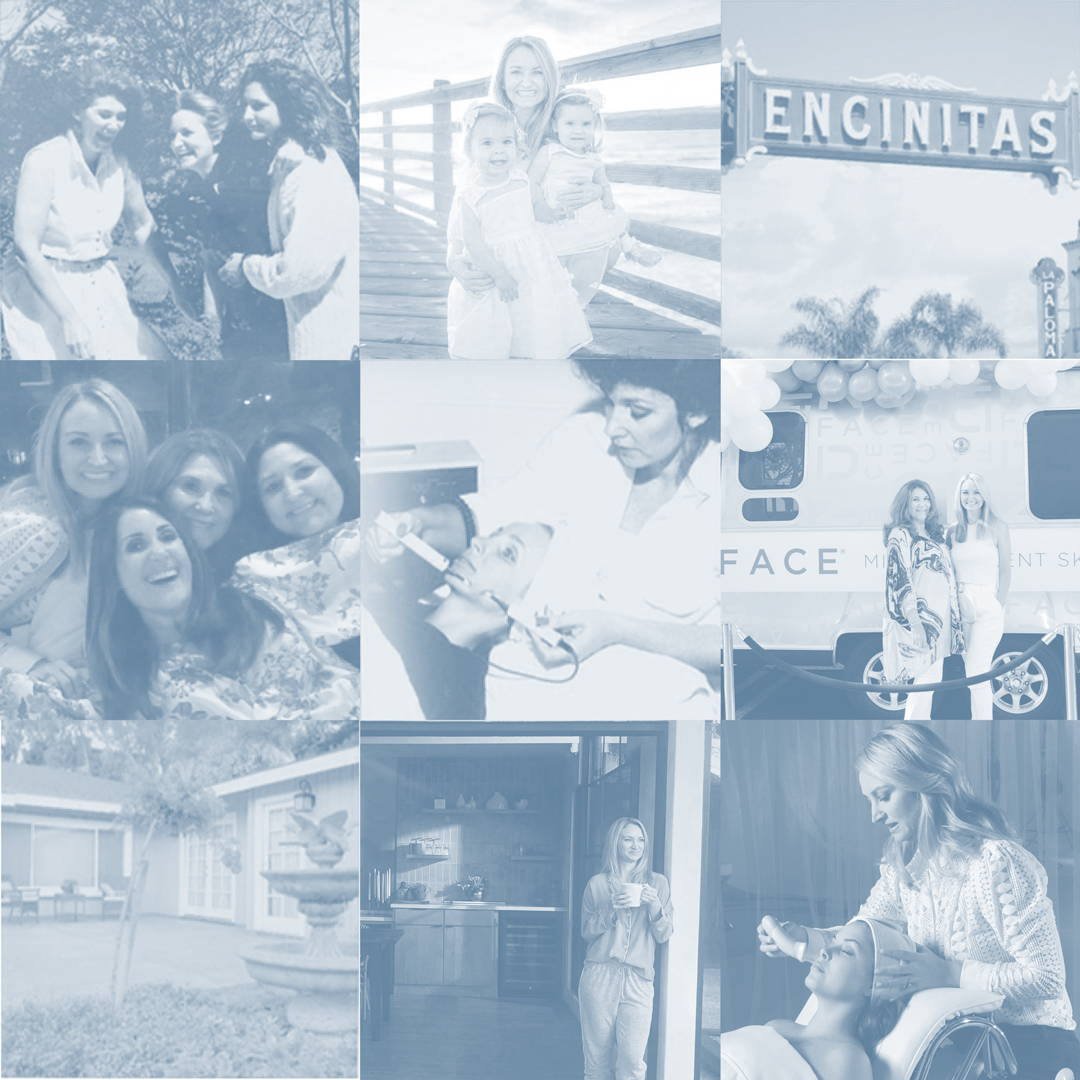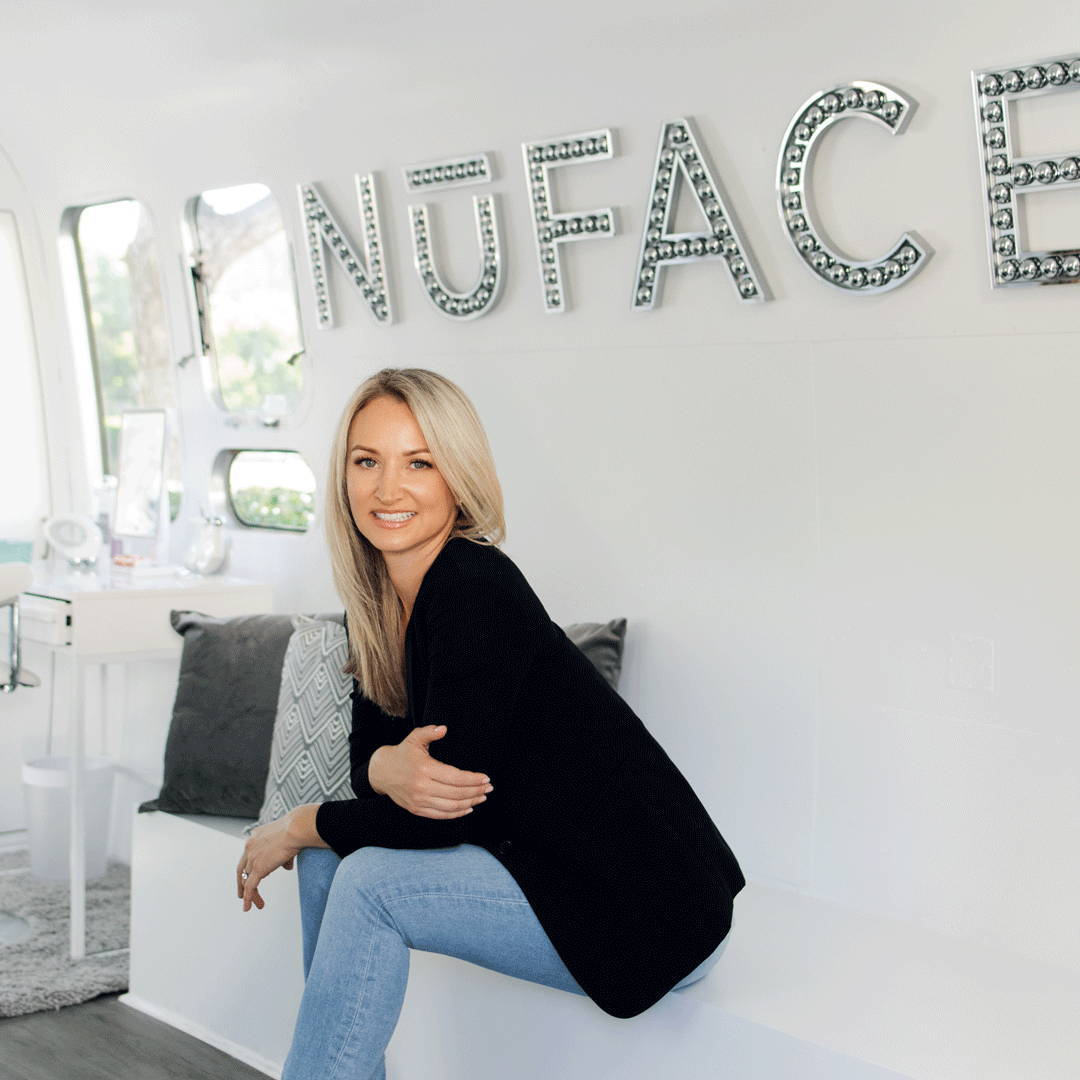 BORN IN THE BEAUTY OF SOCAL
Carol Cole and her daughters, Tera Peterson and Kim Morales, created NuFACE out of their home in Encinitas, CA.
Carol, a licensed aesthetician, began her career in 1985 at the famed Golden Door destination spa in Escondido, CA. While administering treatments, she heard common anti-aging concerns from her clients such as sagging eyelids, loss of contour. and simply "tired of looking tired". With this knowledge in hand, Carol started specializing in microcurrent facials and traveled weekly to Los Angeles to serve the most discerning clients in Hollywood. She soon recognized her clients' need for more frequent microcurrent treatments so in 2005, Carol and her daughters (Tera—also an aesthetician), launched NuFACE for their clients to use at-home in between their professional microcurrent facials.
MEET NUFACE'S EXPERT AESTHETICIAN
Microcurrent Aesthetician Tera Peterson is the Co-Founder & Chief Creative Officer of NuFACE, the leader in at-home Microcurrent Skincare offering a range of award-winning devices and topical skincare products that deliver clinically tested, professional results and skin confidence to clients everywhere.
---
NuFACE award-winning face and body toning devices put the power of microcurrent and pro-level, anti-aging skin treatments into the palm of your hand. As we age, our body's natural current slowly starts to break down, causing sagging skin, loss of contour, and the appearance of fine lines and wrinkles. NuFACE microcurrent devices re-energize your skin's natural current as it slows with age. This boost of energy travels beyond the surface of the skin to help tone, lift, and contour in as little as 5 minutes a day.
We are proud to offer four NuFACE microcurrent devices including the Trinity PRO, an upgraded version of the consumer-friendly TRINITY.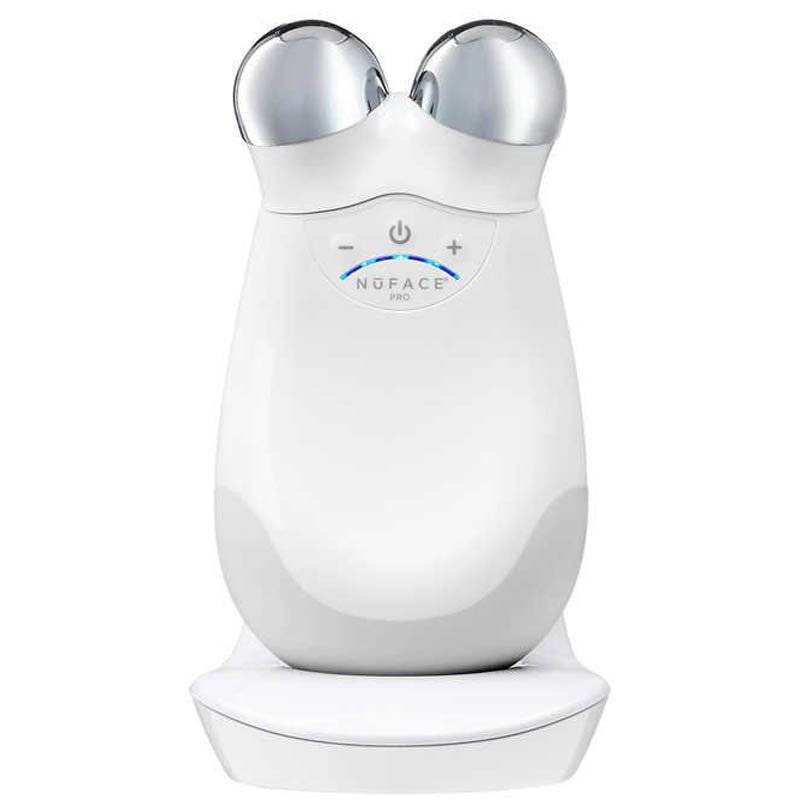 First, there's the NuFACE® Trinity PRO. The NuFACE Trinity PRO delivers up to 400 microamps compared to its consumer-friendly counterpart, the Trinity which offers up to 335 microamps. The Trinity PRO is an advanced microcurrent facial toning device that helps improve facial contour, tone, and appearance of fine lines and wrinkles in just 5 minutes a day.
To make the most of the Trinity Pro, you can swap out the original head with the ELE and TWR attachments to target the eyes and lips as well as perform light therapy with this powerful device.
---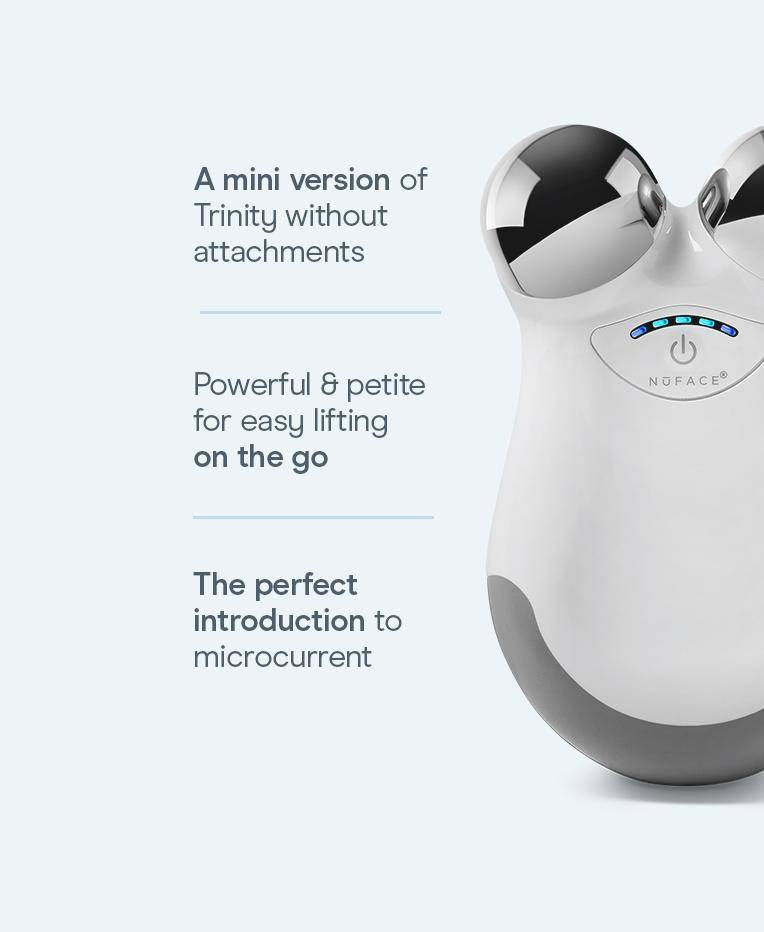 Next, there's the NuFACE® Mini. Using the same microcurrent technology as the Trinity, the Mini gently stimulates the larger surface areas of the face and neck, but in a cute, compact size.
Like the Trinity, the Mini improves facial contour, tone, and the appearance of fine lines and wrinkles. Although compact, the Mini has great strength for a 5-Minute Facial-Lift® and is a great on-the-go microcurrent device.
---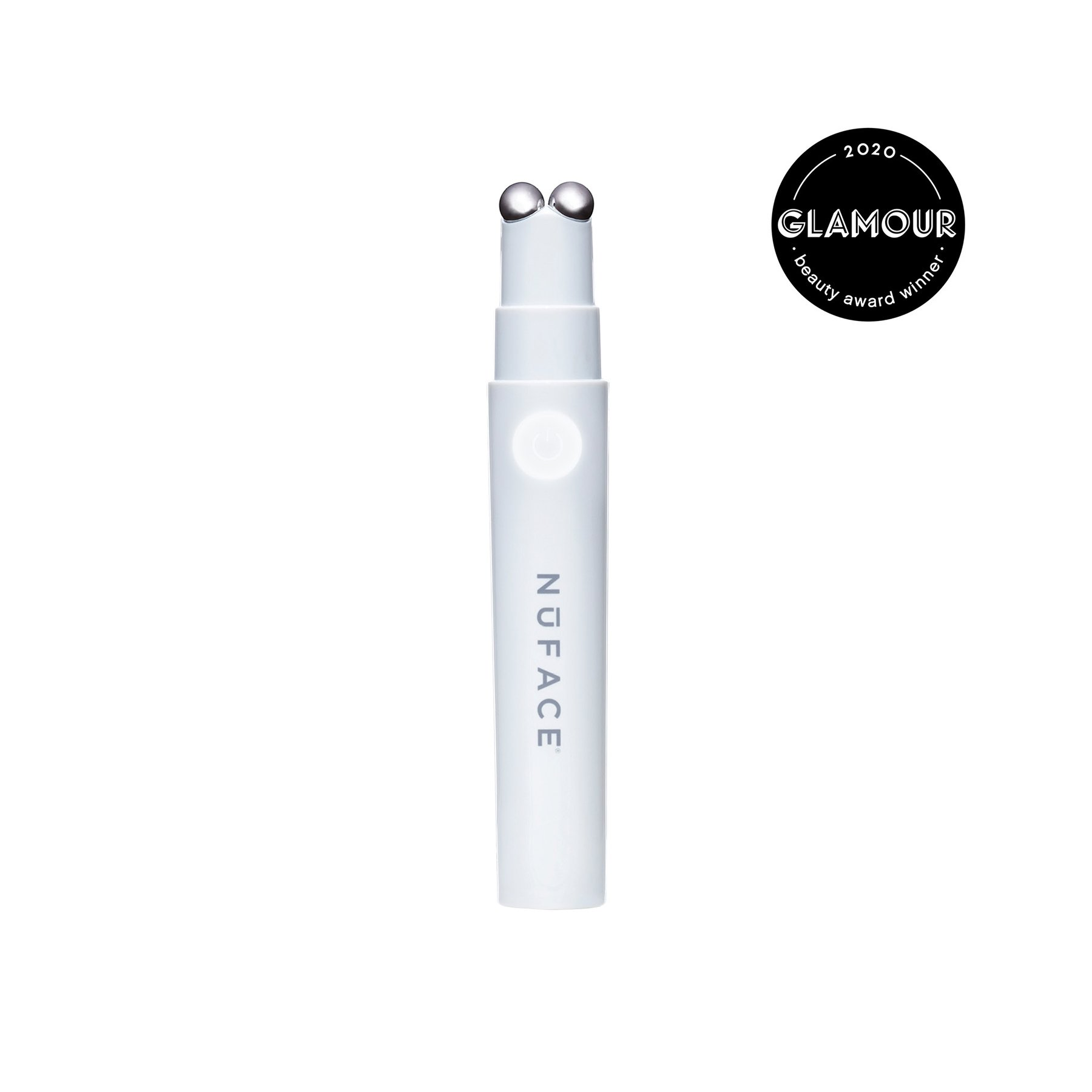 The NuFACE FIX® smooths lines and wrinkles around the eyes, mouth, and forehead. Need a quick lift and invigorating mini facial on the go? The FIX is the perfect choice for you.
No bigger than a mascara tube, the FIX provides a gentle stimulation using microcurrents to the surface layers of skin with a quick erasing motion, smoothing away the appearance of fine lines and wrinkles in just 3 minutes.
The FIX can also be used around the lip area for the appearance of fuller-looking lips.
---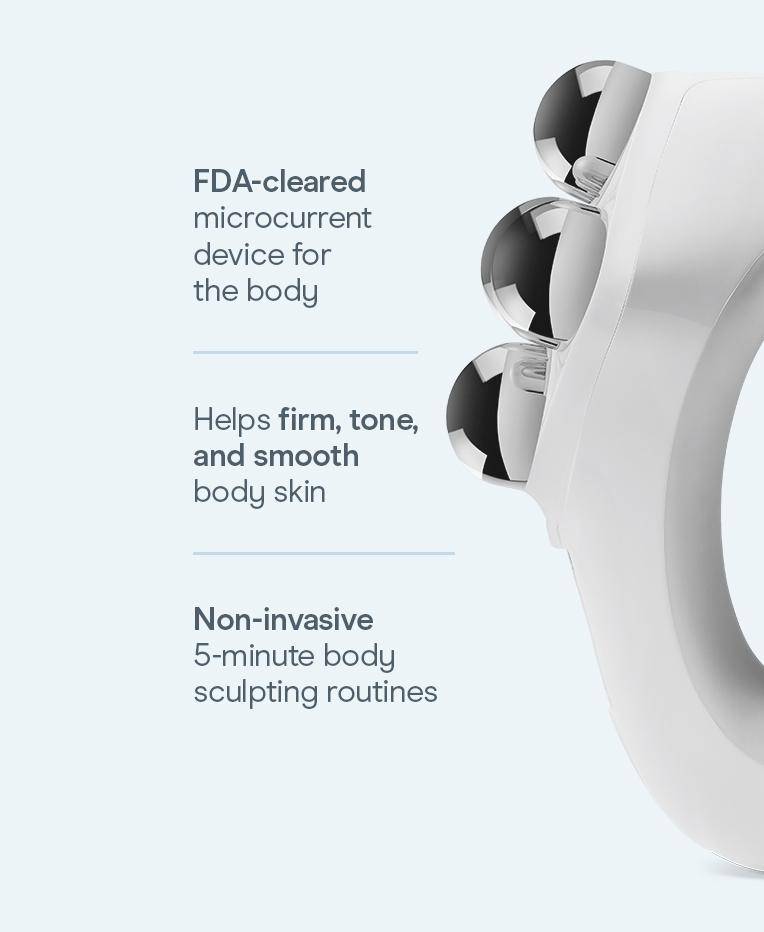 To round out the overall experience, the NuBODY by NuFACE® delivers a versatile 5-minute body sculpting routine.
Perfect for use at home or to enhance the services you offer to your clients, the NuBODY visibly tones, firms, and smooths the look of dimples providing a smoother silhouette. It's designed for the larger, denser areas of the body and has four treatment spheres delivering a gentle, yet powerful, microcurrent to help smooth away the look of dimpled skin, known as cellulite.
---
Microcurrent is your exercise. Skincare is your nutrition. NuFACE's line of nutrient-enriched skincare products are formulated to activate NuFACE microcurrent so that you get the most out of every facial, lip, eye, and body treatment. These aren't just your average skincare products and gel primers—they're standalone beauty products packed with anti-aging benefits your skin will love whether you're keeping them on after your microcurrent treatment or tapping them on throughout the day.
The Prep-N-Glow® Cleansing Cloths are dual-sided cleansing cloths that cleanse, exfoliate, and hydrate the skin leaving a radiant glow. These cloths are a perfect way to prep your face before a microcurrent treatment.  
For optimal microcurrent usage, gel primers are essential. The Hydrating Leave-On Gel Primer is a lightweight, velvety gel that hydrates your skin and pairs with the NuFACE TRINITY Pro, NuFACE Mini, and NuBODY. Absorbing easily, you can use it anytime you need a moisture boost. We also offer the NuFACE FIX Serum, which is a brightening and moisturizing facial serum. With supercharged active beauty ingredients, your skin will burst with energy to awaken tired eyes, revive dull-looking skin, and restore radiance. The NuFACE FIX Serum helps to smooth, brighten, and tighten skin while locking in essential hydration.
For a quick pick-me-up or to reactive your primer if it begins to dry during treatment, the Optimizing Mist is a lightweight, oil-free spray that revitalizes and hydrates your face and body due to its soothing aloe vera, hyaluronic acid, and botanical extracts.
---
There is a wide range of routines to make the most of your NuFACE devices. To view them all, click here, or view the two most popular routines by clicking the images below!
---
Are you ready to learn more about NuFace? Click here to explore NuFACE. Have a question? Our Beauty Advisors are here to help! Drop them a line at beautyadvisor@crcmakeup.com.
---
About Camera Ready Cosmetics
Camera Ready Cosmetics was founded in 2003 by Makeup Artist Mary Erickson. She dreamed of having a pro makeup showroom where artists could play with professional products without the typical makeup store attitude.
Today, our team of beauty industry veterans work together to curate the best quality products on the market. We partner with brands who respect the industry and formulate products for true working artists. You won't find CRC in high-end malls, and we don't wear matching brush belts.
If you want to play with products for a few hours and buy nothing, that's okay ... come in and play! Our store is your playground.
---