When it comes to beauty trends, each year brings a new wave of looks that are fun to try, but this year, brows have without a doubt taken center stage! From extra fluffy to colorful and glittery, we're breaking down the most popular brow trends we've seen and are recommending our favorite products to achieve each look.
---
Whether you're going for an editorial look or trying to create a SFX masterpiece that requires a new 'do for your brows, brow blocking is a technique you'll want to learn! It's a method makeup artists and enthusiasts use to cover up their existing brows in order to create a smooth surface to draw in new brows or to cover with makeup to complete a particular look.
First, start by using a spatula to apply a thin layer of Spirit Gum to your brows and brush them up and flat against your skin with a disposable spoolie. To help them adhere to your skin, spin the spoolie toward your skin to help them get as close as they can to your skin. Next, take a small amount of SynWax and warm it up slightly between your fingertips and smooth it down on top of your brow hairs. This will help reduce the hair texture and create a smoother surface upon which you'll create a new brow or apply foundation to. Press in Colorset Powder to help set the wax, and then use the Mehron Tattoo Cover Ring to color correct, if needed, and to start a flesh-toned base. You can mix and match shades to create one that's close to your skintone!
Use the Mehron Celebre 12 Color Cream Palette to lay down a layer of foundation that matches your skin tone and set with the Mehron Celebre Powder. For a professional artist, consider keeping the matching 12 Color Powder Palette in your kit, as it has a wide variety of shades for your clients! Now you're ready to draw a new brow! Using a very fine angled brush or sturdy brow brush, use the Mehron Brow Palette to draw fine hair-like strokes. It's okay if your brows aren't 100% symmetrical! Voila, you're done blocking and creating your brow! However, the fun doesn't stop there. Make sure you also have the products needed to remove the makeup, as SynWax and Spirit Gum may remove hair is it's not removed properly. Start with a cream cleanser to remove the makeup that you layered on top of the brow. Next, use Spirit Gum Remover and gently remove the Spirit Gum.
---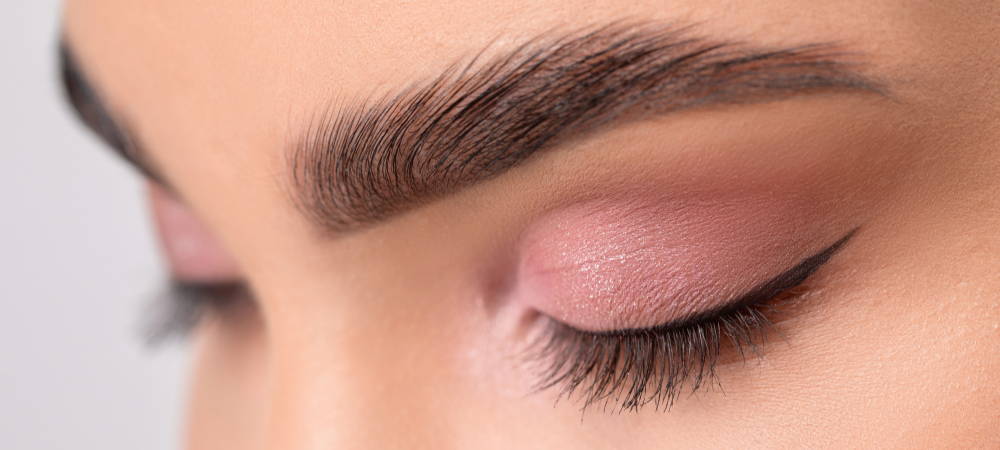 Feathery wispy brows are probably one of the hottest brow trends of the year. These high-fashion and often angelic-looking brows are perfect for any event or makeup look and are relatively easy to create. This brow look requires products that give you precise control over your brow shape and allow you to draw fine wispy strokes without the stronger definition you'd get from a pencil or the pigment of a powder.
Kevyn Aucoin True Feather Brow Marker Gel Duo is ideal to achieve this style. This dual-ended product comes in several different shades with a fine feathered tip for application and a spoolie brush and gel to soften edges and set for precise and natural hair-like strokes. Start at the arch of the brow to build color and extend out to the tail end. Fill in any spaces with the marker end and set brows with the gel end. To give the brows the fluffy effect use the clear eyebrow gel to brush the hair in the opposite direction the hair naturally goes.
---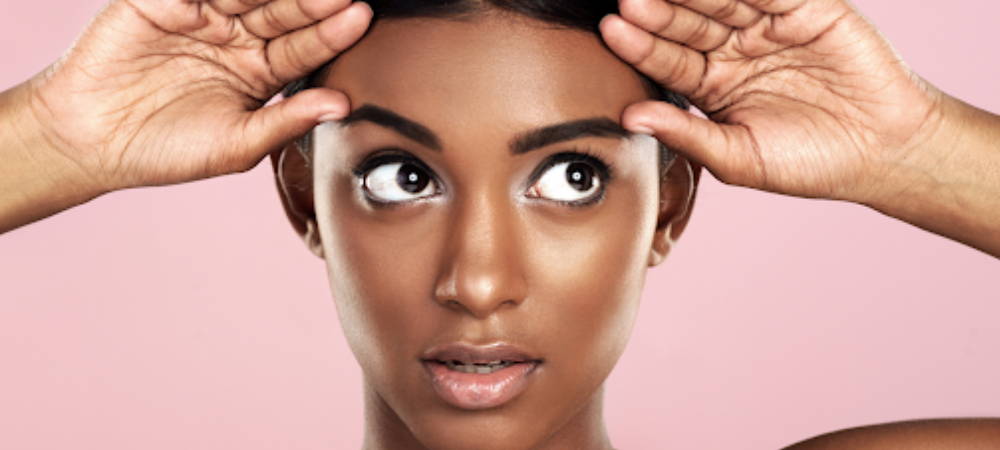 Precise Yet Natural Brows
Natural brows have always been in, but this look ups the precision while maintaining a "my brows but better" appearance. Creating the precise yet natural brow look is usually done by using a combination of a spoolie brush or eyebrow gel to shape and tame the brows, adding powder for color, and using brow pencil for creating hair-like strokes. It also usually involves having the innermost part of your brows being lightly filled in and the definition and depth of color increasing as you move outward toward your brow "tail".
There are plenty of natural, light powders available to fill in your eyebrows, but the best one for you depends on your desired brow color, shape, style and texture. If you're looking for a brow pencil for definition with pigmented, blendable strokes, we recommend the Senna Powder Brow Styling Pencil. The dual-ended pencil and spoolie brush combo make it optimal for filling in brows of any shape or size. Start by applying lighter pressure on the inner parts of your brow and increase the pressure during application to achieve a stronger and more pigmented look as you move outward.
There are plenty of natural, light powders available to fill in your eyebrows. We recommend choosing one close to your hair color and undertone. We recommend Brett Brow's Duo Shade Brow Powders. These pigmented powders create natural-looking brows and come in a variety of color options.
To finish the look, set with an eyebrow gel. If you prefer a clear gel, Senna Brow Fix X in clear works like a charm. For a hint of color, opt for Make Up For Ever's Aqua Resist Brow Fixer. This waterproof, pigmented gel creates looks that will last you all day and has a precise micro tip that gives you extra control.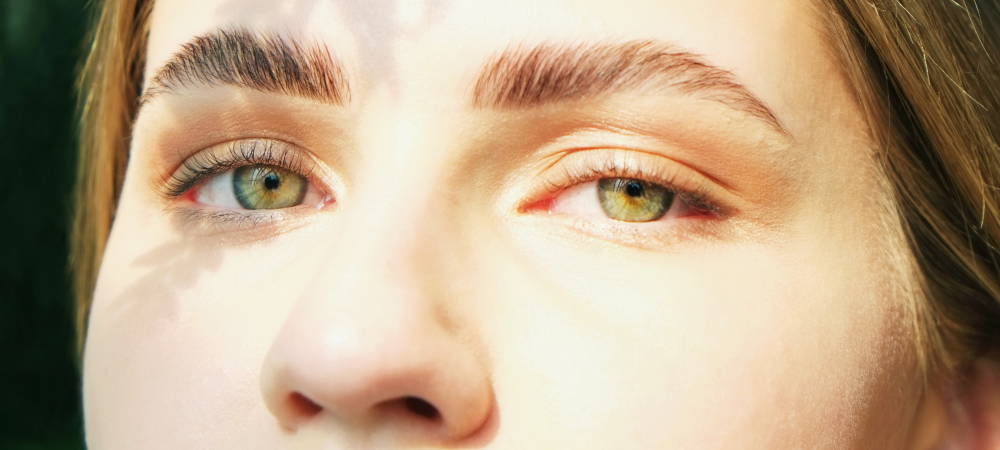 Brow lamination is a process where you use a thicker gel-like product to create glossy, sleek, and smooth brows that lay close to the skin and provide budge-proof wear. Our top picks are NYX The Brow Glue Instant Brow Styler for a budget friendly option, Graftobian StudioBrow Eyebrow Styling Wax for unruly brows, and Kryolan Eyebrow Forming Gel for a fast drying, long-wearing product.
If you're looking to get truly unmovable laminated brows, try brushing your brow hairs in an upward motion with the gel product and filling in sparse areas with a powder, pencil, or gel in hair-like strokes. After applying the gel or wax, use a tool like a double ended spatula to gently press your brows into place.
---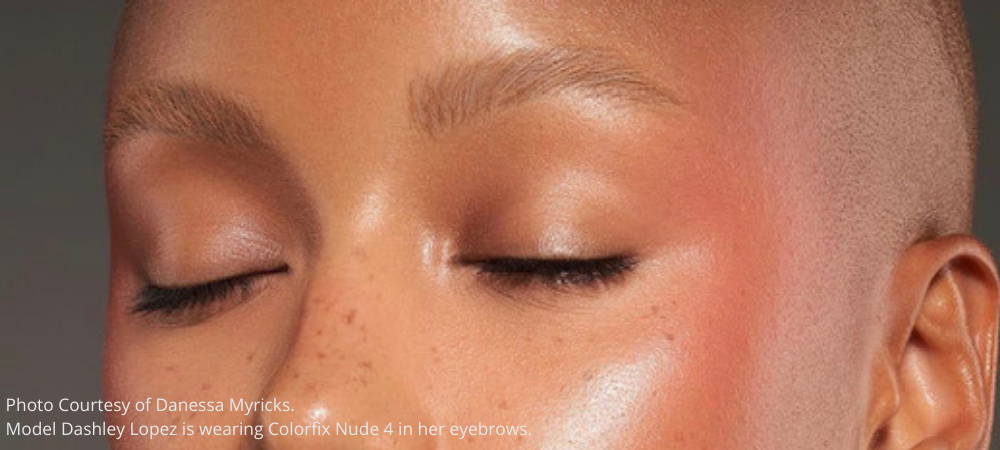 If you want to try a nude brow look but don't want to commit to bleaching, you can achieve the same results with makeup! Danessa Myricks' Beauty ColorFix 24HR Cream Color Nudes are cream-based, fast-drying, and incredibly pigmented, and they can be around the eyes, lips, brows, and body. Their various color shades allow anyone to find an excellent match for skin tone and can be applied evenly over the brows for a bleached or "nude" look.
Additionally, if you want some spoolie brushes to comb the concealer effectively through your brows and keep the natural shape in place, our Camera Ready's Disposable Mascara Wands are an affordable, sanitary, and effective option to keep on hand.
---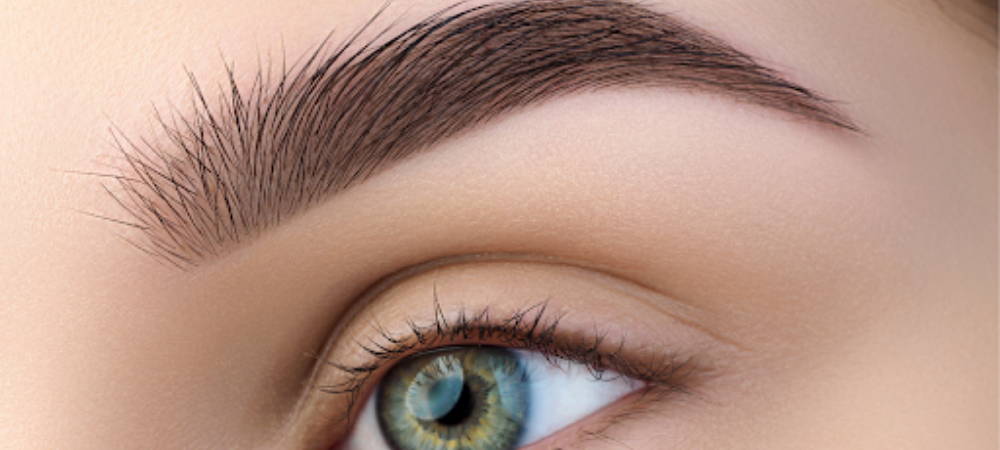 No matter what color you're choosing to blend your brows with, ombre eyebrows can give a sweet and subtle lift to any look. You can blend colors seamlessly along your brow line by first starting with a base brow gel or pomade, like Inglot AMC Brow Liner Gel or L.A. Girl Brow Pomade. These products let you carefully shape your brows before deepening the shade or adding in a pop of color and carving them out with concealer.
Ombre brows look their best when you use a highly pigmented concealer to carve out the exact shape you want. We recommend Ben Nye's Special Color Wheel for pros that prefer to have several concealer shades on hand or a highly pigmented yet lightweight concealer like Jouer Essential High Coverage Concealer. Pair your favorite concealer with a sturdy angle brush like Bdellium Tools Studio Line Brushes for Eyes 714, and you'll be able to create a perfectly shaped brow with ease.
---
If you're in need of a little guidance to shape your brows, you may want to try a brow stencil. These handy tools serve as a general guide when applying a pencil or powder product. Senna's Form-A-Brow Kit has everything you need to achieve brow perfection with just a little bit of! There are four different stencils included in the kit and three pigmented powder shades to fill them in with. The compact palette even comes with a mirror to shape your brows on the go or bring it with you when you travel.
---
Love it or not, this trend is back but with a modern twist. The 90's trend featured razor-thin brows whereas the 2021 version focuses more on sleeker, sculpted brows that are well-groomed and perfectly filled in. Start by lightly tweezing & shaping your brows (we love the Chella Scissors) and fill them in first to ensure you can create the shape you like without having to over-tweeze. Next, fill your brows with your preferred pencil or pomade for a stronger look. Then carve out the brow with a highly pigmented concealer and a dense brush for extra definition.
---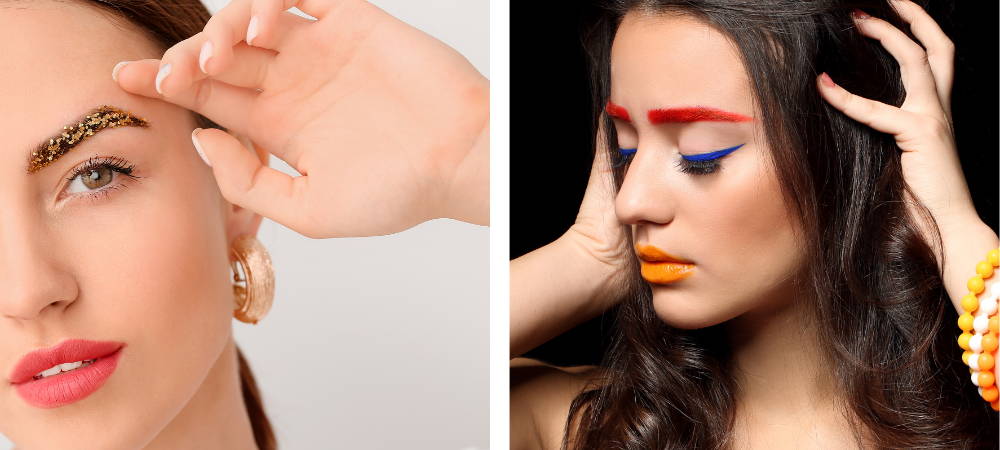 The other brow trends that made our list may not be your go-to choice for your everyday look, but they can be perfect for a fun event or to express yourself in a unique way!
Glitter Brows
If you're feeling extra festive or want to stand out from the crowd, nothing screams "party" like bold glitter brows! Mehron's Paradise Glitter is an excellent solution for all your sparkly needs. There are 15 different colors to try, and the highly pigmented glitters will stay in place all party long. Simply apply a makeup-grade adhesive like Lit Cosmetics Forever Wear Glitter Base to your brows and use the Sigma S02 Spatula Brush to apply the glitter while the adhesive is still tacky. This brush will pick up and apply the glitter easily. Once done you can wipe clean. Make sure to remove the glitter and glue carefully with an oil-based makeup remover at the end of the night.
PRO Tip: To remove and rogue pieces of glitter take a piece of scotch tape and press over the area and lift to remove.
Colorful Brows
If you want to try something completely new with your brows, why not just make them a fun new color? Or, if you have colored hair, try matching your brows to your hair dye for a whole new look! Colorful brows can be achieved with pigments, creams or powders, resulting in limitless creative and artistic variations.
Try out different designs — from striped eyebrows to modern, graphic patterns like waves to adding tiny flowers, dots, or anything else you can think of — with products like the Danessa Myricks Beauty ColorFix. These cream-based products dry with a matte finish and come in over 30 different colors to choose from.
Another versatile product to create a colored brow look is Meloway Your Way Mascara, available in a fun Mint Creme shade with an adjustable brush, perfect for getting into your brow's nooks and crannies. If you want to test drive Meloway Your Way Mascara's unique pivoting brush head but prefer a more subtle brow, try the shade Cherry Cola, a burgundy brown that is the perfect shade for the season. If you're craving a pale pink brow moment, try Meloway Your Way Primer! This mascara primer can double as a colored mascara or brow gel because it's a trendy baby pink shade.
---
No matter what brow trend you want to try, we've got the perfect products for you? Click below to start exploring our favorite brow products. Need extra tips from our Beauty Advisors? Click here to drop them a line!
---
About Camera Ready Cosmetics
Camera Ready Cosmetics was founded in 2003 by Makeup Artist Mary Erickson. She dreamed of having a pro makeup showroom where artists could play with professional products without the typical makeup store attitude.
Today, our team of beauty industry veterans work together to curate the best quality products on the market. We partner with brands who respect the industry and formulate products for true working artists. You won't find CRC in high-end malls, and we don't wear matching brush belts.
If you want to play with products for a few hours and buy nothing, that's okay ... come in and play! Our store is your playground.