There's just something about the holiday season that inspires us to add a little extra sparkle and glam to our makeup looks. However, with so many beautiful products to choose from, it can be a bit dizzying if you're deciding what palette to use or to gift as a present.
That's why we've curated our top palette picks for the holiday season. From natural, shimmery lids to opulent jewel tones, we have every palette you'll need for festive events & the season ahead!
---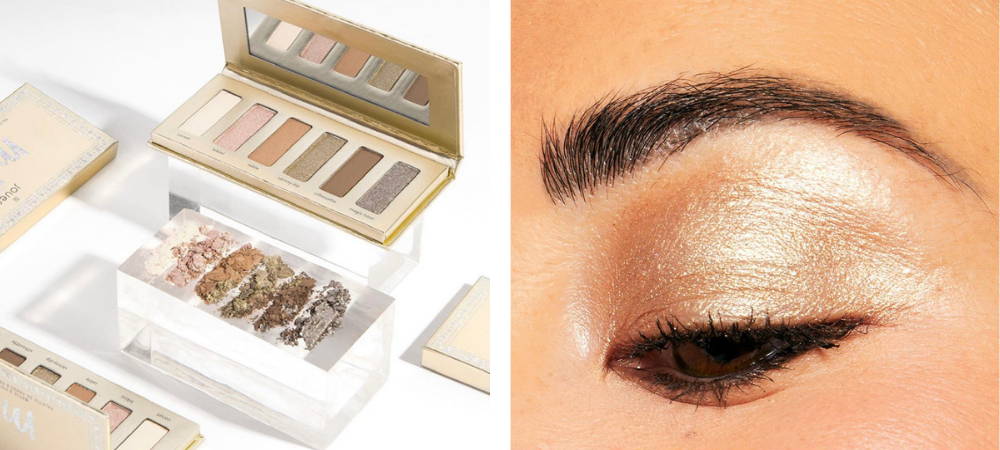 Every makeup lover needs an everyday eyeshadow palette with staple colors, but this season, we're loving palettes that have a little shimmer added in to add a dash of holiday magic!
The Jouer Le Mini Dip Eyeshadow Palette features six different shades including three matte and three ultra-foil shimmers, with the perfect colors to create looks ranging from natural to ultra shimmery smokey eyes. This portable palette also comes with a mirror for on-the-go application and is compact enough to fit in any purse or makeup bag. If you want a bigger option with more shades but with the same high-quality formula and clean ingredients, the Jouer Essential Matte & Shimmer Eyeshadow Palette features similar shades with a twist. This palette is twice as large with 12 different shades including seven mattes and five shimmers. This beauty includes a deep black, rich chocolate brown, the perfect fall sienna, and several diverse nude options making it perfect for any occassion.
The Sydney Grace Enduring Love Eyeshadow DEEP Palette is a great option for those that love a neutral palette with subtle splashes of color. This versatile magnetic palette comes with 15 different shades ranging from subtle transition shades to moody jewel tones. Even though it's a larger palette than the Jouer options above, it's still travel-friendly and would make a fantastic gift for the eyeshadow lovers in your life.
---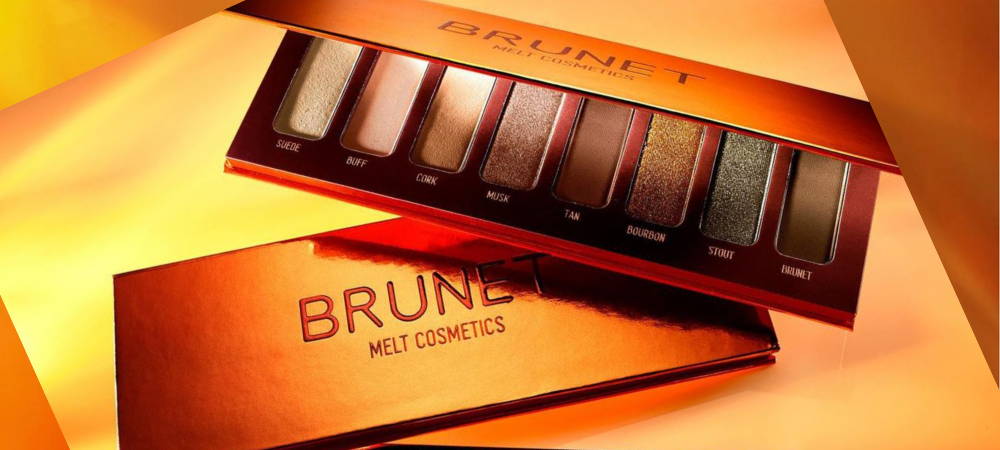 Nothing beats the warm and toasty feeling of snuggling up by a fire or drinking a cup of hot chocolate, so why not get a palette that captures that same feeling? Melt Cosmetics Brunet Eyeshadow Palette is an excellent combination of toasty hues and spicy metallic shades that complement every eye color and look gorgeous on all skin tones. For a warmer-toned option, Viseart's Minxette Etendu Eyeshadow Palette offers twelve eyeshadows with an auburn twist. It has a wide variety of finishes including mattes, shimmers, plus some flashy duochrome shades to create a wide range of looks. Plus, each pan is magnetic and can be mixed and matched with your favorite Etendu, Petits Fours, and even the Grande Pro 1X palette to create your own custom palette.
Another perfect palette for on the go is the Sydney Grace Summer Days Eyeshadow DEEP Palette. Don't let the name fool you — this palette is ideal for glam looks for any day of the year! The nine matte and shimmer shades feature highly pigmented neutrals, transition shades, deep mattes and rich shimmers for an extra pop, making it perfect for both day and night looks.
---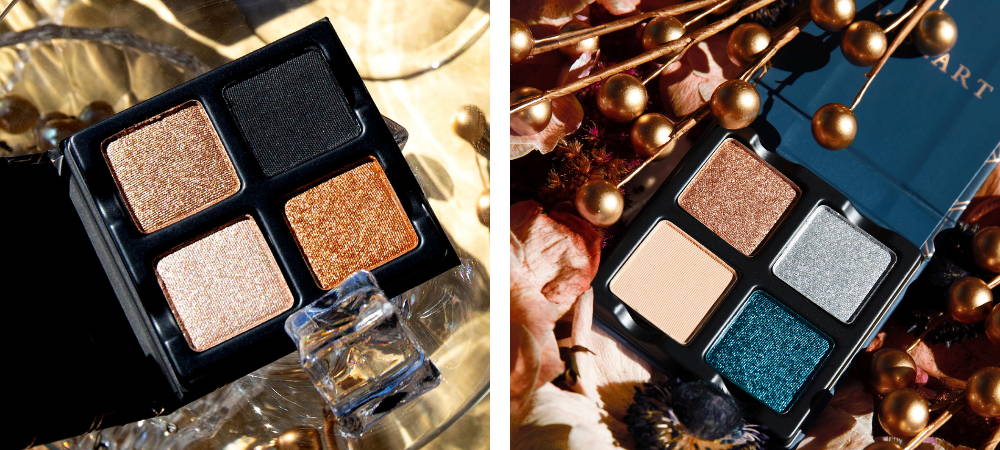 Naturally, the holidays often come with seasonal gatherings, which is the perfect time to try out a festive makeup look!
If you're creating a rich, high-impact look this season, the new Viseart Petits Fours Palettes have you covered. Lapis is a stunning quad that is inspired by jazz looks from the 1920s, featuring a royal sapphire blue, sparkling champagne silver, shimmery bronze, and matte vanilla to blend it all together. If you're looking for a quad that captures the effervescence of a glass of champagne, Bullion offers three high shine shimmers and a richly pigmented matte black for a smoldering party look.
Additionally, the LORAC Mini PRO Palette in Mystic Oak has the perfect shimmer shades for a bright and sparkling eye look in LORAC's iconic PRO formula. Their foil, metallic and mattes can combine to create stunning, glittery eye looks all year, with high-quality ingredients like shea butter, cucumber extract and vitamin E to help the skin stay fresh. It's also vegan, cruelty-free, and fragrance-free.
If you want just a dash of sparkle to your existing eyeshadow collection, the Lethal Cosmetics GLITCH Liquid Shadow Berlin 89 Collection provides a multichromatic pop to any eye look with gorgeous gold and silver options with shades Bandwidth and Syntax. This water-based formula offers high longevity and zero fallout, perfect for standing out at holiday parties or using as a glittery base to lock in any other shimmering shades.
---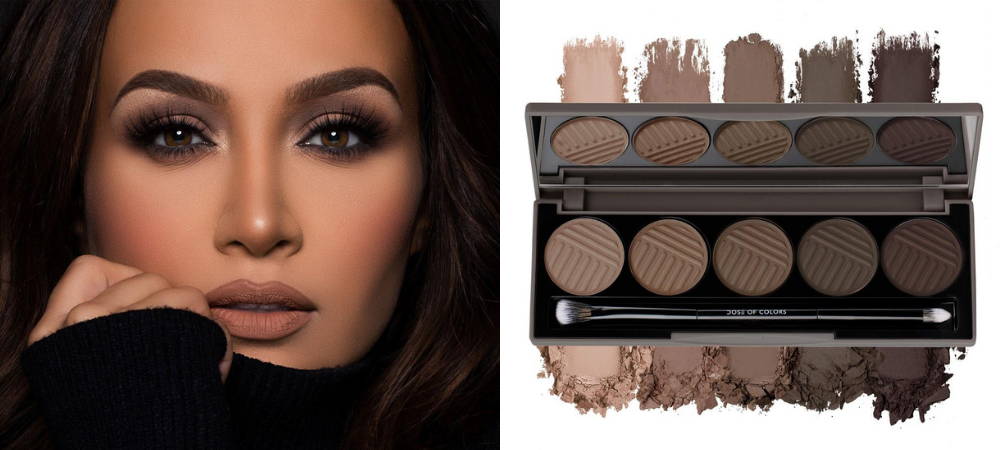 While warm, shimmery shadows have their time and place, plenty of cooler-toned palettes are perfect for everyday looks. If you (or the lucky people you're shopping for) have a skin tone more suited for cool shades and hues, then check out Scott Barnes SNatural No 2 Eyeshadow Palette. This palette is perfect for day or night and features 12 highly blendable, pigmented shades with minimal fallout. The shades range from cool beige to dark coffee with lovely silver-toned and cool bronze shimmer and matte options.
Viseart Cashmerie Étendu Eyeshadow Palette is another cool-toned palette inspired by the coziness of autumn that'll add a little spice to any eyeshadow collection. The twelve glamorous shades are ideal for both day and night, and you can even use a wet brush with their formula to embolden their pigment further. This palette has both shimmer and matte shadow options with mauve and copper hues, so if you're looking to stick with cool-toned mattes exclusively, check out the Dose of Colors Pretty Cool Eyeshadow Palette.
The rich taupe to brown shade range is ideal for any cool-toned makeup look on all skin tones, making it an excellent gift option this holiday season. This palette is ideal for deep brown looks, from a chocolate smokey eye to a powder-based eyeliner. It also includes a high-quality, dual-ended brush that can be used to create both perfectly blended and precise eye looks. It could also be used to fill in eyebrows, especially for makeup artists who need a natural range for their clients.
---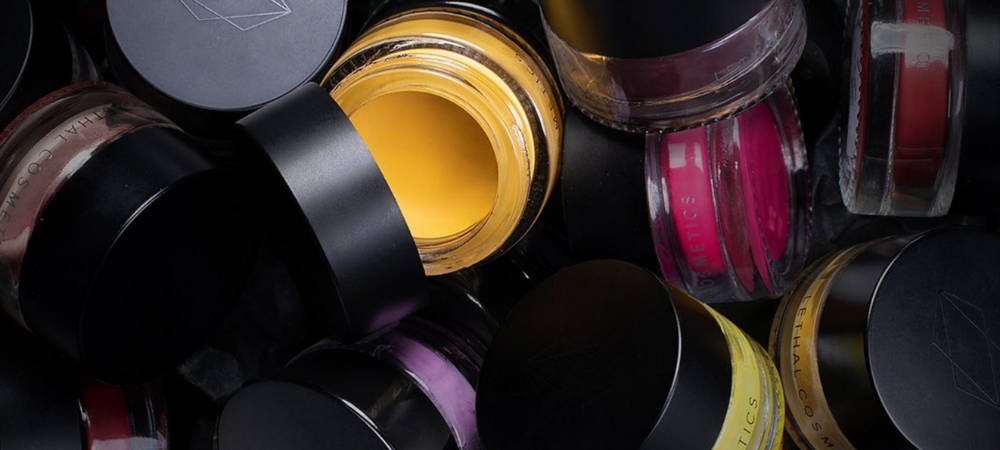 If traditional eyeshadow palettes have filled your collection and you're searching for something new, try out a palette with some pops of color.
For neutral lovers that are taking their first dip into the world of color, the LORAC PRO Palette Fairytale Forest features some traditional neutral shades as well as rich metallic tones perfect for the holiday season — all at an excellent price point. The luxurious emerald green is a particularly trending color, so it would also make for a fantastic gift for the makeup lovers in your life. The highly pigmented colors in this palette range from light nude to deep rose and sienna-tinted mattes, as well as bright champagne (perfect for that inner corner highlight), rose gold, bronze, and burgundy ultra-glittery shimmers.
If you're feeling bold and vibrant jewel-toned shades are more your speed, then check out Viseart's Bijouxette Etendu Eyeshadow Palette. Along with nude transition colors, this palette offers bold shimmers in a variety of shades, ranging from bronze to gold to aqua to indigo, to complement any eye color or outfit. Try adding one of the shimmery shades as a liner for a unique look this holiday.
If you have plenty of palettes and want a quick pop of color, consider using a cream shadow to dress up your look! For example, you can use a long-lasting cream shadow in a new fun color as an eyeliner. We love Sydney Grace's Cream Shadows because they come in over 20 bold and bright colors with a creamy and metallic formula. They're highly pigmented and will stay in place all holiday party long, so no need to worry if you decide to stay out a little later to celebrate.
For an eyeliner option that's easy to use and the preferred choice for those with extra sensitive eyes, Lethal Cosmetics SIDE FX Gel liners are long-lasting, highly pigmented gel liners that are comfortable to wear on your waterline and come in various fun and trendy shades.
**for the shoppable products, put fairytale forest, bijouxette, and the cream shadows - no need to put the side fx gel liners in the shoppable for this**
---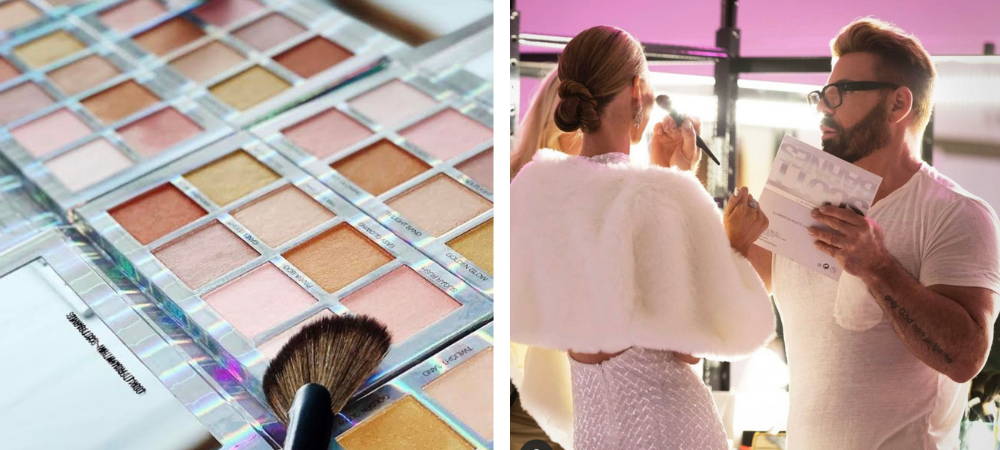 Final Touches to Get Camera Ready
Of course, we couldn't talk about our favorite holiday picks without sharing a few extra recommendations to achieve the ultimate glam. Below are our recommendations to complete whatever look you're going for this winter!
LIP PREP:
Don't forget, no winter or holiday look is complete without healthy, hydrated lips and a light dusting of highlighter. Since many classic holiday glam looks include a bold red or berry lip, it's important to keep your lips in tip top shape so that you can wear a long lasting lip product without your lips looking dry.  
To keep your lips feeling plump and fresh in the dry winter weather, we recommend the Jouer Essential Hydrating Lip Oil. This product keeps your lips feeling fresh without a sticky finish, and it includes 99% plant-derived ingredients and is fragrance-free, making it safe for sensitive skin. If you're searching for high-quality lip hydration without the shine, then the Jouer Essential Hydrating Matte Balm will be your new go-to product.
CHEEKS:
Highlighter is a great way to add sparkle and shine to your makeup look, and the Jouer Powder Highlighter is a classic option with several glowing, diverse shades for any skin tone. If you prefer a liquid highlight, the Melt Cosmetics SexFoil Liquid Highlighter offers a range of pearly shades that are hydrating and can be used all over the body making them the perfect choice for a winter outfit that shows off your neck, chest, or decolletage.
While a single highlighter shade might make sense as a gift or for personal use, makeup artists will love the versatility of the Danessa Myricks Beauty Light Work Palette and Scott Barnes Glowy & Showy N1 Highlighter Palette. Each palette offers a wide range of glowy shades to help their clients feel festive!
---
Feeling Inspired?
Whether you're gifting any of these products to a friend or just shopping for yourself, we have what you need for you and your loved ones to stay Camera Ready all year long. If you need help picking the perfect palette or want tips on how to achieve the perfect holiday glam, our Beauty Advisors are here to help!

Click here

to drop them a line, and from all of us here at Camera Ready Cosmetics, we wish you a beautiful and happy holiday season!
---
About Camera Ready Cosmetics
Camera Ready Cosmetics was founded in 2003 by Makeup Artist Mary Erickson. She dreamed of having a pro makeup showroom where artists could play with professional products without the typical makeup store attitude.
Today, our team of beauty industry veterans work together to curate the best quality products on the market. We partner with brands who respect the industry and formulate products for true working artists. You won't find CRC in high-end malls, and we don't wear matching brush belts.
If you want to play with products for a few hours and buy nothing, that's okay ... come in and play! Our store is your playground.
---