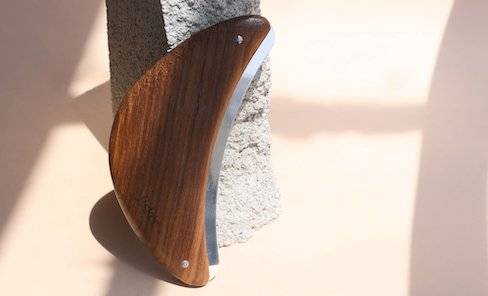 When it comes to skincare, exfoliation is essential to prevent clogged pores and to remove dead skin cells. However, many of us forget about this step when it comes to our bodies. We can easily hide dry patches, bumps, and irritation underneath layers of clothing, but proper skincare and treatment can help reduce and prevent those pesky skincare problems. That's where the Esker Beauty Body Plane comes in!
---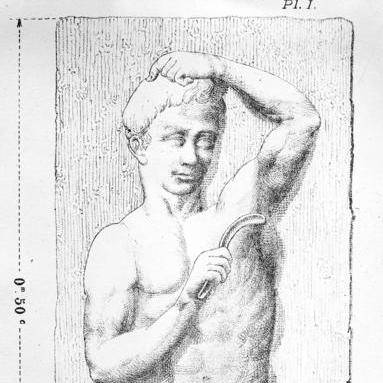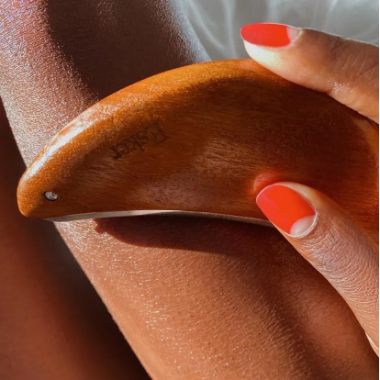 The Esker Beauty Body Plane is the modernized version of the Strigil, an ancient tool used by Romans and Greeks to clean themselves and scrape dirt off of their bodies because soap wasn't really a thing in those days. The Esker Beauty team redesigned and updated the Strigil from its original hook shape into a soft, crescent form using premium teak wood and sterling silver plated stainless steel. The handle is made of teak wood because it ages well when it's in contact with oil. The blunted edge may look intimidating at first but is not sharp; they liken it to the edge of a credit card, and it is made from colloidal sterling silver plating because it naturally embodies antibacterial and anti-inflammatory qualities, leaving skin soothed and smoothed after use.  
Now that we've discussed what the body plane is, let's talk about how to use the body plane and explore the benefits of this modern day strigil.
---
How to use the body plane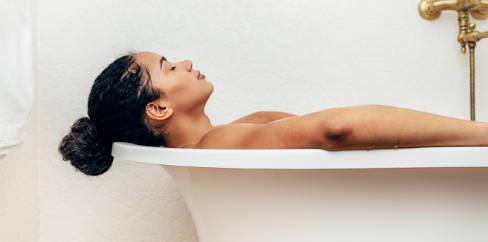 Like other body tools, the Body Plane is most effective if you use it right after you've taken a long hot bath or shower when your skin is still warm and damp. If your skin is damp and then you apply an oil, you'll really see how much dead skin and debris the Body Plane will exfoliate away.  
---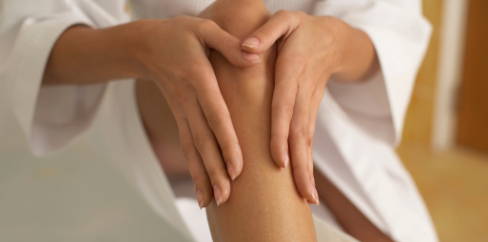 Immediately after bathing, apply a favorite oil generously to your skin. To maximize the body plane's efficacy, Esker Beauty offers three oils to target different skincare needs. It's key that you apply an oil first because it acts as the slip for the Body Plane as you move it along your body. If you're using a dry oil, don't be shy to apply a generous amount as it will absorb into your skin at a quicker rate than other body oils, and don't wait until your skin is dry or it will be more difficult to move the plane up your body!
---
Starting with your arms and legs, use moderate pressure to glide the body plane across your skin with the blade side down (don't worry, it's not sharp like a blade; we liken it more to the edges of a credit card). Use upward motions like you would if you were shaving your legs. Using an upward, gliding motion towards your heart and trunk can also help with lymph drainage in addition to exfoliating away debris and dead skin.
---
After you've done a few passes, rinse or wipe the blade with a cloth or towel and keep going until you've exfoliated everywhere! The Body Plane is safe to use across all parts of your body as it cleanses and exfoliates without damaging your skin's moisture barrier. It's especially effective on rougher and more resilient parts of your body like arms, legs and elbows, and is a great tool to use if you have KP bumps on the backs of your arms.
---
What are the additional benefits, and how often should I use it?
For maximum results, we recommend using it weekly or biweekly for a deeper clean and major skin exfoliation. It is also a great tool for lymphatic drainage. When you use upward, sweeping motions on your arms and legs toward your heart and trunk, you're actually encouraging blood and lymph circulation while you're getting all of the tool's exfoliating benefits. Consider it a gua sha for your body, but with the added bonus of smooth, fresh skin.
---
The beauty of this tool is the simplicity, the easy repetitive motions and the results, but don't take our word for it! Watch the video below!
---
Want to learn more about the other skincare tools we offer at Camera Ready? Click here to see our full range of skincare tools including high tech tools and more.
---
About Camera Ready Cosmetics
Camera Ready Cosmetics was founded in 2003 by Makeup Artist Mary Erickson. She dreamed of having a pro makeup showroom where artists could play with professional products without the typical makeup store attitude.
Today, our team of beauty industry veterans work together to curate the best quality products on the market. We partner with brands who respect the industry and formulate products for true working artists. You won't find CRC in high-end malls, and we don't wear matching brush belts.
If you want to play with products for a few hours and buy nothing, that's okay ... come in and play! Our store is your playground.