So you just got the Danessa Myricks Beauty Lightwork Volume IV Transcendence Palette (perhaps you're considering it or another water-activated makeup product)- congratulations! You're in for a magical world of textures, finishes, colors, and multichromes! If you're new to using water-activated makeup, welcome to the beautiful world of unique textures and finishes! This pro-favorite product is great to create clean, crisp, highly pigmented eyeliner looks for graphic liner eyes, a pop of color, and more.  
It may be a little daunting, at first, but once you've mastered the technique to use water-activated makeup, you'll be hooked. In this blog, we'll share three easy steps and a tutorial video to use the Aqua Chromes!
How to use the Danessa myricks beauty lightwork iv transcendence palette aqua chrome water-activated shades in three easy steps:
STEP 1: Add a couple of drops of water to activate the makeup

STEP 2: Swirl your brush to mix the pigment with the water

STEP 3: Use a liner brush or other tool to apply
The tools you'll want to have handy to use the Danessa myricks beauty lightwork iv transcendence palette:
A small amount of water (either in a small dish or dropper)

A paper towel or other towel to wipe your brush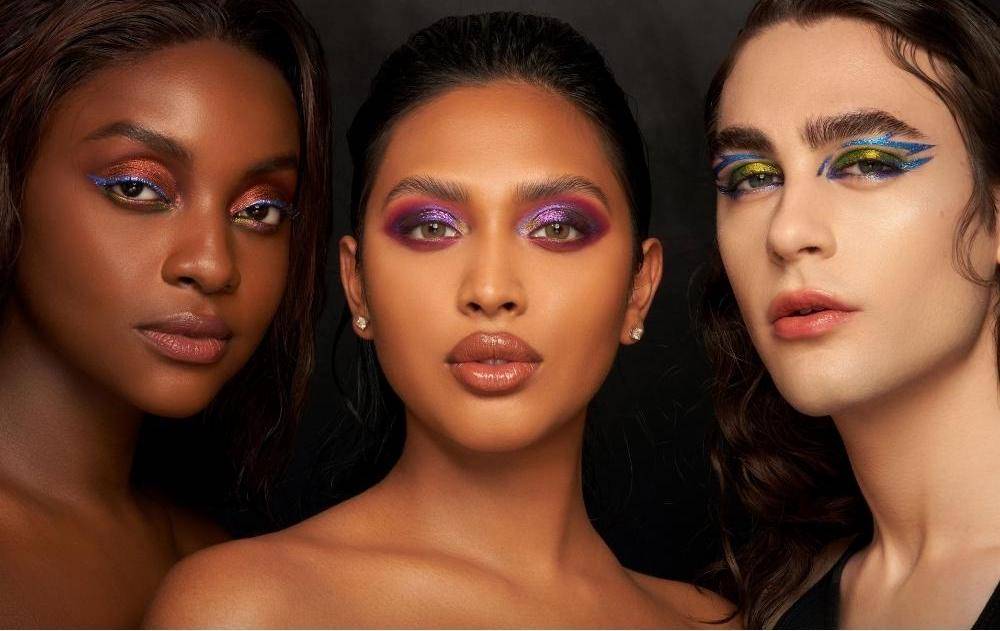 ---
How to use water-activated Danessa Myricks Lightwork IV Transcendence Aqua Chromes STEP 1: Apply a few drops of water to activate the makeup
In this step, it's important to only use a little bit of water. Start with three drops. This will allow you to achieve maximum pigmentation.
If you accidentally apply too much water, you can swiftly dab off a little with a paper towel or simply allow the water to sit on top of the makeup for a minute or two before you start to mix it. This will ensure the water softens even more of the makeup instead of only activating the top layer, resulting in a diluted mixture.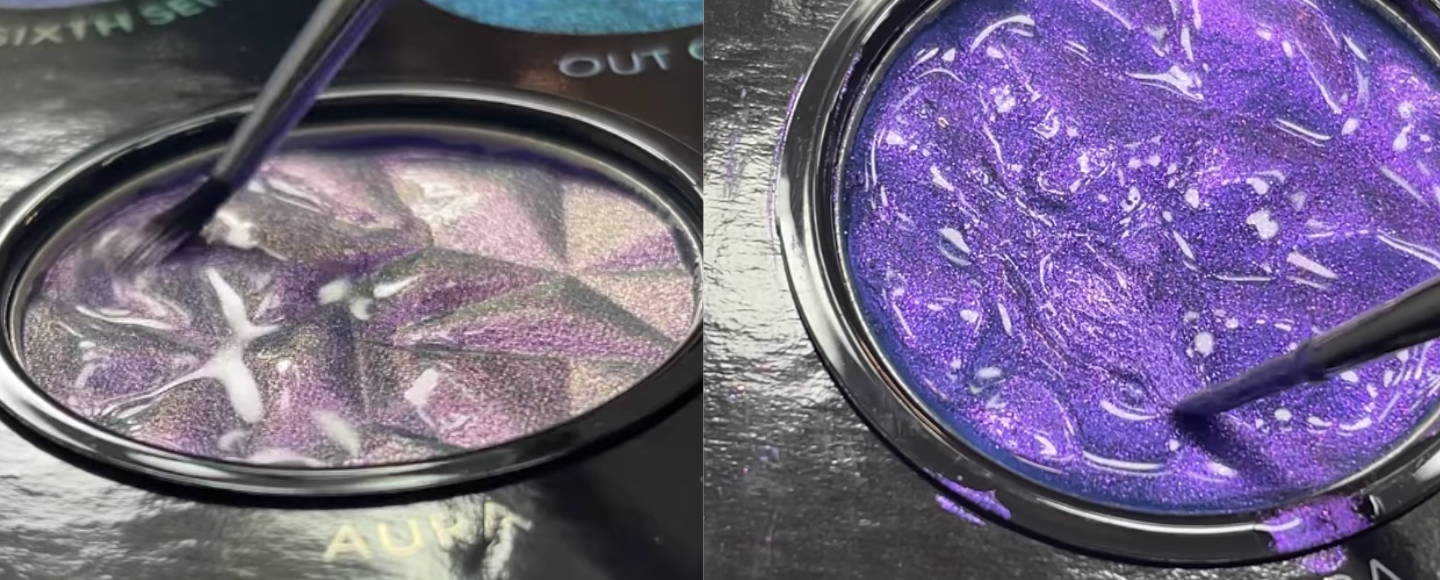 How to use water-activated Danessa Myricks Lightwork IV Transcendence Aqua Chromes STEP 2: Mix until you reach a paste-like consistency
Our favorite way to use water-activated makeup is for eyeliner or graphic eyeliner, so we often turn to a very thin eyeliner brush when using our Aqua Chromes from the Danessa Myricks Lightwork IV palette.
Taking your brush, lightly swirl and swipe it in the water you've dropped onto the Aqua Chrome shade. At first, you'll see the magical shimmer floating in the makeup, but it won't take long before the shimmer has almost "melted" into the water creating a beautiful multichrome liquid. Keep stirring! You're so close to being ready to use it!
You're looking for a thicker almost paste-like consistency, and it should stay on your brush easily and look a little thicker once it's ready. If it has become chunky or gloopy looking, add a tiny drop of water and try again.
PRO Tip: Keep a small dish of water nearby and lightly dip your brush into it to pick up the desired amount of water to work into your Aqua Chrome. This will give you optimal control while mixing and can come in handy as you work with the product, as it will start to dry up again as you're using it.
---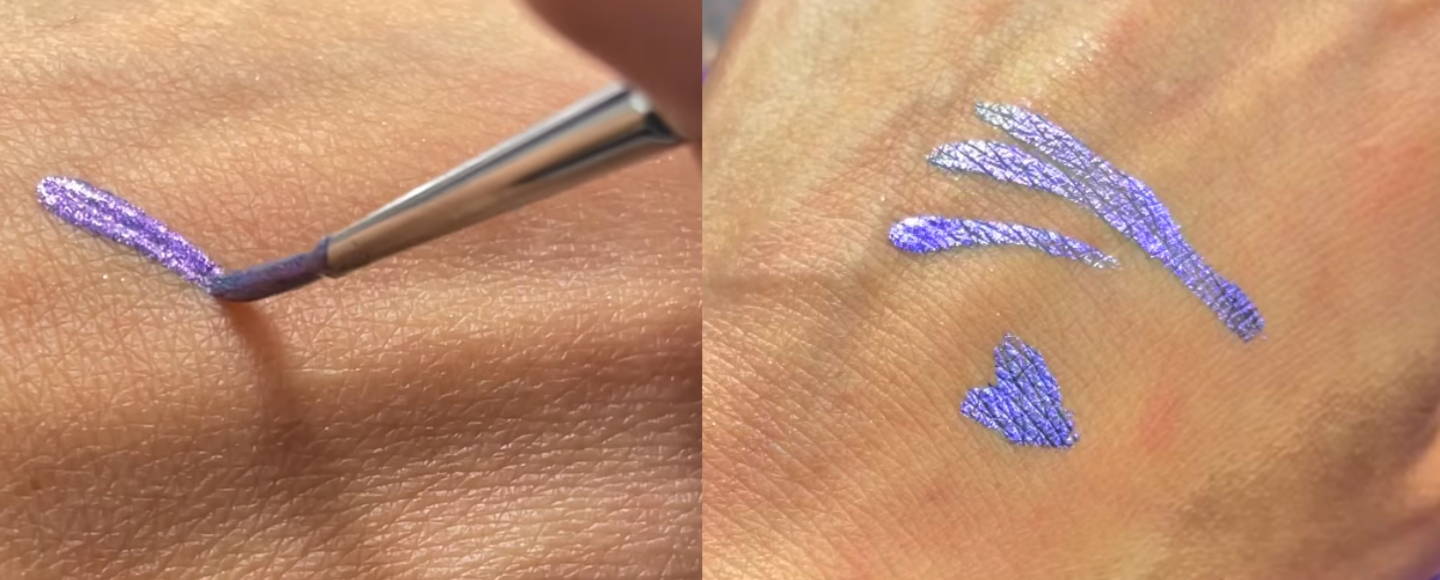 How to use water-activated Danessa Myricks Lightwork IV Transcendence Aqua Chromes STEP 3: Start playing with the makeup!
Now that your Aqua Chrome is the perfect consistency, it's time to start playing! Of course, since it's a wet formula, if you're lining your eyes, try not to blink too hard or open/close your eye until the liner has dried. Your body heat will help the liner dry pretty quickly.
Once dry, the Aqua Chrome will give you a dazzling long-lasting multichrome look! To remove, simply use your favorite cleanser or makeup remover. It will be easy to remove since it's water-activated!
PRO Tip to use the Aqua Chromes from Lightwork IV: We recommend practicing on your hand or arm until you get used to how much of the Aqua Chrome liquid to place on your brush and to see how thick you like the consistency! Wiping your brush onto a paper towel in between lining sessions will also help you create clean, crisp lines.
Watch the Video Tutorial from the Danessa Myricks Beauty Team showing how to use the Lightwork IV Transcendence Palette Aqua Chromes!
If you need more help learning how to use your new palette and water-activated makeup, our Beauty Advisors are here to help! Click here to contact them!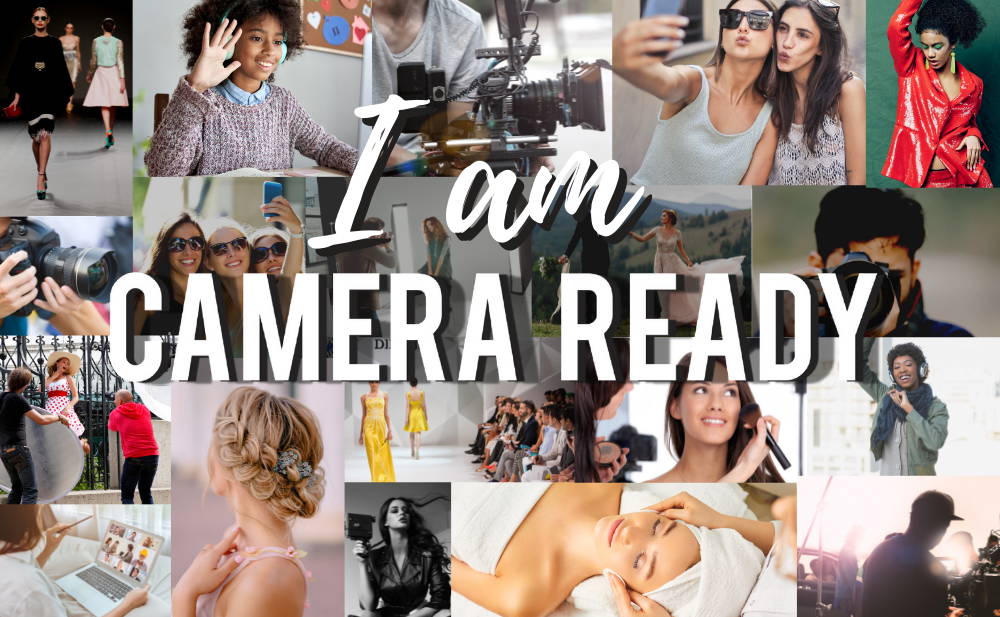 Are You Ready to Get Camera Ready?
---
About Camera Ready Cosmetics
Camera Ready Cosmetics was founded in 2003 by Makeup Artist Mary Erickson. She dreamed of having a pro makeup showroom where artists could play with professional products without the typical makeup store attitude.
Today, our team of beauty industry veterans work together to curate the best quality products on the market. We partner with brands who respect the industry and formulate products for true working artists. You won't find CRC in high-end malls, and we don't wear matching brush belts.
If you want to play with products for a few hours and buy nothing, that's okay ... come in and play! Our store is your playground.
---