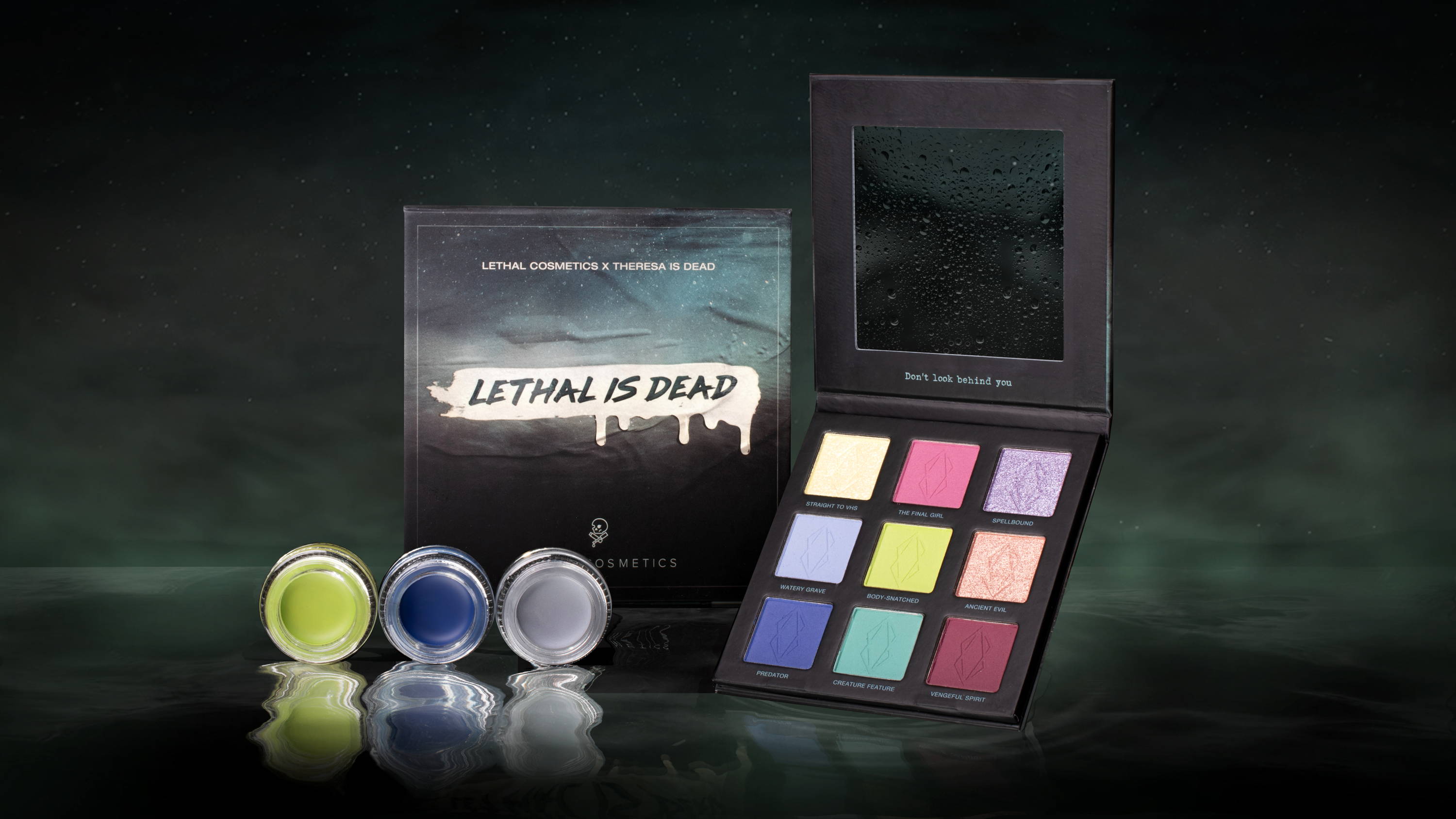 We were proud to release the Lethal is Dead collaboration collection at 11am EST on Saturday, June 26, and the palette sold out within five minutes!
---
The Big Reveal! Watch the official premiere video from Theresa is Dead
Lethal Cosmetics is a vegan, cruelty-free, ethically sourced brand based in Berlin, and their products have inspired creativity for professional makeup artists and makeup lovers alike. It caught the eye of Theresa is Dead thanks to their SIDE FX Liners being long-lasting and non-irritating on her sensitive eyes, and the grungy colors stole her heart. After many months of planning, a beautiful and colorful collaboration was born.
The Collaboration:
Be the sole survivor of your own low-budget horror film with this shocking collection consisting of the "Lethal Is Dead" 9-pan shadow palette ($37) and three brand new SIDE FX gel liners ($15.50 each) in the shades "Ectoplasm" (Chartreuse), "Spectre" (Navy blue) and "Entity" (grey). ⁠⁠
---
The Palette: Lethal is Dead
This 9-pan palette is Theresa is Dead's dream palette.
Theresa worked with the Lethal Cosmetics to create nine brand new shades that capture what it means to be a true garbage person.
Featuring three sparkling metallics and six mattes, you'll be able to create a variety of looks ranging from subtle to bold.
---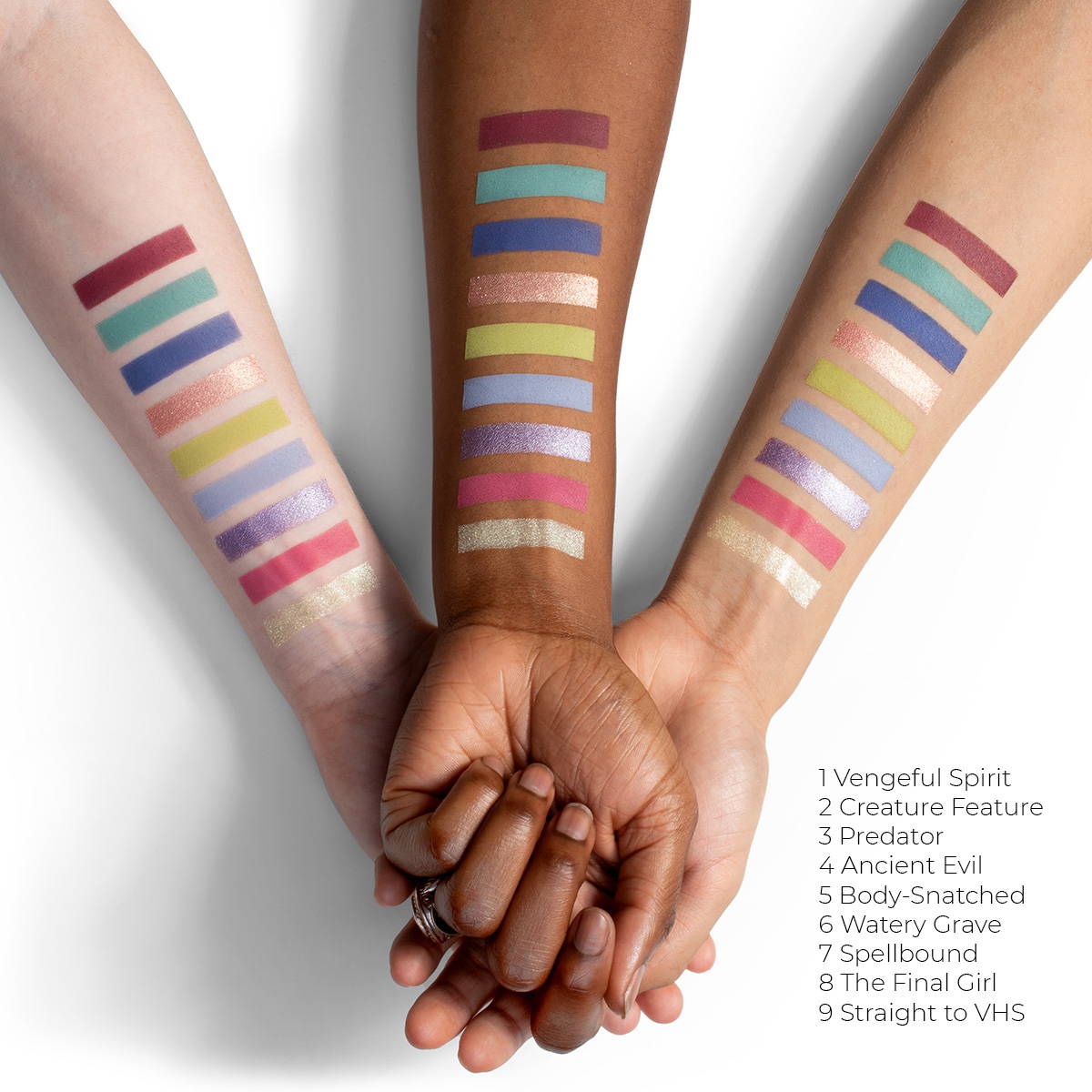 VENGEFUL SPIRIT: A berry-based burgundy matte
CREATURE FEATURE: A grungy teal matte
PREDATOR: A moody and mysterious blue matte
ANCIENT EVIL: A shimmering peach
BODY-SNATCHED: A swampy matte chartreuse
WATERY GRAVE: A pastel muted periwinkle
SPELLBOUND: A delicate sparkling lavender with subtle silver and
THE FINAL GIRL: A delicate yet strong pink matte
STRAIGHT TO VHS: An ethereal sparkling duochrome that shifts from yellow to white
---
Lethal Cosmetics x Theresa is Dead | SIDE FX™ Gel Liner
SIDE FX Gel Liner
Smudge and water-proof precision with uncompromising intensity. This all-day-everyday liner stays matte and does not budge.
Through rough weather, intense physical activity, or spontaneous outbursts of emotion, this gel liner will stay where it should until you're ready to call it a day.
Airtight glass jar with a separate inner lid to keep the product from drying out. Comes in a unique black paper box made from FSC certified paper and without any plastic or glue. The Lethal is Dead Collection SIDE FX Gel Liners have a special edition matte black lid with black logo.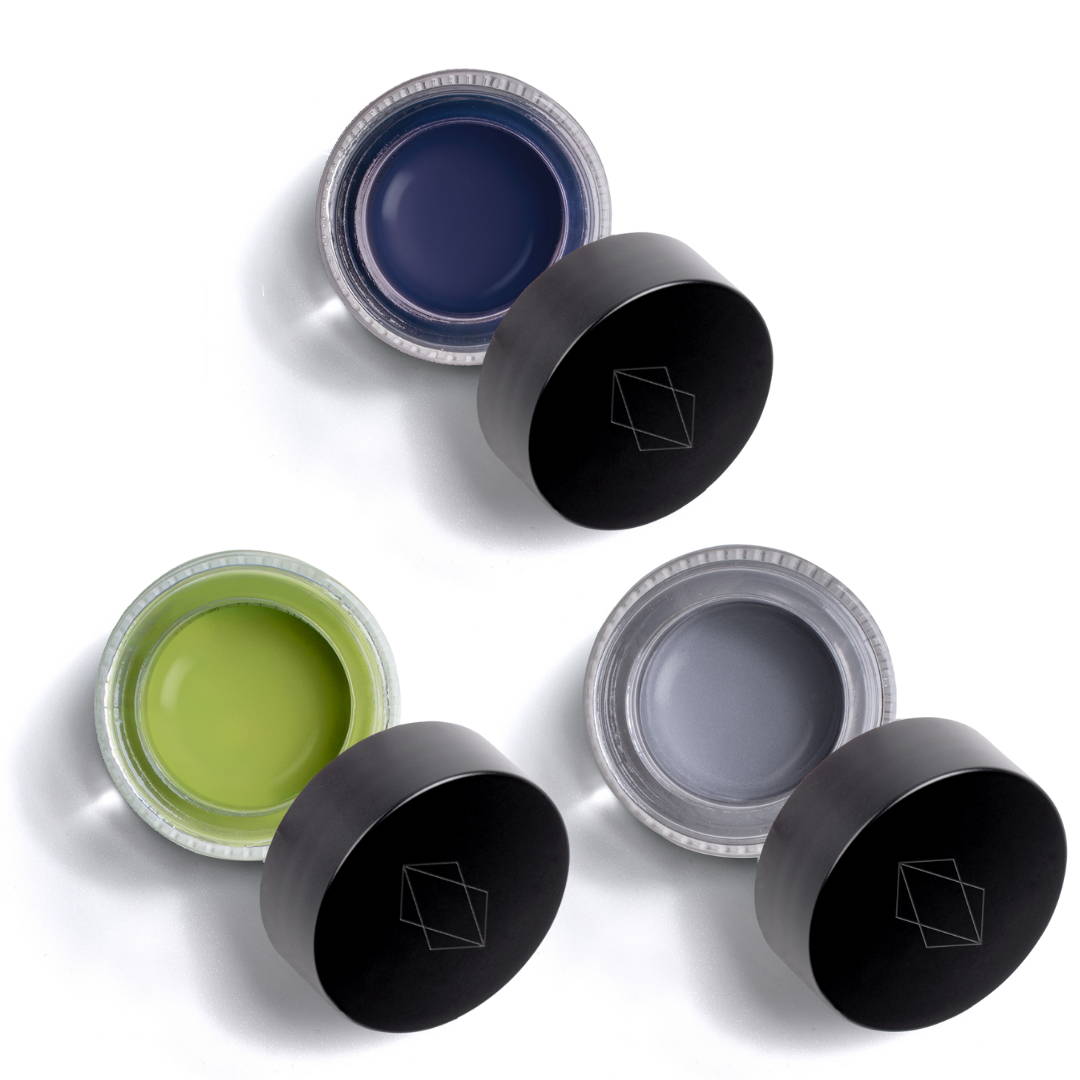 ---
SHADE DESCRIPTIONS
Ectoplasm: Matte Chartreuse
Spectre: Matte navy blue
Entity: Matte grey
Size: 5 g / 0.17 oz / Made in Germany
---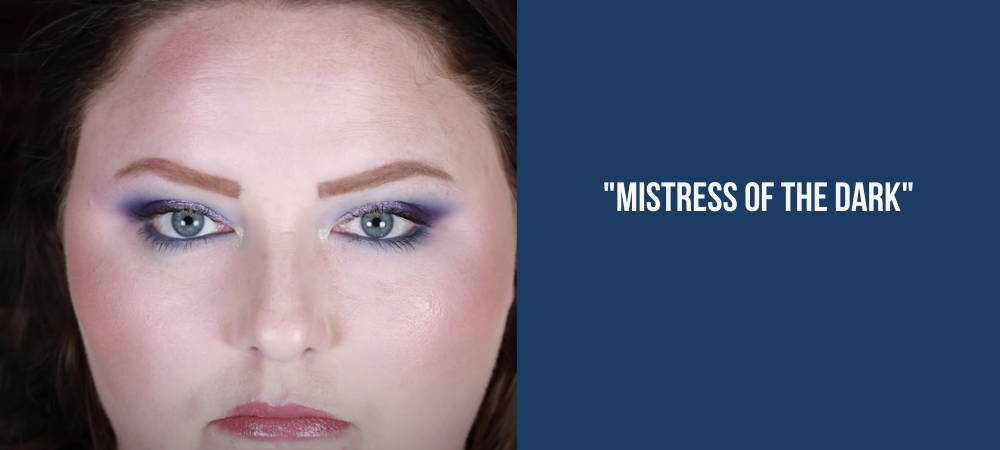 Using a fluffy brush, place Watery Grave

in the crease, blend upward toward the brow.

Blend Predator

into the crease and outer v to deepen the look, blend well.

Add Vengeful Spirit

on the outer v & blend well with the same brush you used for Watery Grave.

Add some glitter glue or a tacky base, and place Spellbound

on the inner half.

Mix Spectre

and Entity SIDE FX Liner to get a blue gray, and apply to the waterline.

Taking a pencil brush, apply Predator to the outer half of the lower lash line.

Using a small detail brush, add Watery Grave to the lower lash line from the middle part of the eye toward the inner corner.

Take a small detail brush, and add Straight to VHS on the inner corner.
---
Watch Theresa is Dead's step-by-step tutorials for inspiration.
---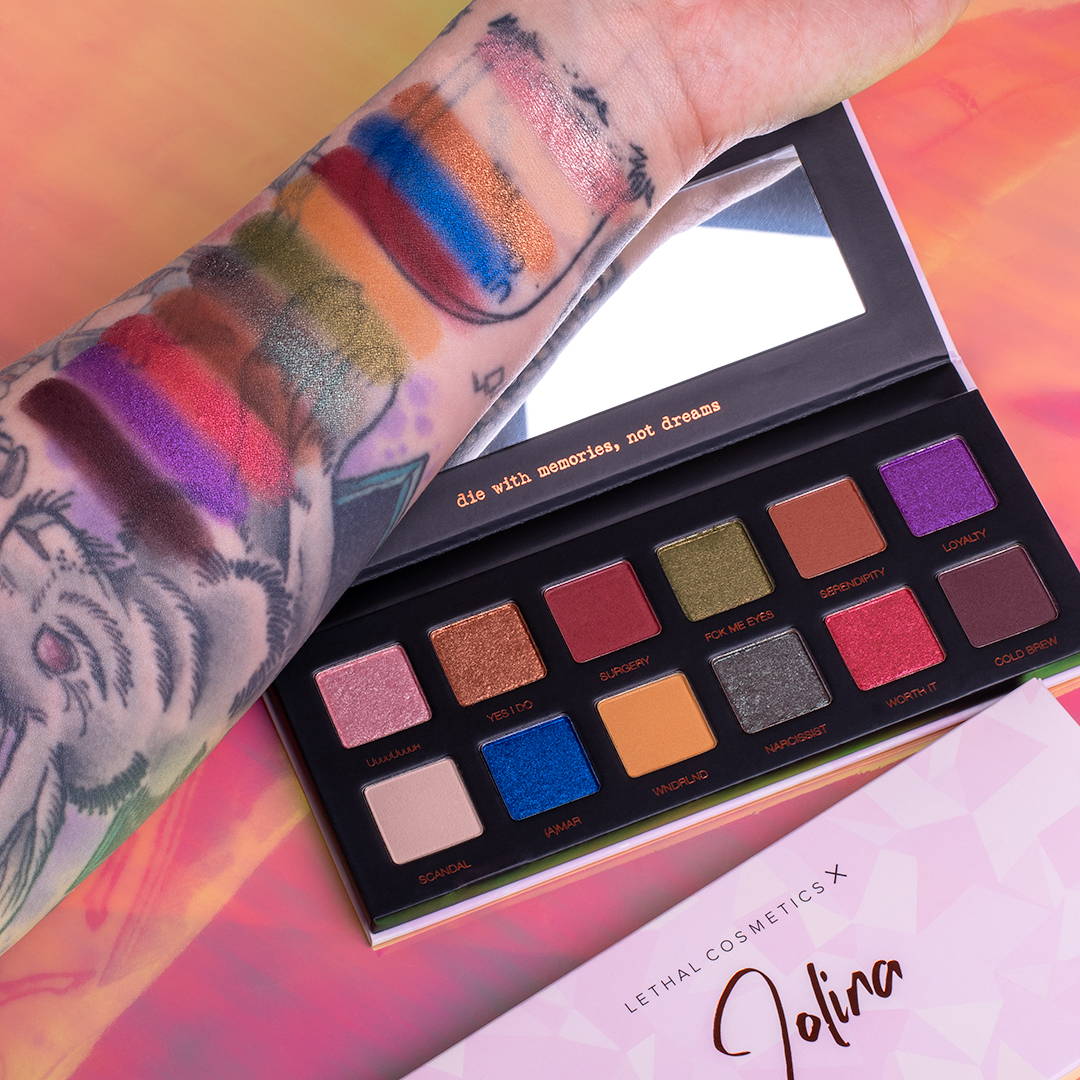 Seeing a need for ethically sourced, vegan and cruelty-free makeup that was still fun and colorful, husband and wife team Kai and Anna created Lethal Cosmetics to offer beauty lovers a makeup experience unlike any other. Kai created high quality packaging that allows artists to depot and customize their palettes while Anna used her cosmetic science background to formulate their first eyeshadows and products.
Their wide range of products are suitable for every skin tone and stand for limitless self-expression and breathtaking results.
---

Are you ready to experience Lethal Cosmetics for yourself?  Click here to shop and to learn more about the other great products and palettes! We are actively working on adding more Lethal Cosmetics products for you to experience including blushes and bronzers, so sign up below to be notified when they arrive!
---