We all strive to take the best care of our hair daily, but can always benefit from a little extra something to keep our locks luscious. That's where Fekkai comes in. His naturally derived, vegan, cruelty free, and packed with great ingredients hair care products will improve these qualities for your tresses: texture, shine, and movement. Stylists for Fekkai know that the secret to perfecting this trio is how well the hair is taken care of, starting in your shower.
Follow these three techniques to help you achieve Camera Ready, off-duty model hair every day!
---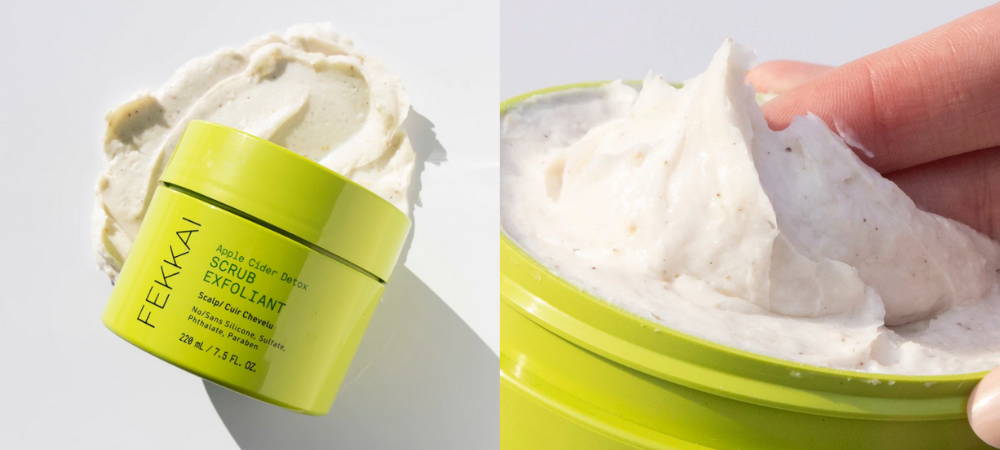 1. Use a Scalp Scrub to Remove Impurities and Build-up
We all have some scalp build-up, especially if you are a fan of adding hair styling products. Scalp build-up can also occur if you like to stretch the time between hair washes or live in a larger city. Build-up doesn't only dull hair but it can also irritate your scalp and prevent you from achieving your hair goals.
If you have ever had a dry, flaky scalp it can be more than embarrassing, it can cause lasting damage to your hair. Fekkai Apple Cider Detox Scrub's formula is full of eco-certified ingredients like ginger extract and edelweiss flower extract. Ginger Extract stimulates the scalp to promote strong, healthy hair growth while delivering essential nutrients to the scalp. In a salon test, 78% of Fekkai Apple Cider Detox Scrub users report that their scalp felt excellent after using the scalp scrub.
When your hair starts to feel weighed down, it's the ideal time to reach for an exfoliating scrub or pre-shampoo to treat your scalp and extract impurities. Fekkai Apple Cider Detox Scrub is perfect for all hair types, especially those with sensitive scalps because it uses mild Rice Exfoliant Extract to pull residue from products, like dry shampoo and pollution out. It's as simple as working a dollop of the scrub into your scalp and letting it sit for 1-2 minutes before shampooing. Consider adding Fekkai Apple Cider Detox Scrub to your shower routine once a week, or biweekly if you have a sensitive scalp.
---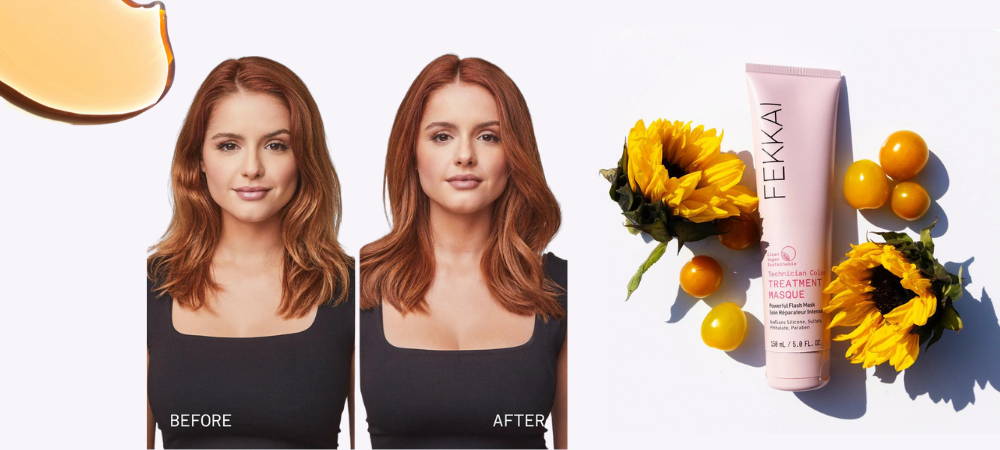 2. Use a Mask to Smooth Hair

If you have thicker or color-treated hair, we recommend Fekkai Technician Color Treatment Powerful Flash Mask. This powerful, color-protecting treatment mask serves up added vibrancy and hydration, and delivers enviable slip and shine with no lingering residue. It will keep your color-treated hair fresh and prevent fading thanks to Mirabelle Plum Seed Oil and Plant-derived extracts and solar protection polymers, and like all Fekkai products, the packaging is 100% recyclable. To make the most of this mask, apply evenly from roots to ends after shampooing, leave in for 1-2 minutes, and then rinse!
If you've got curls, try the Shea Butter Intense Mask. This creamy, intensely moisturizing, sulfate-free mask conditions and softens for healthier, softer curls. A blend of natural Shea Butter (Karite) and Monoi Oil delivers potent nourishment and moisture, smoothes strands, eliminates frizz and tangles, and helps reduce split ends and frizz while amplifying your hair's natural radiance.


How to use the Shea Butter Intense Mask like a PRO:
1. After shampooing, apply a generous amount from roots to ends.
2. Leave on for 3 - 5 minutes, then rinse with water.
3. For those with tighter curls, use after conditioning.
4. Use as a leave-in treatment before sun/ swimming pool exposure.
5. Use as a leave-in treatment before gym/ exercise.
6. Use as an overnight mask, deeply nourishing the hair over time.
---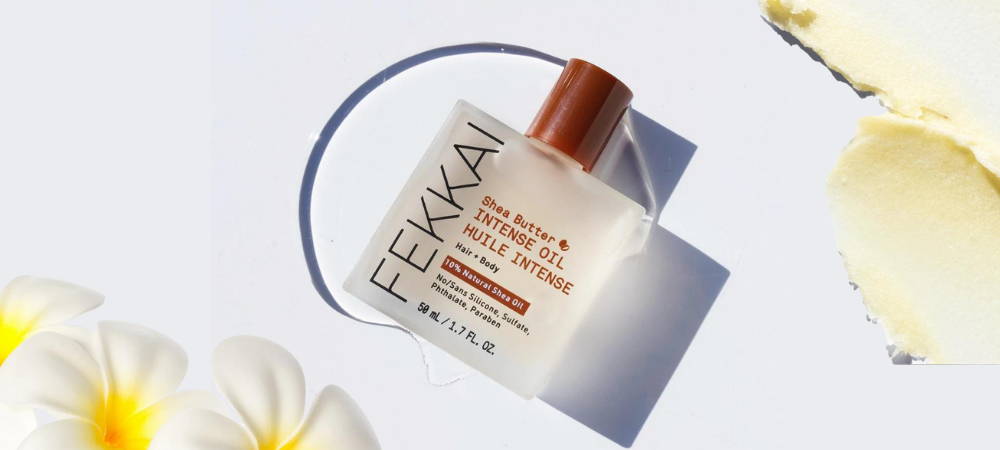 3. Add a Hair Oil to Nourish Dry Ends
Oils are a must-have if you want smooth and sleek hair. Hair oils can almost do it all, in addition to adding shine, they nourish your scalp and hydrate your hair. They incorporate fatty acids to help to restore essential lipids that are often lost with frequent heat usage, chemical treatments, and pollution. Frédéric Fekkai and Fekkai's in-house chemist worked closely to formulate an innovative Shea Butter Intense Oil for your hair, face, and body. It incorporates natural Shea and Monoi Oil smooth hair and fights frizz in a lightweight and nongreasy formula while Jojoba Esters locks in moisture to leave hair shiny. Apply Shea Butter Intense Oil on your skin for a slight sheen from head to toe.
---
In summary, the three steps to achieving your best hair day include: 1. Incorporating a Scalp Scrub to Remove Impurities, 2. Use a Flash Mask to Repair Stressed Hair, 3. Achieve Smoother, Shinier, and Healthier Hair with a Hair Oil. Incorporate these tricks into your hair care routine as needed to feel like a supermodel whenever you step out of the house. Don't forget to share your looks with us at Camera Ready Cosmetics on Instagram. 
Are you ready to revamp your hair care journey? Explore all Fekkai's clean hair care products that are formulated to restore, repair, and to protect your hair. Need help creating the perfect hair routine for your hair type? Our team of Beauty Advisors is here to help. Click here to send them a message!
---
About Camera Ready Cosmetics
Camera Ready Cosmetics was founded in 2003 by Makeup Artist Mary Erickson. She dreamed of having a pro makeup showroom where artists could play with professional products without the typical makeup store attitude.
Today, our team of beauty industry veterans work together to curate the best quality products on the market. We partner with brands who respect the industry and formulate products for true working artists. You won't find CRC in high-end malls, and we don't wear matching brush belts.
If you want to play with products for a few hours and buy nothing, that's okay ... come in and play! Our store is your playground.