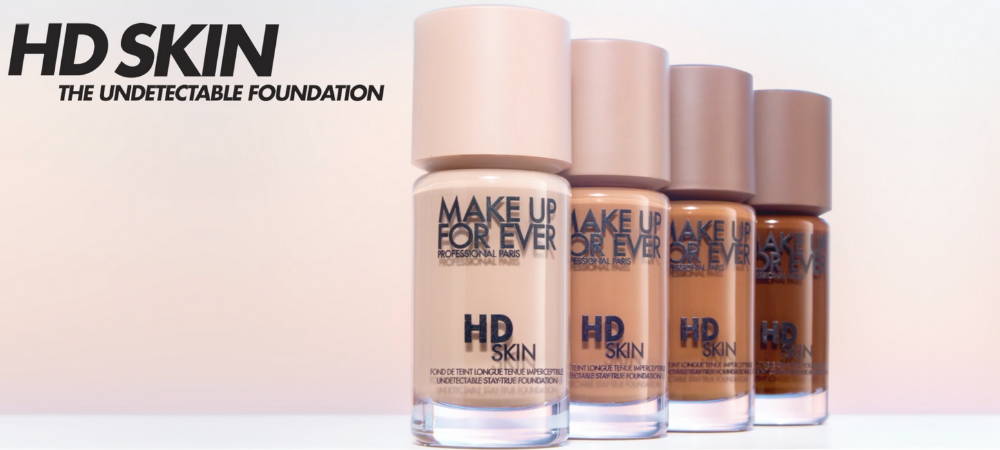 Make Up For Ever is starting the year with a foundation launch that incorporates new technology and a cleaner formula: HD Skin Foundation. This new foundation is the newly formulated version of Ultra HD Foundation that has been improved with technology to enhance performance and undetectability. In other words, the skin will look like real skin under any light.
We worked with Make Up For Ever North America Senior Manager for Pro Education & Artist Eddie Duyos to share a few of the new and exciting things about HD Skin Foundation. From the new shade naming system, undertones, how to apply it, and tips for professional makeup artists, we're breaking down all the details below!
---
About Make Up Forever HD Skin Foundation
The new HD Skin Foundation boasts a medium to full coverage that is comfortable, easy to apply, and that flexes as the skin moves to prevent caking and settling into lines. The formula is also vegan, non-comedogenic, waterproof, sweat-proof, and comes in more sustainable packaging. The bottle is recyclable and is made from 40% recycled glass. It comes housed in an FSC carton and has a bio-sourced cap.
Additionally, the formula instantly blurs the skin, has a true-to-skin finish and tone, a natural matte finish, and an impressive 24-hour wear-time.  
---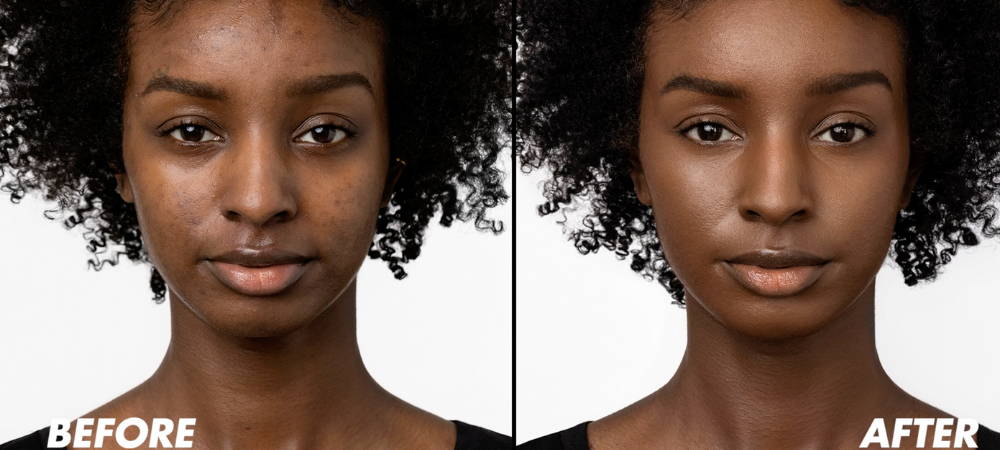 Why Professional Makeup Artists Will Love HD Skin Foundation

CRC: It can always be a little daunting to try a new foundation formula. Tell us why pros will love it!
Eddie Duyos: Pros will love the new HD SKIN foundation because of its versatility in coverage and because it's waterproof. There are fewer touch-ups needed. It also has all the coverage without the visibility! HD Skin is the TRUE TO SKIN foundation out of all the Make Up For Ever foundations and gives you a medium buildable coverage that blurs away all the imperfections.
---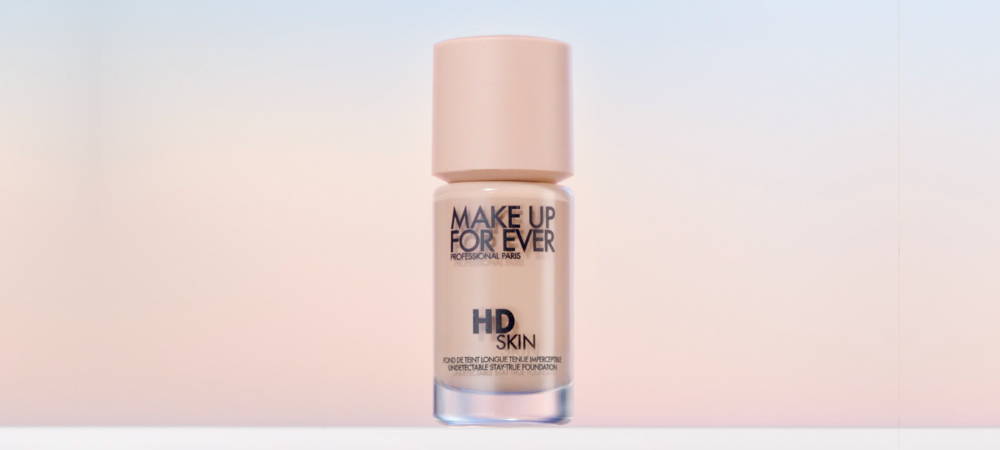 The New Shade System for HD Skin Foundation

The new HD Skin Foundation has a different shade system than previous collections from Make Up For Ever. First, the shades are broken down into four color families:
The Shade Naming System for the new Make Up For Ever HD Skin Foundation
Light

Medium

Tan

Deep
The Three Undertone Families for the new Make Up For Ever HD Skin Foundation
R = Red
Y = Yellow
N = Neutral
The easiest way to determine your undertone is to look on your forearm and to look at your veins.  If your veins are green, you would fit in the Y (yellow) tone.  If your veins are a mix of blue and violet, you would select R (red).  Finally, if your veins are between blue and green, your best shade match would be N (neutral).
Finally, they assigned a number to each shade to denote the depth of the shade with 00 being the lightest shade and 78 being the deepest shade in each color family.
---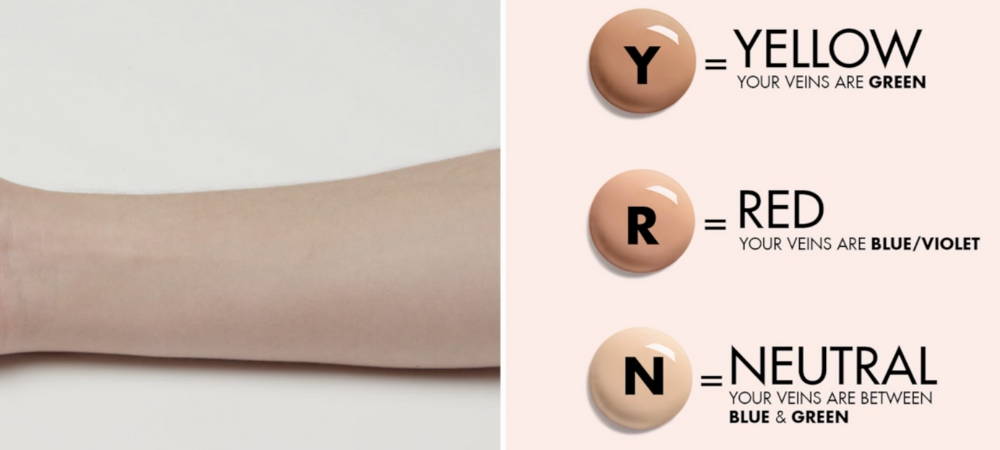 How to Shade Match HD Skin Foundation

If you're having a difficult time shade matching and have the ability to swatch the product in-store, apply one foundation in each undertone to your face starting toward the middle of your cheek and working toward your jawline.  By covering a larger surface area, you'll be able to pick up the subtle tone changes across your face.  Let the foundation sit for a few moments, and select the swatch that appears to "disappear" into your complexion the best.  This will determine your undertone.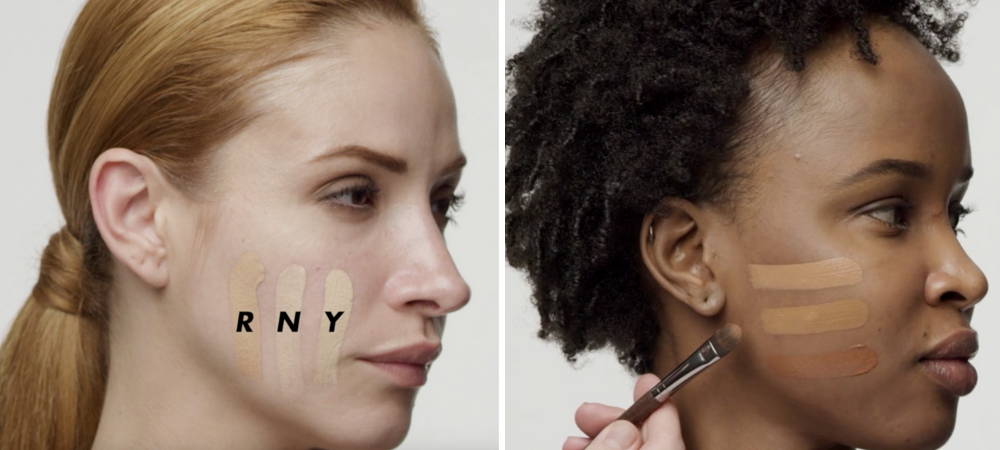 If you or your client have problematic skin with active breakouts or discoloration, select an area of the face that has the most discoloration to swatch across.  This will allow you to find the shade that best matches your entire face and that can neutralize any discoloration.
---
Pro Kit Must Have Shades for Make Up For Ever HD Skin Foundation
The PRO Team at Make Up For Ever curated a guide to help pros stock their kits with the new HD Skin Foundation. While the exact shades and undertones should be tweaked to match your clientele, this list serves as a guide for the Make Up For Ever global client base.
From fairest to richest, Make Up For Ever's Pro Kit Must-Have Shades of HD Skin Foundation are:
1N00 (lightest neutral shade), 1R12 (light warm shade), 1N14 (light neutral yellow shade), 2Y20 (medium yellow shade), 2N226 (medium neutral yellow shade), 2R38 (medium warm shade), 3N42 (tan neutral warm shade), 3R50 (tan warm shade), 3Y56 (tan-deep warm yellow shade), 4N62 (deep neutral warm shade), 4R76 (deepest warm shade), 4N78 (deepest neutral shade)
Mixology for HD Skin Foundation
The ability to mix shades, beauty oils, or adjusters is essential for any pro, and HD Skin Foundation mixes beautifully with any non-water-based products.  As with any waterproof formula, water-based products do not mix well with the foundation, so if you want to sheer out the formula for lighter coverage, the Make Up For Ever team recommends using a beauty oil, an oil-based lotion, or their Hydra Booster Primer.
When it comes to skin prep, the Make Up For Ever team recommends oil-based skin prep products to maximize this foundation's wear-time and overall appearance.
Fragrance & Pigmentation Level for HD Skin Foundation
Of course, many pros and makeup lovers will wonder how the new formula compares to previous formulations, and while the pigmentation load percentage has not been released, the Make Up For Ever team let us know it's more pigmented than its predecessor.  Additionally, the new formula has a slight fragrance that is naturally derived from Japanese Sencha Tea, and it makes up less than 0.15% of the formula, so it is safe for use on sensitive clients.
---
How to Apply HD Skin Foundation

Whether you're a professional makeup artist or want to add it to your personal routine, you can use a range of tools to apply it to achieve a beautiful finish. A brush is recommended, but you can build up more coverage with a sponge. Work swiftly and in small areas, as the foundation sets fairly quickly. For true medium coverage, you should use approximately one pump per each side of your face.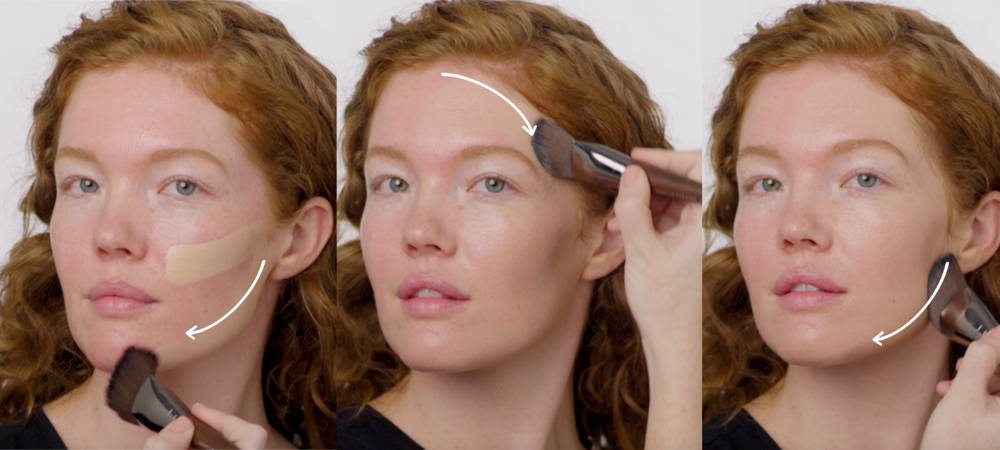 How to Apply HD Skin Foundation with a Brush:
Using a brush, start at the center of the face and sweep outwards to the temple, then in a "C"-like motion, sweep downward and along the jawline to the chin. Repeat this process until you have achieved the desired coverage on the lower half of the face is achieved.  
Next, start between the eyebrows and brush around the perimeter of the face and all the way down to the chin. Blend the remaining foundation onto the nose.
How to Apply Foundation & Build Coverage with a Sponge:
Using a sponge, start at the center of the face where your cheek meets your nose. Move outward, just like with the brush application method, and continue to blend down the jawline and toward the chin. Blend across the nose and then between the brows and upward and outward on the forehead and around the perimeter of the face.
To build coverage on problem areas or to achieve full coverage, build coverage with a sponge in tapping motions.
How to Set HD Skin Foundation:
The beauty of HD Skin is that it doesn't have to be set. However, if you do want to set it, it pairs perfectly with Make Up For Ever Ultra HD Matte Setting Powder. If you prefer a translucent powder, opt for Make Up For Ever Ultra HD Loose Translucent Powder. Powder lightly and only in the areas where needed.  
---
---
About Camera Ready Cosmetics
Camera Ready Cosmetics was founded in 2003 by Makeup Artist Mary Erickson. She dreamed of having a pro makeup showroom where artists could play with professional products without the typical makeup store attitude.
Today, our team of beauty industry veterans work together to curate the best quality products on the market. We partner with brands who respect the industry and formulate products for true working artists. You won't find CRC in high-end malls, and we don't wear matching brush belts.
If you want to play with products for a few hours and buy nothing, that's okay ... come in and play! Our store is your playground.