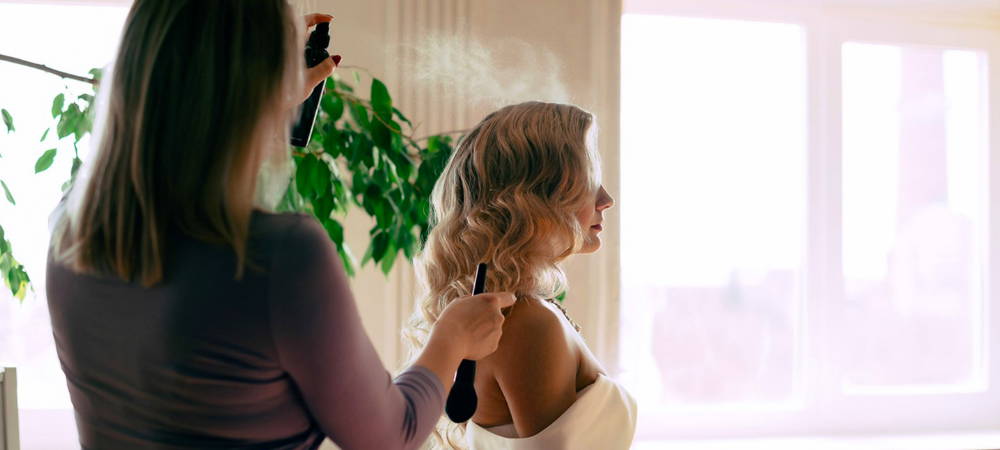 With many so hair styles ranging from romantic, edgy, classic, bohemian, and retro to choose from, it's no wonder selecting the perfect hairstyle for a wedding can be one of the most dizzying decisions for a bride. However, one thing remains true no matter which style you choose; proper hair care can make achieving the bridal hairstyle of your dreams easier for both you and your stylist. That's why we worked with our in-house licensed cosmetologist Jessica Dickison to provide a few tips for brides to ensure their hair is Camera Ready for their big day.
---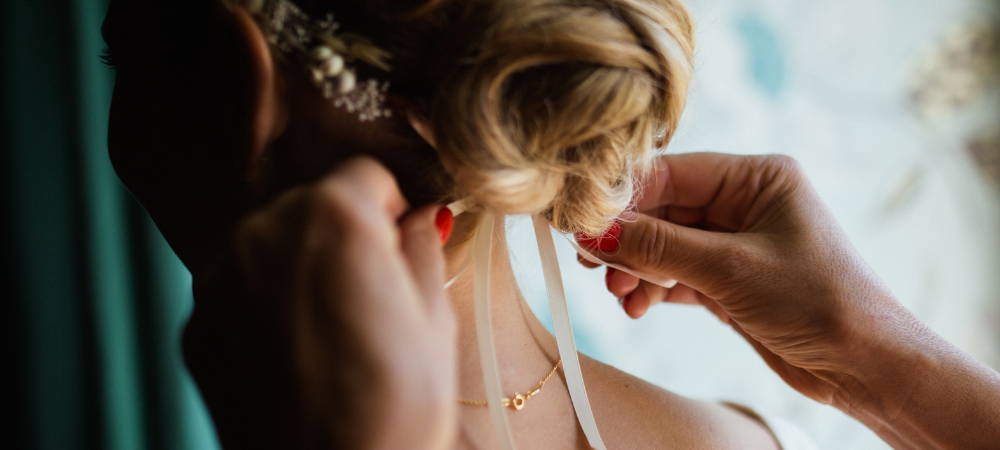 Tips for Hair Care 6-12 Months Before the Wedding
We know the time between engagement and the actual wedding day can vary greatly from one wedding to another, but if a bride has at least six months before the big day, they can get a jump start on caring for their hair for extra lustrous locks.
JESSICA: If possible, try to book your bridal hair appointment at least nine months in advance. This will allow you to schedule your trial with plenty of time to make adjustments to your hair like extra conditioning, coloring, and trimming before the big day. We suggest doing the trial 1-3 months before the wedding so your stylist can let you know what kind of products and treatments you should be using for your exact hair type. It can also be helpful to schedule your dress fitting after your hair and makeup which will allow you the opportunity to see the whole bridal look
Where to go for bridal hair inspiration
On one hand, looking for inspiration has never been easier thanks to social media sites like Pinterest, Instagram, and now even TikTok showcasing beautiful styles, but use a little bit of caution when saving out images to show your stylist.
JESSICA: I know these days everyone runs to Pinterest to plan their big day, but what Pinterest doesn't tell you is that those models generally have hair extensions, hairpieces, or wigs to achieve the desired look. It's possible that your stylist may be comfortable using extensions on you, too, but double-check with them to see if they think your dream 'do is doable with or without extensions or additional pieces so you may purchase them in advance, if necessary. Color matching them can be a little tricky.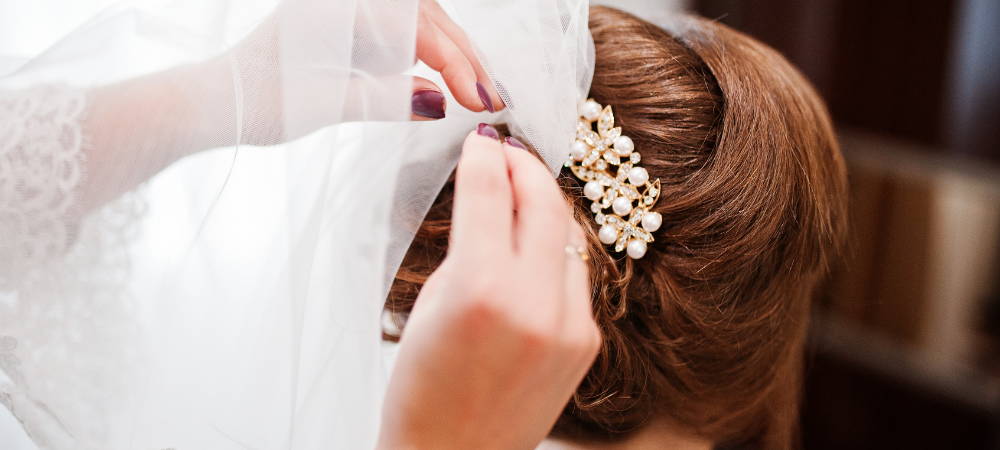 What treatments should a bride enjoy or avoid 6-12 months before the wedding?
JESSICA: While it may be tempting to change your look up entirely to achieve a certain vision for your wedding, avoid services that can be overly taxing on your tresses. These services can include perms, intense highlighting sessions where you're lifting the color more than three to four shades, or chemical straightening. Your stylist will be able to determine what condition your hair is in and what treatments they feel comfortable performing on you during this time, so definitely work with them to select the proper services for your hair.
---
Tips for Hair Care 2-3 Months Before the Wedding

Products to Consider Adding to Your Routine

As the wedding date draws closer, the focus shifts from searching for the perfect style to achieving healthy hair that will be in optimal condition. There are a few ingredients you can avoid and consider using to help!
JESSICA: Now is the time to treat yourself and your hair to a little extra TLC! The wedding process is in full swing, and a bride can treat themselves with a deep conditioning mask for a few moments of much-needed pampering time. To get your hair as glossy as possible, consider adding a mask to your routine 2-3 months out from the big day. A weekly deep conditioning treatment like Living Proof PhD Night Cap Overnight Perfector is a great option because it is sulfate-free and is formulated to be extra gentle on chemically-treated and colored hair. It also helps the hair to be more manageable which will help your stylist!
PRO Tip: Avoid products with sulfates during the months leading up to the wedding. They can strip the hair of moisture, and this can cause colored hair to fade faster and all hair types to look dull.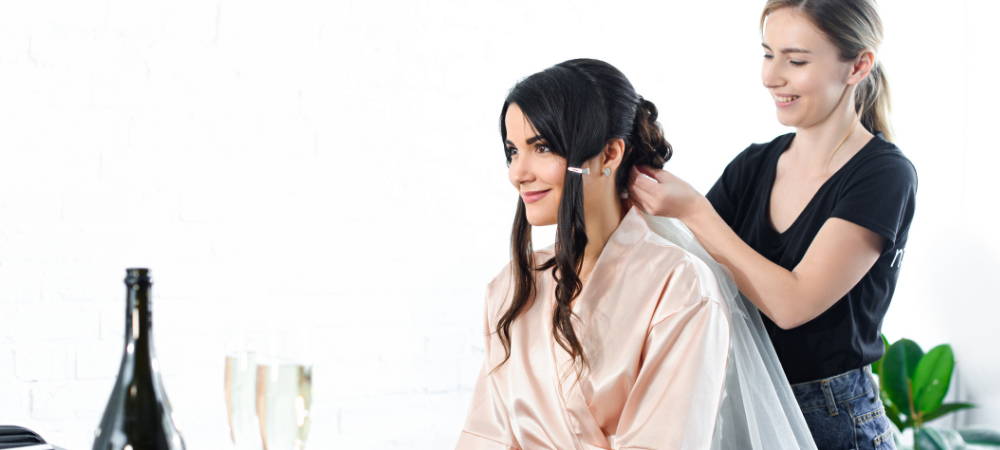 Tips for Hair Care 1-2 Months Before the Wedding

At this stage, the hair routine should consist of very few major changes. A light color refresh service like toning or glossing should be okay, as long as you keep the changes subtle. Ideally, your makeup trial should take place after your last hair coloring session so your bridal makeup artist can select products that compliment your hair color, too!  
JESSICA: If you do choose to color your hair during this time frame, it's best to communicate these changes with your bridal makeup and hair team (if the stylist is different than the one you're working with for the big day). Even subtle changes to your hair tone can change which makeup products will complement your overall look. This is also the time to get one last trim to get rid of split and dry ends, to avoid heat styling when possible, and to avoid products that can cause build-up.
Since many brides will choose to have their bridal hair trial during the two months out time frame, this is the perfect chance to make those fine-tuning tweaks to ensure everything is perfect for the wedding day. Be sure to ask your stylist for the products they would recommend for your hair type, as they will be able to identify your hair's needs.
---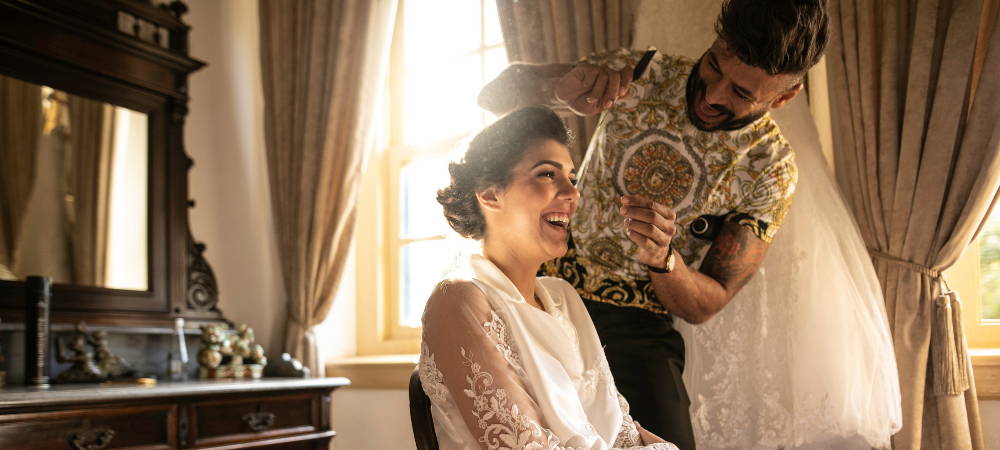 Hair Care Advice for the Bride for the Big Day

Just like that, the week leading up to the wedding day is here! Now is the time to avoid heat styling or using products that cause build-up.
JESSICA: Of course, check with your stylist first, but as a general rule of thumb, do not wash your hair on the wedding day! Do that the day before. I actually recommend double-washing and then conditioning to ensure you're removing any extra build-up of oils, product residue, or impurities. Leave the conditioner on a little longer than normal, up to five minutes, and rinse well. Avoid using any post-shower products (a leave-in conditioner is okay) to avoid adding any extra products that will impact how it holds a style on your wedding day. Lightly blow-drying is fine.
Washing the day before the wedding will also allow enough natural oil to form to help lock your bridal style in place. My final piece of advice? Take a deep breath, and enjoy every moment! It's the most exciting day of your life, and no matter what, you'll look beautiful!
---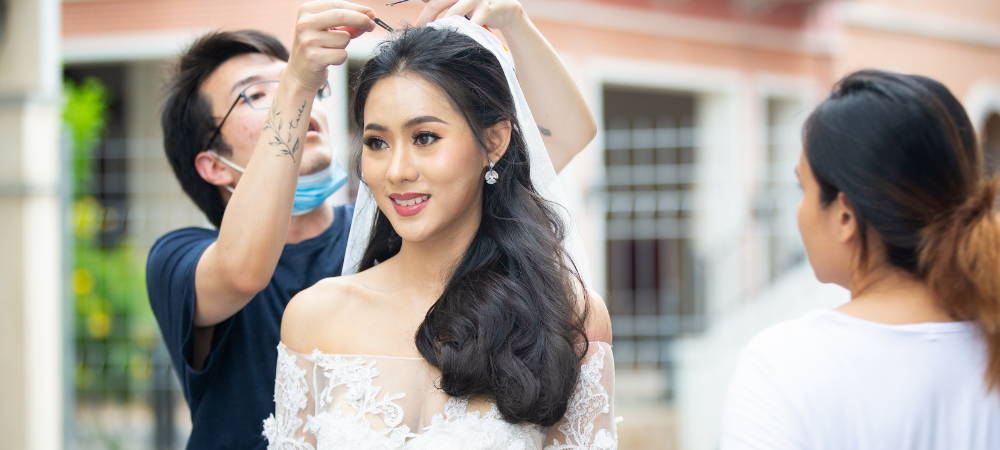 A Summary of the Do's and Don'ts for Bridal Hair Care

We covered a lot in this blog, so to make it as easy as possible, we've created a list of the basic things to do and the things to avoid before the big day.
The DO's for Bridal Hair Care:
-DO Make sure your haircut aligns with your day-of style
-DO book your consultation a minimum of 2 months before your wedding day
-DO treatments/hair masks weekly the 2-3 months leading up to the big day
-DO make sure to get a trim and color touch up 2 weeks prior to the event
-DO use sulfate-free shampoo & conditioner
-If you are frequently in the sun, we DO suggest using a leave in with UV protection
The DON'TS for Bridal Hair Care:
-Don't overly process your hair within one year of your wedding (excessive highlighting, chemical straightening, perms, etc.)
-Don't book your consultation too close to your wedding date. Leave wiggle room to try something new or tweak it to perfection
-Don't overheat your hair. Use a thermal protection spray when blowing out/flat ironing/curling to minimize damage
-Don't use too much product in your hair during your wedding week to avoid product buildup
-Don't wash your hair the morning of your wedding (unless your stylist advises you otherwise)
-Don't make any drastic changes.
---
We hope you're feeling confident about your hair's needs after reading our blog. If you need more help or a personalized recommendation, click here to contact a Beauty Advisor, otherwise, enjoy perusing our beautiful selection of hair care products!
---
About Camera Ready Cosmetics
Camera Ready Cosmetics was founded in 2003 by Makeup Artist Mary Erickson. She dreamed of having a pro makeup showroom where artists could play with professional products without the typical makeup store attitude.
Today, our team of beauty industry veterans work together to curate the best quality products on the market. We partner with brands who respect the industry and formulate products for true working artists. You won't find CRC in high-end malls, and we don't wear matching brush belts.
If you want to play with products for a few hours and buy nothing, that's okay ... come in and play! Our store is your playground.