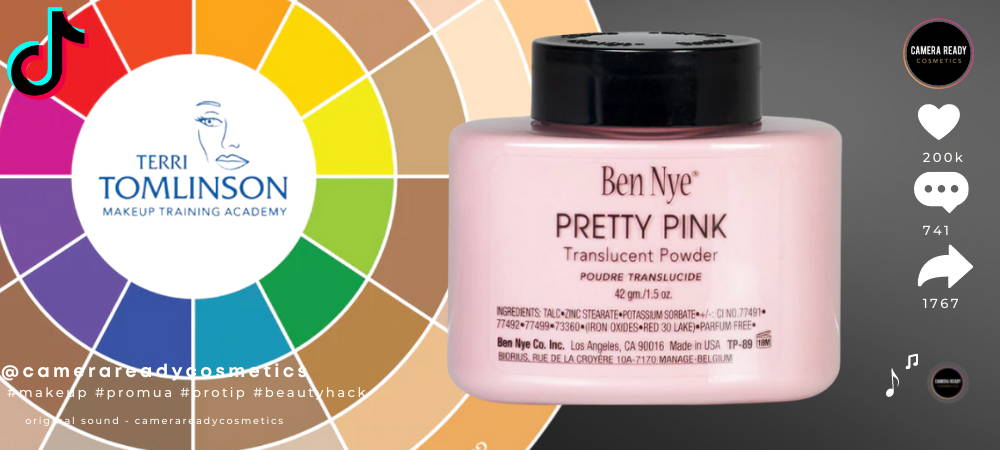 If you're a beauty lover and have spent time watching makeup artists and beauty enthusiasts on TikTok, you likely saw plenty of demonstrations showing people using pink-toned powders to brighten their faces. In particular, Ben Nye Pretty Pink Powder received a few features thanks to the great value from the price to the larger amount of powder you receive compared to other trending brands. If you watched the videos, you know exactly what we're talking about, and the results are incredible, right? This technique is one that professional makeup artists have been using for years, so we asked professional makeup artist and educator Terri Tomlison to break down why this pastel-hued powder works!
---
How Does Ben Nye Pretty Pink Powder "Brighten" the Complexion
Makeup artists know that every product in their kit has to serve a purpose. In fact, if it's not high-performance, they won't have it in their beauty arsenal because it can be a workout carrying around their kits to different venues for events, photoshoots, and on set.
Using tones like this pale pink are based on color theory. A tool many makeup artists use is the Terri Tomlinson Flesh Tone Color Wheel, and when you look at it, you can see that the shade pink is opposite the yellow/green section of the wheel. This means it can neutralize greenish or yellow tones in the skin, and the white base (since pink is a white mixed with red) means it will lighten and brighten. Yellow, olive, and greenish-toned skin can look flat on camera. However, the pale pink makes the complexion look livelier and brighter! Ben Nye Pretty Pink Powder is a pro favorite because it's lightweight, finely milled, and it creates a natural to a slightly satin finish that smooths over fine lines and imperfections.
---
Where Should You Apply a Pink Powder to Brighten Your Complexion, and Which Skin Tones Will It Work Best For?
Using a pink powder can create a rosy glow, and it can be absolutely beautiful depending on the look you are going for! For more mature skin or those with a lighter complexion, applying it as a finishing powder can create a healthy rosy glow and make their complexions appear healthier.
This technique can work for almost all skin tones, but pink powder works best to neutralize and soften features for those with a warmer undertone. The pink will slightly counteract the warmer tones (since it's not completely opposite on the color wheel, it won't neutralize it altogether), and this creates a healthy soft effect. However, since it has a lighter, paler base, and is quite sheer, the pale pink powder can still create a brightening effect across different complexions.
The Best Places to Apply a Pink Powder
In a C-shape around the orbital bone to brighten and create a lifting effect to enhance the eyes
Around the perimeter of the face and down across the jawline to make the face appear fuller
Adding a very light dusting as a finishing powder to add a slight rosy glow
---
What Powder Should You Use to Bake and Set the Under Eye Area?
Applying the principles of color theory, you can start to see why the pink powder won't necessarily help hide dark circles under the eyes. For many people, dark circles include blue and purple tones. Since pink is a shade of red, it would actually mix with the blue or purple tones to create another shade of purple. Since the pale pink is lighter, it can create a highlighting effect, but to truly conceal a dark circle, you want to find a color that will counteract the blue and purple.
To neutralize them, look at the colors opposite blue and purple on the Terri Tomlinson Flesh Tone Color Wheel. It isn't pink. In fact, you will see orange across from blue, and yellow is across from purple. That means those tones are best for neutralizing dark circles! Now you can see why makeup artists often carry a palette that has primary tones like blue, yellow, and red adjusters so they can custom mix a shade that works best for their clients.  
If you want a powder to brighten the under eye area, it's best to find a shade that is similar to your skin tone but lighter. For those with a warmer skin tone, that shade is a light yellow. A popular powder for this is Ben Nye Banana Powder (odds are you've heard about this one before, too)! This pale yellow powder has the same finely milled, lightweight qualities of Pretty Pink, so it's a pro favorite to create the brightened under eye effect. If the Banana Powder is not giving you enough brightness, there is even a paler shade, Banana Light, intended to suit lighter complexions bettter or to work for those wanting an extra brightening effect!
---
A special thanks to PRO Makeup Artist Terri Tomlinson for helping to explain Pink Powders are such a powerful tool for makeup artists and makeup lovers. Are you ready to experience the brightening effects of pink powder? Click here to explore and view other products that have been popular on social media, or explore other professional makeup artist favorites.
---
About Camera Ready Cosmetics
Camera Ready Cosmetics was founded in 2003 by Makeup Artist Mary Erickson. She dreamed of having a pro makeup showroom where artists could play with professional products without the typical makeup store attitude.
Today, our team of beauty industry veterans work together to curate the best quality products on the market. We partner with brands who respect the industry and formulate products for true working artists. You won't find CRC in high-end malls, and we don't wear matching brush belts.
If you want to play with products for a few hours and buy nothing, that's okay ... come in and play! Our store is your playground.