Whether you're the type that loves spending hours on TikTok or prefers to scroll and view content at your own pace through other social sites like Instagram or YouTube, there's no denying the amount of content you can view about the beauty industry has really taken off in 2022.
We will share some of our products that went viral on TikTok in 2022 in another blog (or you can catch a sneak peek in this past blog), but today's topic includes our own Best of 2022 Social Media Highlights!
Our top 5 social media highlights of 2022 are

:
Instagram Live with Danessa Myricks and @Paintedbyspencer (#iamcameraready)

Instagram Live HD Skin Foundation Demo with Make Up For Ever & Carsynnlovee

Makeup hack to waterproof your foundation video

Being on TikTok more
---
Learn more about our Top 5 Social Media highlights in 2022:
Our Instagram Live with Danessa Myricks & @Paintedbyspencer
This summer, we kicked off our I Am Camera Ready campaign to celebrate all forms of beauty to remind everyone that being Camera Ready can take on a new meaning to each and every person. It doesn't matter if you wear makeup, if you style your hair, or just rely on an easy skincare routine to feel your best. To us, being Camera Ready is about doing whatever you want to do to feel confident, comfortable in your own skin, and embracing and celebrating your own beauty!
To help celebrate that, Danessa Myricks and Painted by Spencer shared what it meant to them (check out what they do to get Camera Ready here), and they joined us for a fun and colorful Instagram Live to celebrate the more glittery and vibrant side of beauty with Danessa Myricks' Lightwork Volume 4 Transcendence Palette!
Kit Tour Videos
There's something so satisfying about seeing a neatly organized makeup collection and seeing what products are inside, but makeup artists take that to another level!
The space in their kit (the makeup bag or makeup case they use on set or location to work on their clients) is limited, so each and every product has a purpose, is often depotted and placed into empty palettes to create a custom color story, and most importantly, it's neat and tidy! Our team started taking our social media community on "Kit Tour" videos this year to showcase what products we often pack in our kits, and our artists and makeup lovers alike can't get enough!
Instagram Live Demo of Make Up For Ever HD Skin Foundation with Eddie Duyos and @Carysnnlovee
Our goal is to provide a curated collection of the best beauty products on the market and to educate our community to feel confident in how to use them, so that's why this Instagram Live made it onto our 'Best of' list!
Eddie Duyos, Senior Manager of Pro Artistry for North America at Make Up For Ever, joined us and the beautiful @carsynnlovee for a demonstration of their HD Skin Foundation that they launched this year. Carsynn already had great skin to start with, but the final look is *chef's kiss*!
Makeup Hack to Waterproof Your Foundation with Inglot Duraline Mixing Medium
Who doesn't love a good makeup hack?! One of our favorites is using pro products to improve the performance of your existing makeup like this simple trick we shared to waterproof your foundation. You can shop Inglot Duraline and our other mixing mediums here.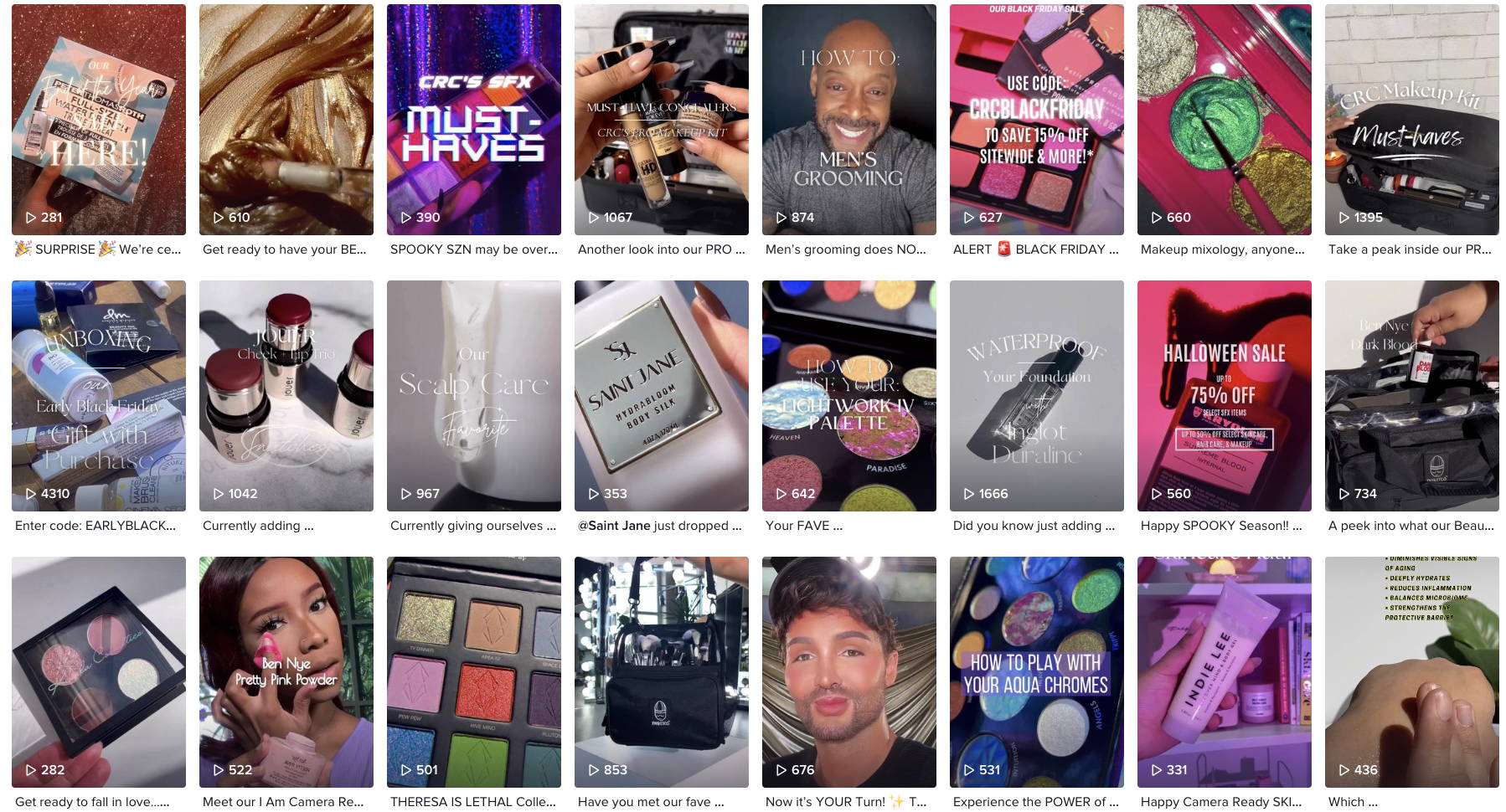 Follow @camerareadycosmetics on TikTok!
Our final social media highlight of 2022 was simply posting more on TikTok. If you love bingeable content of pretty swatches, PRO tips, and demos, you'll definitely enjoy what we're sharing on TikTok! We have plans to create more content there and share more PRO tips exclusively for our TikTok family.
---
Those are our favorite moments on social media during 2022, but don't worry. The fun is just getting started! Be sure to follow us on TikTok, Instagram, and YouTube for more fun content!
To learn more about our Top Products and to see more Top Lists, visit our "Best of" blog series!
---
About Camera Ready Cosmetics
Camera Ready Cosmetics was founded in 2003 by Makeup Artist Mary Erickson. She dreamed of having a pro makeup showroom where artists could play with professional products without the typical makeup store attitude.
Today, our team of beauty industry veterans work together to curate the best quality products on the market. We partner with brands who respect the industry and formulate products for true working artists. You won't find CRC in high-end malls, and we don't wear matching brush belts.
If you want to play with products for a few hours and buy nothing, that's okay ... come in and play! Our store is your playground.