At Camera Ready, we've been providing the highest quality professional-grade products to both artists and makeup lovers for decades. That's why it's no surprise to us when the professional-grade makeup we have proudly carried for years finds itself in the social media spotlight as part of the latest makeup trends!
Keep reading to learn more about the Camera Ready products, TikTok makeup favorites, and 2022 beauty trends that have skyrocketed to social media fame.
Our Top 21 Makeup and Beauty Products that Have Gone Viral as Beauty Trends:
RCMA Makeup - No Color Powder

& Five Color Palettes

Kiehl's Ultra Facial Cream & Avocado Eye Cream

Lethal Cosmetics Lethal is Dead Collab with Theresa is Dead
---
Joe Blasco Ultrabase Foundation
Kim Kadashian wears Joe Blasco Ultrabase shade Olive Beige 3.
There's a reason this is one of Kim Kardashian's personal favorites and scores of artists have kept it in their kits for decades. This creamy, weatherproof, ultra lightweight foundation is packed with color to effortlessly conceal stubborn hyper-pigmentation, blemishes, and uneven skin tones. It's even been compared to another high coverage balm-like cream foundation (here's a hint: 🍎). With superior coverage and 38+ shades to choose from, there's an Ultrabase for everyone that wants to hop on the top 2022 beauty trends! Not sure what color you need? Buy a sample!
---
Jessica Alba demonstrated how to use the Conture Kinetic Skin Toning System on IG & in a YouTube video.
Conture Kinetic Skin Toning System
We all deserve a good self-care moment, and skincare tools have made it easier for us to achieve spa-like results in the comfort of our own homes. The Conture Skin Toning Device features three treatment programs, each uniquely designed for the face, neck or delicate areas. Use this device in conjunction with Kinetic Treatment Serum to restore radiance and firmness to your décolleté, eye area, forehead and everything in between. If this device sounds familiar, it's because Jessica Alba mentioned it in her at-home self-care beauty routine for Vogue Paris & featured it in a series of Instagram stories!
---
Ben Nye Final Seal as a YouTube Makeup Favorite
Jackie Aina tested (and approved) Ben Nye Final Seal as a great way to make your makeup mask-proof.
This pro staple has been around for decades, but it recently gained mainstream appeal and became one of the latest makeup and beauty trends in August 2020 thanks to Jackie Aina's Mask Proof Makeup tutorial on YouTube. Since then, this setting spray has enjoyed the spotlight on as a #TikTokMadeMeBuyIt product, as a top YouTube makeup product, and has flourished on other social media platforms, too. It's available in a variety of sizes and even a refill bottle for your convenience! Want to learn more about sealers? We're exploring the world of setting sprays in our "All About Setting Spray" blog series.
---
You'll find plenty of videos about Ben Nye Banana Powder on YouTube, but NessaKAYY's video has been watched more than 445k times and compares the Banana shade with other Ben Nye Luxury Powders.
Ben Nye Banana Powder is the OG banana powder that many brands have sought to recreate in their own formulations. While it's hard to say who exactly made this powder the most popular on social media (it's been praised by Wayne Goss, Kim Kardashian, and more), there's no denying it's still a 2022 top beauty trend. In fact, Ben Nye Pretty Pink Powder (don't worry, we'll talk more about this later) shares the same exact formula in a brightening pink shade and skyrocketed to TikTok fame thanks to influencers like @paintedbyspencer showing how it can create a healthy, glowy complexion! This versatile Banana shade softly and subtly color corrects surface redness and pink undertones, as well as neutralizes blue under eye circles. Ben Nye also offers a Light Banana Powder that is slightly lighter in tone for those that love a bright under-eye moment! It is also a great option for those with lighter complexions.
---
Kryolan Fixing Spray, Skindinavia, Green Marble, & Blue Marble
Makeup Artist Criss Scortezz, better known as @scortezzbeauty showcased the incredibly sealing power of Kryolan Fixing Spray on TikTok & also shared his top 5 sealers.
Odds are you've seen the viral video of Criss Scortezz showcasing the incredible sealing power of Kryolan Fixing Spray, but did you see his video about his top 5 setting sprays? We're proud to offer all of these TikTok famous makeup products right here at Camera Ready!
In addition to recommending Kryolan Fixing Spray, he also lists Ben Nye Final Seal, all Skindinavia setting sprays, Green Marble Selr Spray (created for the film industry), and Blue Marble Selr Spray (Green Marble's water-based counterpart) in his top five list. Watch the video to see which one is best suited for you!
5 Trendy Setting Sprays for the Perfect TikTok Makeup Look That Professional Makeup Artists Have Been Using for Years:
---
Mehron Lipstix Lipstick Sealer
Makeup YouTuber Zabrena test-drove the Mehron Lipstix Sealer and was blown away by the results.
Eat, drink and be merry without having to worry about leaving pouty traces behind thanks to this makeup trend.
Mehron's LIPSTIX Lipstick Sealer
smudge and waterproof formula seals color in with just a light coating to keep color from fading or transferring.
Don't believe us? Watch Zabrena's video to see how this makeup hack kept her favorite discontinued lipstick shade in place all day!
---
RCMA Makeup - No Color Powder & Five Color Palettes
Makeup lover Allie Glines and MUA Wayne Goss are just some of those that have raved about RCMA on social media.
Founded by renowned makeup artist Vincent JR Kehoe, The Research Council of Makeup Artists (RCMA) was organized to serve the betterment of professional-grade makeup in the film, television, and stage industries. Their wow-worthy products have become top makeup trends and often catch the eye of makeup lovers thanks to the incredible pigmentation and even better price points.
Most recently, YouTuber Allie Glines filmed a Get Ready With Me using their cream foundation and No Color Powder, and she said they had a "smoothing" and "airbrushed" look. We agree wholeheartedly, Allie!
---
---
Lethal Cosmetics Lethal is Dead Collab with Theresa is Dead
Watch Theresa is Dead's launch video and tutorial to create three very different looks using her collaboration palette.
You KNOW a product is popular when it sells out... within FIVE minutes! The Lethal is Dead Palette was gone in a flash when it launched on our website in June. YouTuber Theresa is Dead collaborated with this vegan and cruelty-free brand to create her dream palette, and it's packed with grungy blues, greens, and berry hues as a nod to the 1980s horror films she loves. While this product has now been sold out, we offer plenty of other great new arrivals from Lethal Cosmetics that are sure to create new beauty trends this year!
---
Ben Nye Pretty Pink Powder for Your Favorite Makeup Hacks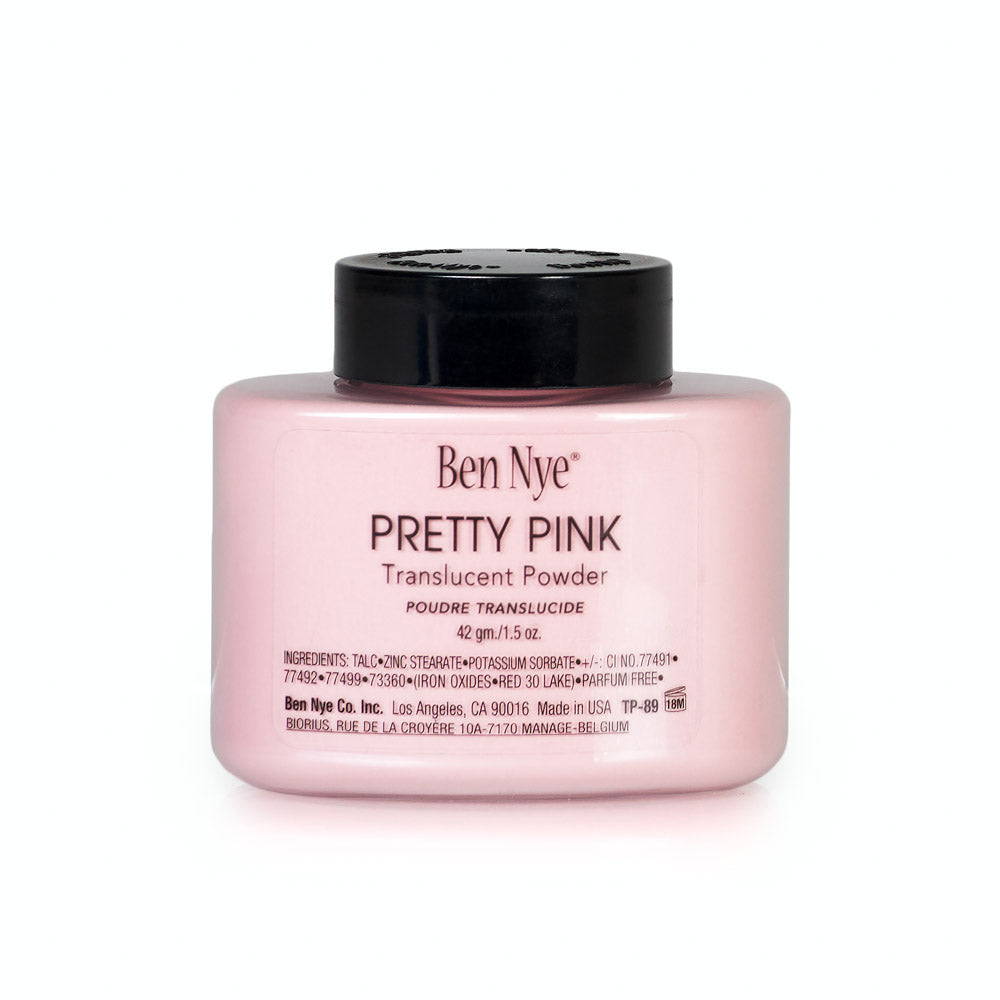 Ben Nye Pretty Pink has been a pro favorite for years thanks to the brightening properties the shade pink has for many skin tones.
In a video posted during March 2022, @Paintedbyspencer pointed out that a very popular pink powder had sold out thanks to the latest makeup trends, but makeup artists have been using pink powders for years! He's not wrong!
Ben Nye Pretty Pink powder is roughly 1/3 of the price of the product that sold out, and that it even contains more product. Talk about a win win! To learn more about the benefits of using a pink powder and why it's become the latest makeup hack to circulate on TikTok, click here to read our blog featuring pro educator and makeup artist Terri Tomlinson.
---
2022 Beauty Trend - RCMA Cream Foundation
This pro favorite foundation works best with well prepped skin and when you warm it up prior to application to ensure you create thin, even layers. Enjoy the tutorial our Beauty Advisors created!
In April 2022, @Paintedbyspencer posted several videos on TikTok showcasing the beautiful finish and high pigmentation of RCMA Cream Foundation. It then skyrocketed to our viral product hall of fame for Beauty Tends 2022, thanks to its spot as a top TikTok product.  
To learn more about RCMA, view our blog that explains how to use RCMA Foundation, or click here to start shopping for samples, the full-size product, or even to explore the palettes that contain more shades to contour, highlight, and create custom shades,RCMA Cream Foundation. It then skyrocketed to our viral product hall of fame for Beauty Tends 2022, thanks to its spot as a top TikTok product.
Kiehl's Ultra Facial Cream & Avocado Eye Cream
Kiehl's Ultra Facial Cream has been a pro favorite for years thanks to the ultra rich yet sensitive formula, but the Creamy Eye Treatment with Avocado has given it a run for it's social media cult status thanks to its nourishing formula.

Both products have been circulating around TikTok, and we can personally vouch for this

TikTok makeup's

viral status making it a favorite

beauty trend!
---
Want to learn more about the pro approved products we offer? Click here to shop all of the viral products shown above, or click below to discover more great products.
---
About Camera Ready Cosmetics
Camera Ready Cosmetics was founded in 2003 by Makeup Artist Mary Erickson. She dreamed of having a pro makeup showroom where artists could play with professional products without the typical makeup store attitude.
Today, our team of beauty industry veterans work together to curate the best quality products on the market. We partner with brands who respect the industry and formulate products for true working artists. You won't find CRC in high-end malls, and we don't wear matching brush belts.
If you want to play with products for a few hours and buy nothing, that's okay ... come in and play! Our store is your playground.