Images and information courtesy of Saint Jane
At Camera Ready, our team is made up of makeup artists, skincare junkies, beauty enthusiasts, and lifelong makeup lovers, and trust us. We're picky when it comes to our products! However, from our minimalistic makeup style team members all the way to our over-the-top beauty addicts, we all agreed: Saint Jane is a brand we are all excited to have in our personal collections!
In this blog, we'll explore the story behind the brand and explain why we know you'll love it, too!
---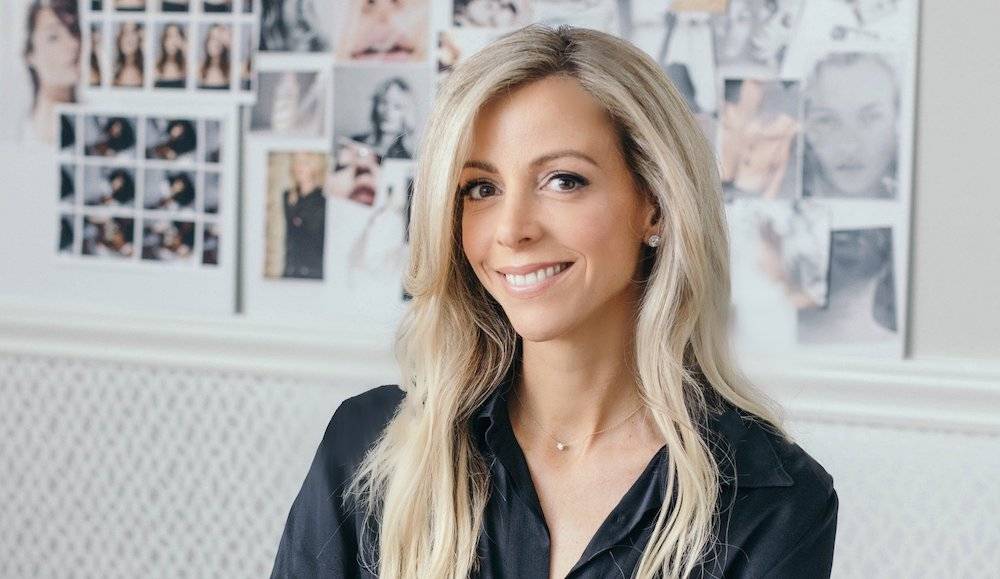 Casey Georgeson has spent her career creating wine and beauty brands for large retailers (Marc Jacobs Beauty, Disney, Elizabeth and James) and The Wine Group (Cupcake Vineyards, Chloe, Love Noir), so she knows what it takes to create a product that is unique, desirable, and stands out among the competition. That's why she created Saint Jane in 2018, a luxurious brand of skincare and beauty products that incorporate calming botanicals and sustainably-sourced ingredients for all skin types and skin tones.
Saint Jane pays homage to an actual Saint, who lived in the 1500s and dedicated her life to healing women. Jane De Chantal dedicated her life to healing ​people who were shunned by society - the sick, elderly, and unwed mothers. To honor her, they made it their mission to take a healing-centric approach to beauty with craftsmanship and heritage at the heart of everything they do. Supporting organizations that foster change, inspiring hope, and calling for equality and inclusivity has been their mission since they launched in January 2019.
Passionate about products that bring joy to peoples' lives, Casey has committed herself to doing things differently. With the highest quality standards and formulas that perform time and again, she created Saint Jane with her own skincare needs in mind. Suffering from sensitive, stressed skin, Casey discovered a powerful, effective way to combat skin irritation with beautiful, clean blends of potent botanicals.
---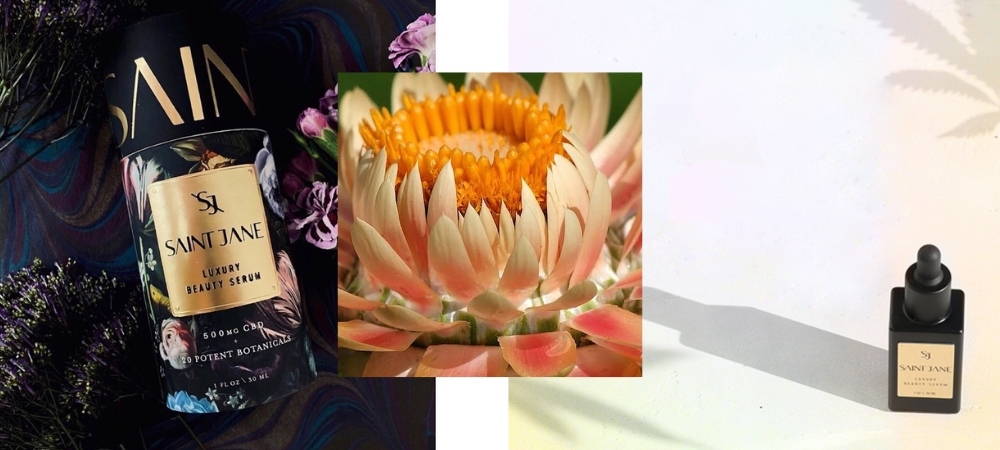 Timelessly beloved for thousands of years for their efficacy, the ingredients Casey uses in Saint Jane are both sacred and effective. Generations have turned to these botanicals like Helichrysum, "The Everlasting Flower", sustainably sourced Frankincense (Boswellia Carterii), Myrhh (Commiphora Abyssinica), and Kakadu plum to calm, soothe, and heal the most troubling skin issues. Each ingredient is gently extracted to optimize purity and performance and meticulously blended to ensure maximum potency.
---
We've always loved a facial oil to give rich moisture and nourishment to the skin, and the Luxury Beauty Serum's additional botanical ingredients make it the ideal choice for sensitive and stressed-out skin. Helichrysum oil, one of the key ingredients, has been used for years as an anti-inflammatory, antifungal, antimicrobial, and antiseptic treatment...the list goes on. The esters found naturally occurring in the oil are known to help reduce the appearance of acne and have a calming effect on the skin. The presence of naturally occurring chemical components makes up the unique structure of this oil that's powerful enough to balance oily and dry skin, but gentle enough for sensitive skin, especially when mixed with other botanicals (like the 19 others in Luxury Beauty Serum).

In addition, it is incredibly moisturizing for all skin types, and its powerful renewing properties have been shown to slow and even visibly reverse signs of aging. The high concentrations of antioxidants like sea buckthorn and rosehip help encourage cell turnover to reduce the appearance of wrinkles, restore elasticity, brighten the appearance of dark spots, and even reduce the impact of scars.
---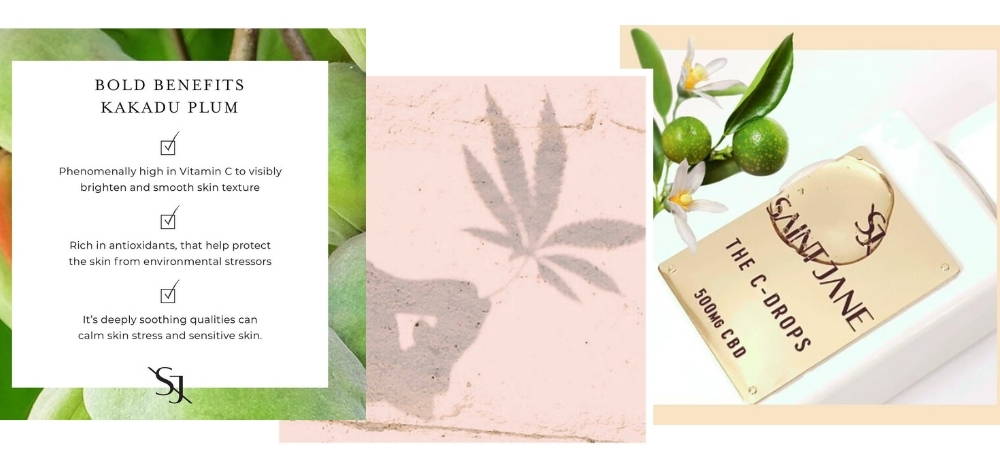 The C-Drops are another unanimous favorite at Camera Ready. This brightening serum incorporates vitamin C from Kakadu plums. With small, creamy white flowers in long spikes clustered towards the tips of the branches, the kakadu plum is an extraordinary botanical and superfruit originating from the wilds of Australia. Aboriginal people have valued this sacred plant for thousands of years for its nutrient-rich and medicinal properties, even using the red bark of the tree to heal skin conditions.
It wasn't until the 1980's that western scientists discovered just how extraordinary this fruit really is. They found phenomenally high vitamin C concentrations in kakadu plums. Traditional fruits like oranges and lemons are well known for being natural sources of vitamin C, but the kakadu plum has the highest recorded concentration of vitamin C in the world, measuring 100 times that of an orange. Saint Jane's vitamin C is formulated for top-level potency. Active at 20% in The C-Drops, the brightening and resurfacing power is at its highest level of efficacy. In most vitamin C products, a 20% concentration could be irritating to those with sensitive skin, but Saint Jane's The C-Drops are formulated with calming botanicals to restore balance and to keep irritation at bay for even the most sensitive complexions. This thoughtful balance of ingredients is also infused into their Bright Repair Eye Cream that contains 10% vitamin C to visibly brighten while green tea and grapeseed deliver rich antioxidants for a calm, well-rested look.
The C-Drops also include citrus botanicals like lemon, lime, and mandarin which work to visibly smooth skin textures, brighten dullness and leave a radiance you only get with high concentrations of Vitamin C.
---
Luxurious Lipgloss with Calming Benefits
In addition to skincare, Saint Jane offers the first CBD-infused lipgloss we offer at Camera Ready. The Luxury Lip Shine are high-shine, luminous, and sheer oil-based glosses infused with eight clean, antioxidant-rich ingredients. The formula is crafted with vegan, cruelty-free, and non-toxic ingredients and glides on smoothly with calming botanicals like sunflower, chamomile, and aloe.
PRO TIP: These glosses provide a wash of color, so don't be afraid to mix and match any shade with your favorite lipstick for a light tint or added shimmer. For a perfect nude lip, we recommend the shades Tonic and Calm, and for a dash of shimmer, opt for Bliss, an almost naked nude with shimmer.
---
Are you ready to experience Saint Jane? Click here to learn more about the products and get started on the path to calmer, happier, and brighter skin!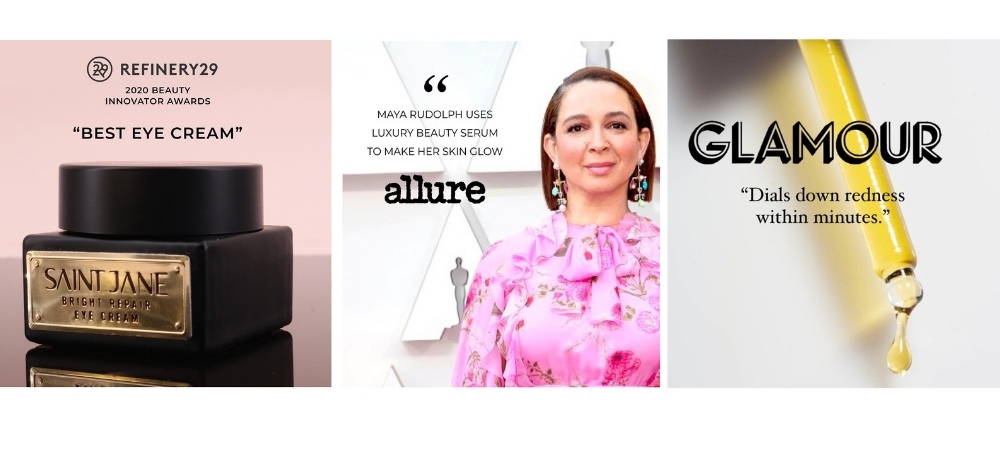 ---
About Camera Ready Cosmetics
Camera Ready Cosmetics was founded in 2003 by Makeup Artist Mary Erickson. She dreamed of having a pro makeup showroom where artists could play with professional products without the typical makeup store attitude.
Today, our team of beauty industry veterans work together to curate the best quality products on the market. We partner with brands who respect the industry and formulate products for true working artists. You won't find CRC in high-end malls, and we don't wear matching brush belts.
If you want to play with products for a few hours and buy nothing, that's okay ... come in and play! Our store is your playground.
---