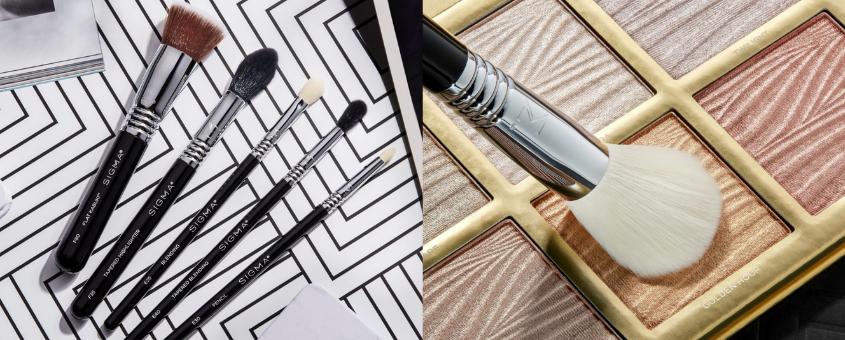 Sigma
When it comes to professional-grade makeup and application tools with a purpose, SIGMA Beauty is that brand. Driven by the desire to create products to better your beauty routine, SIGMA believes in using nothing less than exceptional ingredients, materials, and technology to do so. Makeup artists and enthusiasts of every level love SIGMA makeup and brush sets for their range of colors, versatility, texture, and flawless application, making your beauty routine effortless.
Founders Dr. Simone Xavier and Rene Xavier Filho, a molecular bacteriologist and civil engineer, launched SIGMA Beauty in 2009 with a single makeup brush set. An instant success, the brush set sold out to their massive cult following, putting SIGMA in the industry spotlight. 
SIGMA makeup and brush sets continue transforming the beauty industry by empowering its users and listening to their struggles. The brand is proud to have a roughly 85% female team working together to continue developing better solutions for daily beauty routines. Through function, quality, and innovation, SIGMA brushes and cosmetics continue to grow with their customers as their inspiration. 
You'll consistently achieve flawless makeup application with SIGMA brushes. From a vast selection of Chrome Brushes for Eyes, you'll have the power to blend, contour, define, and shade like a pro. Apply your liquid, powder, and cream foundations with SIGMA Brushes for Face, uniquely designed for each formula you desire. From the warm curated shades of the Ambiance Eyeshadow Palette to the convenience of six universal shades in the Sculpt Highlight + Contour Palette, you'll love the versatility SIGMA makeup provides.
Read More
30 products