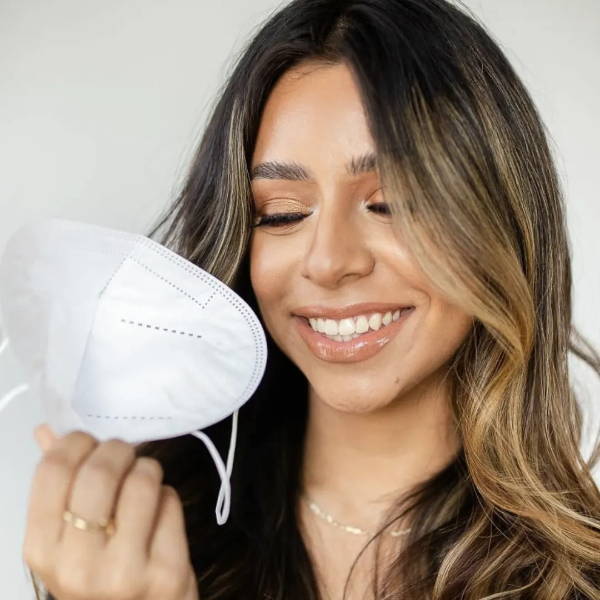 Photo courtesy of Skindinavia, this blog was updated August 2022 to provide the most up to date product recommendations
Although phrases and words like mask-proof makeup and maskne are not as big of a part of our everyday lives, we've all seen setting sprays have gone viral on social media and YouTube. At Camera Ready, we proudly offer more than 40 setting sprays and sealers, so we've created a new blog series, "All About Setting Spray", to help you select the best setting spray for your makeup style. In this first blog, we will explore the best setting sprays for everyday use.
---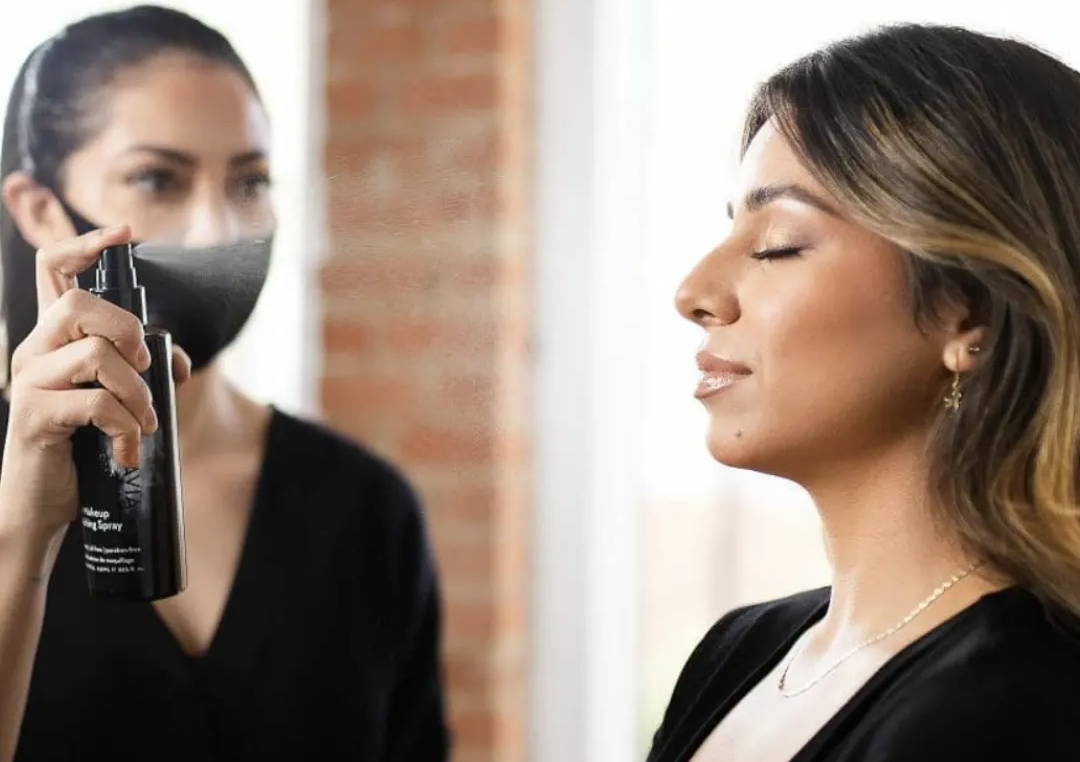 Photo courtesy of Skindinavia
Believe it or not, setting sprays have been around for decades. Professional Makeup Artists have relied on setting sprays, also known as sealers, to help keep makeup in place on stage, on photo shoots, on film and for performances of every type. The purpose of a setting spray is simple; they are designed to create a barrier or a seal (hence the name sealer) to keep the products below them in place and to prevent them from moving or smudging. They also increase the longevity of your makeup.
Fast forward to present day, where we now have a wide range of setting sprays that are designed for different types of makeup, to have varying finishes, and even have some with skincare benefits.
---
Our Most Popular Setting Spray
While there are many ways to determine "popularity," whether it be best-selling or the most talked about setting spray, we're giving this award to Ben Nye Final Seal. Odds are, you've seen plenty of videos on YouTube and on TikTok about this long-time pro favorite sealer. Final Seal has an alcohol base making it quick-drying, a great choice for SFX makeup, and long lasting. There is a lot to learn about this great spray, and we will cover it in-depth in our next "All About Setting Spray" blog series. For now, let's get back to exploring our other offerings and discover the differences and benefits of each one!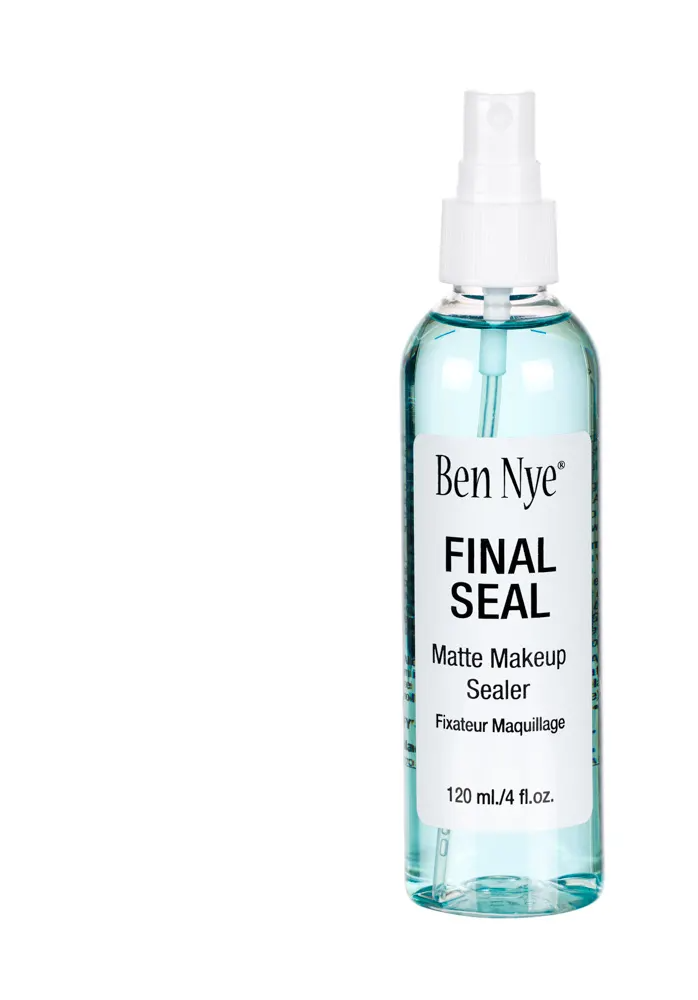 Jackie Aina tested (and approved) Ben Nye Final Seal as a great way to make your makeup mask-proof.
---
How to Choose a Setting Spray
Many of the setting sprays that are best for an everyday look have skin-loving properties. From brightening ingredients like pineapple to antioxidants including cranberry, goji berry, and blueberry extract, these setting sprays are a treat for your skin. While it's an added bonus to have these skincare-focused ingredients, the most important factors to consider are your skin type and the type of finish the spray will give you. To help you choose, we've broken down our recommendations into three categories: for All Skin Types, for Oily/Normal/Combo Skin, and Pro Favorites/Special Occasion sprays.
T

rue + Luscious Spellbinder Makeup Setting Spray

: This clean beauty fragrance-free formula has a proprietary blend of organic pineapple juice and exotic botanicals like rosewater and honeysuckle extract gives your skin a bevy of healthy nutrients and helps lock in makeup for all-day extended wear. This setting spray is alcohol-based but is great for all skin types thanks to the additional ingredients.
Danessa Myricks Beauty Dewy Forever Mist: Keep your makeup fresh and flawless with this satin-finish setting spray that makeup artists trust for their clients biggest days! This budge-proof, moisture-controlling formula that won't allow color to transfer for up to 16 hours. It's the preferred finishing spray among bridal artists worldwide.
Skindinavial Bridal Makeup Finishng Spray: Keep your makeup fresh and flawless with this satin-finish setting spray that makeup artists trust for their clients' biggest days! This budge-proof, moisture-controlling formulat wont allow color to transfer for up to 16 hours. It's the preferred finishing spray among bridal artists worldwide.
PPI Zero Marble Matte Setting Spray: The newest addition to the Marble Sealer Family! Zero Marble Sealer is the perfect 'go-to' product for most sealing applications. Lighter than both the Green Marble Sealer, and the Blue Marble Sealer, Zero Marble is an excellent choice for those with sensitive skin. It is very gentle and light enough for everyday use. Zero Marble Sealer comes with an ultra-light and fresh scent. It Contains absolutely no tracing color, is lightly matting, and holds all day.
Inglot Makeup

Fixer

: A handy alcohol and paraben free makeup fixer in a form of light mist that will ensure long-lasting makeup. Unscented and alcohol-free formula creates a transparent satin film that protects makeup, leaving it impeccable for many hours. Thanks to the black pearl extract, the skin will remain smooth and vibrant. This setting spray features a satin finish and is suitable for anyone with a slightly glowy finish.
Ofra Makeup Fixer Spray: Enriched with Aloe Vera, Chamomilla Flower Extract and Vitamin E, this makeup fixer mist protects skin against external damage of the environment caused by pollution, temperature changes, and other skin irritants. This dewy setting spray is great for all skin types.
---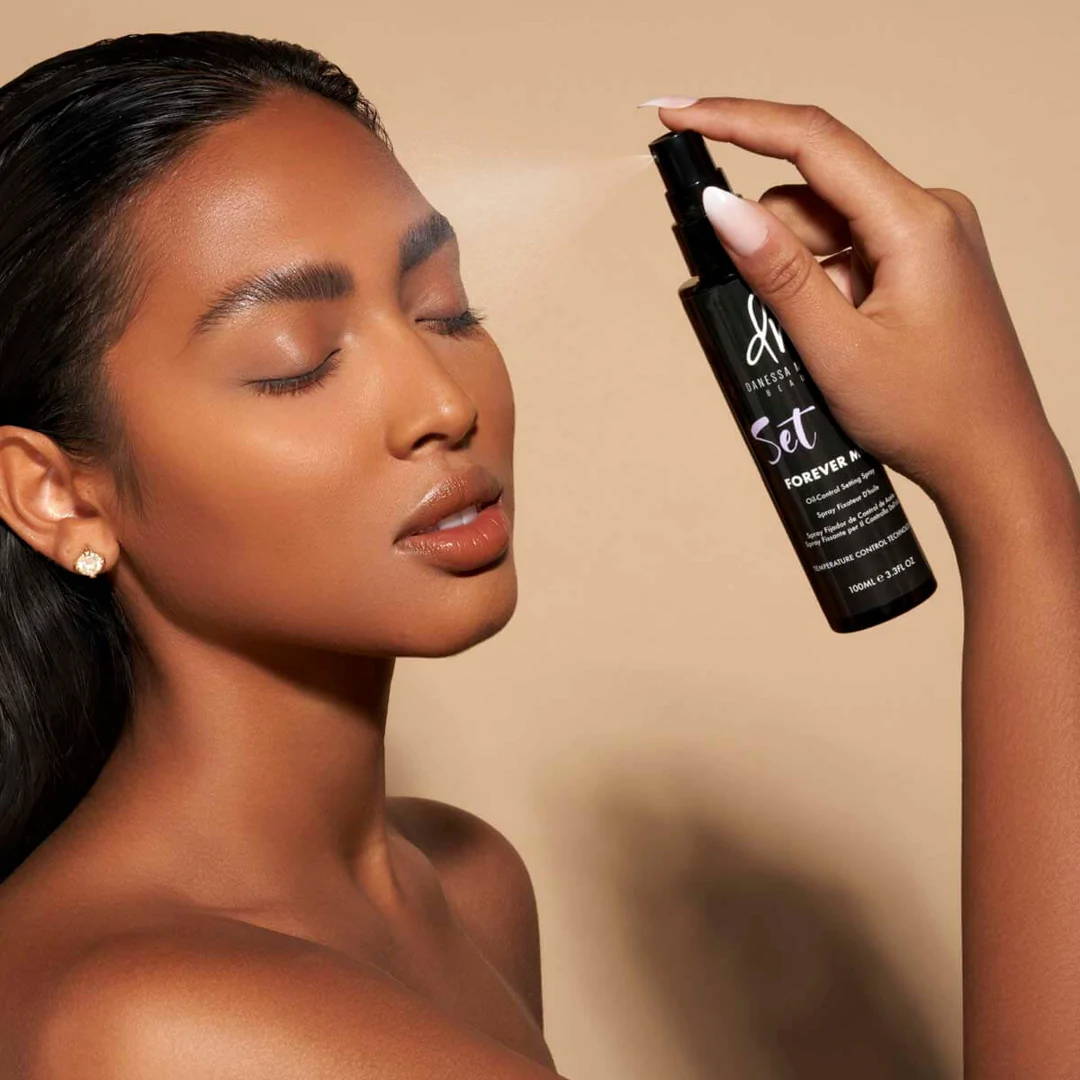 Best for Oily, Normal, & Combination Skin
Our Top 3 Setting Sprays for Oily Skin Include:
---
Pro Favorites & Special Occasion Setting Sprays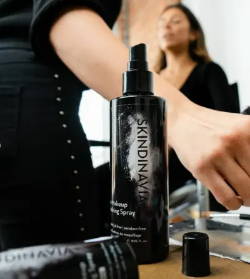 For Professional Makeup Artists, it's essential for a setting spray to hold up well under a plethora of conditions and to photograph seamlessly. That's why we're pairing these picks together with our top picks for special occasions.
While they can be used everyday, they're formulated for maximum performance and can be found in makeup kits of professional makeup artists, on set at photo shoots, and behind the scenes at on-stage performances.
Our 3 Top Brands in This Best Setting Spray Category Include:
Skindinavia
Premier Products Inc.
Ben Nye
Skindinavia Setting Sprays: Skindinavia offers three types of setting spray to provide artists and makeup lovers the best formula to suit their needs. All are water-based and include Skindinavia's patented Temperature Control Technology that forms a lightweight, breathable web on top of your makeup, holding everything in place for up to 16 hours.
The Original Makeup Finishing Spray is great for indoor and outdoor photography, has a natural finish, and is best for normal and dry skin types. For oily skin, try Skindinavia's Makeup Finishing Spray with Oil Control which offers a matte finish. Finally, the most popular Skindinavia setting spray at CRC is the Bridal Makeup Finishing Spray which offers a slightly satin finish that will look the best on combination, normal, and dry skin types.
PPI Blue Marble and Green Marble: Premiere Products Inc, otherwise known as PPI, is a professional brand offering products for stage and theatrical makeup, but their setting sprays have wide appeal thanks to their performance. Green Marble Selr Spray is alcohol based, has a matte finish, and is a favorite for SFX artists (we'll dive into that more in a future blog).

Blue Marble SeLr Spray

is durable enough for street makeup and heavy theatrical RMG looks, yet safe for sensitive skin or as an alternative to alcohol-based sealing sprays! Gentle enough for everyday use and strong enough for special effects just short of underwater work.
Ben Nye Final Seal: Fit for all situations, this alcohol-based setting spray is a pro and makeup lover favorite. Final Seal has a minty scent and also has a cooling effect when applied. From SFX artists to makeup lovers, this sealer is a staple item for many and comes in a variety of sizes from a 1 oz spray bottle all the way up to a 16 oz bottle that is ideal for refilling your smaller bottles.
---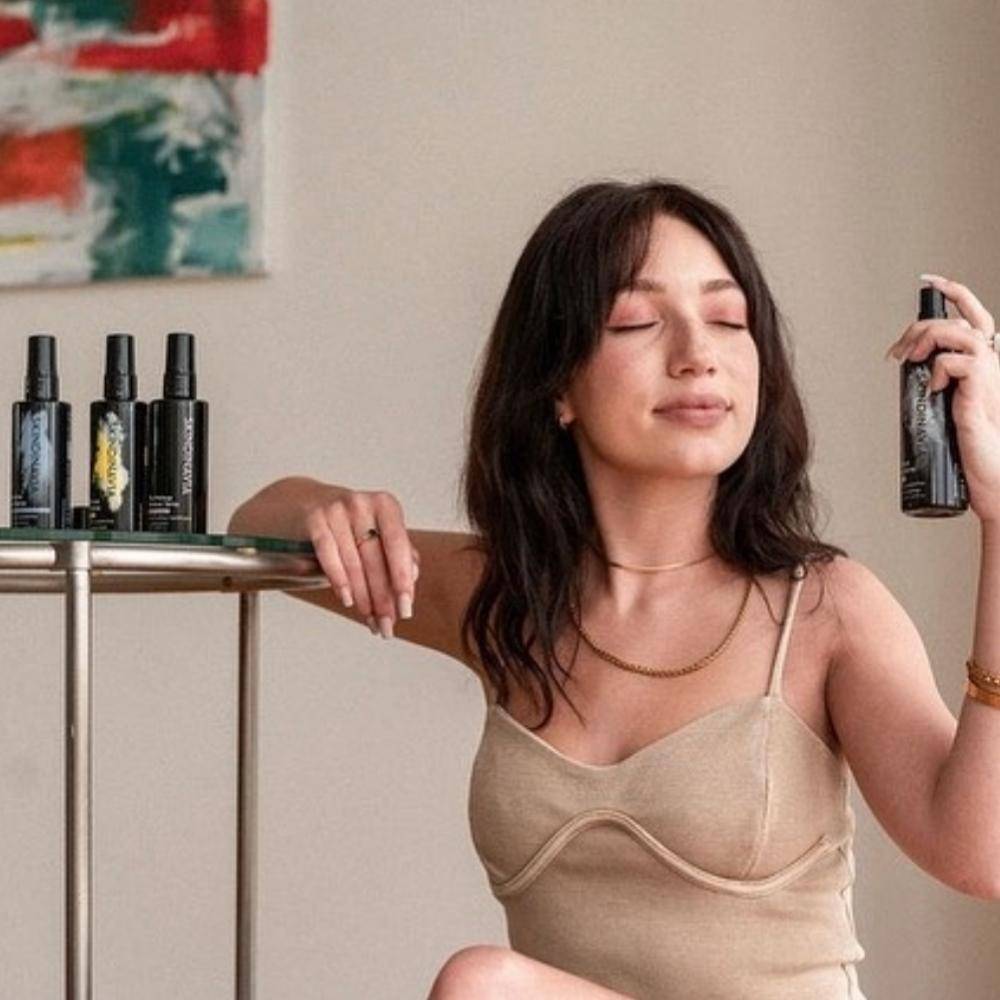 Need more help with selecting the perfect setting spray? Ask one of our Beauty Advisors by emailing us at beautyadvisor@crcmakeup.com! We're here to help!
Click here to read our next blog where CRC Founder Mary Erickson tells us more about Ben Nye Final Seal and the rich history behind our most popular sealer.
---
About Camera Ready Cosmetics
Camera Ready Cosmetics was founded in 2003 by Makeup Artist Mary Erickson. She dreamed of having a pro makeup showroom where artists could play with professional products without the typical makeup store attitude. Today, our team of beauty industry veterans work together to curate the best quality products on the market.
We partner with brands who respect the industry and formulate products for true working artists. You won't find CRC in high-end malls, and we don't wear matching brush belts.
---