Camera Ready's Best of 2020

At the end of each year, we like to reflect upon the beauty trends and the highlights from the year. From your favorite products, new collections, and our own favorite moments, let's dive in to the best that 2020 had to offer.
---
This year, our top five beauty products are true professional staples. These products are the items that you, our beauty community, bought the most of this year. They are the workhorses, the items that can be used no matter the job (bridal, editorial, etc.), and if you've been in the industry for a while, odds are you have most of these items in your kit. If you're a makeup lover that wants to learn what the pros love and use, be sure to take notes on the products below!
5. INGLOT AMC Eyeliner Gel 77, $16
From perfected wings to graphic liner, INGLOT's AMC Eyeliner Gel in shade 77, a true matte black, is a kit staple and in the beauty wardrobe of makeup lovers alike. We predict this fan favorite will be a staple in 2021, as well, as many of the new year's makeup trends are focused on the eyes.
4. ALCONE One Block Makeup Sponges, $2.50
Look in any professional's kit and you're likely to find these! An artist-favorite, Alcone Non-Latex Sponges are the preferred disposable sponges made with the materials to deliver the best results for you and your client. The water-based material is what sets these award-winning sponges apart from the rest, as they won't dehydrate, crumble, fall apart, turn yellow or soak up all your product!
3. BEN NYE Final Seal, 2 oz, $16
This pro staple sealer has been around for decades, but it recently gained mainstream appeal thanks to Jackie Aina's Mask Proof Makeup tutorial on YouTube. Since then, this setting spray has enjoyed the spotlight on TikTok and other social media platforms. While the 2 oz spray bottle was our most popular size, it is also available in 1 oz and 4 oz spray bottles and 8 oz and 16 oz bottles with caps for those wanting to refill their smaller bottles. Want to learn more about sealers? We're exploring the world of setting sprays in our "All About Setting Spray" blog series, and will have a dedicated post about Final Seal.
2. BEN NYE Clown White, 0.65oz, $3.50
A staple for professional makeup and SFX artists, Ben Nye Clown White is available in a variety of sizes to suit your makeup needs. From creating a white base for eyeshadow to a full-blown body transformation requiring a blanked out base, Clown White has you covered.  
1. RCMA No Color Powder, 3 oz, $14
A little goes a long way with this cult favorite setting powder. Recently repackaged to include a sifter top for convenience, this loose powder is a pro favorite and has earned its spot on Wayne Goss' 2020 Top 5 List for Powders. You can purchase this best selling powder as a single 3 oz travel-friendly jar, or stock up with a two-pack or three-pack. Prefer pressed powder? RCMA has you covered there, too. If you're not ready to commit to a full size bottle, click here to purchase a sample!
---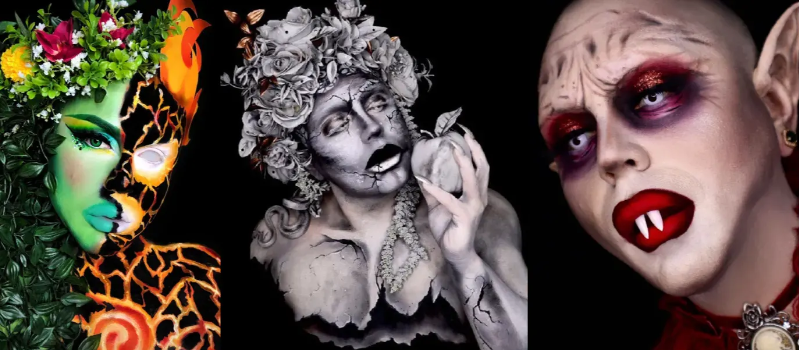 Top 5 Special Effects Products
In addition to offering the best SFX makeup to artists across the world, we were proud to host our first #CameraReadyForHalloween contest this year. While Halloween looked a bit different, our talented artist community showed up in full force and submitted more than 1,500 incredible looks. We look forward to an even bigger and better contest next year! Until then, let's recap the Top 5 SFX products for 2020:
5. BEN NYE Creme Color in Black, $8
Whether you want fine detailed lines or accents or to cover a larger area with the richest black, Ben Nye's Creme Color in Black was the most popular black body paint in 2020. Set with Ben Nye Neutral Set to keep it in place, and for an added layer of sweat proof protection, spritz with Ben Nye Final Seal.
4. BEN NYE Liquid Latex, 1.0 oz, $6
Ben Nye's Liquid Latex is a must in any special effects artist's kit! Good for multiple uses, this liquid latex gets the job done - whether it be for sealing modeling wax, creating your own 3D appliances in a slush mold, or applying directly to the skin for aged, blister and wound effects. Also known as "slip rubber," this liquid adhesive is excellent for molding prosthetic appliances and sealing Nose and Scar Wax.
3. BEN NYE Fresh Scab, 1.0 oz, $10
Ben Nye's Fresh Scab is just what the wound ordered with its natural ability to "scab over!" Authentically stained with a brown tint for an exposed, dried colorization, this blood maintains a jelly-like consistency for blood clotting effects. Corn-syrup based with a fresh peppermint flavor for safe and pleasant use in and around the mouth.
2. BEN NYE Nose & Scar Wax, 1.0 oz, $7
Ben Nye's Nose & Scar Wax manipulates the appearance of real skin to imitate all sorts of fleshly distortions. Feign a broken nose, a witch's chin or bullet holes with this moldable yet firm medium. This wax is translucent to emulate real skin and is available in a variety of shades! Set on top of a thin film of Ben Nye Spirit Gum Adhesive and seal off your creation with Ben Nye Liquid Latex for supreme durability.
1. BEN NYE Clown White, 0.65oz, $3.50
We weren't kidding when we said this was a fan favorite. Ben Nye Clown White made its way to the top 5 for both our beauty and SFX lists for 2020! If you're looking for a product with the same intense pigmentation but a lighter texture, Ben Nye also offers Clown White Lite.
---
Kim Kardashian demonstrates how to use
The Most Popular Products
While these items may not have made the top five lists above, they undoubtedly made quite the splash this year.
5. VIKE BEAUTY Makeup Melt, $24
Spray away the day with this oil-free innovative spray-on makeup remover. Suitable for all skin-types, it contains Moringa, Cucumber, Passionflower, and Grapefruit to nourish your skin and leave it glowing afterwards. We proudly added VIKE Beauty Makeup Melt to our lineup this year, and it has received rave reviews ever since!
4. GLAMCOR Multimedia X w/ Selfie Function & Universal Phone Clip, $370
Whether you're a professional artist or a makeup lover, it's no secret that many of us spent the year perfecting our beauty skills at home. The GLAMCOR Multimedia X grew in popularity this year because it transforms any space you're in into your own mini studio with 672 LED lights on two arms to give an evenly lit effect.
3. JOE BLASCO Ultrabase Foundation, $26
There's a reason this is one of Kim Kardashian's personal favorites, and scores of artists over the span of decades agree - there's nothing quite like Joe Blasco Ultrabase Foundation! This creamy, weatherproof, ultra lightweight foundation is packed with color to effortlessly conceal stubborn hyper-pigmentation, blemishes, and uneven skin tones. With superior coverage and 38+ shades to choose from, there's an Ultrabase for everyone! Apply with a dampened or dry sponge and build for desired coverage.
Not sure what color you need? Buy a sample!
2. CONTURE Kinetic Skin Toning System with Serum, $165
This year, at home self-care took on a whole new meaning as many of us sought to experience the in-person treatments and services we enjoyed within the comfort of our own homes. The Conture Skin Toning Device features three treatment programs, each uniquely designed for the face, neck or delicate areas. Use this device in conjunction with Kinetic Treatment Serum to restore radiance and firmness to your décolleté, eye area, forehead and everything in between. If this device sounds familiar, it's because Jessica Alba mentioned it in her at-home self-care beauty routine for Vogue Paris.
1. BEN NYE Theatrical Creme Makeup Kit, $68
The ultimate kit for a budding makeup artist (especially SFX) or seasoned pros, this value-packed kit packs a punch with a long list of staple items and is available in seven variations for different skin tones.
---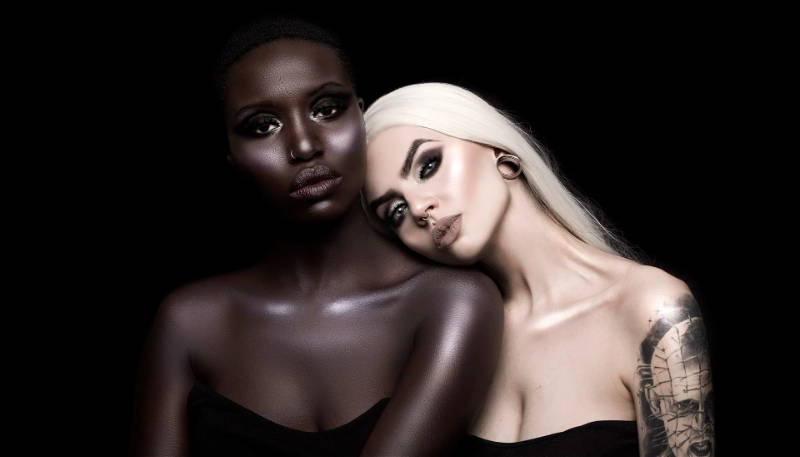 We proudly added Lethal Cosmetics to our CRC family in November, and it's been a beautiful and colorful adventure ever since! Known for offering unique colors and shimmery shades not available in other lines, this vegan, cruelty-free, and sustainably sourced brand is based in Berlin and is owned by husband and wife team Kai and Anna. We collaborated with their team and created a custom palette that's available exclusively at CRC, and we are proud to say we will be adding more of their palettes and SIDE FX Gel Liners in the new year!
---
Sanitizing Products
At Camera Ready, it's our mission to provide artists and makeup lovers with the tools they need. From hospital-grade disinfectants like Rejuvenate, moisturizing hand sanitizers including Jao, to our newest addition, the SterileLight ILLUMICIDE Surface Disinfecting Case, a portable case that provides surface sterilization and dries your brushes. No matter what the new year brings, rest assured we will continue to look for products that you will want to use while on the job.
---
It was another year of sell-out collections from Melt Cosmetics! From their Digital Dust Duo Blushes to the Beetlejuice Collection, you scooped them up at a record-pace. In addition to these collections, Melt Cosmetics added two new complexion stacks to their lineup.
---

Known for their highly pigmented and easy-to-blend eyeshadow formula, Viseart introduced their Petits Fours and Etendu Collection palettes that appealed to both pros and makeup lovers alike. The pan sizes are 1.5g vs the 1.0g of the Petit Pro and Edit palettes and the 2.0g pan from the Slim-Pro and Grande palettes, so you can easily dip any brush into your selected shade with ease. The Etendu palettes are permanent and are extensions of the beloved Liaison and Minx Theory palettes, and the Petits Fours are limited edition.
---
The year looked very different from what we had all anticipated, but we can confidently say that through it all, we are proud to support and be supported by the best beauty community around. From the many encouraging emails and messages we received from our customers to the inspirational work you tagged us in on social media, we feel the love and are so thankful for you!
We introduced our PRO Tips Blog series and got to know some incredible artists. This fall we relocated to a new showroom just miles down the road from our previous location in Dallas, TX. We held our grand-reopening in October and are proud to offer a safe in-store shopping experience in a showroom with more natural light to provide you with an even better beauty buying experience. We loved seeing the incredible looks and transformations you submitted for #CameraReadyForHalloween and look forward to more contests in the future.
While we do not know what 2021 will bring, we are excited to ring in the new year and can confidently say it will be more beautiful because of you! From all of us here at Camera Ready, Happy New Year!
---
About Camera Ready Cosmetics
Camera Ready Cosmetics was founded in 2003 by Makeup Artist Mary Erickson. She dreamed of having a pro makeup showroom where artists could play with professional products without the typical makeup store attitude.
Today, our team of beauty industry veterans work together to curate the best quality products on the market. We partner with brands who respect the industry and formulate products for true working artists. You won't find CRC in high-end malls, and we don't wear matching brush belts.
If you want to play with products for a few hours and buy nothing, that's okay ... come in and play! Our store is your playground.