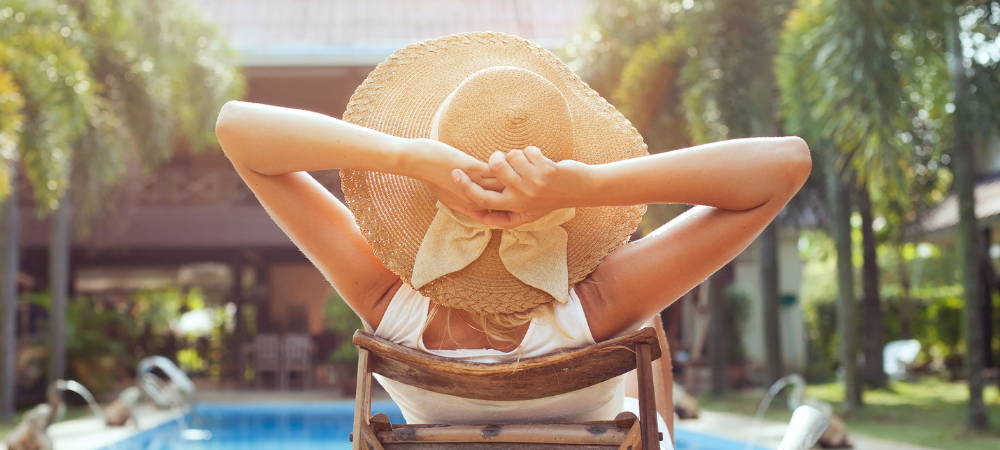 The summer season may be winding down, but that doesn't have to mean your summer glow has to fade away! From body glow to award-winning self tanning products, we are sharing our favorites to keep your skin radiant and glowing all year long.
---
When it comes to skincare, many of us focus on face products, but your body deserves a little TLC, too! We're proud to offer a range of skincare brands including clean beauty brands and brands that have a rich history in the pharmaceutical and dermatology industries like Avene, Kiehl's, and Bioderma.
If you're seeking a cleanser that smells like a tropical vacation, Indie Lee's Coconut Citrus Scrub and Dr. PawPaw's Everybody Hair and Body Wash both contain natural oils and exfoliating ingredients to uplift your mood while gently washing away dull dry skin.
For those in need of extra moisture, try Bioderma Atoderm Shower Gel or Kiehl's Creme de Corps Soy Milk Honey Body Polish.
---
Give your skin an extra boost of radiance with a weekly exfoliating treatment. Using a body brush or the Esker Body Plane can help whisk away dead skin cells while also increasing the blood flow to the skin's surface. This step is extra important if you plan to self tan, so exfoliate either right before applying your self tanning product. Otherwise, consider adding this step as part of your self care routine!
---
Self tanning products have come a long way since they were first developed in the 1950's. In fact, many of today's best-selling products range in formulas from facial mists to tinted mousse. 
If you're looking for a quick-developing tan, try the best-selling Loving Tan 2 Hr Express. St. Tropez also offers an express tanning mousse that can be washed off in as little as an hour or left on for longer if you want the tan to develop a richer and deeper color. Want a tan, but have to travel? Several of our most popular self tanners are now available in travel-friendly kits that can easily be packed for a bronze boost on-the-go. To extend your self tan, opt for a gradual tanning product like Loving Tan Deluxe Gradual Tan and apply two to three days after your first self tanning application.
Of course, not everyone wants a sunless tan, but it can be an easy way to give you that summertime vibe no matter the season. If you want a quick pick-me-up and temporary glow, try St. Tropez One Night Only Mist. This streak-free face and body bronzer mist delivers a natural, light to medium tan that lasts for up to 24 hours, with no transfer. With Rainmac™ Technology, this spray simply washes off with soap and water.
---
Sunscreen is non-negotiable, in our book, no matter the time of the year! While you may not spend as much time outdoors during the cooler months, the sun's rays can still reach your skin if you're sitting by a window or during shorter trips outdoors.  
This summer, we've added several new sunscreens to our lineup to help promote healthier skin including a tinted and a non-tinted mineral sunscreen from Avene and several skincare/sunscreen hybrid products from Peter Thomas Roth to find a new favorite.
---
No matter if you self tan or embrace your natural complexion, this is a step that everyone can enjoy! Our favorite body glow products are easy to apply and can be found at photoshoots worldwide, as they can make your skin look healthier, hide minor imperfections, and provide extra hydration.
Melanie Mills Hollywood has a line of body glow products that award-winning makeup artist Melanie Mills developed for "Dancing with the Stars". Her Gleam Face and Body Radiance comes in six shades to enhance every skin tone, and they can be mixed both with other shades and your favorite complexion products to give you a custom glow.
Scott Barnes Body Bling is another fan-favorite. Beauty expert and Hollywood makeup artist Scott Barnes created this blockbuster signature product, known as the "bronzer to the stars." Available now in two editions, Original and Platinum, both are complete with a new and improved formula as well as an easy-to-use tube for flawless application. Massage a small amount onto legs, shoulders, and collarbone for a glow that makes this bronzer the go-to for Jennifer Lopez, Kim Kardashian, Beyonce, and Mary J. Blige.
For those with fairer complexions, Red Carpet Kolour offers a universal shade that creates a luminous pearly glow that is perfect for brides and photoshoots that require just a hint of glow.
---
We hope you enjoyed learning more about our favorite products to give you luminous healthy looking-skin for all seasons! If you want to learn more about any of the products mentioned or need another recommendation, our Beauty Advisors are here to help. Click here to send them a message.
---
About Camera Ready Cosmetics
Camera Ready Cosmetics was founded in 2003 by Makeup Artist Mary Erickson. She dreamed of having a pro makeup showroom where artists could play with professional products without the typical makeup store attitude.
Today, our team of beauty industry veterans work together to curate the best quality products on the market. We partner with brands who respect the industry and formulate products for true working artists. You won't find CRC in high-end malls, and we don't wear matching brush belts.
If you want to play with products for a few hours and buy nothing, that's okay ... come in and play! Our store is your playground.
---