From texture to loss of elasticity and everything in between, it seems like there's a long list of skincare concerns many of us deal with on a regular basis. However, thanks to some high-tech devices and basic skincare tools, caring for our skin and enjoying a spa-like moment at home has never been easier.
In this blog, we're sharing our top skincare tool picks to treat different skincare concerns and explaining the benefits of each!
---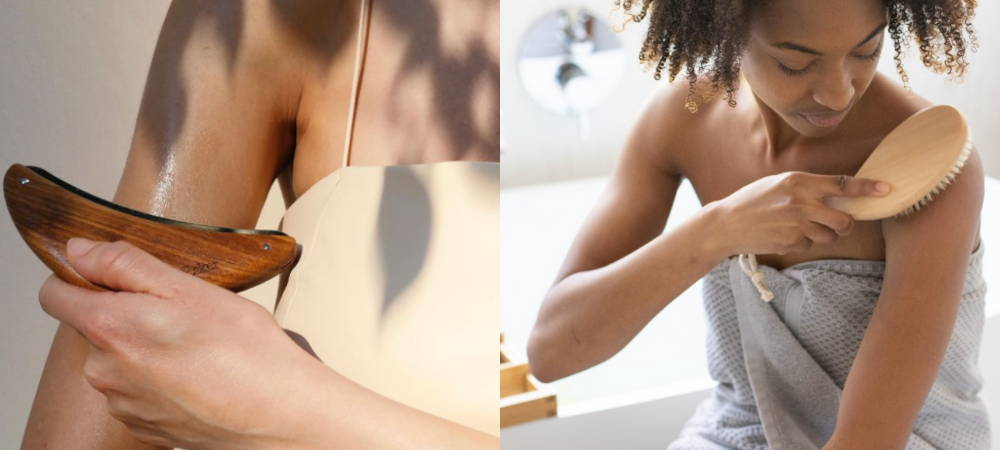 Remove dirt, debris, and dead skin cells with the Esker Beauty Body Plane (left) or the Milk + Honey Body Brush (right). Both provide additional benefits like aiding in boosting circulation and aiding in lymphatic draining.
Skincare Tools for Exfoliation
Pesky dry patches, keratosis pilaris, and general skin dullness impact more than half of Americans, so it's no surprise beauty brands have taken notice and have created safe and effective skincare tools to help. The Esker Beauty Body Plane is a hand-held device that takes inspiration from the ancient Greek strigil, a tool that uses a dulled blade to scrape away debris, dirt, and dead skin cells. You can click here to learn more about that in our blog about how to use the Body Plane, but to summarize this updated version of the strigil, it can help reduce KP bumps and gently sweep away impurities when used correctly. For best results, pair with one of Esker's body oils.
Another option is to treat yourself to a body brushing session once a week. Unlike the Body Plane, a body brush is best used before showering. The Milk + Honey Body Brush is crafted from Chinese cherrywood and boar bristles to gently and thoroughly exfoliate the skin, promote healthy circulation and detoxification, and to reveal smooth, happy skin. Regardless of the method you choose, work in long, slow sweeping motions starting at your extremities and move toward your heart to aid in lymphatic draining and to improve circulation. Avoid over-exfoliating, as this can have the opposite effect and cause additional skin irritation.
---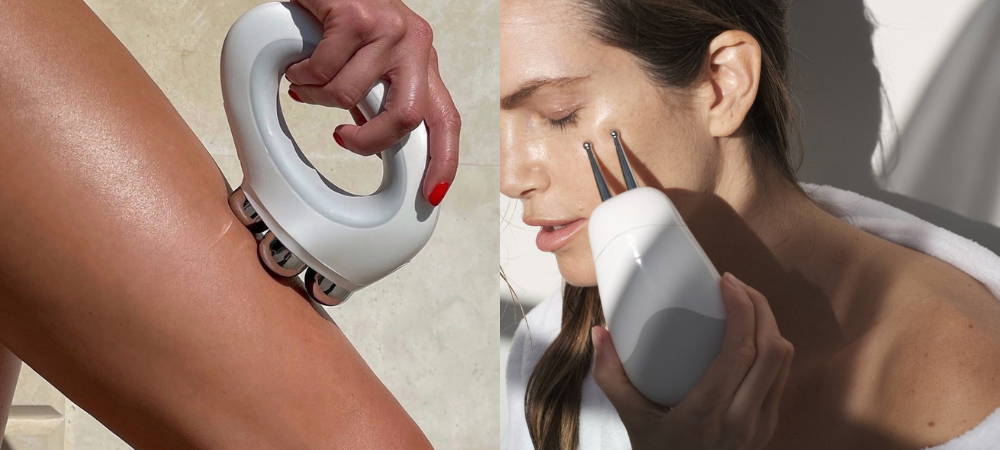 Give your body the royal treatment and target stubborn dimples with the NuBODY, and target fine lines with the Trinity with the ELE Attachment.
Skincare Tools for Anti-Aging
High-quality facial care has come a long way, and you can achieve professional results at home! NuFACE offers FDA-approved microcurrent devices that are the leading choice for estheticians and makeup artists wanting to give their clients an uplifting treatment. The NuFACE FIX line smoothing device paired with the NuFACE FIX serum provides a quick fix skin-plumping session with microcurrent technology! You can see instant results in just 3 minutes, and there's a whole range of techniques to smooth lines around the lips and eyes. We made it easy to pick which one is best for you — simply read our article here. For a longer microcurrent session with long-term results, the NuFACE Trinity device can sculpt, depuff, tone muscles, and more. Just think of it as a workout for your face! Pair the Trinity with the Effective Lip & Eye attachment to treat extra delicate skin, or attach the Wrinkle Reducer Red Light Therapy attachment to target fine lines.
If you want the same results microcurrent can offer for your body, the NuFACE NuBODY Toning and Firming Kit is our top pick for you. This larger device utilizes microcurrent to smooth dimples and to tone the skin. This is the first FDA-approved product of its kind and is designed with four treatment spheres that focus on targeting the microcurrent to specific parts of the body to help smooth away the appearance of uneven or dimpled skin.
---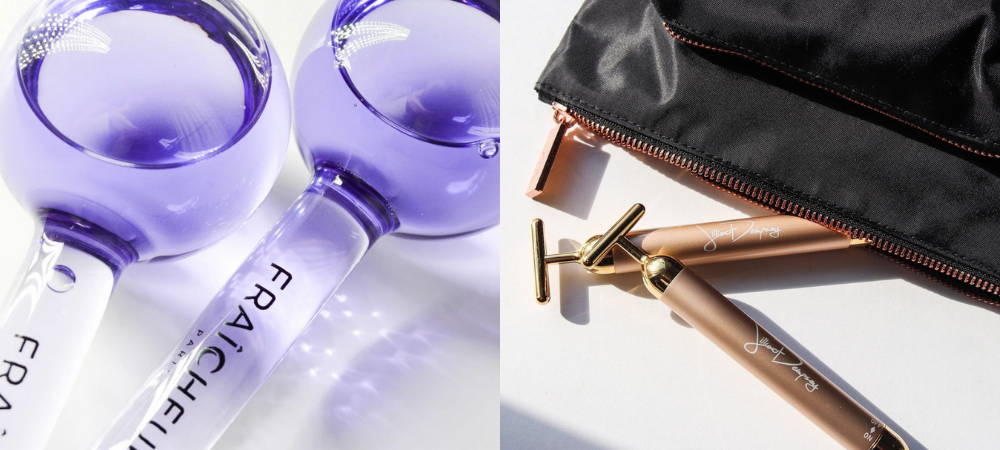 End your skincare self care routine with a soothing facial that improves circulation, depuffs, and reinvigorates your skin. The Fraicheur Paris Facial Ice Globes are used by estheticians worldwide, and MUA Jillian Dempsey created the Gold Sculptin Bar to give her clients the red carpet treatment in just a few minutes!
Skincare Tools for Soothing Stressed Skin
Now that you've learned more about our favorite skincare tools to exfoliate and for anti-aging, it's time to talk about tools that can soothe the skin. The Fraicheur Paris Facial Ice Globes are among our best-selling skincare tools and offer an oversized sphere that allows you to cover a larger surface area in a shorter time frame. They utilize cryotherapy to temporarily decrease the size of blood vessels in the skin, so they're great to help hide dark circles under the eyes while soothing facial muscles. Simply pop the globes into the fridge for at least an hour to get them nice and cold, and enjoy! To read step-by-step instructions on how to perform a few Facial Ice Globe facials, click here.
For a quicker treatment that's not quite as cold, the FITISH Ice Globes are cooled in the fridge (versus the freezer), so those that are sensitive to the colder temps may prefer these globes for their cryotherapy session.
If you have tense facial muscles and a bit of puffiness you're trying to treat, the Jillian Dempsey Gold Sculpting Bar is the perfect device. Ideal for men and women, the 24k gold plated Gold Bar's vibrations mimic the effects of a massage, instantly relaxing facial muscles to release tension. Makeup Artist Jillian Dempsey created this device to give her models a professional-level facial in just a few minutes before makeup application.
---
Are you feeling inspired to explore our wide range of skincare tools and get your self care journey started? Click here to start exploring. If you have any additional questions or need advice to select the perfect tool for your skincare concerns, our Beauty Advisors are here to help, so click here to send them an email!
---
About Camera Ready Cosmetics
Camera Ready Cosmetics was founded in 2003 by Makeup Artist Mary Erickson. She dreamed of having a pro makeup showroom where artists could play with professional products without the typical makeup store attitude.
Today, our team of beauty industry veterans work together to curate the best quality products on the market. We partner with brands who respect the industry and formulate products for true working artists. You won't find CRC in high-end malls, and we don't wear matching brush belts.
If you want to play with products for a few hours and buy nothing, that's okay ... come in and play! Our store is your playground.
---