There's just something fun about playing and creating with colorful beauty products and exploring different tones, finishes, and textures. Whether you're a makeup minimalist or love going all out with your beauty routine, we're sharing some of our top picks for a little color therapy.
---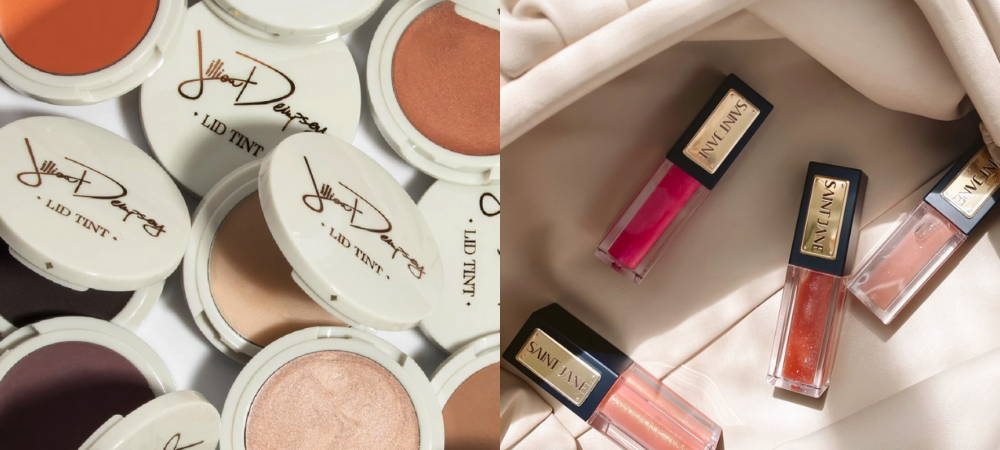 Express yourself with soothing earth tone hues from Jillian Dempsey or luxurious lip glosses from Saint Jane. Saint Jane Luxury Lip Shine shades featured (L-R): Nectar, Elixir, Alchemy, and Bliss
Top Picks for Makeup Minimalists
If you're more of a minimalist with a calm, neutral vibe, here are our top picks for a quick routine with minimal products.
The Smashbox Always On Cream Eyeshadows have the perfect on-the-go creamy eyeshadow formula because they can be applied with your finger and are easy to blend. These completely smudge-proof shadows come in a variety of neutral shades for a quick no-makeup makeup look. Feeling creative? You can mix the shades for a custom color of your own!
When it comes to a "less is more" beauty routine, a hydrating, go-to gloss is an easy quick pick-me-up. For a subtle wash of color, we love the vegan, cruelty-free and CBD-infused Saint Jane Luxury Lip Shine. The shades Cloud and Tonic are the best-selling sheer, non-shimmer formulas, and Mystic is perfect for a deeper plum shade.
Finally, check out Jillian Dempsey for the ultimate no-fuss beauty routine. The Cheek Tints and Lid Tints provide a dewy wash of color for an effortless look, and they contain skin loving ingredients and antioxidants to help improve your skin with each wear.
---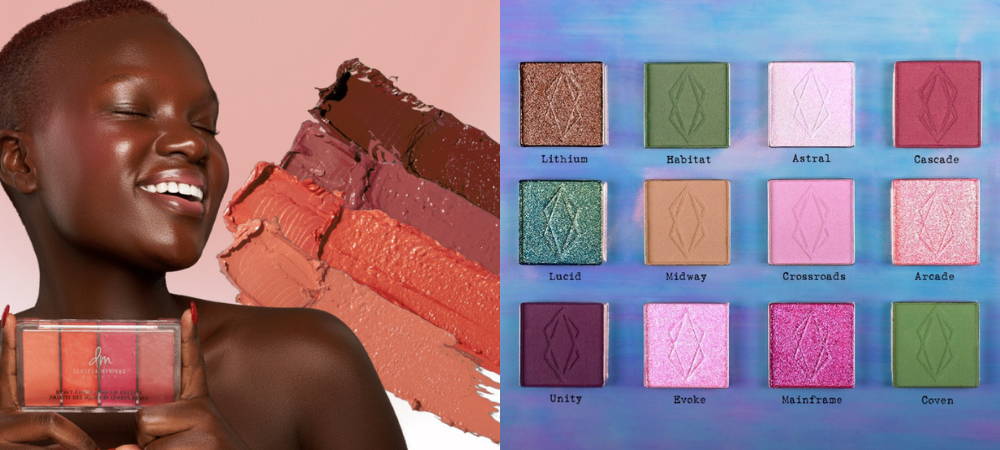 Explore beautiful colors from Danessa Myricks and Lethal Cosmetics. Palettes featured include the Danessa Myricks Beauty Dew it Flirty Dewy Lip & Cheek Palete and a custom Lethal Cosmetics palette.
Top Picks for Colorful & Multi-Tasking Makeup Lovers
We couldn't create a blog about makeup without including some of our favorite Danessa Myricks products! Her Allure Best of Beauty award-winning, multi-purpose ColorFix is a pro favorite because it can be used on the eyes, lips, cheeks, and body, and can be mixed to create new shades. For a dewy option, try her new Dewy Cheek & Lip Palettes for a highly-pigmented pop of color. These palettes are blendable with a balm-like texture that provides a dewy, healthy glow.
If you're into cream-based products but want a formula that sets down to a more powdery finish, check out the Jouer Blush and Bloom Cheek & Lip Duos. Each one has two perfectly paired shades and is infused with skin-loving ingredients for comfortable wear.
If you love expressing your creativity through eyeshadows, Sydney Grace has you covered with budget-friendly singles in a wide range of colors, long-wearing Cream Shadows, and a range of palettes perfectly curated for lighter and deeper skin tones. If lips are your love language, Dose of Colors has you covered with plenty of options including limited edition Lip Sets featuring extra savings and their hydrating Stay Glossy Lip Gloss. If you love bolder and unique colors, Lethal Cosmetics has a range of palettes of all sizes, hard to find blush colors including a dandelion yellow and violet-based pink, gel liners that are UV-reactive, and more!
---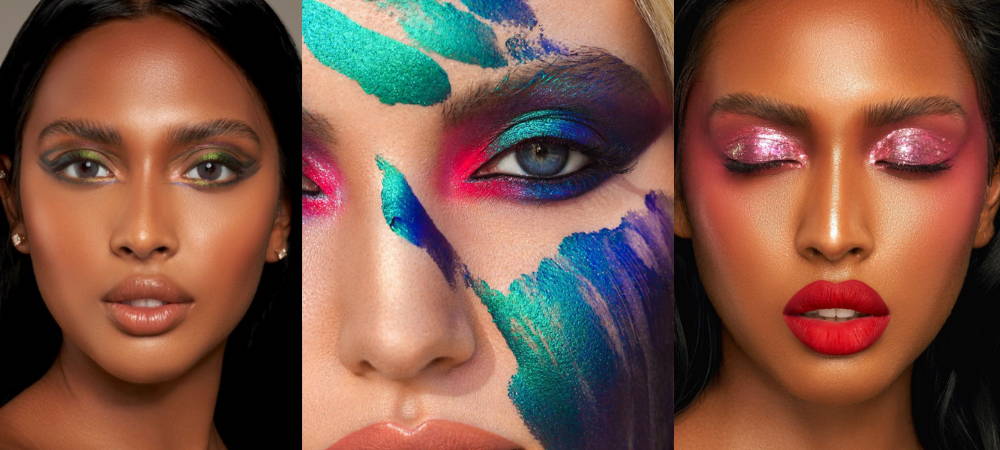 Go all out with bold and vibrant colors. The full-face looks were created by Danessa Myricks using Infinite Chrome Pencils and Infinite Chrome Flakes. The abstract coloful look was created by makeup artist and foundation of Karla Cosmetics, Karla Powell.
Top Picks for Trend Followers
If you are the type of person who loves keeping up with the trends, trying new formulas, or are always looking online or to Hollywood for inspiration, then these are the products for you!
If you're a fan of holographic glitter and are not afraid of looking like a cast member from "Euphoria," then check out the glowing, multichromatic Danessa Myricks Infinite Chrome Flakes. These beautiful gel-based long-wearing glitter flakes went viral several times on social media, and it's easy to see why. You can easily go from everyday to glam with a single swipe, and each shifts to a different color as the light hits it from different angles.
If you're after the same effect but shy away from glitter, Karla Cosmetics Pressed Eyeshadows and Lethal Cosmetics Multichrome Magnetic Pressed Eyeshadows can give you a similar look. These fun, colorful eyeshadows both come in unique color options for bold babes and several subdued shades for those craving a subtle yet eyecatching shift.  
Finally, for those wanting to explore the colorful multichrome world in smaller doses, the Danessa Myricks Infinite Chrome Pencils are a perfect addition to your makeup collection. Simply add to the waterline for an eyecatching look or create a full-blown multichromatic graphic liner look with these easy-to-use pencils.
---
Are you feeling inspired to play with some beautiful makeup products? Click here to explore our newest arrivals. If you have any additional questions, our Beauty Advisors are here to help, so click here to send them an email!
---
About Camera Ready Cosmetics
Camera Ready Cosmetics was founded in 2003 by Makeup Artist Mary Erickson. She dreamed of having a pro makeup showroom where artists could play with professional products without the typical makeup store attitude.
Today, our team of beauty industry veterans work together to curate the best quality products on the market. We partner with brands who respect the industry and formulate products for true working artists. You won't find CRC in high-end malls, and we don't wear matching brush belts.
If you want to play with products for a few hours and buy nothing, that's okay ... come in and play! Our store is your playground.
---