A good skincare routine isn't just topical products like cleansers and moisturizers anymore. Skincare tools are taking the beauty industry by storm, combining centuries-old traditions with futuristic technology to create easier access to more youthful, happier skin.
We know it can be a bit overwhelming to keep up with all the new devices on the market. Luckily, we've tried them all and are rounding up our favorites in this blog.
---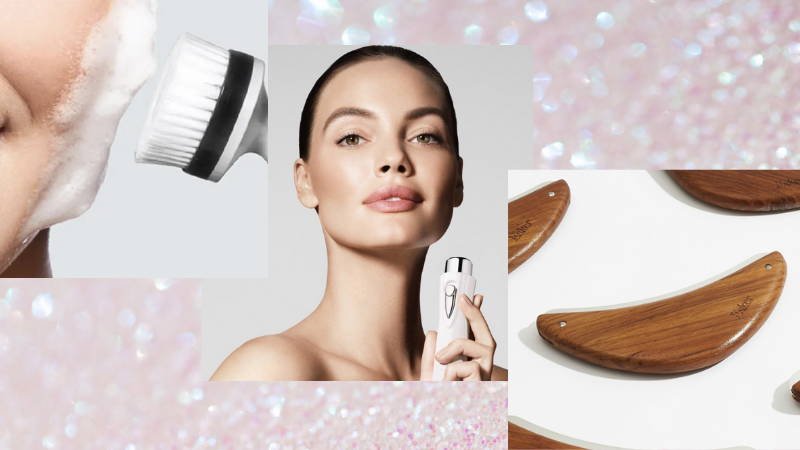 For Cleaner, Radiant, and Exfoliated Skin
If you've become all-too-familiar with maskne over the past year, or if you simply want to ensure that you're removing all traces of makeup at night, investing in a high-quality facial cleansing device can make a world of difference.
The Conture AeroCleanse Facial Cleansing Device is one of our favorites because it offers a gentle yet effective cleanse by utilizing sonic & airflow technology. The sonic vibrations remove dirt, excess oil, and makeup from pores, while airflow technology increases the suds of your favorite cleanser to more effectively carry away impurities. Whereas traditional cleansing can result in impurities being redeposited onto the skin, irritating it, the Conture AeroCleanse will thoroughly clean without overly-stripping the skin.
Exfoliation is also a key step to reveal healthy glowing skin, but the key is to be gentle. Over-exfoliation can disrupt the skin's barrier, so choose a tool that gently removes debris and dead skin. Our top picks are the Conture Kinetic Smooth Hair Remover & Skin Polisher and the Esker Beauty Body Plane. The Conture Kinetic Smooth Hair Remover & Skin Polisher can be used on the face and body to remove unwanted hair with its precision rotary blades and has an interchangeable polishing head that gently buffs to reveal a glowing complexion.
If you're seeking the perfect tool to exfoliate your body, the Esker Beauty Body Plane modernizes ancient Greek bathhouse rituals for a contemporary triumph. Crafted into a soft crescent shape made of teak wood, stainless steel, and sterling silver, the Esker Beauty body plane smooths skin and removes dirt and residue without damaging or irritating the skin's moisture barrier. Sterling silver's antibacterial and anti-inflammatory properties help enhance the product's effectiveness while still remaining natural and gentle for even the most sensitive skin. After dampening your skin, apply your favorite oil and glide the body plane along your arms and legs in upward motions. You'll notice the immediate exfoliation of debris and dead skin, resulting in visibly softer skin. To learn more about the body plane and how to use it, be sure to check out our blog dedicated to this unique tool!
---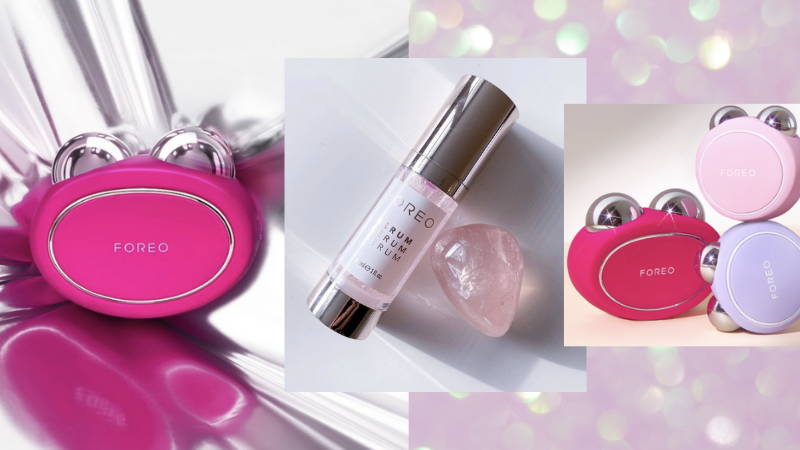 For Toning and Anti-Aging
If your number one skincare goal is anti-aging, skin toning is a must. The Conture Kinetic Skin Toning System is a celebrity favorite for more youthful skin, as it has isometric compression and low-frequency vibrations to stimulate and tone skin. This technology replicates what was once only available at med-spas and skin clinics. But now, thanks to Conture's Kinetic Skin Toning System, you can effectively fight dullness, puffiness, and signs of aging from the comfort of your own home.
If you're looking for something that's simple but effective and easy to travel with, the FOREO BEAR is a best-seller that we highly recommend. This small but powerful toning device uses microcurrent and T-sonic pulsations to exercise the 65+ muscles in your face and neck, maintaining the firmness that these muscles normally lose with age. Every woman knows that the neck is the first place to show a woman's true age. With the FOREO BEAR, you can fool them all with a tight, toned, and youthful appearance. If you want to try a microcurrent device but are on a budget, the FOREO BEAR mini is a great option. It has three microcurrent intensity levels instead of five, and it doesn't have FOREO's anti-shock technology. However, using plenty of SERUM, SERUM, SERUM will keep the tingling sensation at bay.
---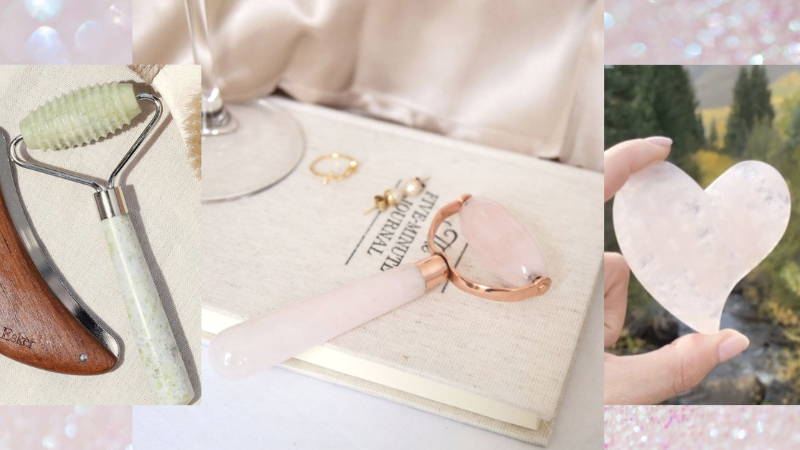 To Soothe Stressed Out Skin & Increase Circulation
Facial rollers are one of the most well-recognized skincare tools today. An ancient beauty practice dating back thousands of years, facial rollers provide energetic healing while improving the complexion's appearance.
The Esker Beauty Allover Roller extends beyond the tradition of facial rolling and is designed specifically for use all over the body. Measuring 7 inches across, the extra-large roller is textured with soft spikes to increase stimulation, break up fascia, and help better absorb any treatment oil or product. The Allover Roller aids in lymphatic drainage, which helps to detoxify, and provides tension relief throughout the entire body.
If you're looking for a more traditional yet highly effective facial roller, the Jenny Patinkin Rose on Rose Face Roller utilizes rose quartz for its healing properties. Rose quartz is believed to emit energetic vibrations of love and beauty, which is said to improve self-esteem as well as feelings of self-worth, forgiveness, and compassion. Like other rollers, the Rose on Rose Face Roller aids with lymphatic drainage, reduces inflammation, boosts circulation, and temporarily firms the skin. If you want to start your day with added radiance and glow, the Rose on Rose Face Roller is our top choice.
If you want the facial roller effect but aren't keen on rollers, we recommend the Jenny Patinkin Uplifting Gua Sha Heart. Apply an oil, serum, or moisturizer, and glide the tool over the skin for a relaxing spa experience that will leave you feeling fresher and more awake. Like facial rollers, the Gua Sha Heart will promote lymphatic drainage and improve the appearance of skin laxity. It also comes with its own matching carrying case for relaxation and healing on the go.
Finally, we can't help but gush about our love for the Milk + Honey Body Brush. Crafted from Chinese cherrywood and 100% boar bristles, it provides gentle exfoliation, promotes healthy circulation and detoxification, and helps to reveal smoother skin.
---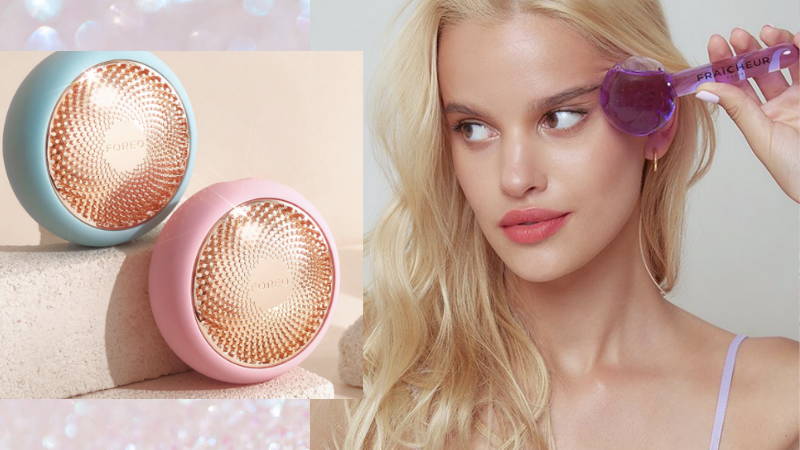 For the Ultimate At Home Spa Experience
If you're short on self-care time but still want an incredibly effective way to elevate your skincare routine, a device that incorporates cryo-therapy or thermo-therapy may be a perfect choice. Cryo-therapy harnesses the benefits of lower temperatures (think of pro athletes taking an ice-bath after a strenuous workout) to invigorate the skin and muscles. This cooling treatment can help reduce puffiness, lift and firm the skin, tighten pores, and even reduce the appearance of dark circles.
The Fraîcheur Paris Ice Globes are our personal favorite easy-to-use cryo-therapy tool. For those who aren't familiar, facial cooling globes are spherical tools that can be placed in the freezer and then rolled over the face for a number of skincare benefits. In addition to the benefits listed above, they can also brighten the complexion, reduce acne scarring, and more. Want to feel extra refreshed in the morning or soothe tired skin and tense muscles at the end of a day? Incorporate a quick facial ice globe session into your routine, and try using it on top of your favorite sheet mask for a next-level facial.
The FOREO UFO 2, a smart-masking device, also uses of cryo-therapy and cools to 5 degrees celsius for the safest, most effective treatment. However, it combines a sheet mask specifically designed to fit the device to penetrate deeper into the skin and deliver skin-loving ingredients in an at-home facial in just 90 seconds or less. In addition to cryo-therapy, this device can heat up to 45 degrees celsius, a temperature proven to open pores to allow essences, creams, and other skincare products to sink into the skin for maximum efficacy. Finally, the FOREO UFO 2 incorporates up to 10,000 sound waves per minute through a technology they call T-sonic pulsations (the same technology offered with the BEAR and BEAR mini) to help stimulate the skin and gently exfoliate the skin during your facial. To learn more about the FOREO UFO line and the differences between the devices, read this blog.
The final tool we have to include in our roundup is the award-winning Jenny Patinkin Rose on Rose Derma Roller. Health and Shape Magazine both named this derma rolling tool one of their best skincare tools because it is a fast, painless, and low-tech way to help enhance the performance of your favorite skincare products while also helping to boost circulation and soothe tension. A quick rolling session one to two times a week helps create thousands of micro-channels for your favorite products to sink deeper into the skin.
---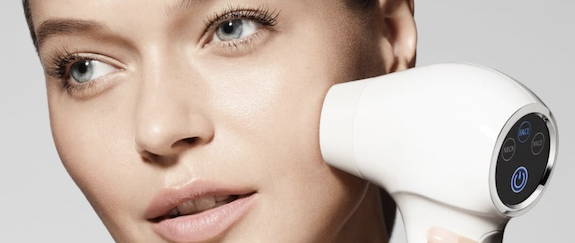 Are you ready to dive into the fun and evolving world of skincare tools? Click here to see our full range, including body brushes, smart masking devices, and much more.
---
About Camera Ready Cosmetics
Camera Ready Cosmetics was founded in 2003 by Makeup Artist Mary Erickson. She dreamed of having a pro makeup showroom where artists could play with professional products without the typical makeup store attitude.
Today, our team of beauty industry veterans work together to curate the best quality products on the market. We partner with brands who respect the industry and formulate products for true working artists. You won't find CRC in high-end malls, and we don't wear matching brush belts.
If you want to play with products for a few hours and buy nothing, that's okay ... come in and play! Our store is your playground.