Last year, we shared a five-step routine to achieve an endless summer glow, but this time, we're helping you achieve Camera Ready skin for your next big event, wedding, red carpet affair, and beyond! These products have been beloved by makeup artists and stylists, so you know they're add to cart worthy.
In this blog, we will be sharing body glow and tanning tips about:
The best exfoliating products and tools

The best products to create a custom tan

The best products to achieve a natural or radiant glow
---
Step 1: Exfoliate with a great scrub or tool
It may seem counterintuitive to spend extra time pampering the rest of your body when it's mostly covered during the fall and winter, but a little extra TLC during these cooler and drier months will actually go a long way to boost your mood and overall skin health!
We're proud to offer a range of skincare brands including cleaner beauty brands and brands that have a rich history in the pharmaceutical and dermatology industries like Avene, Kiehl's, and Bioderma. The right exfoliating tools and products can help reduce the effects of keratosis pilaris, keep eczema outbreaks from getting worse, and can help slow the signs of aging. The right exfoliating routine can prevent skin flakiness and cracks.
If you're seeking a scrub that smells like you're on vacation, Indie Lee's Coconut Citrus Scrub is a CRC favorite because it has a tropical scent that will uplift your mood while gently washing away dull dry skin. For a gentle scrub that can be used daily, we recommend Kiehl's Creme de Corps Soy Milk & Honey Body Polish.
If you're noticing flaky or dull skin, using a body brush or the Esker Body Plane can help whisk away dead skin cells while also increasing the blood flow to the skin's surface. This step is extra important if you plan to self-tan, so exfoliate well before applying a self-tanner. If you're not planning to self-tan, lock in hydration with a great moisturizer like Saint Jane Luxury Body Serum which provides nourishment through plant-based botanicals and CBD to calm irritated skin.
---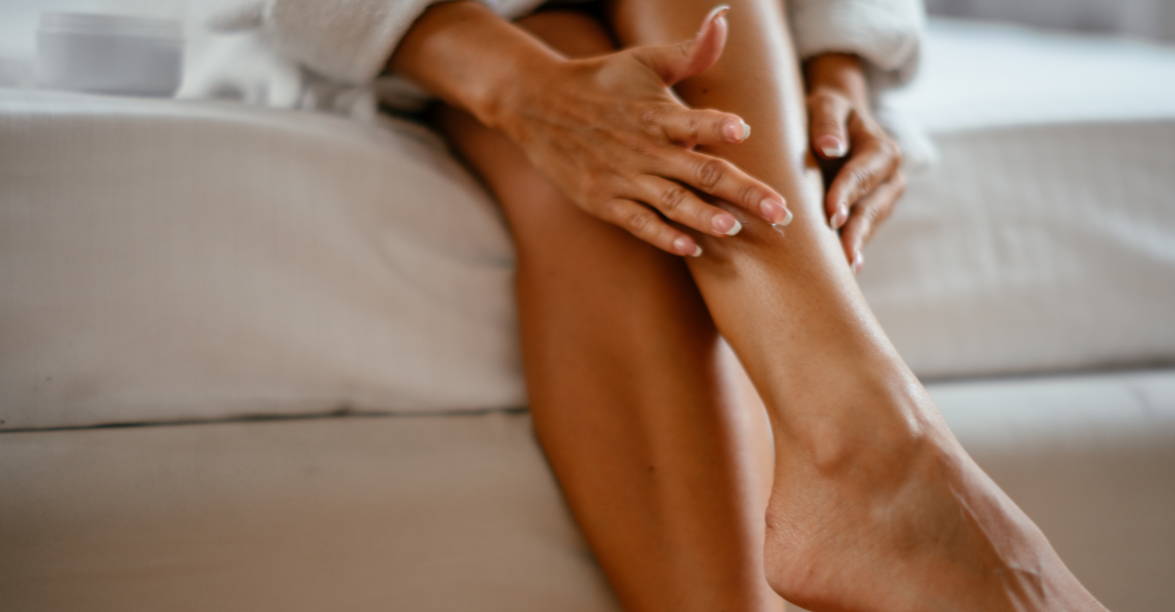 Step 2: Customize your perfect tan
Gone are the days of patchy orange tans! Self-tanning products have come a long way, and the latest tanning trend allows you to customize a blend that's perfect for you!
Ever since we added St. Tropez Luxe Tan Drops to our lineup of self-tanning products, they've quickly become one of our self-tanning best sellers because they allow you to choose how deep you want your tan to be. You simply add a few drops (2 = Light, 4 = Medium golden tan, 6 = Deep bronze) to your favorite moisturizer to determine how much of a bronzed look you'd like to achieve. They're also infused with 100% natural tanning active, Niacinamide, Hyaluronic Acid, Echinacea, and Acerola Cherry extract rich in Vitamins C & E to help plump, protect, smooth fine lines, reduce redness, and give a natural sunkissed glow.
For more advanced self-tanners, Temptu offers an airbrush self-tanning formula that gives you long-lasting results! Complete with an exfoliating prep product infused with antioxidants and skin conditioning ingredients, their self-tanning solution allows you to reach even the toughest to reach places of your body with the continuous mist application Temptu users have loved for decades!
We know not everyone wants a sunless tan, but it can be an easy way to give you that summertime vibe no matter the season. If you want a quick pick-me-up and temporary glow, try St. Tropez One Night Only Mist.  This streak-free bronzer mist delivers a natural, light to medium tan that lasts for up to 24 hours, with no transfer. With Rainmac™ Technology, this spray simply washes off with soap and water. Plus, it can be used on the face and on the body.
No matter if you self-tan or love to enhance your natural complexion, this is a step that everyone can enjoy! Our favorite body glow products are easy to apply and can be found at photoshoots worldwide, as they can make your skin look healthier, hide minor imperfections, and provide extra hydration.
Melanie Mills Hollywood has a line of body glow products that award-winning makeup artist Melanie Mills developed for "Dancing with the Stars". Her Gleam Face and Body Radiance comes in six shades to enhance every skin tone, and they can be mixed with other shades and your favorite complexion products to give you a custom glow. Best selling shades include Disco Gold and Peach Deluxe. This lovely glow doesn't transfer to your clothes once set, and add her viral favorite Melanie Mills Hollywood Super Lite Long Lasting Setting Spray for extended wear. Not sure what shade to get? We also offer mini kits for you to experience this beautiful formula in a range of shades! If you want to amp up the bling factor, consider a shimmering formula like Melt Cosmetics SexFoil Digital Liquid Highlighter.
Scott Barnes Body Bling is another fan favorite. Beauty expert and Hollywood makeup artist Scott Barnes created this blockbuster signature product, known as the "bronzer to the stars." Available in either a powder or lotion formulation, both body glow products provide a luminous imperfection blurring effect that also photographs beautifully. Massage a small amount onto legs, shoulders, and collarbone for a glow that makes this bronzer the go-to for Jennifer Lopez, Kim Kardashian, Beyonce, and Mary J. Blige.
For those with fairer complexions, Red Carpet Kolour offers a universal shade that creates a luminous pearly glow that is perfect for brides and photoshoots that require just a hint of glow.
Bonus Tips to Achieve an Endless Summer Glow
Extra Glow Tips:
Of course, the best way to achieve a healthy glow is to properly cleanse and hydrate your skin. It may be tempting to opt for a shimmery body wash, but most of that glow goes down the drain. For a pro-approved glow-inducing wash, we recommend Bioderma Atoderm Shower Gel for those that crave extra moisture. After moisturizing, consider sealing the moisture in with a body oil, and use a humidifier at night to prevent your skin from losing moisture while you sleep.
Finally, protecting your skin is the most important step of all, no matter the time of the year! While you may not spend as much time outdoors during the cooler months, the sun's rays can still reach your skin if you're sitting by a window or during shorter trips outdoors. For the face, try a skin-perfecting and priming sun care product like Saint Jane Luxury Sun Ritual. Celebrity makeup artists and even Gucci Westman have been spotted using this new sun protection product in their own routines!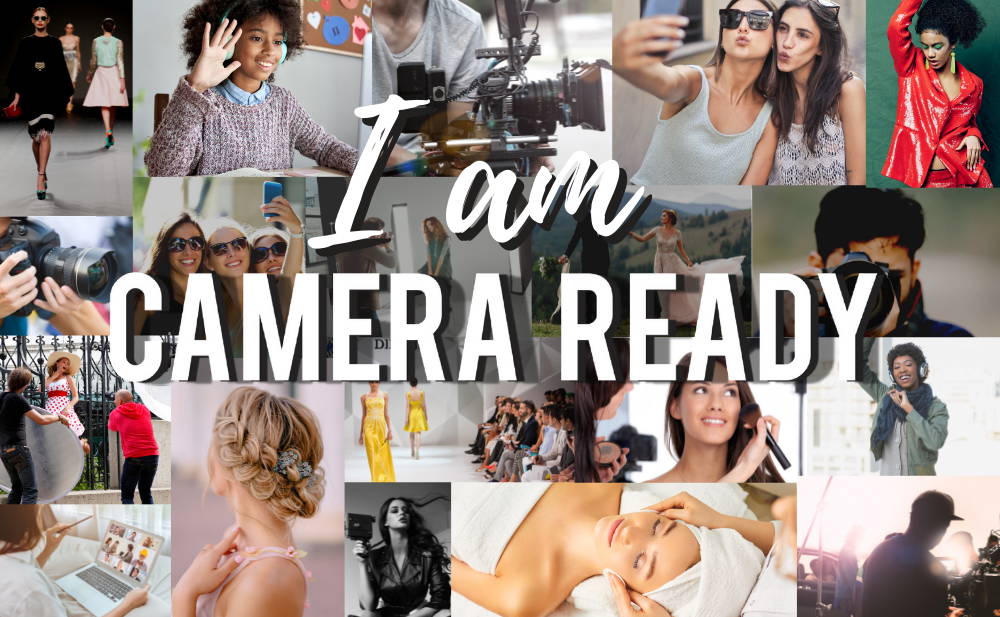 ---
We hope you enjoyed learning more about our favorite products to give you luminous healthy looking-skin for all seasons! If you want to learn more about any of the products mentioned or need another recommendation, our Beauty Advisors are here to help. Click here to send them a message.
---
About Camera Ready Cosmetics
Camera Ready Cosmetics was founded in 2003 by Makeup Artist Mary Erickson. She dreamed of having a pro makeup showroom where artists could play with professional products without the typical makeup store attitude.
Today, our team of beauty industry veterans work together to curate the best quality products on the market. We partner with brands who respect the industry and formulate products for true working artists. You won't find CRC in high-end malls, and we don't wear matching brush belts.
If you want to play with products for a few hours and buy nothing, that's okay ... come in and play! Our store is your playground.
---