If you're looking for a step-by-step tutorial on how to apply and paint a prosthetic, SFX Artist Nsomniaksdream has you covered. Continue reading to learn how she created this Two-Face inspired look and to see what products she used for the transformation, or watch her detailed video below.
---
To re-create Nsomniakdream's look, these are the products she used:
---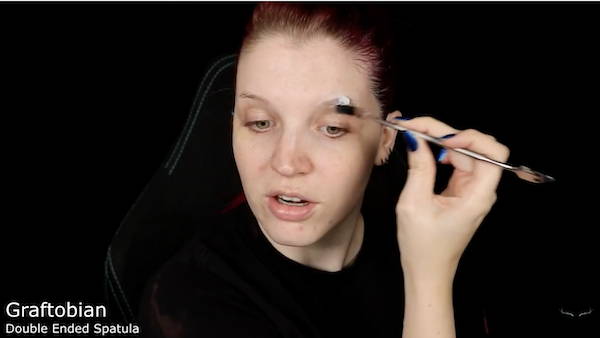 Step 1: Prep your brows and hairline before application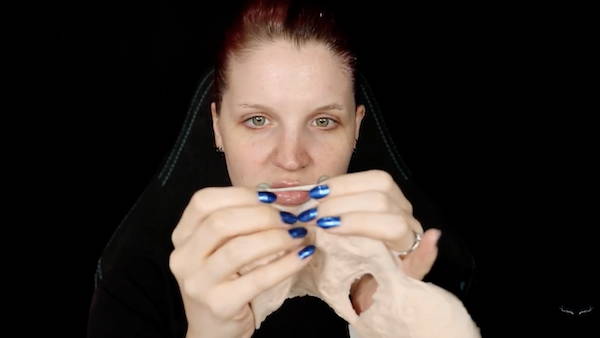 Step 2: Prep the prosthetic... gently!
Many prosthetics, including the Stage Frights Foam Latex Meatbag Appliance used in this tutorial, have areas around the eyes, lips, and nose that need to be gently "opened" or "torn" in order to fit around your eyes, lips, and face. Gently tear the sealed areas to prevent from damaging it. Tearing creates jagged edges that will be easier to blend and trick the eye into thinking it looks a real scar line versus cutting with scissors which creates clean lines that will be obvious to spot if not blended perfectly.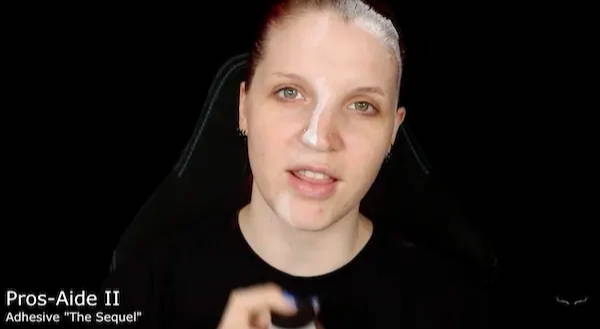 Step 3: Use powder to "outline" where the
prosthetic will be placed onto your face
Line up the appliance on your face to see where you want to place it. Once you've found the perfect position, take a brush with Ben Nye Neutral Set powder and dust it around the edges to create a guide on where to apply it once you add adhesive.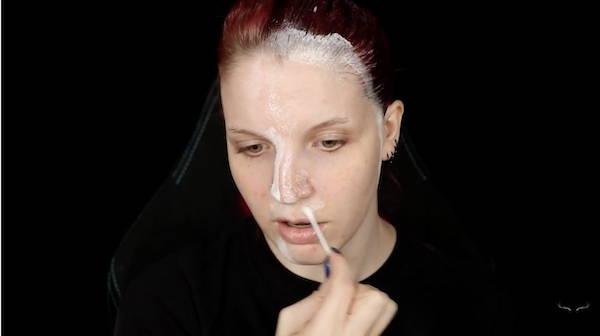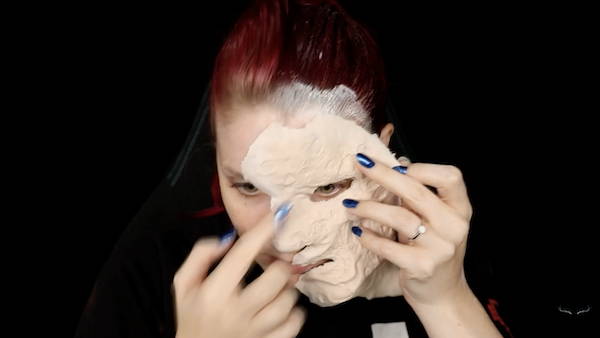 Step 4: Apply the appliance
Using Pros-aide Cream and a q-tip, apply a thin layer of adhesive to your face around the inside perimeter of your powdered outline and along the outer edges of the prosthetic while avoiding the thin outermost edges. You can easily add more adhesive to the edges once everything is in place. Additional lumps and bumps that may occur during application will add to the scarred effect and are not a bad thing.
PRO TIP: When you are applying a full face prosthetic, start at the bridge of your nose, as it's a good central point to start with, and work your way outward.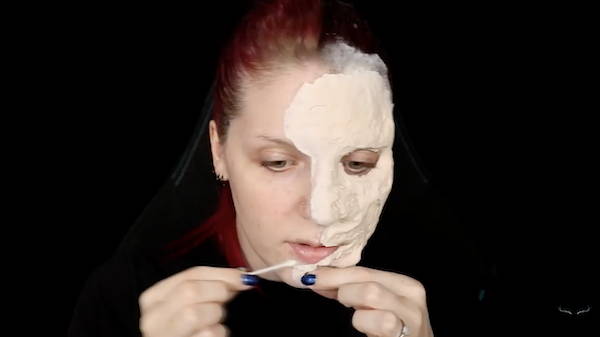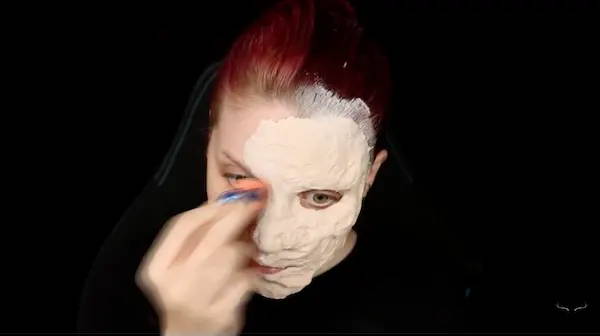 ---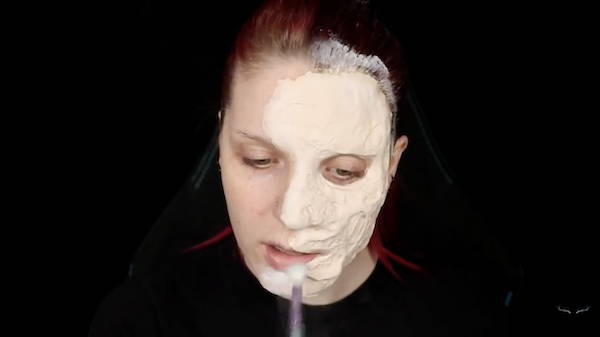 ---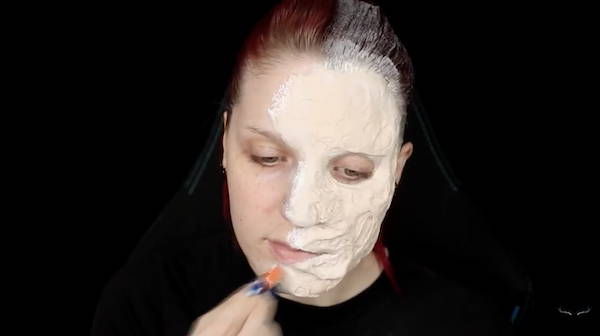 Step 5: Blend in the edges for a seamless transition
Taking a Graftobian Stipple Sponge, dip into a small amount of Pros-Aide The Sequel, and dab the sponge around the edges to create a nice thin layer to help blend the seam into your skin. Repeat the process using thin layers of Mehron Liquid Latex to make the transition even smoother. It's normal to apply three or four thin layers, and be sure to let each layer. Set with Ben Nye Neutral Set powder  because the latex will stick to itself.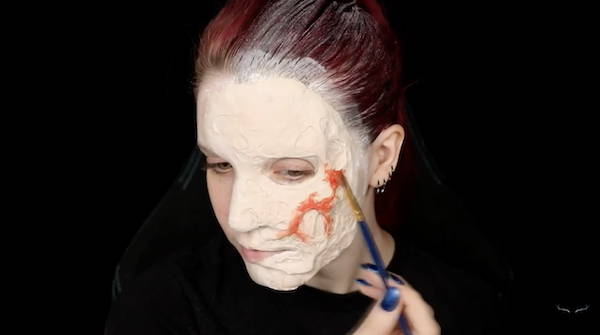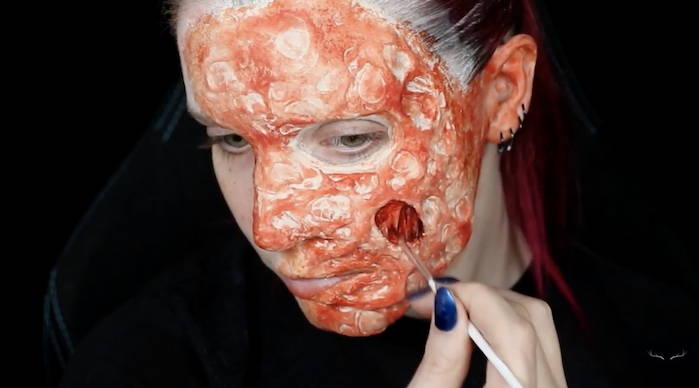 Step 6: Add depth and shadows using sponges and brushes
Using the Skin Illustrator Zombie Palette, (a good alternative with a better range of flesh tones is the Skin Illustrator Ve's Pirate Palette) an alcohol activated paint, dip into the lightest red shade and apply to the highest points of the prosthetic. Next, use the darker shades to paint the recessed areas to make them look like open wounds.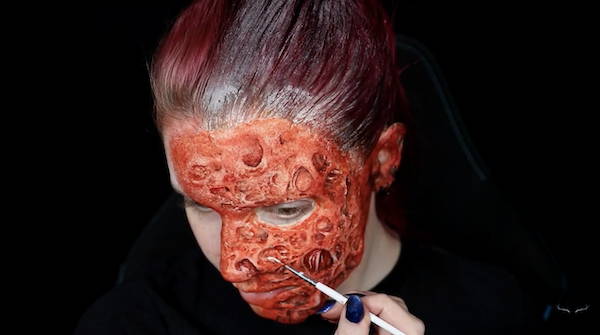 Step 6: Paint the highest points lighter
Using the lightest shade from the Skin Illustrator Zombie Palette, paint the highest points of the prosthetic to look like fresh flesh that is still intact.
Step 7: Create a black eye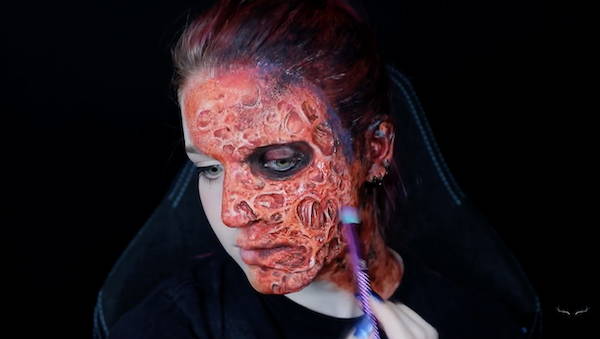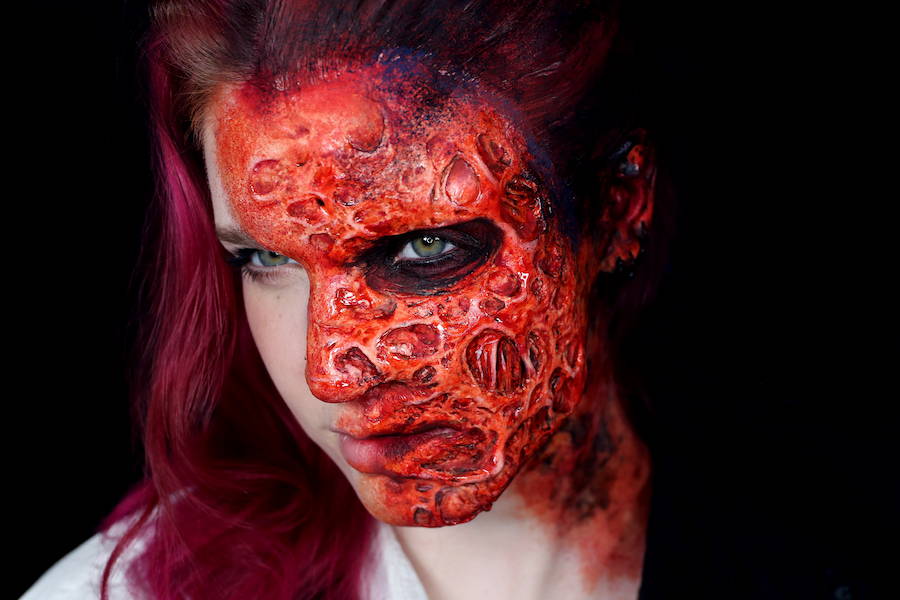 ---
---
---
We're accepting your videos as part of our SFX tutorial series! Send submissions to marketing@crcmakeup.com for consideration.
Need something specific to create your SFX Halloween looks? Shop Camera Ready's extensive collection of top special effects brands here. Don't see what you're looking for? Contact our Customer Experience Team for a comparable alternative, or to see if we can order the exact product you need.
---
About Camera Ready Cosmetics
Camera Ready Cosmetics was founded in 2003 by Makeup Artist Mary Erickson. She dreamed of having a pro makeup showroom where artists could play with professional products without the typical makeup store attitude.
Today, our team of beauty industry veterans work together to curate the best quality products on the market. We partner with brands who respect the industry and formulate products for true working artists. You won't find CRC in high-end malls, and we don't wear matching brush belts.
If you want to play with products for a few hours and buy nothing, that's okay ... come in and play! Our store is your playground.