When it comes to Halloween Makeup Looks, you can really go all out with a Skull Makeup Look! There are a wide range of ways to doll up your skull makeup, from rhinestones to glitter, but in this skull SFX tutorial, we'll show you how @alice_crue created an eyecatching neon skull that will catch lots of compliments!
---
The List of Products Used to Create a Neon Skull SFX Makeup Look
---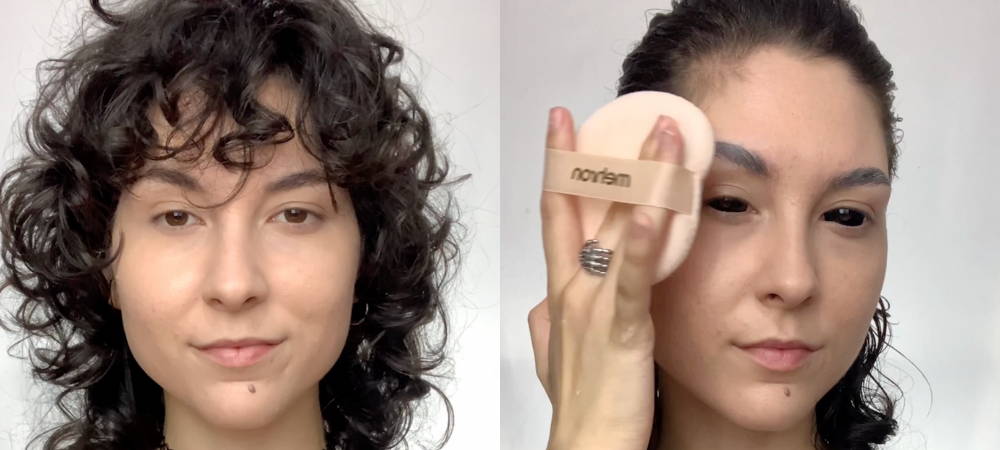 First, cleanse your face and do not moisturize. Instead, use Mehron Barrier Spray to create a sweat-proof barrier that will allow your makeup to last longer. Next, use your favorite method and products to block your eyebrows.
---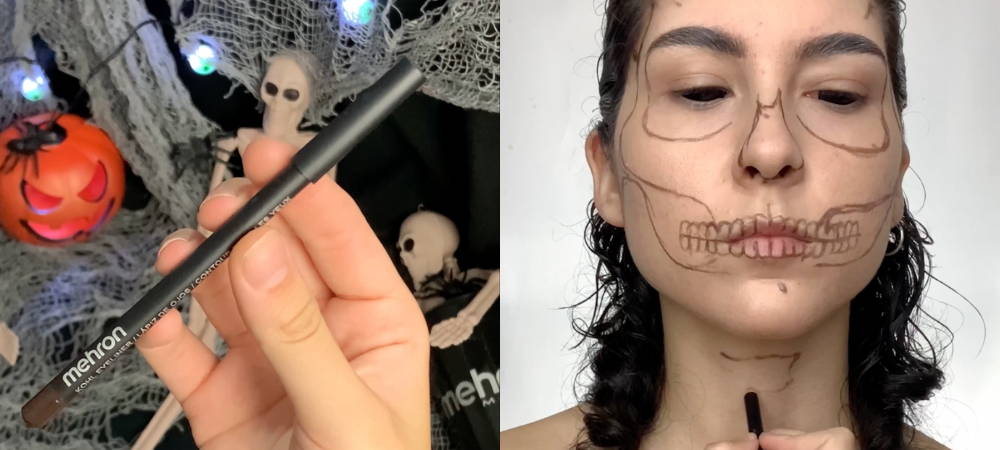 Take a makeup pencil and draw an outline of the jaw bone, eye socket, nose socket, teeth, clavicles, and neck. Alice prefers to use a brown pencil instead of a black pencil because she finds it easier to paint without worrying about the black makeup mixing in with the paint she uses to fill inside.
---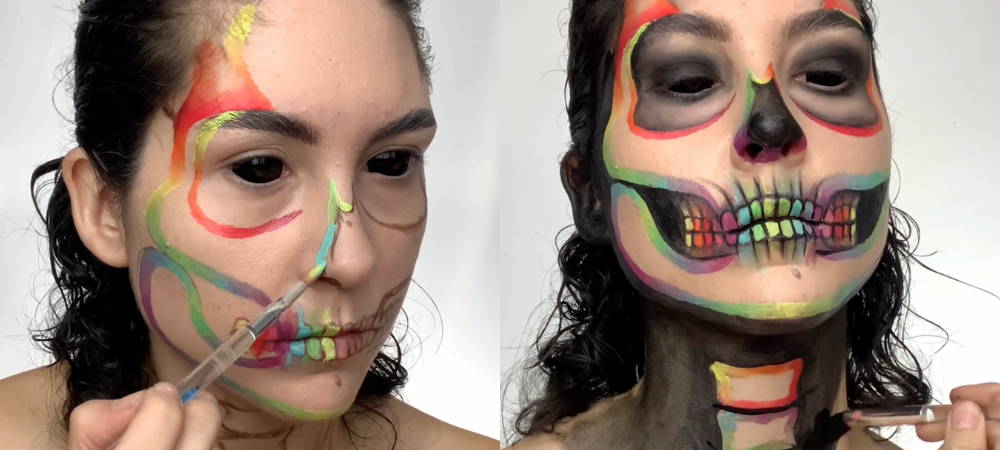 Using the Mehron Paradise Brush Set, use your favorite shades to cover the outlines you just drew with the pencil. Alice likes to create an ombre effect and use different colors along each line because it gives a more interesting look to her skull. For the teeth, fill in each tooth completely, as you will outline them with black later.
Once the outlines have all been painted, allow them to dry. Next, fill in the eye sockets, inside of the mouth, and inner part of the nose socket with Black Paradise Paint. Once that area has dried, paint the neck and check outside of the bones you created earlier.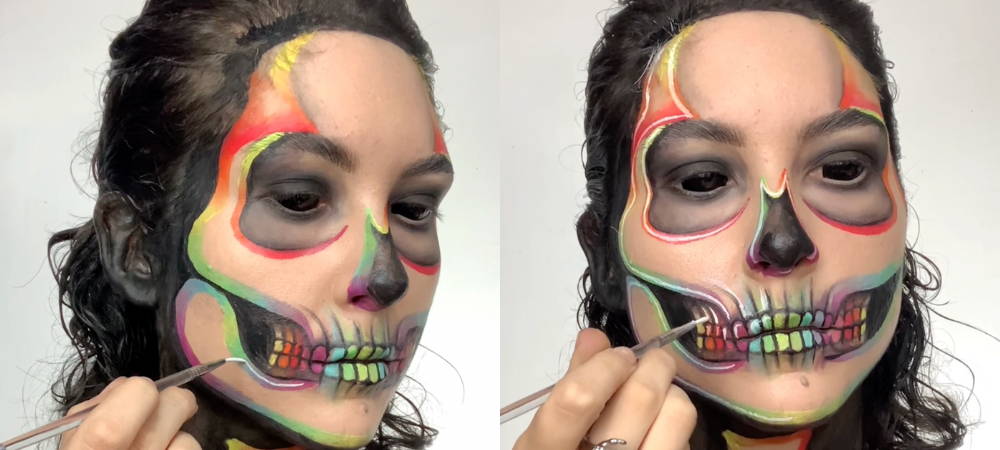 Using one of the finer detail brushes from the Mehron Paradise Brush Set, add a few white lines to the rainbow outlines you painted on in step 3. You can even add a few highlights to the teeth!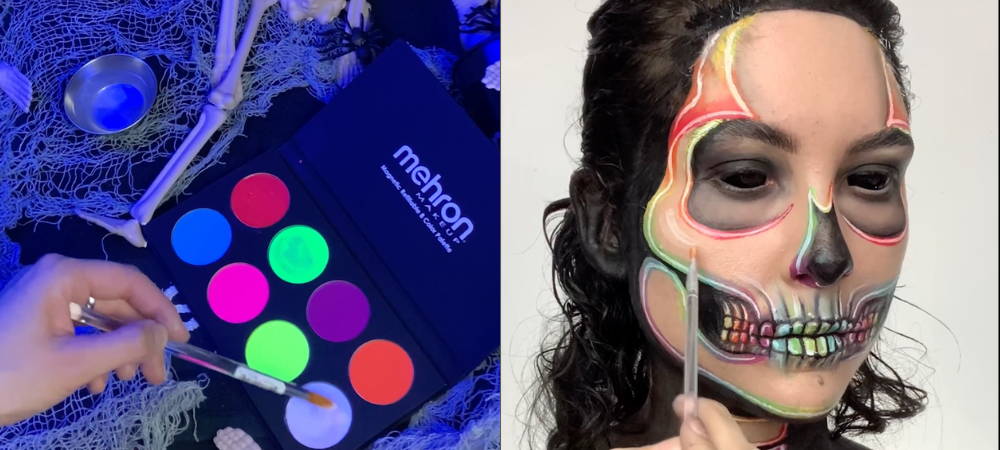 Taking a medium-sized Paradise Brush, take the shade that looks white from the UV Neon Palette, and fill in the "blank" areas of your face. Although the shade looks white, it's actually UV-Reactive and will glow under the black light! Allow the paint to dry and set with setting spray, and that's it! Your Neon Skull is Camera Ready!
---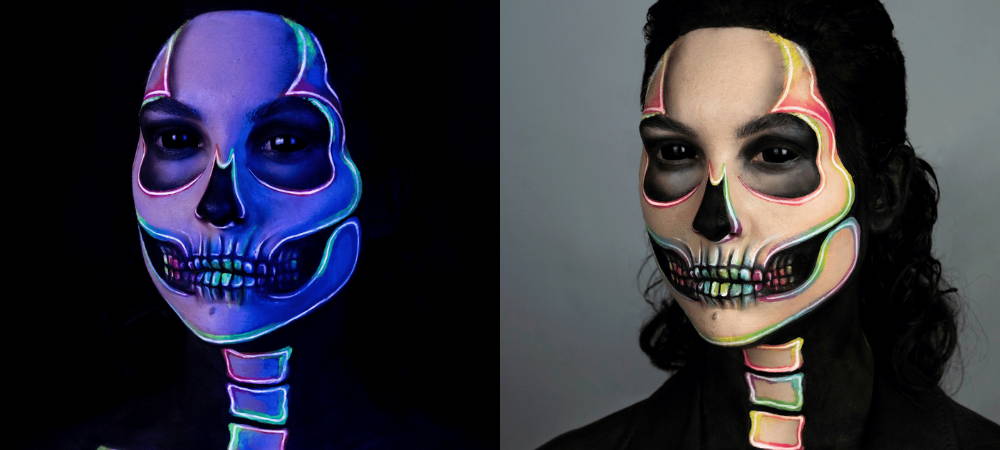 Feeling inspired to recreate the look? Watch the video at the top of this blog, or visit our YouTube Channel!  We hope this blog inspires you to create a fun new look this Halloween! If you have any more questions, we are here to help! Click here to reach out to our Beauty Advisors.
If you recreate this look or follow any of our other SFX Tutorials, don't forget to tag @camerareadysfx on social media!
---
---
Need something specific to create your SFX Halloween looks? Shop Camera Ready's extensive collection of top special effects brands here. Don't see what you're looking for? Contact our Beauty Advisors for a comparable alternative, or to see if we can order the exact product you need.
---
About Camera Ready Cosmetics
Camera Ready Cosmetics was founded in 2003 by Makeup Artist Mary Erickson. She dreamed of having a pro makeup showroom where artists could play with professional products without the typical makeup store attitude.
Today, our team of beauty industry veterans work together to curate the best quality products on the market. We partner with brands who respect the industry and formulate products for true working artists. You won't find CRC in high-end malls, and we don't wear matching brush belts.
If you want to play with products for a few hours and buy nothing, that's okay ... come in and play! Our store is your playground.