If you're looking for the perfect Hallowen Makeup Look to test your SFX makeup skills this year, why not try this trendy Billy the Zombie Hocus Pocus inspired makeup look featuring Melissa Croft, aka @mcroft07, using Mehron makeup.
---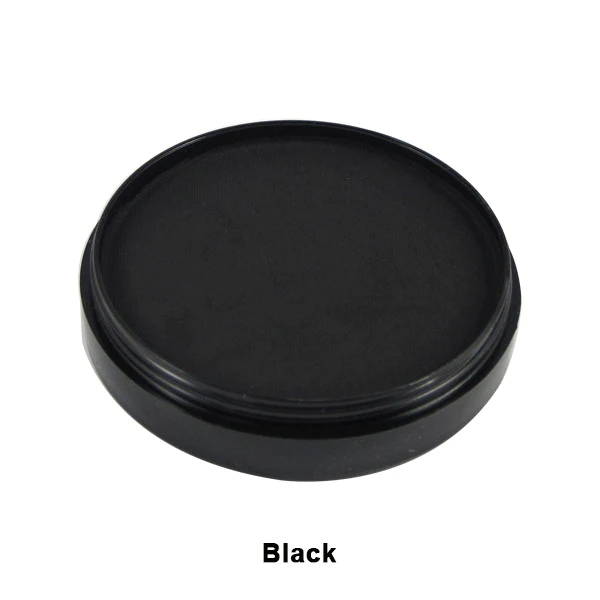 Mehron Paradise Makeup AQ - Black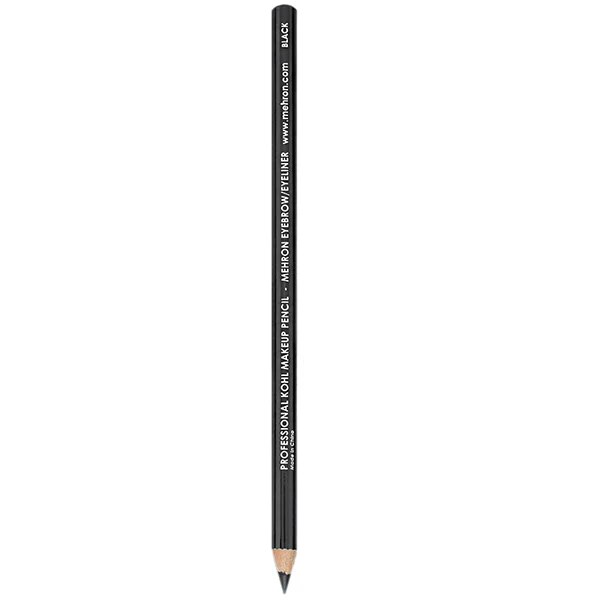 Mehron Pencil Liner - Black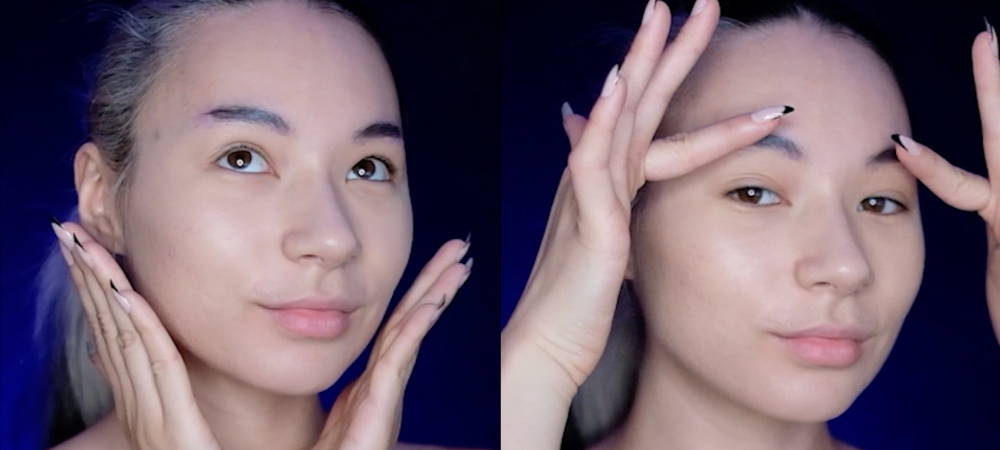 Step 1: Prep Your Skin & Block Your Eyebrows

First, cleanse your face and do not moisturize. Instead, use Mehron Barrier Spray to create a sweat-proof barrier that will allow your makeup to last longer. Next, use your favorite method and products to block your eyebrows.
---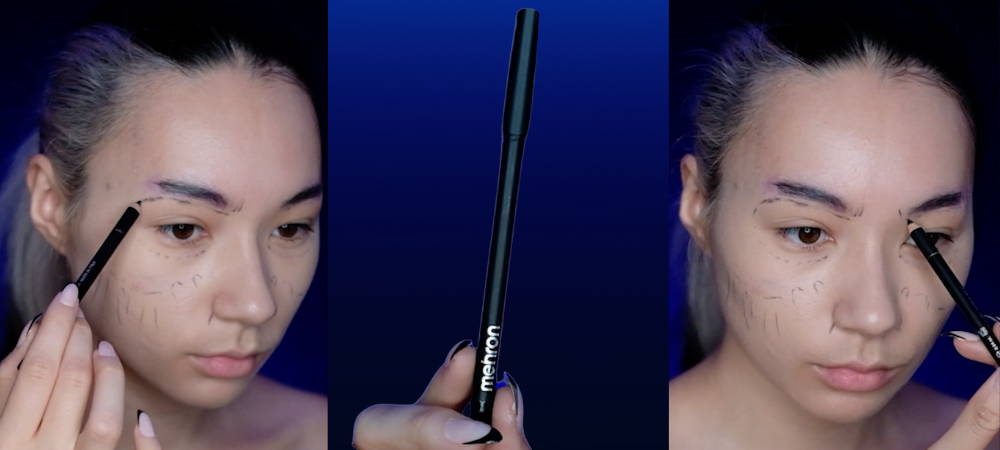 Step 2: Map Out Where You're Going to Place the Homemade Prosthetic
Take a makeup pencil and draw an outline above your brows and on your cheekbones to indicate where you're going to build up the homemade prosthetic to make your cheeks, brows, and orbital bone more prominent.
---
Step 3: Create and Apply the Homemade Prosthetic Using Liquid Latex
Using a stainless steel palette, add a few drops of Liquid Latex onto the palette, and rip apart pieces of tissue to dip into the Liquid Latex to lightly coat it. Next, apply it to your skin in thin layers onto your skin, and use a spatula to smooth out the edges. For an added effect, create creepy striations and lines across the cheek by dragging the spatula down across the cheekbones and toward the lips.
Once you're happy with the brow bones and cheeks, build up your chin, too!
Once you've built up the prosthetic, allow it to dry and set with a powder puff and Mehron Colorset Powder to remove any tackiness.
Application Tips: Avoid using too much liquid latex because it will become gloopy and hard to work with. If you've added too much, simply add a few pieces of torn tissue.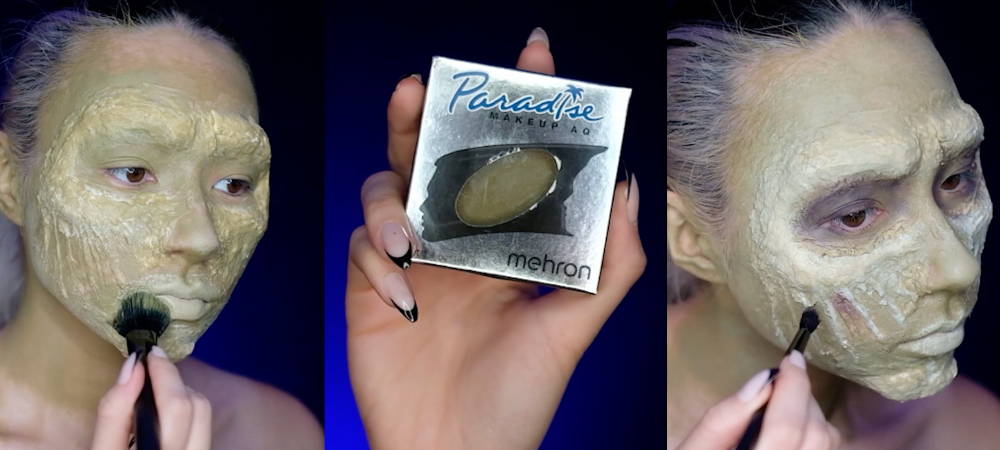 Step 5: Time to Paint the Prosthetic
Using a fluffy brush, paint the prosthetic with Mehron Paradise Paint in Olive. Build up in layers on the entire face, lips, and around the eyes. Add highlight to the cheekbones, brow bones, and even the cupid's bow with White Paradise Paint. Blend well using light tapping motions of the brush with leftover Olive paint.
Dry brush a deep purple and black around the eye sockets and to outline and contour under the cheekbones, the nose, lips, and chin.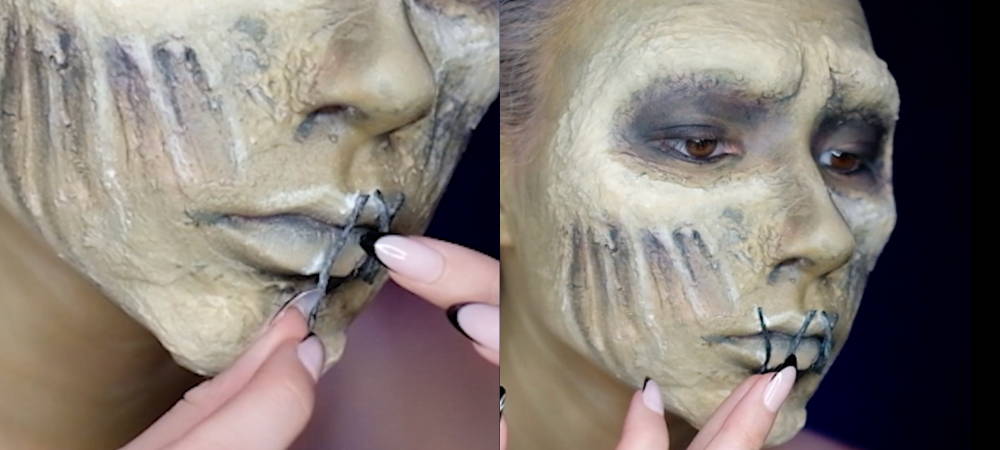 Step 6: Create and Add the Fake Lip Sticthes
Using the liquid latex and torn tissue, roll together thin strips of tissue into thin "strings" that are a little more than an inch long. Set them with powder and paint them with black makeup.
To adhere the "stitches" to your lips, add a dot of liquid latex to where you want to attach it just above and below your lips, and attach each end of the stitch to the adhesive. Hold it in place gently for a few moments until it's attached.
---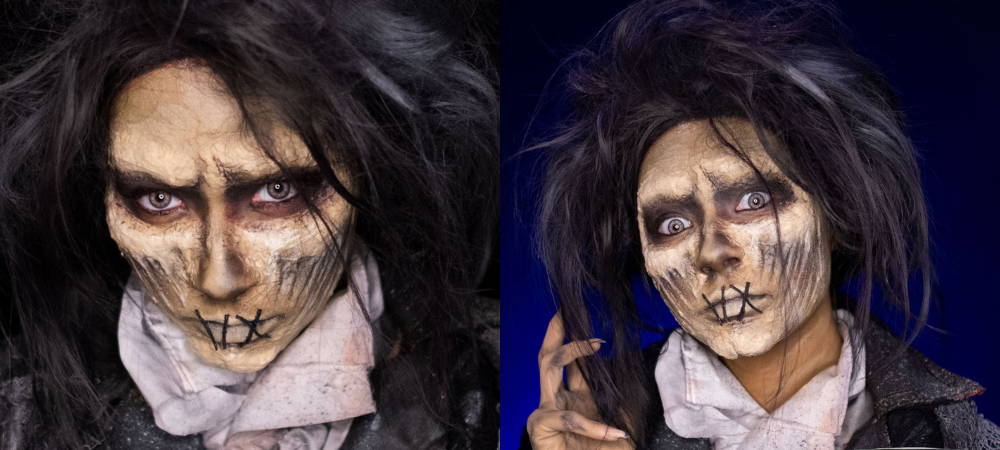 Feeling inspired to recreate the look? Watch the video at the top of this blog, or visit our YouTube Channel!  We hope this blog inspires you to create a fun new look this Halloween! If you have any more questions, we are here to help! Click here to reach out to our Beauty Advisors.
If you recreate this look or follow any of our other SFX Tutorials, don't forget to tag @camerareadysfx on social media!
---
---
Need something specific to create your SFX Halloween looks? Shop Camera Ready's extensive collection of top special effects brands here. Don't see what you're looking for? Contact our Beauty Advisors for a comparable alternative, or to see if we can order the exact product you need.
---
About Camera Ready Cosmetics
Camera Ready Cosmetics was founded in 2003 by Makeup Artist Mary Erickson. She dreamed of having a pro makeup showroom where artists could play with professional products without the typical makeup store attitude.
Today, our team of beauty industry veterans work together to curate the best quality products on the market. We partner with brands who respect the industry and formulate products for true working artists. You won't find CRC in high-end malls, and we don't wear matching brush belts.
If you want to play with products for a few hours and buy nothing, that's okay ... come in and play! Our store is your playground.