If you're looking for a cute, playful, fun, or trendy Halloween Makeup Look, look no further than this Glampire Monster High Draculaura inspired makeup look @christina.alexandraa created for Mehron Makeup! From flirty and playful to even scary, you can create the perfect vampire makeup look using the quick and easy steps below.
---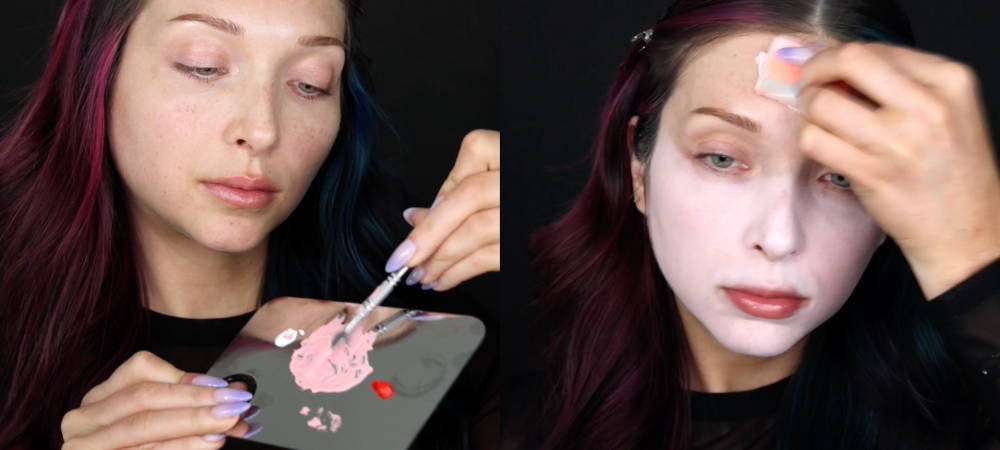 ---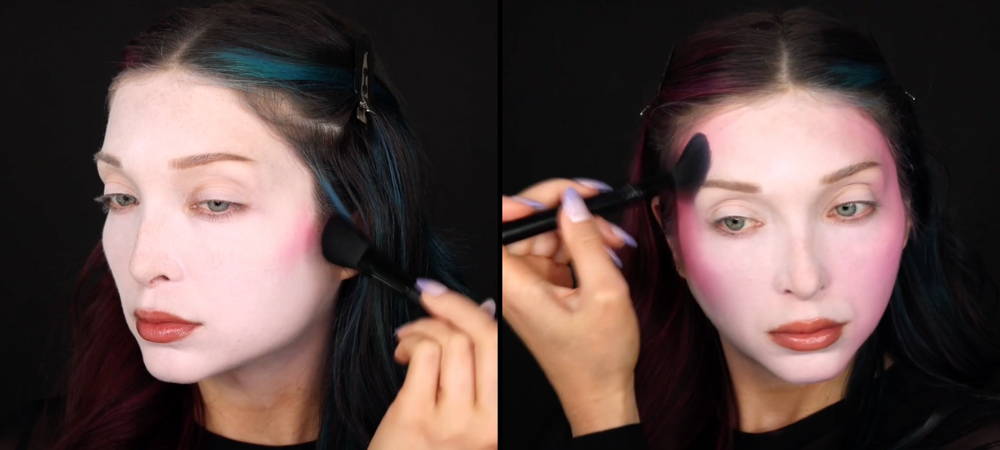 Using a fluffy blush brush, apply a pink powder pigment to the face and contour your face like you would normally - under the jaw bones, under the cheekbones, the sides of the nose, and around the perimeter of your face. Blend the contour by dusting the brush around the entire face to make it look more cohesive.
---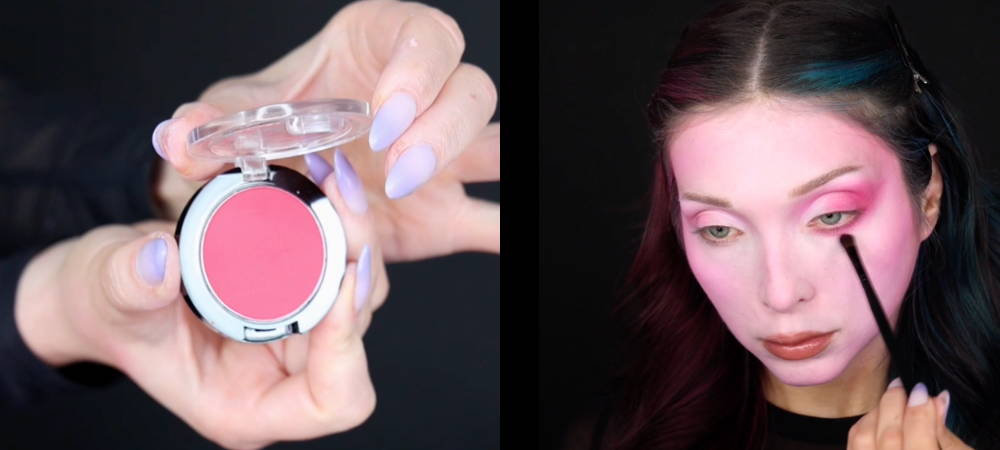 Step 3: Create a Red and Pink Smoky Eye
Using a red and pink powder pigment, create a smoky eye by focusing the pigment on the outer half of the eye and the crease. Use a fluffy eyeshadow brush and blend well. Add the same shades to the bottom lash line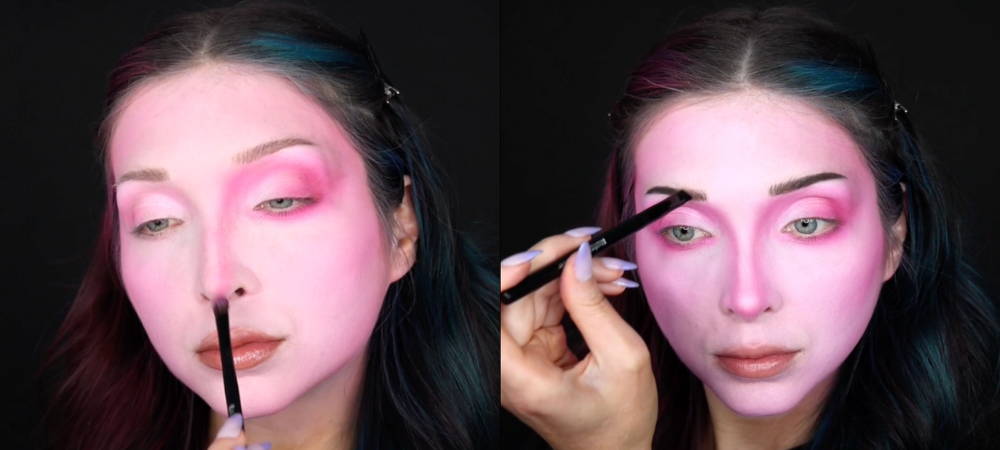 Step 4: Create an Ultra-Defined Nose and Brow
Using a dense eyeshadow brush, use the same pigments from Step 4 to create a dramatic nose contour that extends all the way up to just under the inner brow bone to create a more cartoon-like effect.
Take a black pressed pigment and a liner brush to create small hair-line strokes to create a strong defined brow.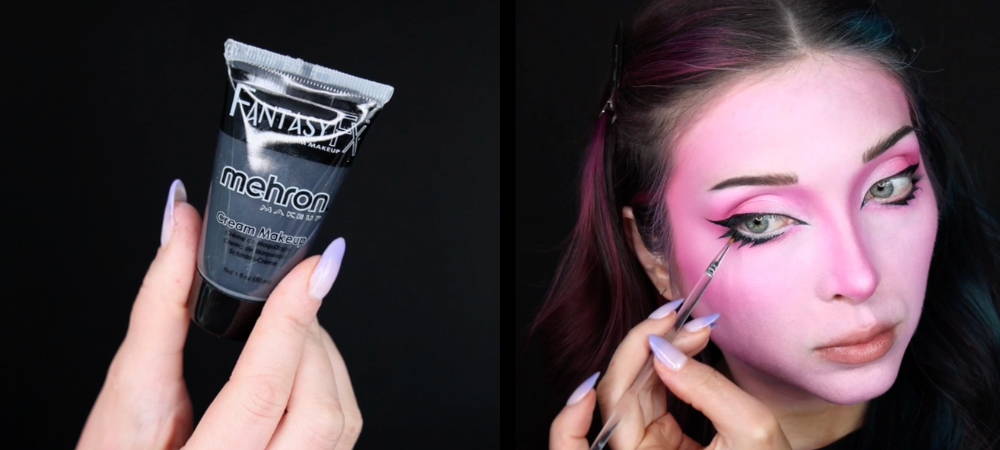 Step 5: Line Your Eyes with Black FX Fantasy Cream Makeup
Using a fine-tipped liner brush, create a cat-eye effect with a large wing that extends beyond the eye and a triangle shape on the inner corner to create an exaggerated eye look. Next, draw smaller outward pointing "triangles" on the lower lash line to resemble cartoonish lashes. Take a white makeup pencil and fill in the water line to make your eyes look bigger.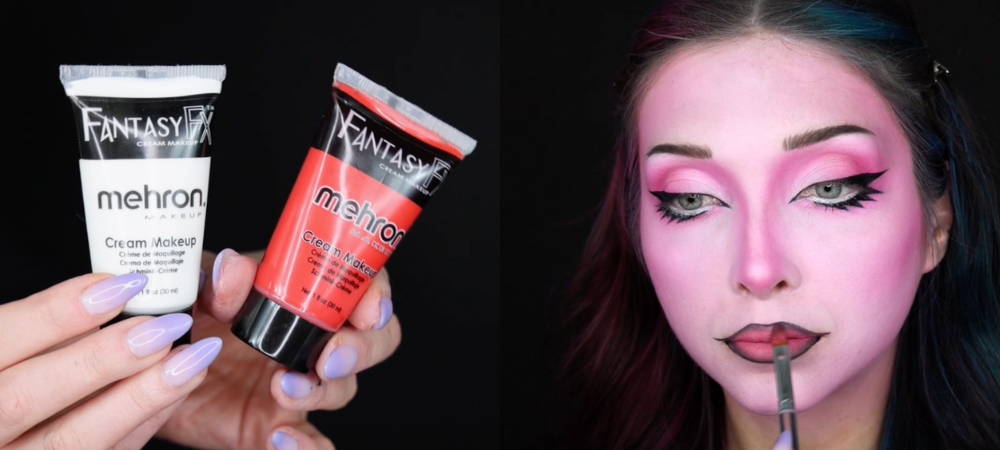 Step 6: Add Fine Details to Finish the Glampire High Look
Mix the White and Red Fantasy FX Cream Makeup to create a bold red lip color and paint your lips. While the paint is still slightly wet, paint on the Black Fantasy FX Cream Makeup as a lipliner and diffuse slightly. To enhance the cartoon-like effect of the look, use a small dab of white to highlight the lips, and paint a small red heart onto your cheek.
Finish the look by painting and shading the ears and building up the contours and highlights more to your liking. That's it! Your Draculora Makeup Look is Camera Ready!
---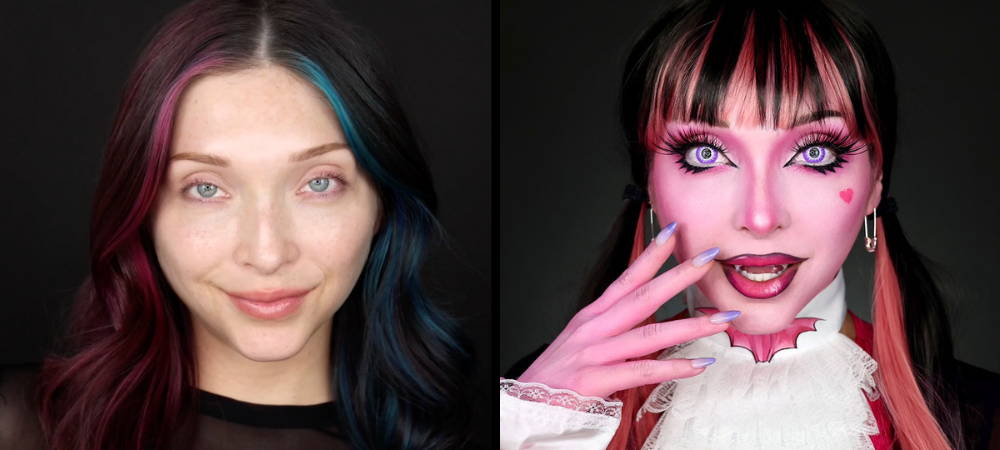 Feeling inspired to recreate the look? Watch the video at the top of this blog, or visit our YouTube Channel!  We hope this blog inspires you to create a fun new look this Halloween! If you have any more questions, we are here to help! Click here to reach out to our Beauty Advisors.
If you recreate this look or follow any of our other SFX Tutorials, don't forget to tag @camerareadysfx on social media!
---
---
Need something specific to create your SFX Halloween looks? Shop Camera Ready's extensive collection of top special effects brands here. Don't see what you're looking for? Contact our Beauty Advisors for a comparable alternative, or to see if we can order the exact product you need.
---
About Camera Ready Cosmetics
Camera Ready Cosmetics was founded in 2003 by Makeup Artist Mary Erickson. She dreamed of having a pro makeup showroom where artists could play with professional products without the typical makeup store attitude.
Today, our team of beauty industry veterans work together to curate the best quality products on the market. We partner with brands who respect the industry and formulate products for true working artists. You won't find CRC in high-end malls, and we don't wear matching brush belts.
If you want to play with products for a few hours and buy nothing, that's okay ... come in and play! Our store is your playground.