Ever since the movie Avatar came out, Avatar-inspired makeup looks have been trending every Halloween, and now that Avatar: The Way of Water is coming out this holiday season, we expect to see LOTS of Avatar Blue Alien Halloween Makeup Looks this year!
In this blog, we'll break how @bryan.mua created an easy blue alien Avatar-inspired makeup look!
---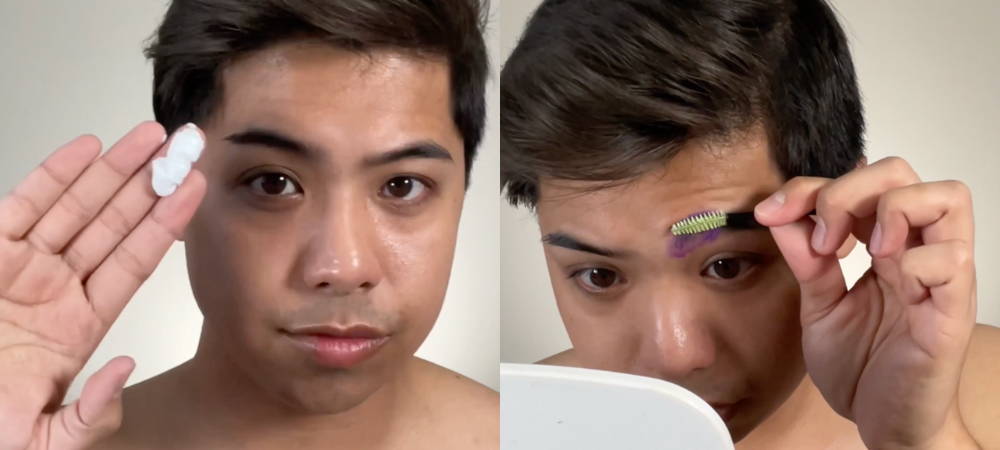 First, cleanse your face and body and moisturize well. Brain MUA does this to prevent the makeup from staining, however, you can also use Mehron Barrier Spray to create a sweat-proof barrier that will allow your makeup to last longer and will prevent it from staining. Next, use your favorite method and products to block your eyebrows.
---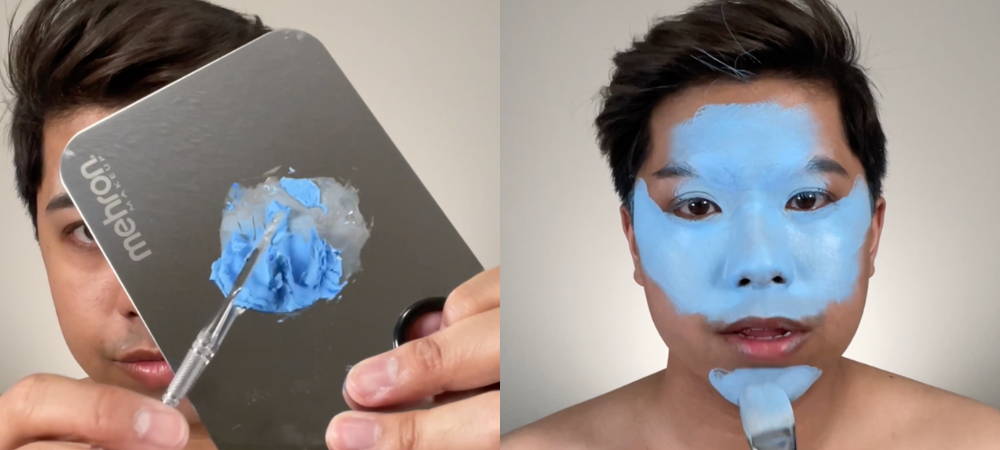 Step 2: Mix Your Perfect Blue Alien Shade and Paint!
Using a blue and white Mehron Paradise Paint, create a light blue to paint your entire face. He used a 3 parts white, 1-part blue ratio. Brian used a stainless steel mixing palette and a Mehron AQ Brush for maximum coverage on his skin.
Paint your entire face and desired amount of your body. Contour the face using a deeper blue version of your paint, and add white paint to areas you want to highlight

PRO Tip: When covering large areas, use less water when mixing your perfect shade to make it more opaque.
---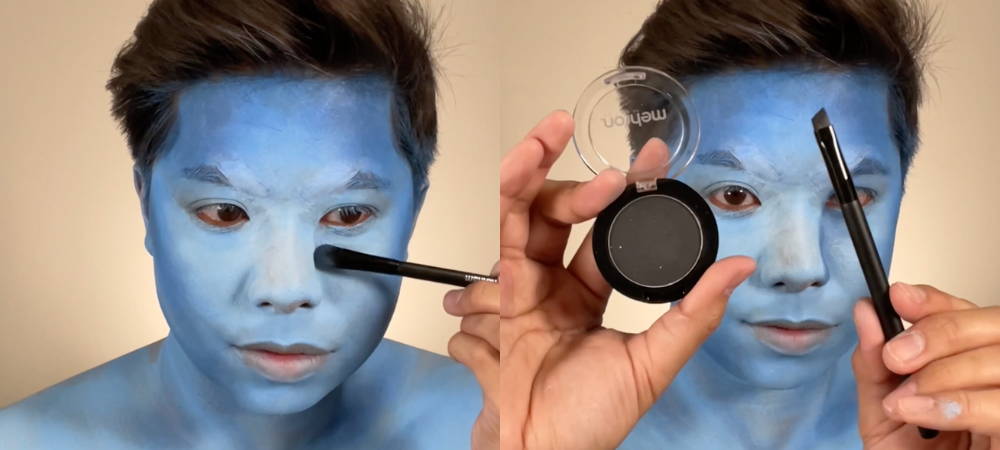 Step 3: Enhance the Nose, Eyes, and Contours of the Blue Alien Face with Powder Makeup
Using a fluffy brush, use a medium blue powder pigment to carve out the perimeter of your face, cheekbones, jawline, and eye sockets. To create a wider nose effect, start the nose contour at the inner corner of your eyes and draw down to your nose. Do not follow your normal nose contour. Next, fill in your brows with the blue pigment only drawing from around the outer half outward. Once you're happy with the overall shape, deepen the brows and nose contour with a black powder pigment.

Application Tips: Avoid using too much liquid latex because it will become gloopy and hard to work with. If you've added too much, simply add a few pieces of torn tissue.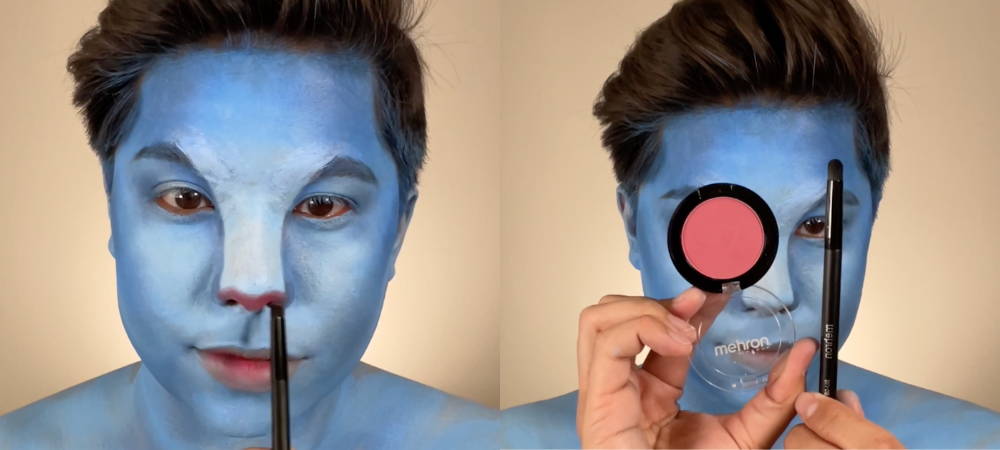 Step 4: Add a Rosy Hue to the Lips and Nose
Using a rosewood-hued powder pigment, add a light dusting to the lips, the tip of the nose, and cheeks! It's important to use the same shade for both to enhance the look.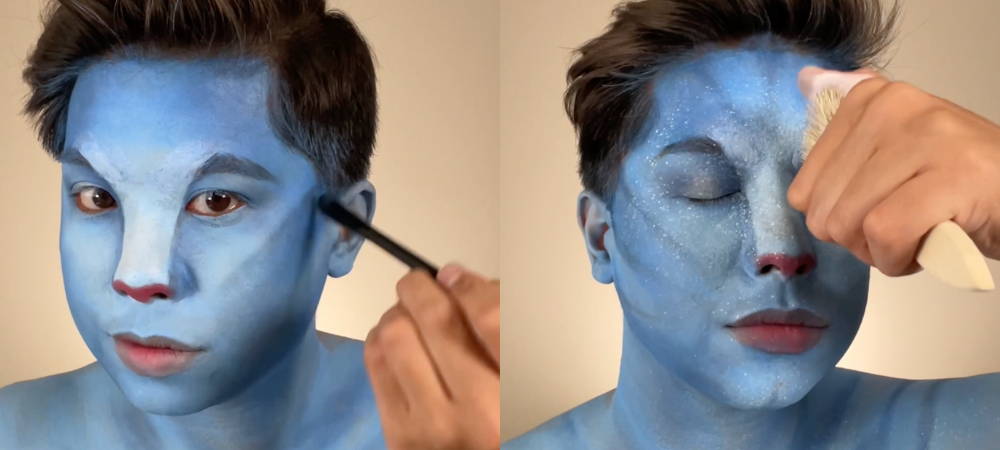 Step 5: Add Depth and Dimension with Details to Your Blue Alien Look
Lightly tap a fluffy eyeshadow brush into the black and blue powder pigments and draw faint vertical lines from the top of your forehead that go down and toward the center of your face. Next, create angled lines from the outer part of your cheeks that run almost parallel to your jawline toward the center of your face. Diffuse the edges to create a soft blended look. If you're painting your body as part of this look, create long angled lines from the top of your shoulders that go down and slightly inward toward your breastbone.
Finally, taking a brush with stiff bristles and white Paradise Paint, use the spattering technique to splatter white speckles all across your face and body. As the paint dries, lightly dab your finger across the makeup to create more irregularly shaped freckles. Repeat this step using a dark blue shade of Paradise Paint.
If you want to take the look to the next level, use the drybrush technique with Paradise Paint to amp up the contours and some of the lines on your face for added dimension. That's it! Your Blue Alien is Camera Ready!
---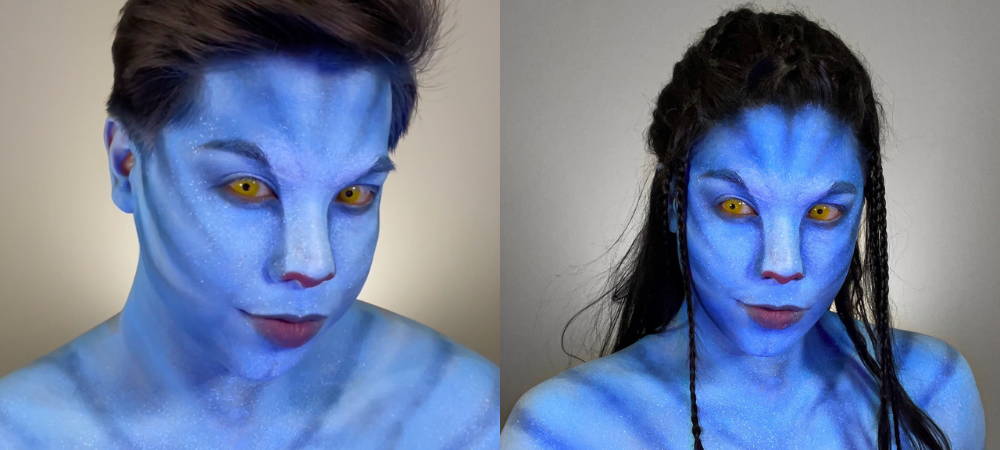 Feeling inspired to recreate the look? Watch the video at the top of this blog, or visit our YouTube Channel!  We hope this blog inspires you to create a fun new look this Halloween! If you have any more questions, we are here to help! Click here to reach out to our Beauty Advisors.
If you recreate this look or follow any of our other SFX Tutorials, don't forget to tag @camerareadysfx on social media!
---
---
Need something specific to create your SFX Halloween looks? Shop Camera Ready's extensive collection of top special effects brands here. Don't see what you're looking for? Contact our Beauty Advisors for a comparable alternative, or to see if we can order the exact product you need.
---
About Camera Ready Cosmetics
Camera Ready Cosmetics was founded in 2003 by Makeup Artist Mary Erickson. She dreamed of having a pro makeup showroom where artists could play with professional products without the typical makeup store attitude.
Today, our team of beauty industry veterans work together to curate the best quality products on the market. We partner with brands who respect the industry and formulate products for true working artists. You won't find CRC in high-end malls, and we don't wear matching brush belts.
If you want to play with products for a few hours and buy nothing, that's okay ... come in and play! Our store is your playground.