If you're feeling stuck deciding on a new Halloween costume this year, there's no better place to get inspiration than TikTok and Instagram. These beloved apps have become a hub for creatives of all genres, but especially for makeup artists. From artists just starting out to professionals, they provide a platform for everyone to show off eye-catching, detailed looks, & introduce their favorite products
---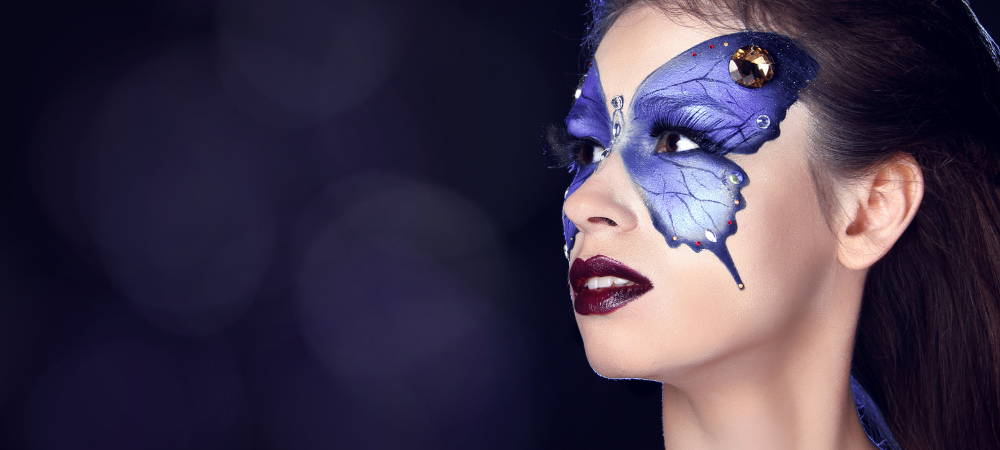 Whimsical Fantasy Face Paint
Fairies, butterflies, and whimsical folklore have always consumed the Cottage Core side of TikTok, but they're reemerging this season as a trendy Halloween costume. Notably, there's a viral trend where creators use big, heavy brush strokes to outline their faces in fairy wings before adding more details. Add decals like pearls, rhinestones, small flowers, crystals, and leaves to add to the realism of your whimsical look. Check out this video by Sophie Hannah on TikTok to get whimsical butterfly fairy inspiration with a spooky twist for your Halloween makeup.
While realistically, this trick may not work for everyone, it's a great way to create a base outline before adding in more details. You'll want to have a dense brush and liquid cosmetic-grade makeup that will last all night long, like Mehron's Liquid Makeup for Face Body and Hair or the Ben Nye MagiCake Aqua Paint Palettes. Using a high-quality, precise liner like the Stila Stay All Day Dual-Ended Waterproof Liquid Eye Liner to outline detailed wing designs adds to the clarity of the look as well! Once you're done designing your look, be sure to spritz with setting spray to lock in your hard work!
---
If you love animated movies, there's no way you haven't seen Tim Burton's stop-motion wonder, Coraline. With such striking designs and characters, it's no wonder these fascinating button-eye looks have dominated the algorithm. For detailed steps, watch Siana's Coraline makeup tutorial on TikTok. For some major inspiration, you can also visit @allison_sfxtek and @mandie.strangefx  on Instagram.
You'll just need a blue wig, a yellow raincoat, and black buttons for eyes (or makeup that passes) for this look. But then, it's all up to you to create the tiny details perfectly captured in this animated movie — Coraline's freckles, eyebrows, lips and nose can all be contoured, dotted and shaped to look just like the claymation masterpiece. Products like the Skin Illustrator Zombie Palette and Mehron Cream Blend Stick are excellent options for adding realistic details, sharpening out your featuresm, and hollowing out your cartoonish eyes.
---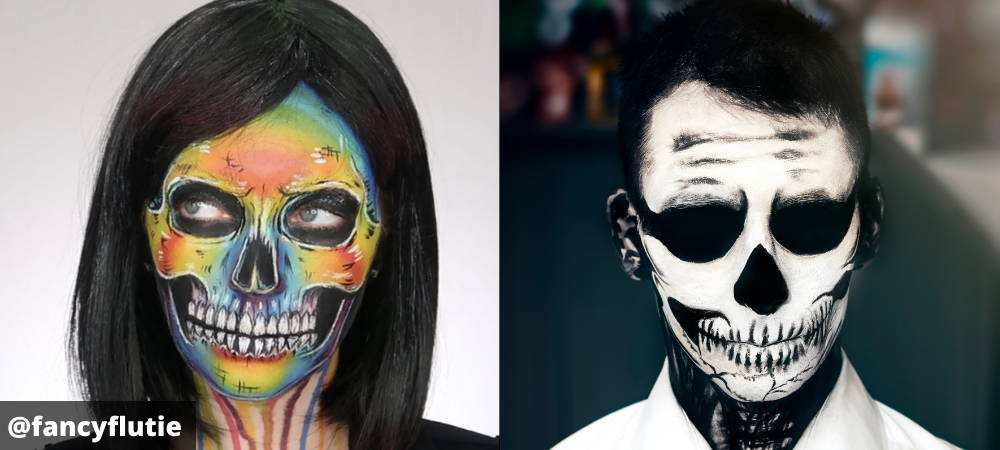 Skeletons & Hollowed Out Cheeks
Skeletons are a tried-and-true Halloween costume, but you can get some ideas on TikTok to kill your look. For example, adding decals, glitter or colorful contour and details can make a basic black and white skull look like an ornate work of art. Watch Felicia Marie's excellent video on TikTok showing how she created her dramatic skeleton look.
For a proper skeleton makeup look, dramatize the naturally occurring negative space on your face with a heavy contour, like the NYX Highlight and Contour Pro Palette.if you're aiming for a more flesh-toned skeleton or the Mehron INtense Pro Pressed Powder Pigments for a wide variety of shades. Then, draw or paint vertical lines on your mouth to create the teeth for an added skeletal effect. You can also blackout your nose for an extra impact with a product like L.A. Girl Gel Glide Eyeliner Pencil in black. If you're looking for glitter to add some pop, Mehron's Paradise Glitter is an excellent affordable option available in tons of colors.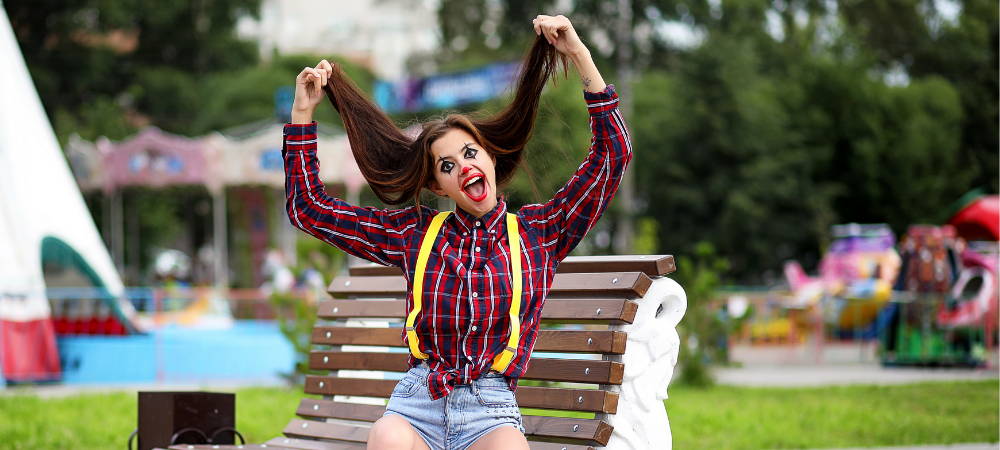 From Harley Quinn to the infamous It to clowns from your nightmares, these characters comprise several of the trending Halloween makeup looks on TikTok. However, you don't pop on a goofy red nose for these looks — plenty of talented makeup artists have managed to create sleek yet horrifying clown looks that would scare anyone to their core. Here's a step-by-step tutorial of Pennywise and a fresh Harley Quinn look by Siana, for example.
If you're looking for a simple clown look, you can add dots and triangles tastefully around your eyes to mimic a circus effect, like Haley Buix on TikTok. You'll want a product that can deliver precise, intricate details, like the Stila Stay All Day Waterproof Liquid Eye Liner. If you want something more dramatic, you can draw inspiration from Nathalie Figueroa's purple clown makeup look on TikTok. If you want purple, red, or any other color to accent your clown makeup, try pigmented products like Make Up Forever's 12 Flash Color Case or the Ben Nye Pressed 8 Color Palette in Divine Madness.
---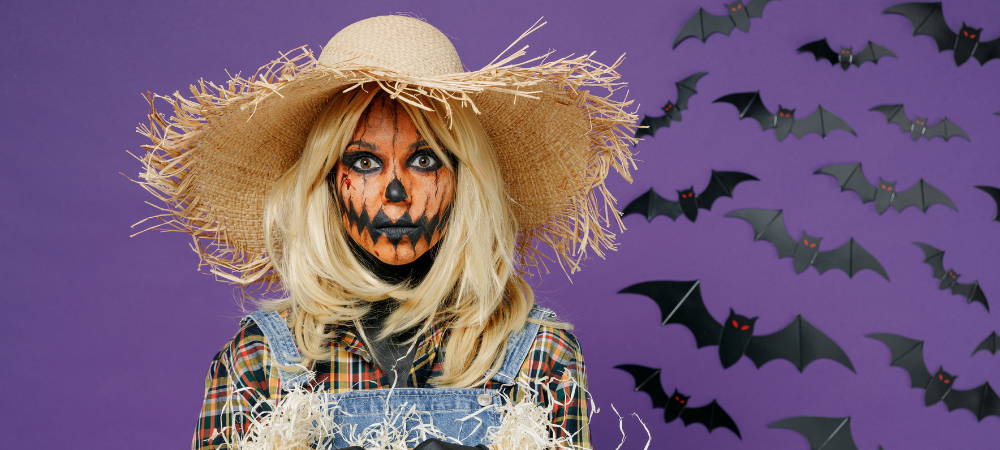 Haunted Pumpkin Face Paint
Colorful accents come in many shapes and sizes, whether you're using colored contacts, powders, lashes, or classic face paint. Liquid, cream and cake makeup have all been Halloween fan favorites for many years now, but they haven't lost their popularity — and novelty — for spooky looks. You can order colored paint tubes or palettes with multiple shades, and you can design tons of different costumes around them. For example, Elsie on TikTok created this unique haunted pumpkin makeup look with colored contacts, orange shadow and black liquid face paint.
To emphasize your colored creations, darken your lids with the Viseart 12-Color Eyeshadow Palette or the Ben Nye Theatrical Eye Shadow Palette for a look that will last all night long. If you're looking for excellent liquid face paint, check out the Mehron Fantasy FX Makeup, which is available in a variety of color options.
---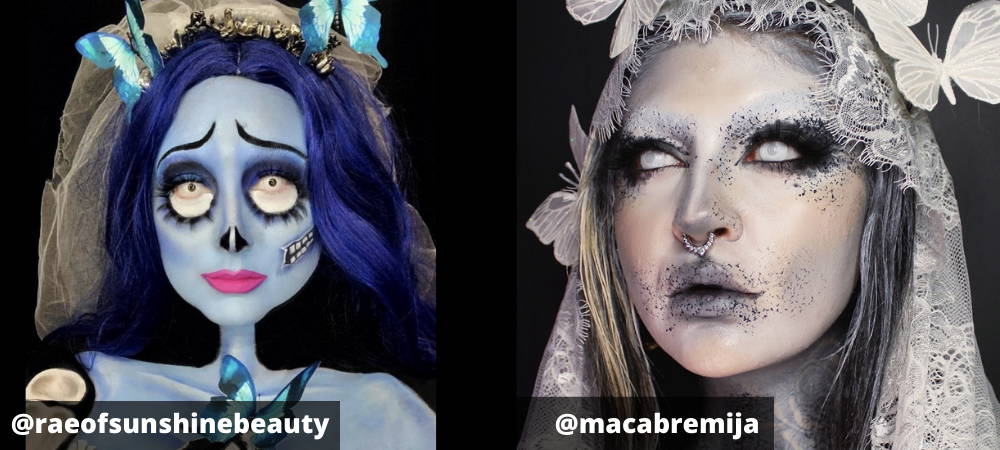 Another one of Tim Burton's famous stop-motion movies, The Corpse Bride, has received noteworthy attention online as a trending Halloween costume. Emily, the bride herself, is the perfect candidate for makeup artists dabbling in contouring, face painting, and SFX art. Check out Marina Eloise's beautiful rendition of Emily on TikTok, featuring illusion paint and vivid details to make her look like the actual character. If you prefer to look at a photo for inspiration, check out @raeofsunshinebeauty on Instagram!
For an iconic corpse bride look, you'll need blue hues that accurately capture Emily's ghoulish, deceased look. The Ben Nye Pressed Eye Shadow in Navy Blue is the perfect shade to deepen your eyes and cheeks, and the Graftobian Dish of Face Paint in Nepture Blue is ideal for your base layer. Finally, to paint on your wide, animated eyes, use Ben Nye's Creme Color in White or the iconic Ben Nye Clown White for a striking, pigmented shade that will last all night (or wedding) long.
---
---
---
We're accepting your videos as part of our SFX tutorial series! Send submissions to marketing@crcmakeup.com for consideration.
Need something specific to create your SFX Halloween looks? Shop Camera Ready's extensive collection of top special effects brands here. Don't see what you're looking for? Contact our Customer Experience Team for a comparable alternative, or to see if we can order the exact product you need.
---
About Camera Ready Cosmetics
Camera Ready Cosmetics was founded in 2003 by Makeup Artist Mary Erickson. She dreamed of having a pro makeup showroom where artists could play with professional products without the typical makeup store attitude.
Today, our team of beauty industry veterans work together to curate the best quality products on the market. We partner with brands who respect the industry and formulate products for true working artists. You won't find CRC in high-end malls, and we don't wear matching brush belts.
If you want to play with products for a few hours and buy nothing, that's okay ... come in and play! Our store is your playground.