If you're looking for a good Halloween makeup idea for kids or one that is sure to make people smile, you're in for a treat! We partnered with @caykeface, a talented sfx artist to create a Minion-inspired look! Minions are a popular choice for those seeking a crowd-pleasing sfx look that isn't scary or too difficult, and it only requires a handful of items to create.
In this blog, we'll break down @caykeface's easy Minions-inspired Halloween makeup look into three easy-to-follow steps

:
Apply the bald cap and block your brows
Paint your face and body
Create awesome accessories to complete your Minion look
---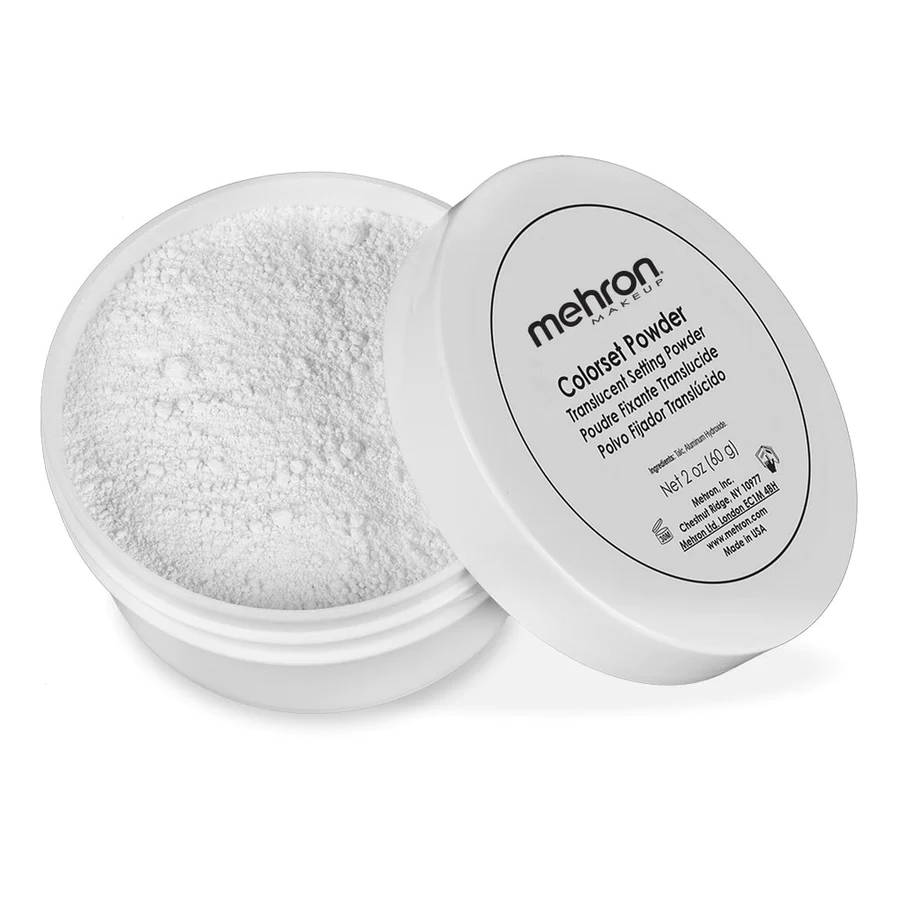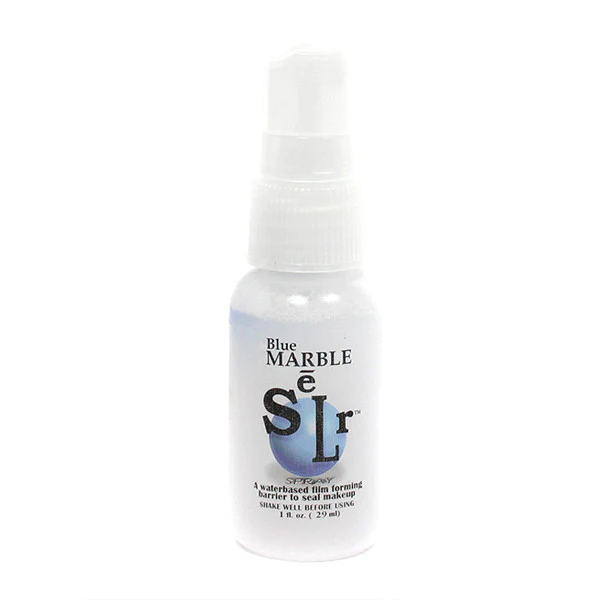 PPI Blue Marble SELR Spray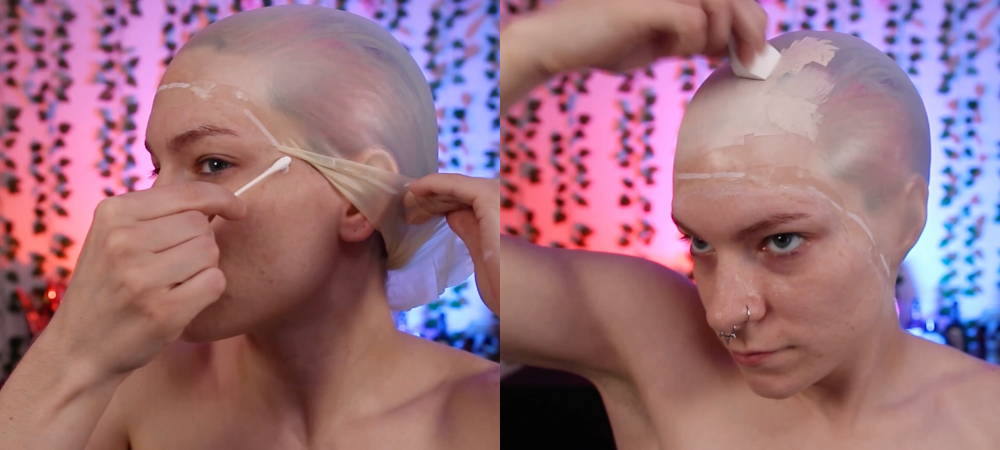 First and foremost, applying the bald cap correctly will really set the tone for your entire look, so pay close attention to these bald cap application tips!
Wet hair and slick back with hairspray into either a tight braid down your neck or a low pony, if you can't braid. Bobby pin your hair to your head, trying to make it as flat as possible.

Open the new bald cap, locate the front and insert head - face first. Pull the cap down your face and back of head. With a liner pencil draw a line about the eye brows and down the sides of the face leaving plenty of the cap to glue to your skin.

With a small pair of scissors, start by cutting the bald cap straight up the center of the face. Then cut along the lines you made with the liner pencil.

Peel up a small piece of the bald cap from the center of the forehead, lay down a 1-inch light layer of Pros-Aide. Allow to dry slightly so that it's tacky, and attach the bald cap to forehead. Continue the process for the whole bald cap, gluing down the sides, neck, and back of head.

Take Pros-Aide on a cotton swab and go over the bald cap line where it meets the skin to blend it in.

Powder the adhesive to remove shine.

Taking creme paints, create your skin color and color corrector. Begin to apply over bald cap to camouflage any hair color peeking through.

Powder to set.
---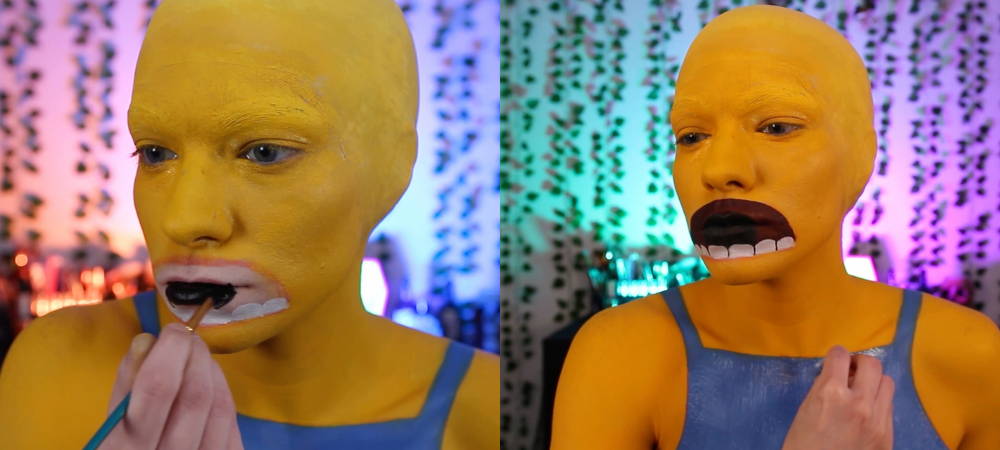 Step 2: Block Your Brows and Paint the Perfect Minion Shade of Yellow & the "Outfit"
Now that your bald cap is in place, it's time to block your eyebrows and start painting!
Apply about 3-4 layers of prosaide over the eyebrows to block them out. The thicker the brow, the more Pros-Aide you'll need. Powder them lightly to remove the tackiness.

With a liner brush, lightly sketch out the minions features and clothing. Then paint everything in with body paint.

Use body paints and eyeshadows to add the details to the features and clothing. The good news is that since the look is supposed to look cartoon-like, you won't need to add too many details!
---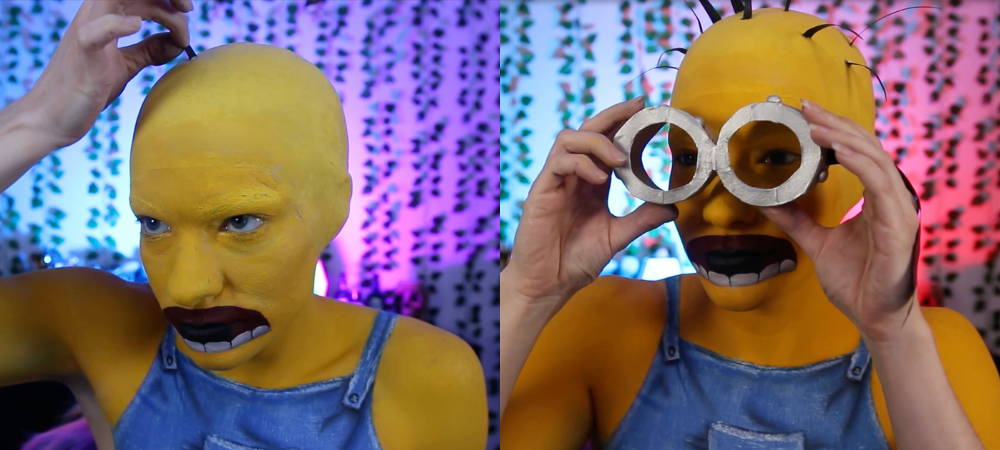 Step 3: Create and Apply Your Minion Halloween Look Accessories
Now that your bald cap is on, your brows are blocked, and the majority of your look is painted on, it's time to get creative and to create your accessories! Caykeface opted for a classic minions look with oversized goggles and spiky hair.
@Caykeface used poster paper create black pieces of hair and some goggles.

Glue on your hair with Pros-Aide.
Feeling inspired to recreate the look? Watch the video at the top of this blog, or visit our YouTube Channel!  We hope this blog inspires you to create a fun new look this Halloween! If you have any more questions, we are here to help! Click here to reach out to our Beauty Advisors.
If you recreate this look or follow any of our other SFX Tutorials, don't forget to tag @camerareadysfx on social media!
---
---
Need something specific to create your SFX Halloween looks? Shop Camera Ready's extensive collection of top special effects brands here. Don't see what you're looking for? Contact our Beauty Advisors for a comparable alternative, or to see if we can order the exact product you need.
---
About Camera Ready Cosmetics
Camera Ready Cosmetics was founded in 2003 by Makeup Artist Mary Erickson. She dreamed of having a pro makeup showroom where artists could play with professional products without the typical makeup store attitude.
Today, our team of beauty industry veterans work together to curate the best quality products on the market. We partner with brands who respect the industry and formulate products for true working artists. You won't find CRC in high-end malls, and we don't wear matching brush belts.
If you want to play with products for a few hours and buy nothing, that's okay ... come in and play! Our store is your playground.