So you finally decided on the perfect costume or SFX idea, but how exactly do you achieve your dream look? Specific costumes may require body paint, creams, or grease paints, but how do you know where to start? What are the best products to achieve that perfect Violet Beaureguard blue-purple nose, cartoonish eyes for Jessica Rabbit, black cat whiskers, or whatever other iconic details you may need for your costume?
At Camera Ready Cosmetics, we have a wide variety of high-quality paints and products available for you to knock your look out of the park and win your next costume contest.
---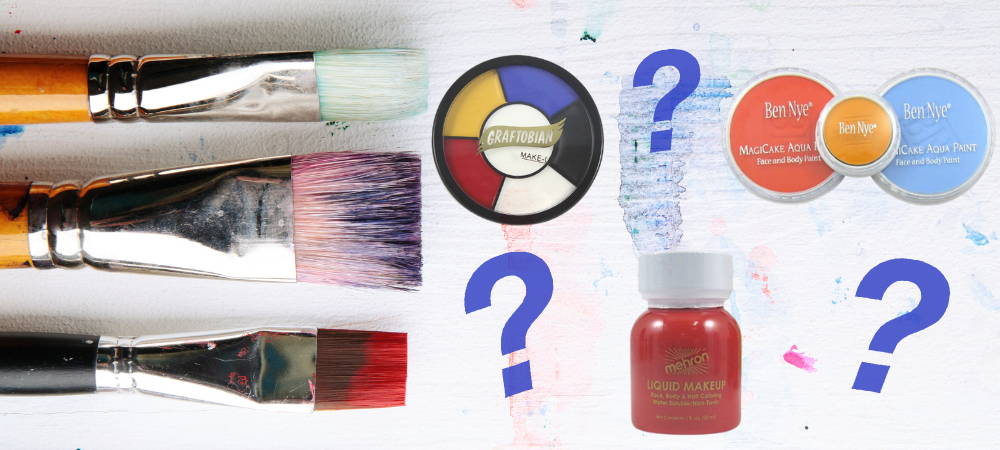 First, it's essential to identify the differences between all the possible body paints and creams available for purchase. Each product has its own benefits and application techniques, but ultimately, selecting which product is best for you depends on things like skin sensitivity, longevity preferences, and your costume's specifications.
---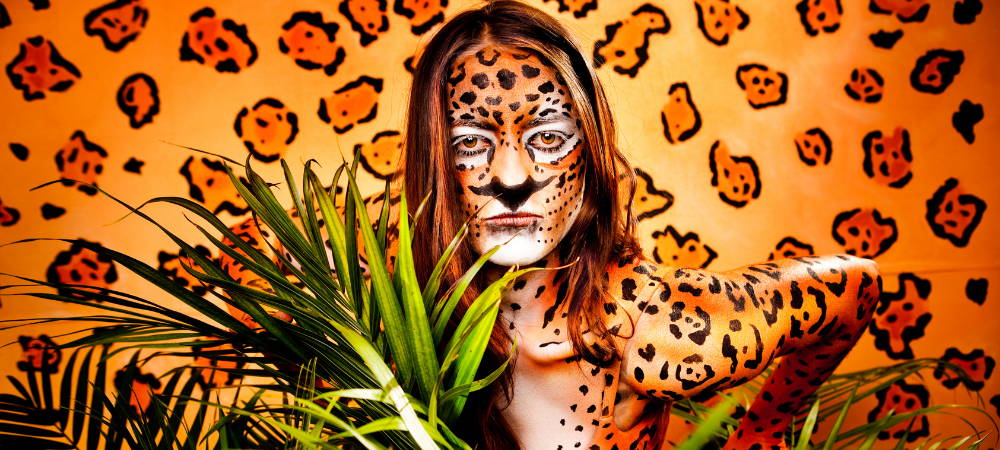 Body paints are typically what most people think of when they imagine painting their face for a Halloween costume. These vivid liquid products produce eye-catching looks with minimal effort and allow for fine details with smaller brushes and applicators.
Check out some of our most popular body paint products here:
This high-quality 10-pack of alcohol-based body paints is ideal for any makeup idea you have for the holiday season. Their precise formulation prevents cracks and smearing, even after hours of wear. The paints are incredibly versatile, from being airbrushed on to direct application with a sponge or brush. In addition, the formulation is FDA-approved and safe for sensitive skin.
These affordable body and face paint palettes by Ben Nye are a staple for any dramatic makeup look. These vibrant paints are activated with a few drops of water before application with a sponge or makeup brush. While the base palette contains six colors, makeup artists can easily mix them for various color combinations, and larger palettes offering even more colors are available, too! If you're seeking only a few colors or need to refill your palette, you can buy singles here.  In addition, once the water-activated paints dry on the skin, they're notoriously smudge-proof and sweat-resistant.
These 30mL bottles of easy-to-apply liquid body paint by Kryolan are perfect for painting your face or even your entire body. The thin emulsion formula comes in seven colors, each providing a seamless, smear-free finish with bright color intensity. Simply shake the bottle before use, apply the product to a damp sponge, and then apply to your face and body. If diluted with water, these body paints are also usable with an airbrush for even more delicate application.
This versatile liquid makeup by Mehron is perfect not just for your face and body but also safe for your hair. These long-lasting products come in a wide range of colors and sizes, with the smallest 1oz size including a specific applicator to help with easy makeup application. In addition, these water-based paints are resistant to sweat and heat, making them perfect for outdoor activities. However, take note that they're not intended for use around the eye area.
---
Unlike regular body paint, cream makeup products typically have a thick, creamy consistency, perfect for heavy makeup looks or layering multiple products. In addition, cream makeups are ideal for setting with a translucent powder for further longevity.
Check out some of Camera Ready's top suggestions for cream makeup:
These affordable face paints come in a wide range of colors, each with a smooth and stunning finish. These water-based cream paints have the best of both worlds when it comes to cream and liquid makeup, conveniently packaged in a squeeze tube for easy and sanitary application. The convenient 1oz size makes them perfect for travel or packing several different colors in your makeup kit.
If you're looking to take your makeup kit to the next level, this haunting and pigmented body paint palette by European Body Art can do just that. The deep jewel-toned colors are perfect for a zombie, vampire, or any creepy costume you can think of for this spooky season. The paint's quick drying time and easy application make them great for beginners and pros alike, and individual color pans can be purchased for refills if you run out.
If you're primarily interested in getting a few body paints in a specific color or for a particular purpose, like aging someone up or adding scary wounds and bruises, these creamy color wheels from Ben Nye are for you. These versatile products blend easily onto either skin or latex, making them ideal for application over prosthetic pieces. In addition, the colors are buildable. Apply some alcohol for a thinner coat, or leave it as is for a thick and creamy finish.
While applying body paint with a sponge or makeup brush is common, these full-coverage cream paint sticks by Mehron provide a convenient method of application. There are tons of color options available to choose from, each with high-quality packaging providing quick and convenient makeup looks without dirtying up your brushes.
---
Though they may sound intimidating, grease paints are actually ideal for makeup newbies. Their smooth and easy application is perfect for covering minor blemishes, intensifying a gory wound, fixing prosthetic pieces, and more. However, note that grease paint doesn't set on the skin like body paints and creams, making it essential to use a translucent powder to set it and a cold cream for makeup removal.
An award-winning makeup artist designed this versatile grease paint makeup wheel by Graftobian with fellow artists' needs in mind. The color wheel specifically includes the most common colors used for covering and touching up prosthetic latex pieces and smoothing out unrealistic edges. In addition, the formulation is infused with castor oil, which mimics the natural oils produced by your skin, making people with sensitive skin less likely to break out from clogged pores.
These eye-catching colors in Krylon's grease paint kit are not only vibrant but provide a slight glow under natural and UV light. If you're headed to a haunted house or another dimly lit holiday event, these paints light up and reveal stellar designs. The colors can be easily applied with a makeup brush or sponge and set with a finishing spray. If you want to extend the wear time, apply a misting of setting spray like Skindinavia Makeup Finishing Spray. For other Halloween looks, Kryolan has several other Cream Color Circles including "Zombie," "Burn & Injury," "Bruise," and more for SFX.
If you're looking for an affordable grease paint option, look no further than Graftobian's individual grease paints with tons of pigmented color options. These castor oil-based products provide intense colors with a natural finish and are perfect for blending in prosthetic pieces or FX makeup details. In addition, their convenient half-oz size makes them ideal for popping in a makeup kit on the go or picking a few different colors for your specific look.
Many people don't have the products in their makeup kit necessary for correct grease paint and prosthetic application. So if you're looking to build up your inventory, start with Graftobain's Appliance Makeup Kit, which includes everything you could need for basic and FX makeup looks. In addition to their high-quality grease paints, this kit comes with liquids designed for applying and removing prosthetic pieces, blood gel, various sponges, setting powder, brushes, and a lining pencil for tiny details.
---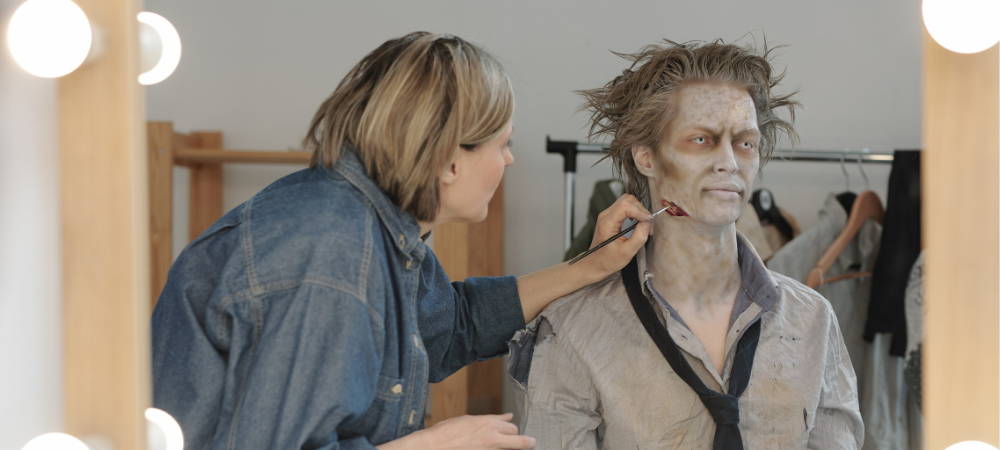 Which Product is Right for You?

While there are endless body paints and creams out there to choose from, you want to select a long-lasting product with quality ingredients within your budget. Body paints are fantastic for new and professional makeup artists alike, while cream and grease paints are forgivingly blendable, making them ideal for beginners. Check out Camera Ready's expansive inventory of high-quality products to blow your next look out of the water..
---
---
About Camera Ready Cosmetics
Camera Ready Cosmetics was founded in 2003 by Makeup Artist Mary Erickson. She dreamed of having a pro makeup showroom where artists could play with professional products without the typical makeup store attitude.
Today, our team of beauty industry veterans work together to curate the best quality products on the market. We partner with brands who respect the industry and formulate products for true working artists. You won't find CRC in high-end malls, and we don't wear matching brush belts.
If you want to play with products for a few hours and buy nothing, that's okay ... come in and play! Our store is your playground.